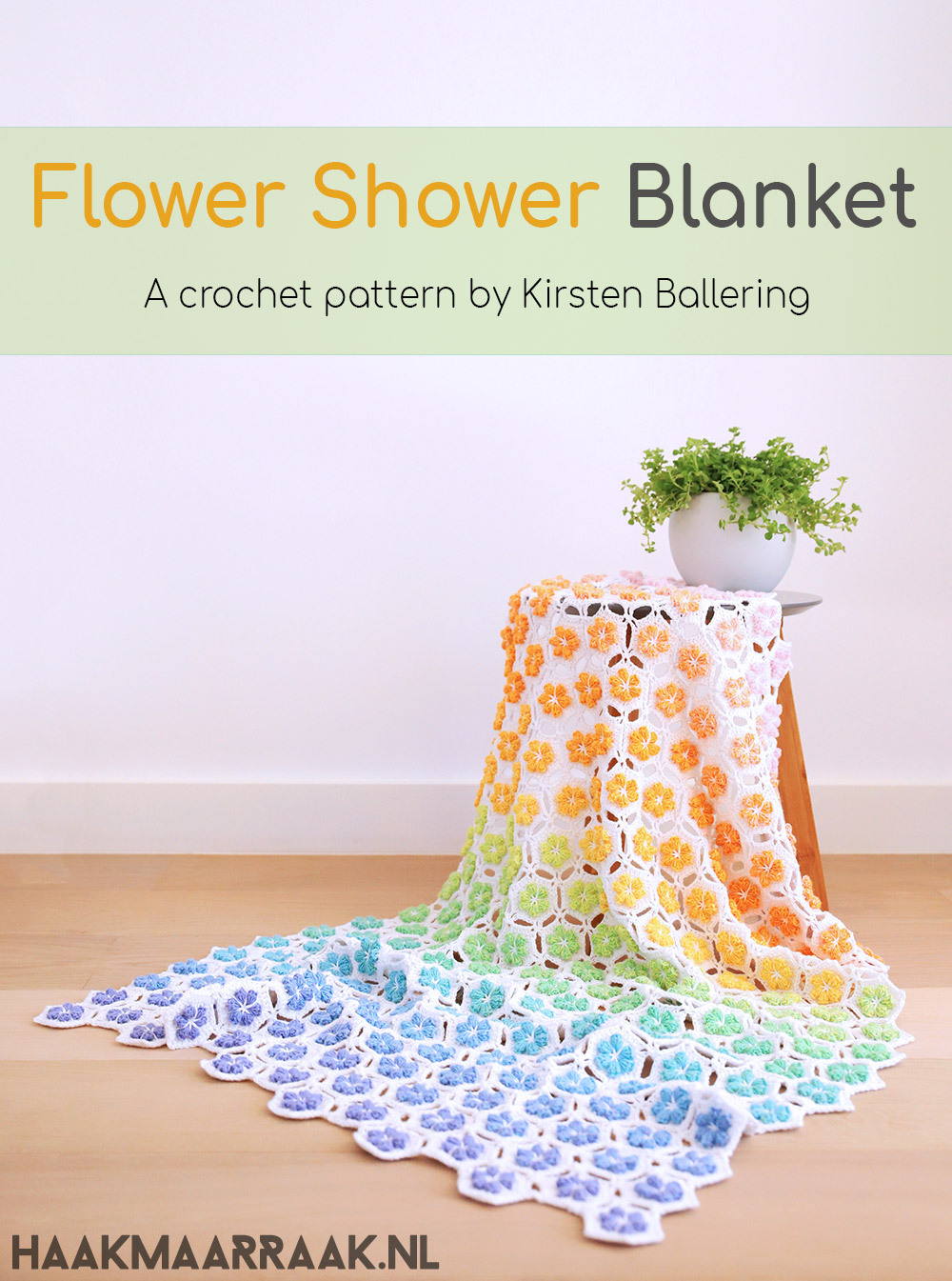 It's finished! This crochet blanket has been a labour of love! Those of you who follow me on Instagram might have already read the story of this blanket. Or rather, the story of how I almost got detained at a UAE Airport over a blanket. You can read about it here. Quite the story huh? But that doesn't matter now because the blanket is finally finished. I admit that there has been some delay in finishing this blanket because I was preparing for other exciting events this year (The Be Inspired Tour in South Africa!), but that's all done now!

Flower Shower blanket
Doesn't the rainbow of colours make you happy? The Flower Shower Blanket is perfect for who likes a cheerful and creative project. Each little flower is bursting with colours, changing as-you-go. You don't have to think about the colours though, the yarn does all the hard work for you.
The blanket measures 100 x 75cm (40 x 29.5in) but it's easy to change the size of the blanket.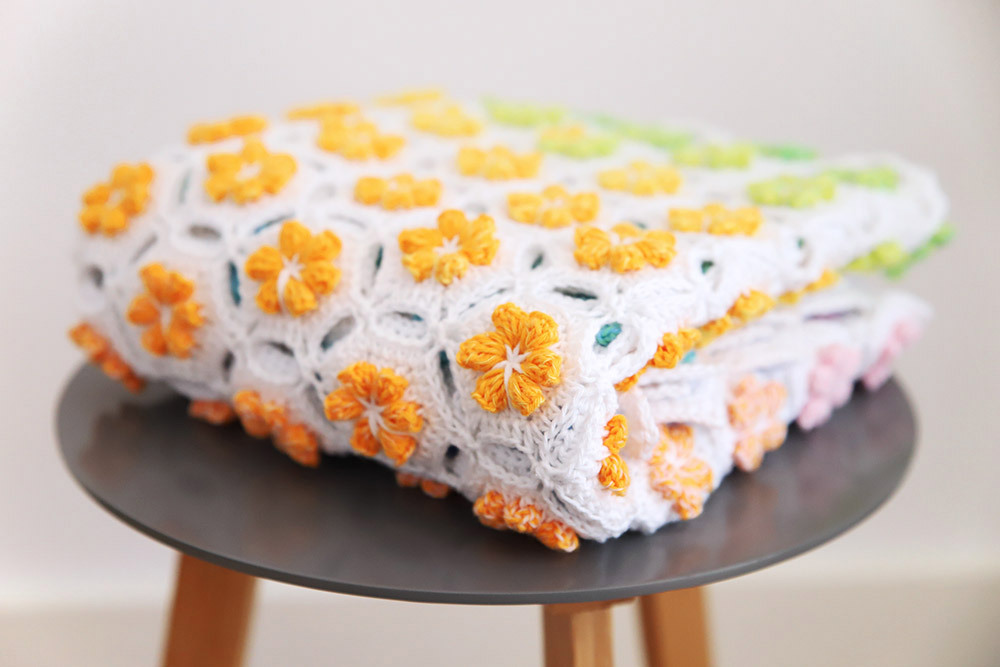 The blanket consists of puffy little flowers that are joined as-you-go. Because of the gradient, gauge and tension are quite important as you don't want to end up with more or fewer motifs and thus a wider or smaller blanket. However, if you don't want to be bothered by checking your gauge there are ways around this. I've mentioned them in the pattern. The pattern is perfect for adventurous beginners or intermediate crocheters. The 'featured' stitch in this pattern is the popcorn stitch, which creates a beautiful puffy flower. It's one of my favourite stitches!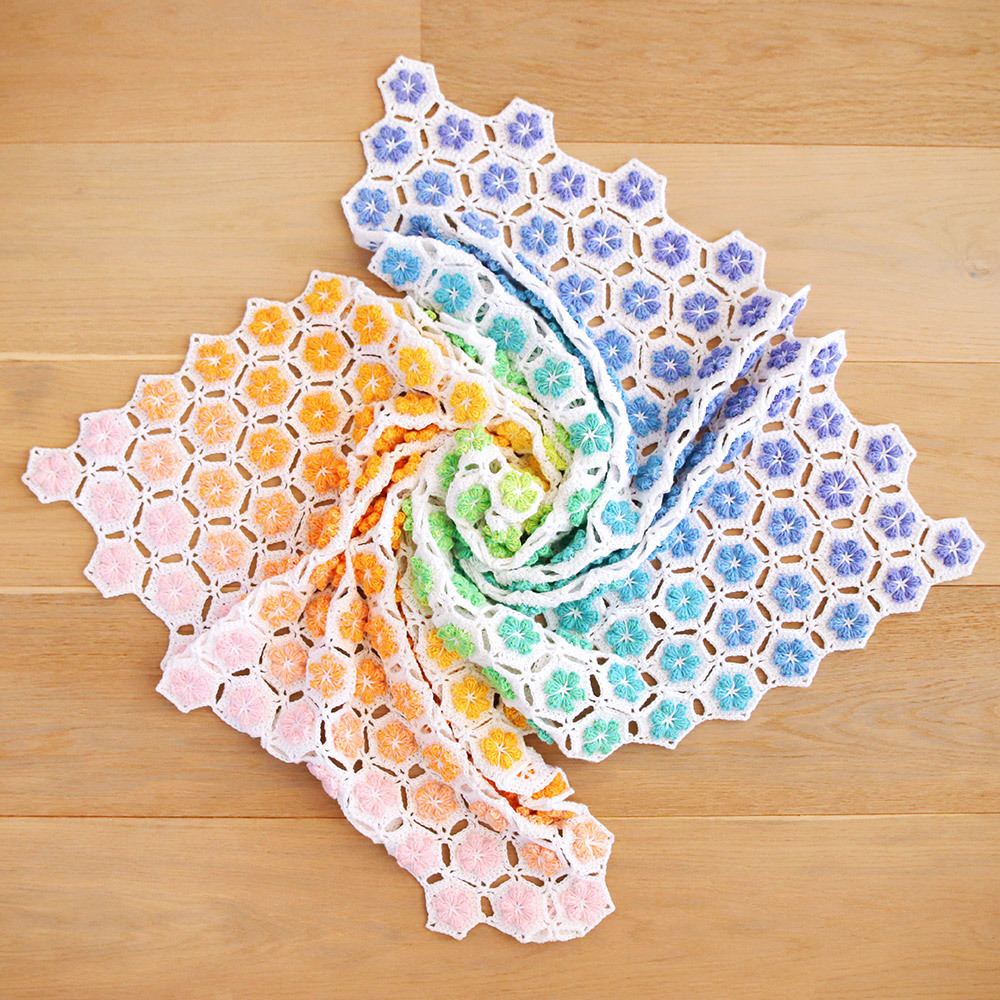 Yarns
The pattern is made using 1 ball of Scheepjes Whirl and 6 balls of Scheepjes Cotton 8 (or 3 balls of Scheepjes Whirlette). Back when I started this blanket, There was no white Whirlette available. Over the course of this year, a white Whirlette was released and I toyed with the idea of starting over. In the end, I decided to stick with the Cotton 8. However, you can easily substitute the Cotton 8 for Whirlette. I've swatched both yarns and there is barely any difference in size. All the yarn you need is mentioned in the pattern.
Where to get the yarns?
You will need Scheepjes Whirl and Cotton 8 (or Whirlette) for the pattern. You can get the yarns at your local Scheepjes retailer. If you don't have a retailer nearby, you might want to consider purchasing your yarn through one of my affiliate links so I earn a small commission: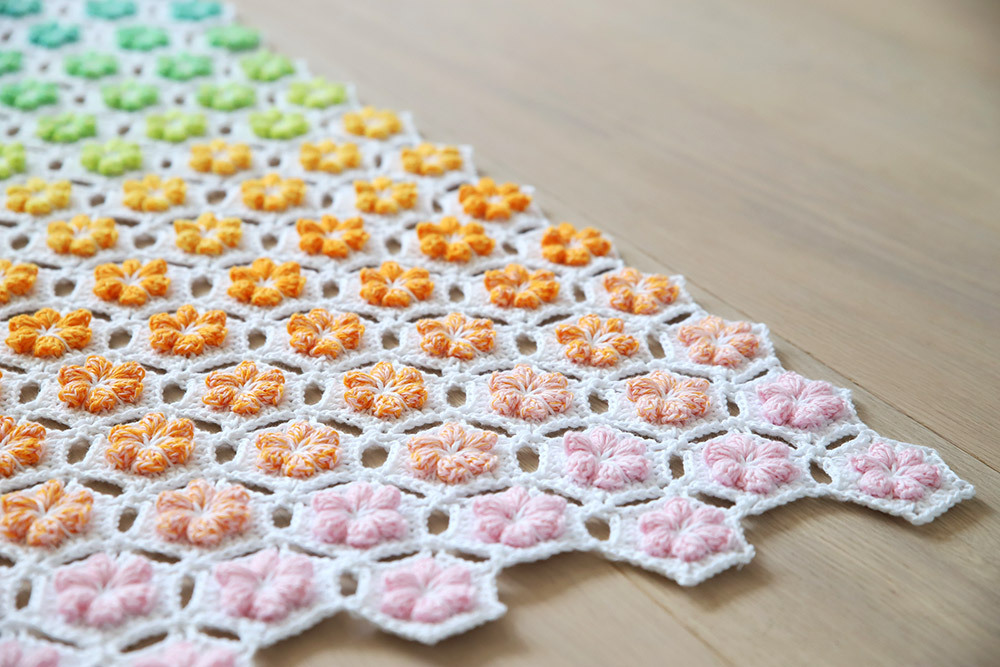 Yummy yummy rainbows, I love them! If you like to purchase the pattern, just click the 'add to cart' link below' or click here to go to my shop. Enjoy!