You read that right: Whirl is now being sold in 15 extra delicious ombre shades! When I found out that there would be new shades of Whirl, a longtime wish of mine had been fulfilled. The regular Whirls have beautiful gradients, but sometimes you just wish to stick to one colour, you know? And it has to be interesting enough (for me to keep on going, that is) so that's why I think that an ombre colourway is a great choice.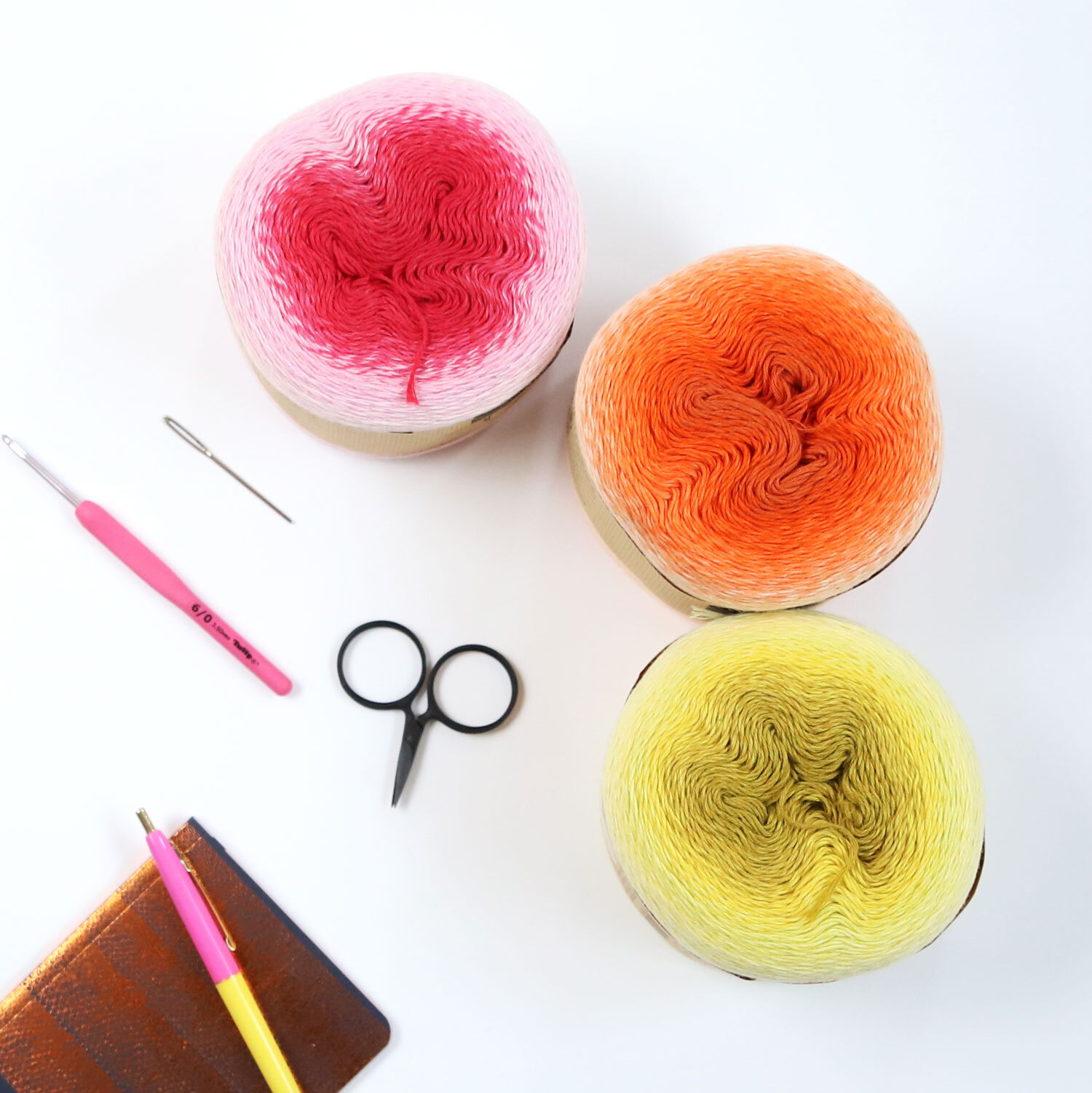 Whirl Colours: 552 Pink to Wink, 554 Tambourine Tangerine and 551 Daffodil Dolally.
Yarn Facts
The yarns I'm showing you are just 3 of the available colours. There are 15 different colours in total. The composition of the yarn is the same as for regular Whirls: 60% cotton and 40% acrylic in fingering weight. There's a generous 1000m on a 225g ball, so that's more than plenty to make yourself a shawl. The recommended hook size is 3.5 mm, although I find that depending on the project, I can go up to a 4.0mm hook.
The yarns are available at your local Scheepjes stockist. If you have no local stockist, there are several shops online who are selling the new Whirls: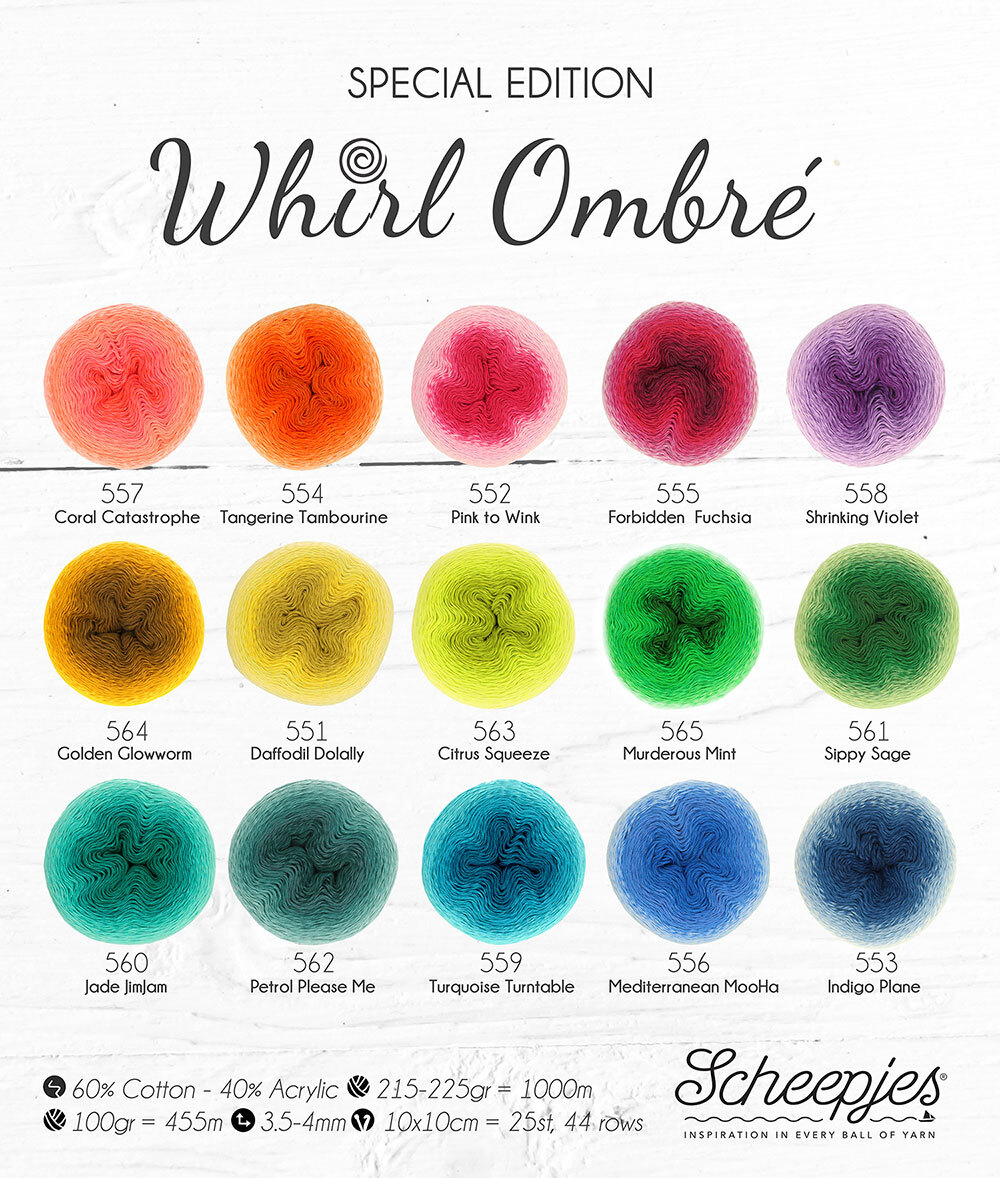 This shade card makes me want one of each!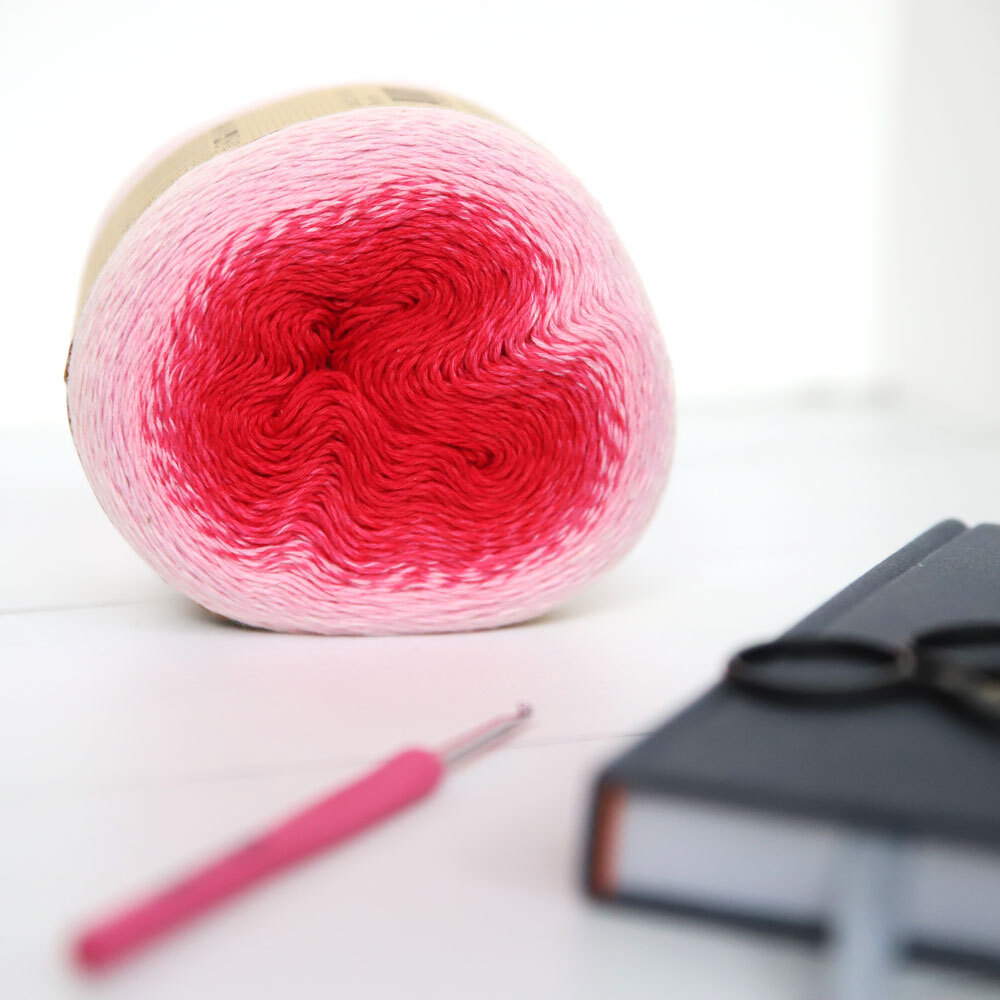 Whirl Colour: 552 Pink to Wink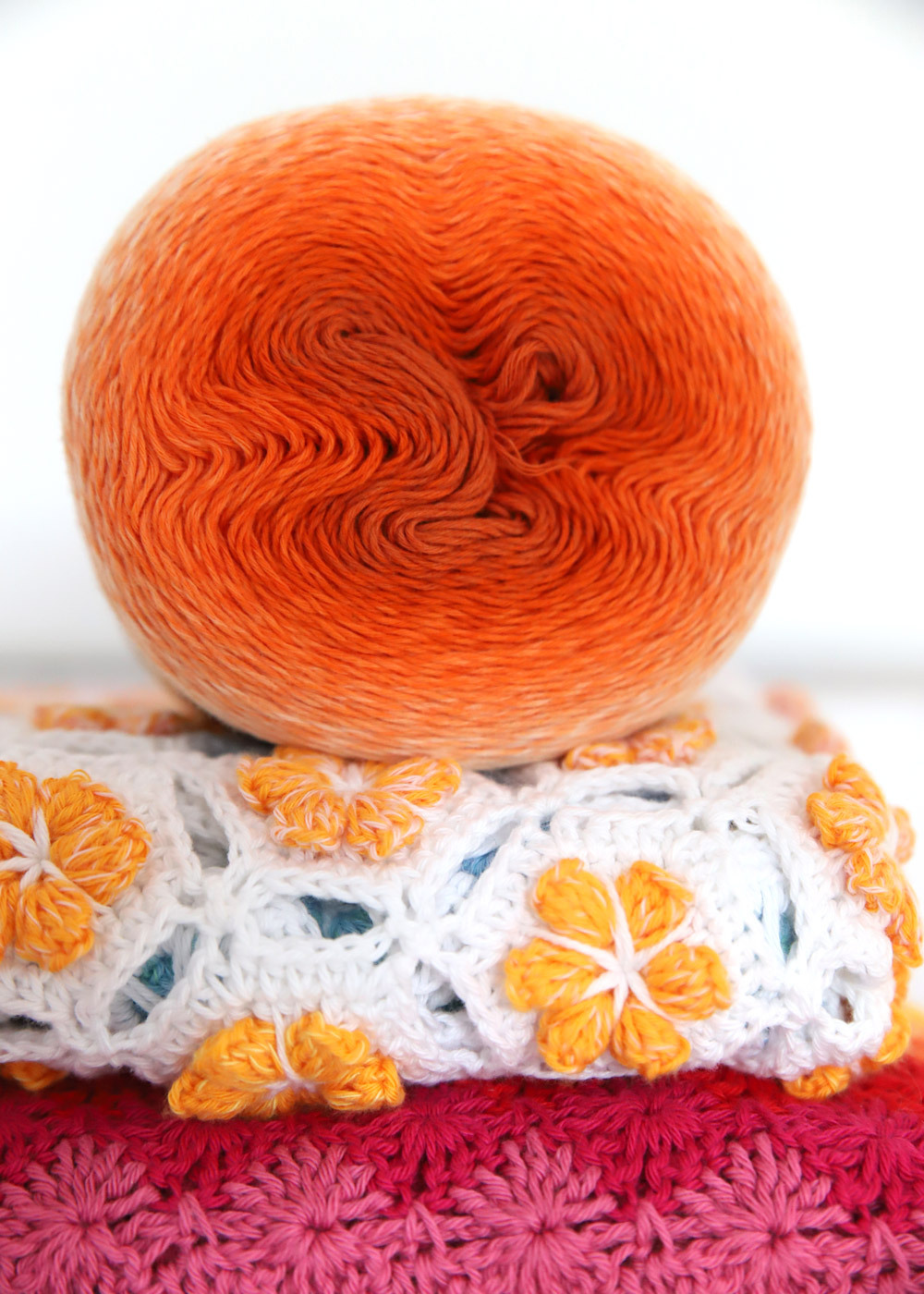 Whirl colour: 554 Tambourine Tangerine
Colours
The colours are very vibrant. Normal whirls have multiple colour changes and as such have not a lot of wiggle room for hue shifts in one colour. These Whirls do, and they run from a very light and pastel outer colour to a deep and vibrant inner colour. In the Wink to Pink the gradient runs from a pastel pink to a hot pink, but in the case of the yellow Daffodil Dolally you'll see that it goes from a pastel eggshell yellow to a deep mustard. The Tambourine Tangerine ends in a beautiful deep dark Autumn pumpkin-y orange. You know which colour I'm talking about!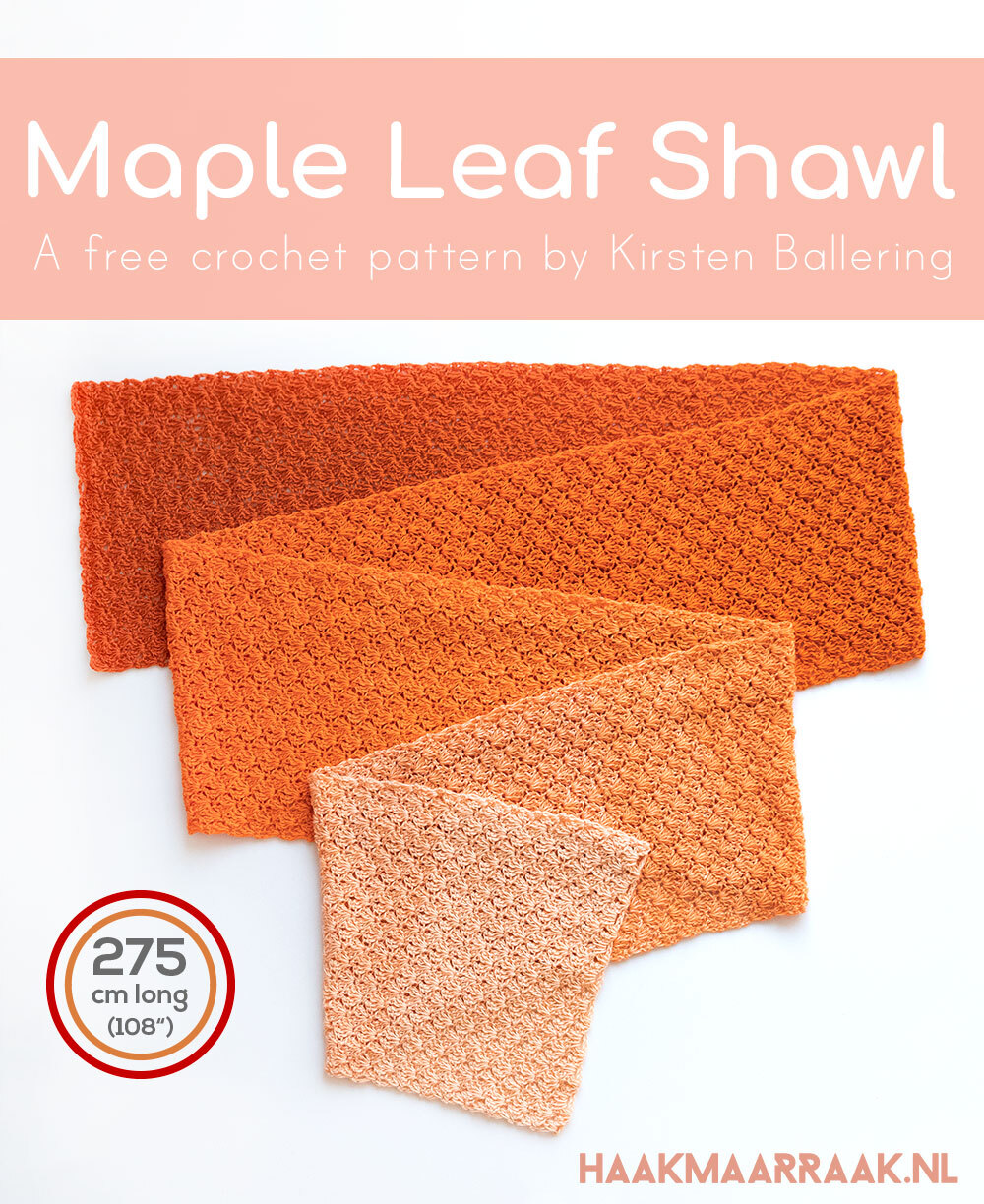 I'm so sure these Ombre Whirls will make a perfect Flower shower blanket! Whirl Colour: 554 Tambourine Tangerine
I immediately found designated projects for the pink and orange balls. The yellow one is still biding its time but I'm sure I'll find something soon. I've been working really hard the past month in order to get this pattern finished so I could share it with you today!
This is the Maple Leaf Shawl! I've designed it using shade 554 Tambourine Tangerine, and you can clearly see the ombre gradient. Doesn't it look marvellous? The shawl is quite long with its 275 cm (108 in), but what would you expect from a ball that's 1000m long? It has surely kept me busy for a few weekends. You can find the full free crochet pattern for this shawl here, in UK English, US English and Dutch.