Catona Colour pack

Unless you've been living under a rock, you must have heard about the Scheepjes Catona Colour Pack. Or phrased differently: The Rainbow in a box. What's all the fuss about? Well, it's the ultimate yarn party pack for colour!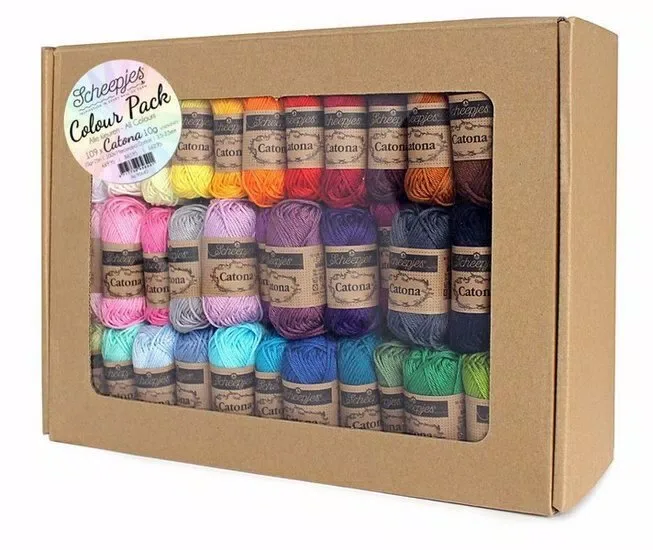 Catona

First things first: a little bit about the yarn in the pack. It's no secret that Scheepjes Catona is one of my favourite cotton yarns to work with. Catona is a fingering weight, mercerized cotton. Mercerized means that it has been treated to be slightly shinier, but also more colourfast during washing. Cotton softens after a while too, so your project becomes softer and softer over time. This pack contains all the shades of Catona in 10g balls of 25m (27yds) each.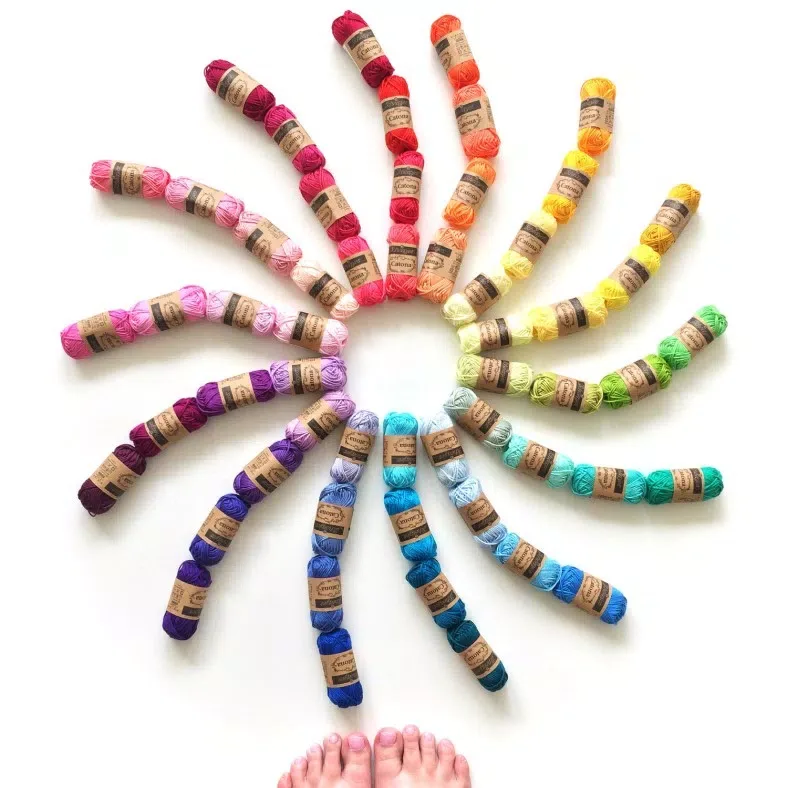 The Colours
Distribution
When it comes to colour this Colour pack is the ultimate party pack, with a sample of all 109 colours. So that's plenty of blues, greens, purples, yellows and pinks to choose from for your project. The colour distribution of Catona is quite balanced: although there's always room for more colour, there are no particular shades that I feel are over- or underrepresented. Overall, you've got a well-thought out colour palette to choose from.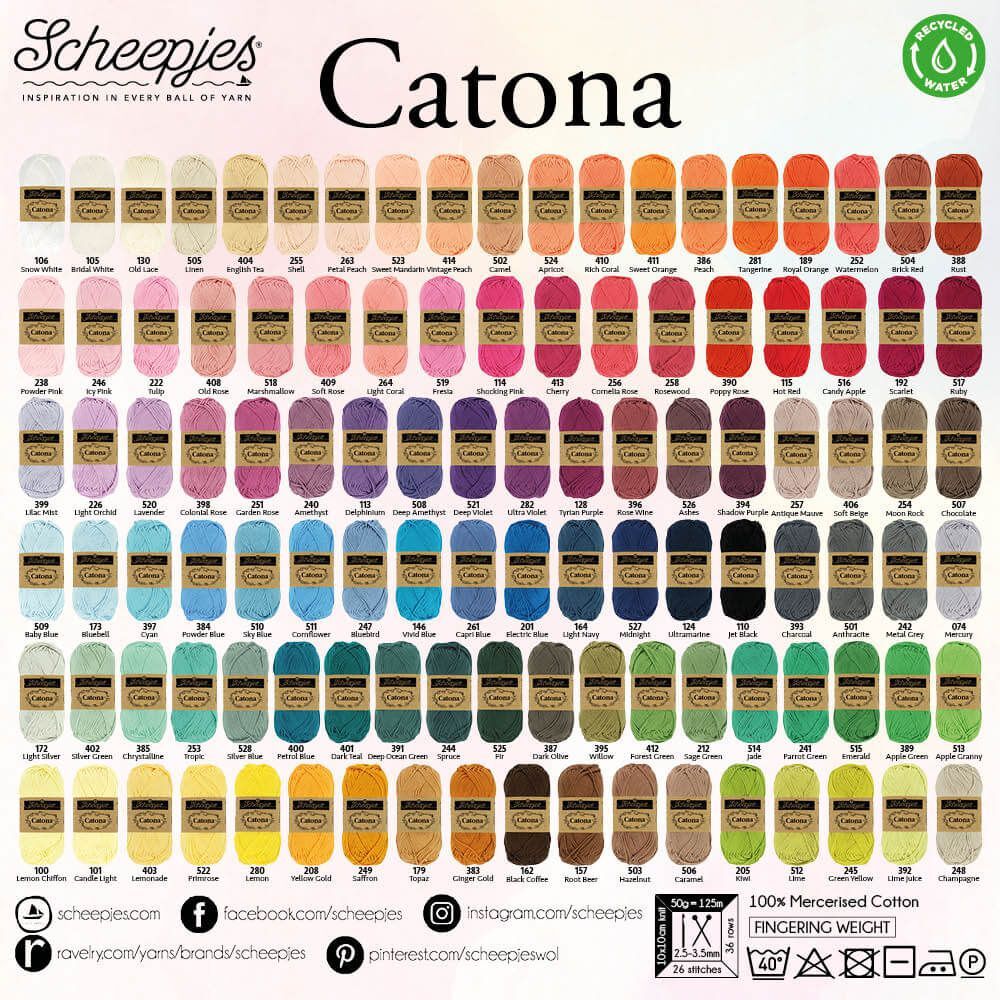 I'm particularly happy with the range of yellows in Catona. In a regular yarn range there are often only two or three choices for yellow: A bright lemon, soft pastel and if you're lucky a shade of mustard or ocre. Catona has 7+ shades of yellow to pick from, including a favourite of mine, Yellow Gold (208, 6th from the left on the bottom).

Neutrals
A side note that I have to make here is that you get all the colours in a box - also the ones you might not use. Around 15-20% of the colours in the Catona range are neutral shades such as brown, beige and grey. I gravitate towards colourful shades and less to neutral shades, so that means that I currently have a stash of those colours that I'm probably not going to use anytime soon. It's a small price to pay though. I use those shades for swatching motifs and figuring out stitch patterns, anything that's not colour-critical.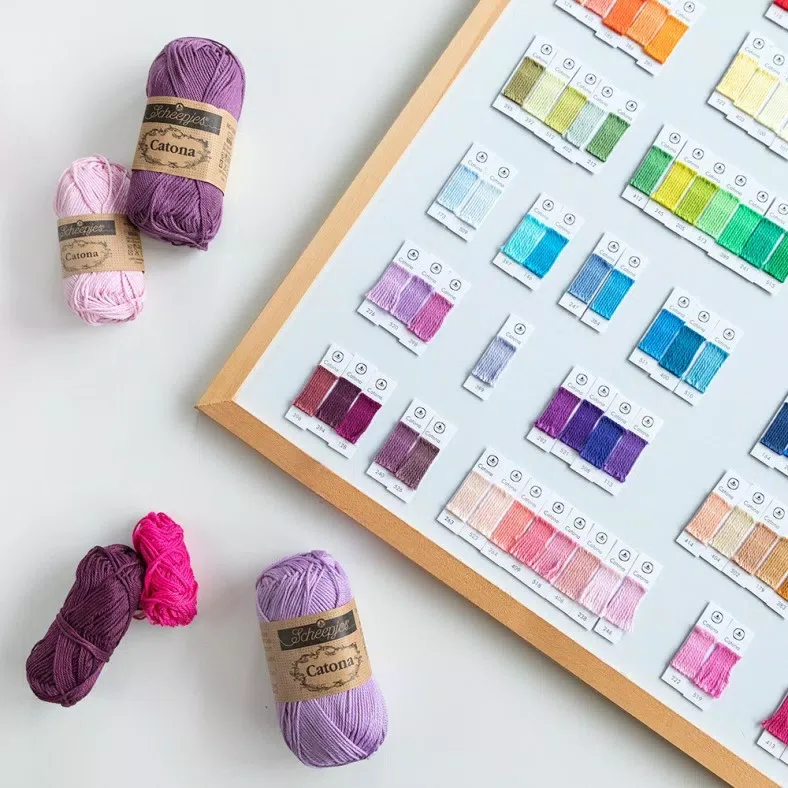 The packaging
The Colour pack comes in a carton box with an acrylic window. The balls all fit snuggly inside in three layers of three rows each. Somehow, they managed to put most of my favourite colours on the top layer! It's a joy to look at, even if you don't use the colour pack. I noticed that the acrylic sheet tends to come loose from the box after a while, so you might want to consider transferring them to another container for long term storage. Or use the box in one go, of course.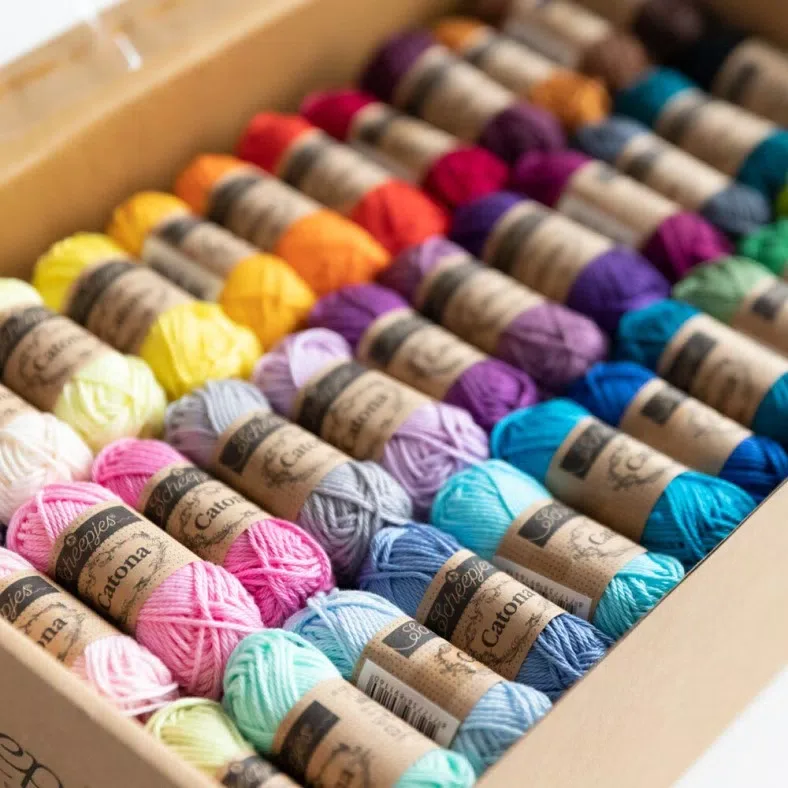 Bottom line

To sum it all up, what's my take on the Catona colour packs?
Pros:
You have all 109 colours at your disposal
Great for colourful projects. You don't need to break the bank for a full range of colours
Beautiful for photo's and just for 'having'. You know what I'm talking about!
Cons:

If you don't use all the colours for your project, you're stuck with those shades
You usually need extra balls of one colour for joining/bordering bigger projects
The see-through window of the box comes undone after a while, making the box not suitable for multiple uses or longtime storage.
The price
The colour pack retails for € 69.95 (~ $ 85), although the actual price might vary based on the retailer. You can also purchase the individual 10g balls at € 0.80 (~ $0.95), totalling € 87.00 (~ $ 103) for a full set of colours. This means that if you purchase a colour pack you are buying the yarn at a 20% discount!
Where can I get myself one of those Colour packs?
Colour Pack are available via Scheepjes retailers. You can also find them online via:
* affiliate links. Buying through these links earn me a little commission at no extra cost to you!


Other Colour Packs
This isn't the only Colour Pack. Scheepjes produces more colours packs from different ranges, allowing you to try out all the shades the ranges have to offer without having to buy all the separate balls. Other Colour Packs available are:
Stone Washed and River Washed Colour pack
Cahlista Colour Pack
Metropolis Colour Pack
SKIES light Colour Pack
You can find these packs through the links above, as most Scheepjes retailers stock these packs as well.
The Studio Pack
Perhaps you've also heard of the Studio Pack. The Studio pack is a set of items geared towards designers or crafters that need a bit of oversight for their colours. Besides a full Catona colour pack, it also contains two whiteboards, shade samples for the 109 Catona colours, magnets, clips and a tin box to store all items.