Christmas Cross Stitch Mug Cozy
10.Dec.15 / Kirsten Ballering
Long time no see! I was caught up in loads of work stuff lately and didn't have any time to write a decent blog post. But now we're getting closer to Christmas, work and life are getting more relaxed and easier in general AND, there is a new Scheepjes Blog hop which I really wanted to join! Remember last year? It was so much fun hopping from blog to blog and seeing all those new and Christmassy patterns!
This year the blog hop was started on Vicarno.com, where Annelies made a wonderful star backdrop hanging…
Then continued by Crafts from the Cwtch, with a sweet knitted Santa-with-secret-pocket…
Followed by Miss Neriss, who made lovely crocheted gnomes…
Next came Canadutch, with an awesome candy cane knitted wine sleeve…
Then we hopped over to Lilla Bjorn Crochet for some awesome crochet-embellished gift tags…
And we checked in with Craftyqueens for a hilarious Christmas sweater (!)…
Then Jellina on Jellina-creations came up with super sweet crocheted Christmas trees…
Next was Atty's with her colourful and elegant crocheted angels…
And It's all in a Nutshell came up with a wonderful jam cover cosy…
And now it's my turn!
Materials and preparation
Yarn
Scheepjes Catona (100% mercerised cotton, 50g/125m)
Colour A: 114 Shocking Pink x 1 ball
Scheepjes Lizzy (80% viscose, 20% polyester, 25g/101m)
Colour B: 3 Gold x 1 ball
Other
mug (standard issue, 8cm in diameter, 9.5cm in height)
needle
button for fastening
Shop the yarn
You can buy Scheepjes Catona and Lizzy via Scheepjes retailers, or webshops such as:
Crochet hook
3.5mm (US size E/4).
Measurements
Fits a mug of 8cm in diameter and 9.5cm in height.
Gauge/tension
Gauge is not critical for this project, make sure the circumference of your crochet fits the mug.
Abbreviations
ch: chain
sc: single crochet
ss: slip stitch
st(s): stitch(es)
Body of cozy
With Colour A, ch50.
Row 1 Starting in second ch from hook, 49sc, ch1, turn. [49 sc]
Row 2 49sc, ch1, turn.
Make sure here that your cozy fits around the mug. If it doesn't completely fit, consider blocking it to the right measurements before you start the embroidery.
Row 3 Ss in first st, 47sc, ch1, turn. [47 sc]
Rows 4-21 47sc, ch1, turn.
Row 22 Ch16, 47sc, cut yarn. Make sure your button fits through the chain! [47 sc, 16 ch]
Cross stitch on crochet
Some notes before you start cross stitching on crochet:
You need approx. 5/6 meter. As I'm very awkward with long pieces of yarn, I cut it up into multiple parts for easier stitching (this requires to weave in more ends though)
The mesh looks a little bit warped but this will all be fine once you start cross stitching.
Lizzy is not the easiest yarn to cross stitch with, so make sure you pull your stitches tight (not too tight so it starts pulling).
As this pattern is a single colour and all stitches are adjacent, I made it top-down and row by row from right to left. I started with diagonal stitches from top to bottom (purple) and at the end of the row, I turned and made the other diagonal stitches (red).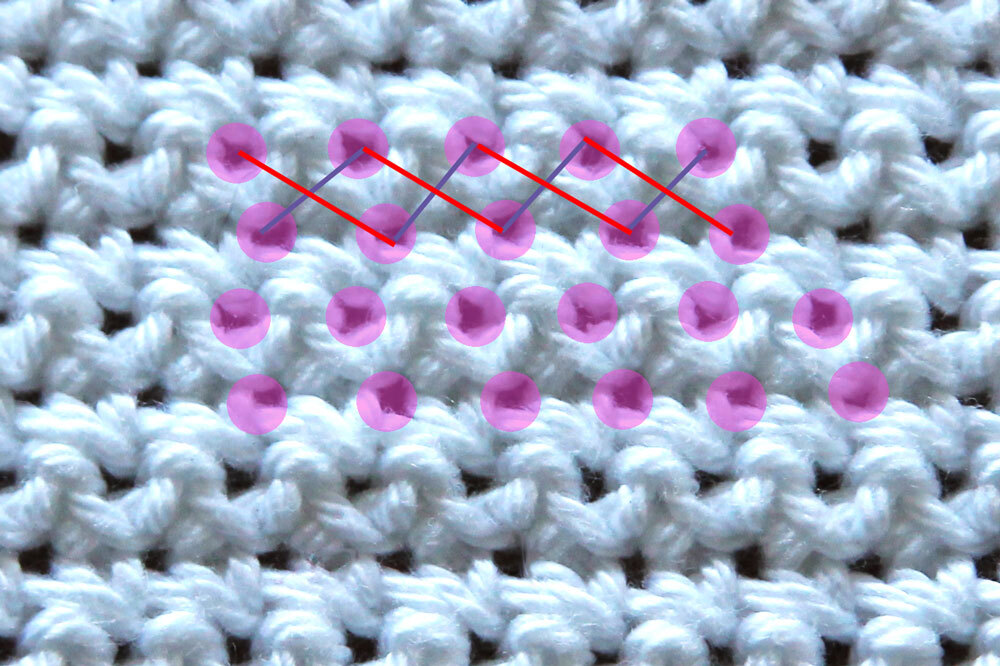 Starting two rows from the top, and 11 stitches from the side, make the top of your tree. And when you finish one tree, make another! You can follow the next cross stitch pattern: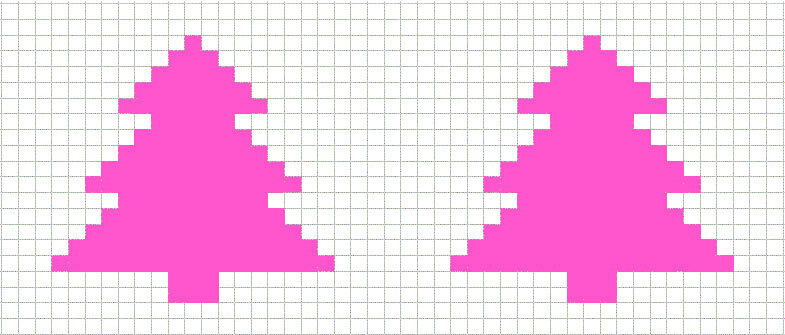 After you're done cross stitching, weave in your ends and attach your button for fastening. Use the loose end from your starting chain to sew the two parts beneath the mug-handle together. That's it. You're all done!
I also made a white version, if you're not into hot pink. For this version, you need Scheepjes Catona in Spruce green (244) and white (106), and a little bit of Scheepjes Lizzy. Follow the instructions above, and crochet a little star on the top when you're done.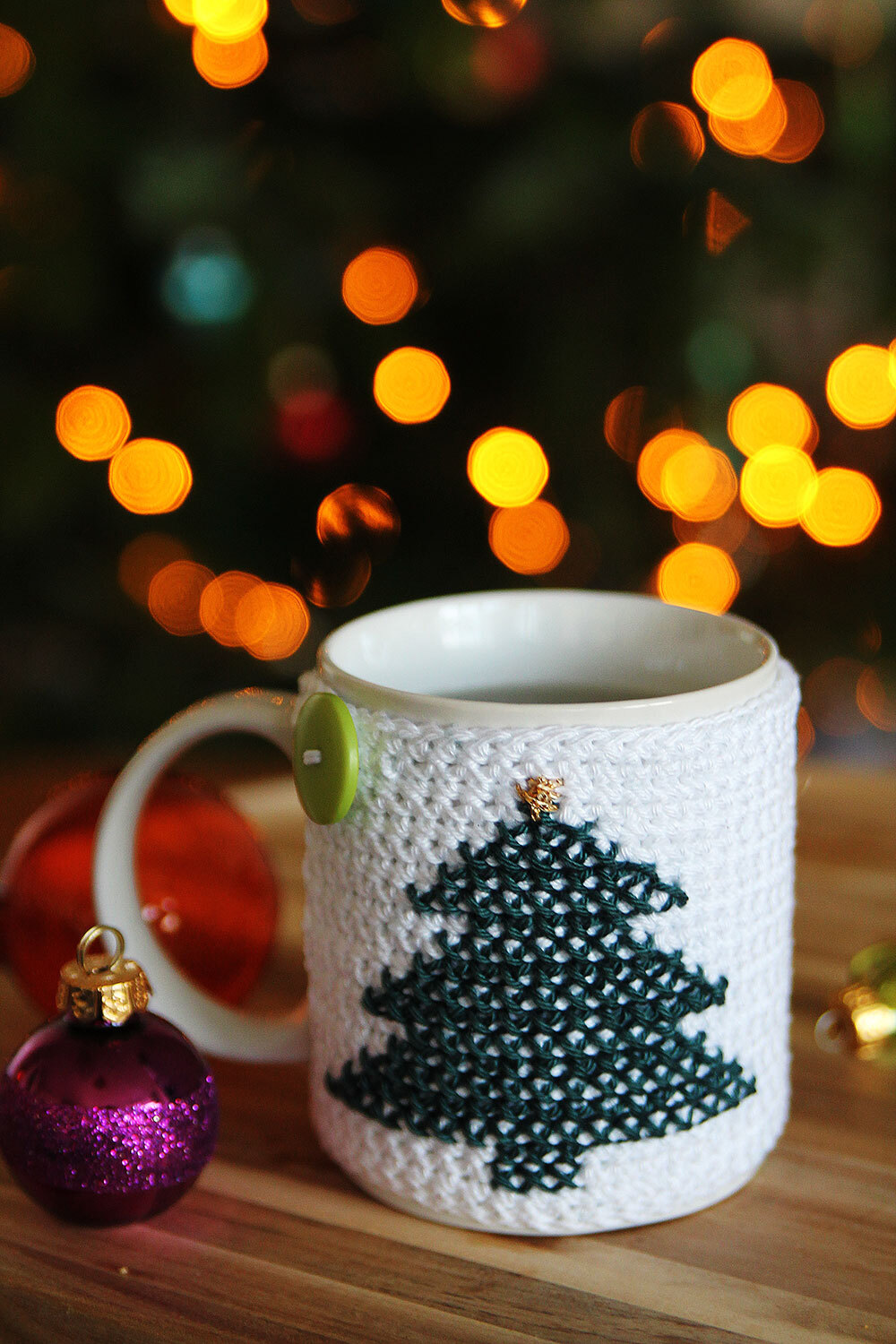 Tomorrow, Berniolie will reveal her new project. Exciting!