Beaded Bridal Shawl
01.Aug.17 / Kirsten Ballering
As promised, here's the free pattern for the Beaded Bridal Shawl. This shawl holds a special meaning to me, as I wore it at my wedding. The delicate Scheepjes Alpaca yarn has the perfect drape to crochet an elegant shawl to match an equally elegant dress. The rocailles that are crocheted in the fabric add a bit of weight to the shawl, preventing it from slipping off your shoulders and enhancing the drape even further. I'm loving it and I hope you will too!
The pattern for the Beaded Bridal Shawl is also available as a styled and advertisement- free PDF in the Haak Maar Raak shop.
Materials and preparation
Yarn
Scheepjes Alpaca Rhythm (80% Alpaca, 20% fine wool, 25g/200m)
Colour A: 670 Bop x 8 balls
Other
1000 Toho 6/0 seed beads (Opaque-Lustered Navajo White)
1000 Toho 6/0 seed beads (Permanent Finish – Silver-Lined Milky Soft Pink)
(Split eye) needle to string beads
Shop the yarn
You can shop Alpaca Rhythm at Scheepjes retailers such as:
Crochet hook
4.5mm (US size 7).
Measurements
A blocked shawl measures 150 by 51cm (59 by 20in).
Gauge/tension
One section between beads measures 3.8cm (1.5in) in width with a 4.5mm crochet hook, four sections between beads measures 15cm. 22 rows measure 10cm (4in) in height, all measurements unblocked.
Notes
I strung the beads on the yarn per 150-200 beads. When I ran out of beads, I cut the yarn and strung on 200 new beads.
Don't forget to alternate colours. The beads have to be strung on the strands before you start crocheting. This means that the beads will always be between your crochet and your yarn, just pull the yarn you need to crochet through and keep the beads back.
On WS rows there are no beads crocheted in the stitches, only on RS rows.
Fiona from Kelly's Krochet has made a little video tutorial on how to crochet the beaded single crochet. Definitely a must-watch if you're struggling with the stitch!
Abbreviations
beaded sc: beaded single crochet, see Techniques
ch: chain
RS: Right Side
sc: single crochet
st(s): stitch(es)
WS: Wrong Side
Colour layout
I created a colour scheme to help you visualize your beads if you want to create more complex patterns. You can find it here.
Techniques
Beaded single crochet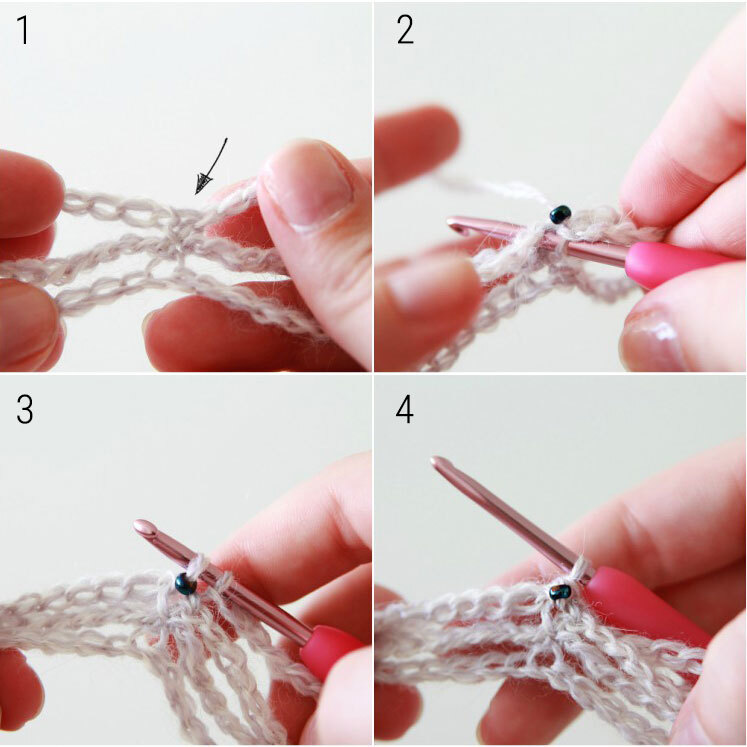 For the purpose of demonstrating the technique, I used a contrasting colour for the bead. This is not the colour as used in the original shawl.
Pull up a bead to your crochet piece. Insert hook in sc from previous row, grab yarn to the left of the bead and pull forward to pull up a loop (photos 1 and 2). Make sure the bead pops to the front of the work together with your loop (photo 3). Yarn over, pull through all loops on hook as you would finish a regular sc (photo 4).
The key is to grab the yarn right next to the bead, this will force the bead to come forward with your yarn loop. It will take a bit of practice but will get second nature over the course of the shawl.
Shawl
String 200 beads on both strands of Alpaca Rhythm, alternating the two colours.
With two strands of the Alpaca Rhythm, ch346.
Row 1 (RS) Starting in second ch from hook, 1sc, (1 beaded sc, ch8, skip 8 sts) 38 times, 1 beaded sc, 1sc, ch1, turn. [39 beaded sc with 38 sections of 8 chains in between]
Row 2 (WS) 1sc, (1sc, ch8, skip 8 sts) 38 times, 2sc, ch1, turn.
Repeat Rows 1-2 another 47 times. Next, repeat Row 1 once more. This amounts to 49 rows of beaded sc's with 48 rows without beads in between. Each time you run out of beads, string on new beads, alternating pink and white. Make sure the last bead you string on your yarn is opposite to the last bead crocheted in the shawl to maintain the alternating bead pattern.
Weave in all loose ends.
Adjusting Measurements
To adjust the height of the shawl, simply add more Rows 1-2 repeats.
To adjust the width of the shawl, add a multiple of 9 to the beginning chain (i.e. 346 + 9, 346 + 27 etc). 9 chains will add approximately 4cm (1.5in). Adjust the number of pattern repeats in Rows 1 and 2 accordingly.
Blocking
This particular yarn and type of pattern benefit greatly from wetblocking. Wetblocking is the process in which you wetten your work and pin it in shape. Once dry, your work will have an increased stitch definition and a great drape.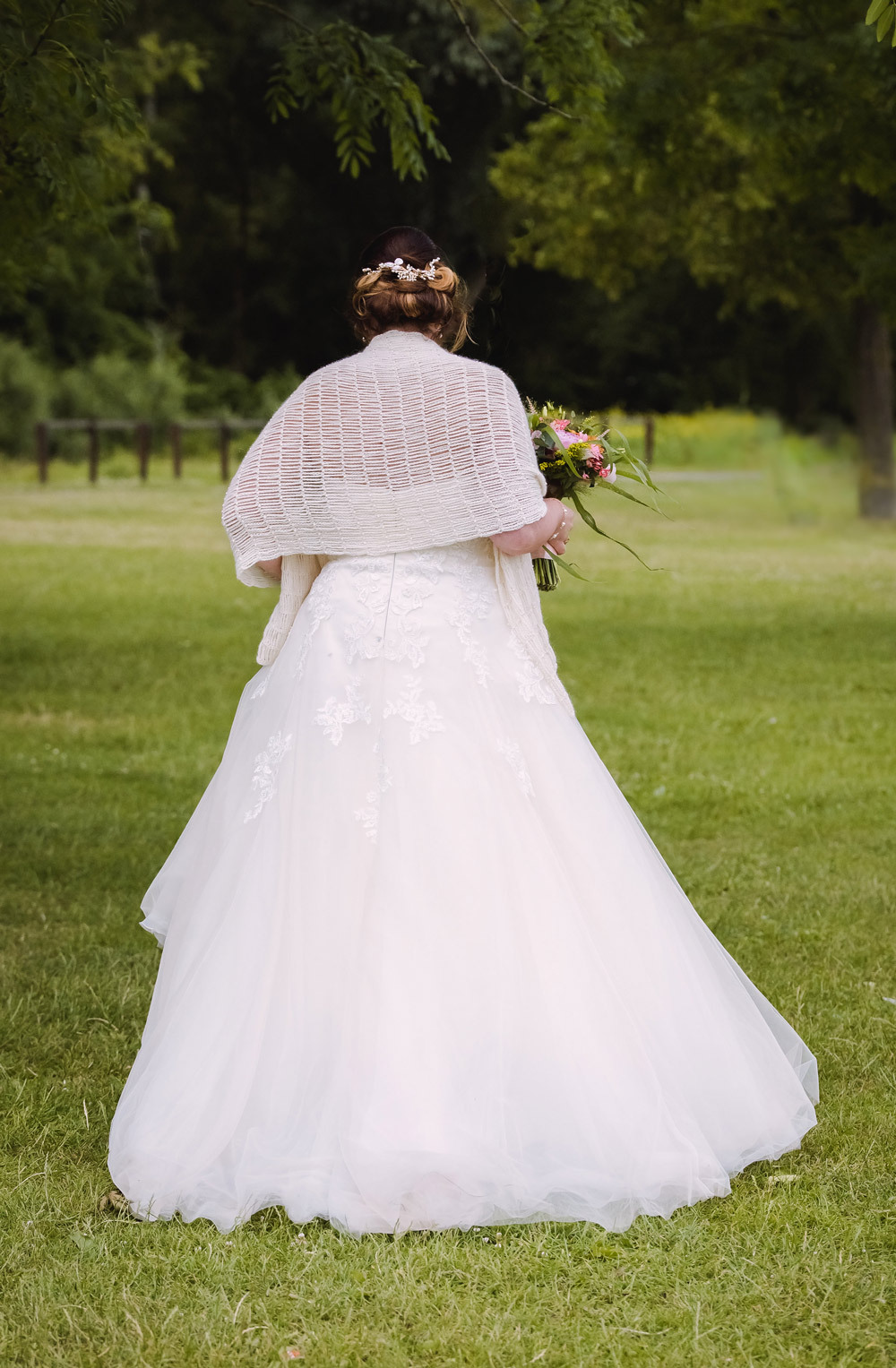 Diagram