Welcome to the Meghan's Moment MAL! This MAL is organised by Scheepjes and myself to celebrate the upcoming royal marriage between Prince Harry and Meghan Markle. Because after all, there's no better excuse to create a piece of handmade glamour than a big wedding! Starting April 3rd 2018, we'll be working on our own crown piece. The pattern we'll be making together is the Beaded bridal shawl, which is an elegant shawl made with double-stranded lace yarn and beads. You can work on the shawl on your own pace, and when the royal couple get married on May 19th we can all wear and show our own Meghan Moments!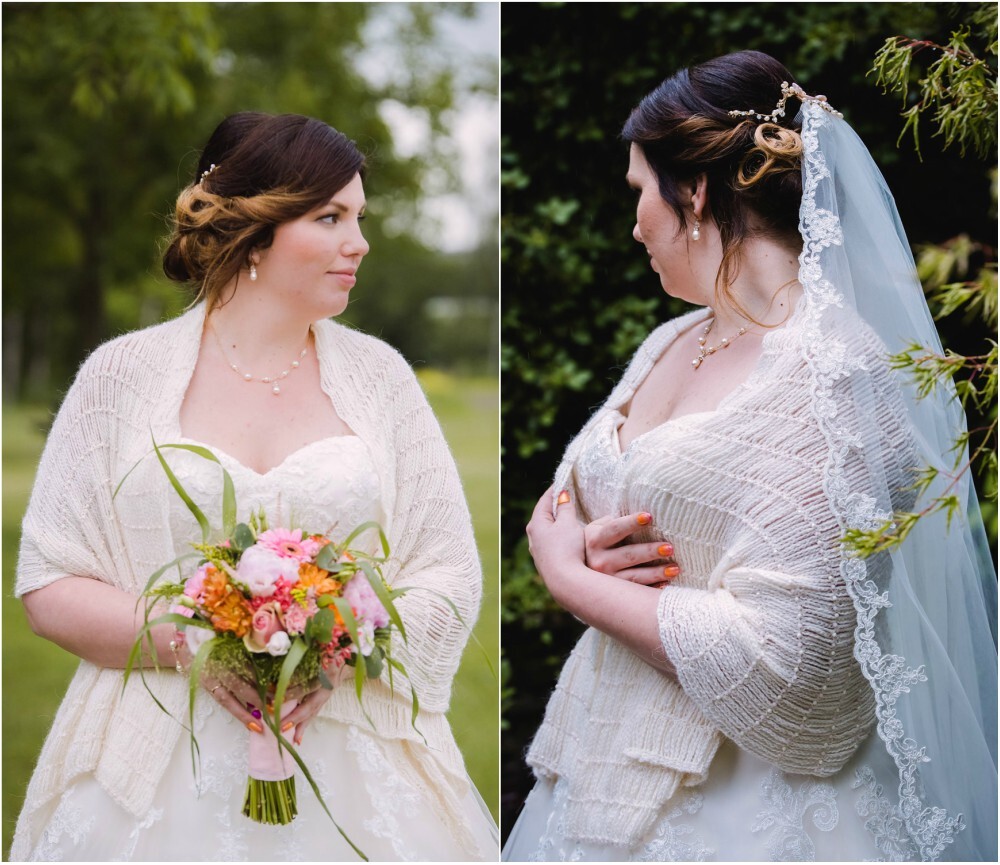 The original shawl with which it began
A little bit about the shawl
As you might already know, the pattern for the shawl that we'll be making during this MAL has a background story. It was the shawl I've designed for my own wedding, almost one year ago. Even though I got married at the end of June, the weather here can be very unpredictable and chilly. I was determined to find the perfect shawl to go with my wedding dress, but after scouring bridal boutiques for a few months I still hadn't found my dream shawl. Time was ticking and that's when I decided to create my dream shawl myself. The pictures above are my actual wedding pictures. I felt like a million bucks that day, my own #MeghanMoment!
Meghan's moment
So why is it called Meghan's moment? Well, I think we can all agree that Meghan is the one who is will be standing in the spotlight that day. It will be her moment to shine! And while the royal wedding is a British event, this MAL definitely isn't just for Brits. Meghan is American, and the marriage will be celebrated throughout the commonwealth, so Australia, Barbados, New Zealand, Canada and many other countries will be joining in the festivities. And even if you're not in one of those countries but you've enjoyed the Crown on Netflix, this could be a MAL for you!
Now, while this shawl was originally created for a wedding, that doesn't mean that you can't make it with other events in mind. While it's not a shawl that you'll wear on a grocery run, it might make the perfect accessory for a dinner party, or a night out to the theatre.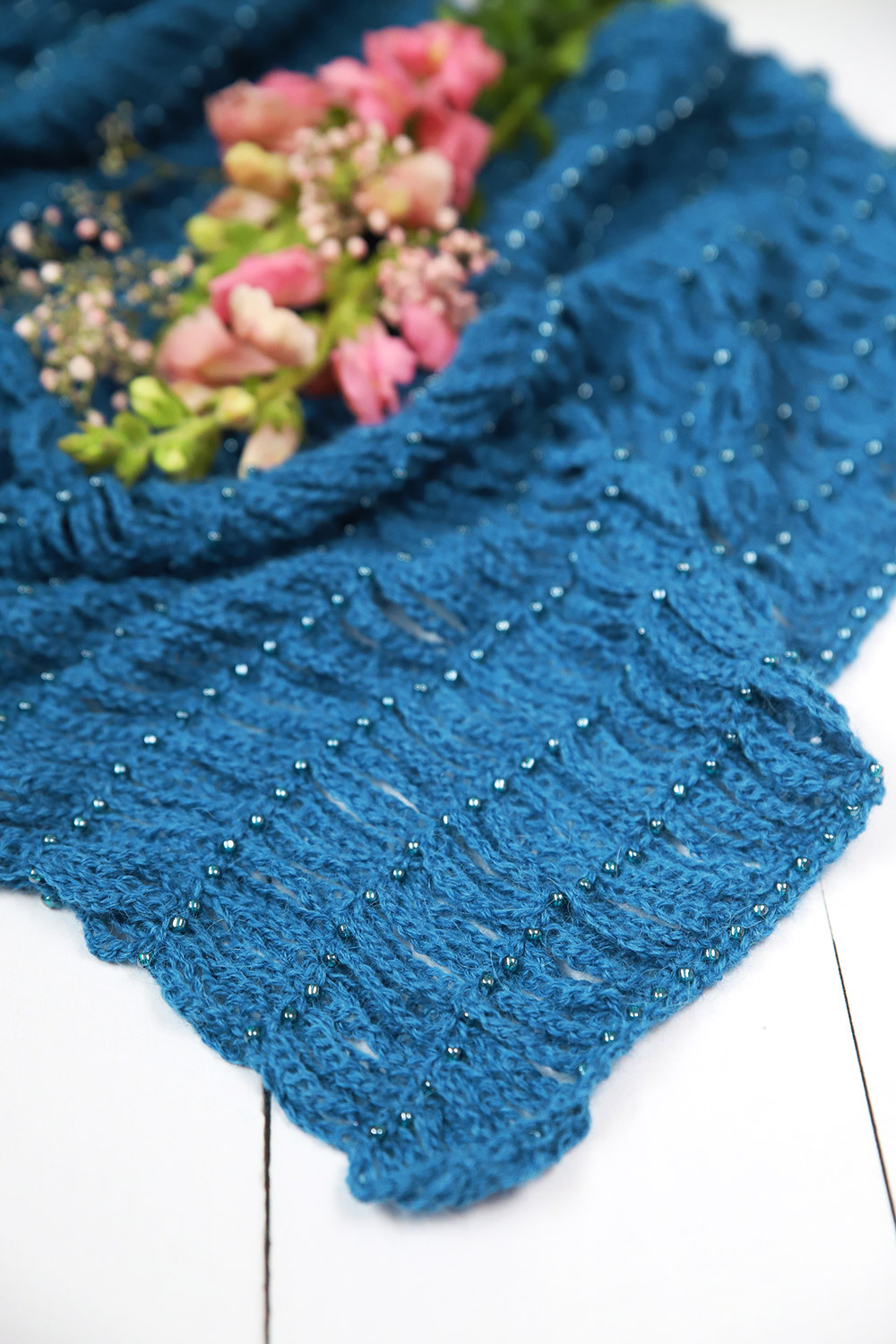 Shawl in Alpaca Rhythm 657 Charleston with Toho trans-lustred teal
Meghan's Moment MAL – FAQ
Where can I find the pattern?
You can find the pattern for the Beaded bridal shawl here. It's a free pattern on my blog, but I've put together a styled and printable version for a small fee too. The information in both patterns is the same though, so you're not missing out on anything if you use the free version. You will however be supporting me to continue producing patterns if you purchase the paid version.
When does the MAL start?
We officially start on April 3rd, 2018. You can create the shawl at your own pace, there is no set time frame with pattern releases like in a CAL. The royal wedding is on May 19th, so that gives you over 6 weeks to create something beautiful. However, the pattern will remain available indefinitely so there's no rush.
I am a beginning crocheter. How difficult is this pattern?
If you're a beginner, I encourage you to join in! The crochet pattern itself consists of chains, single crochets and beaded single crochets which are explained in the pattern. You'll be working on your shawl together with fellow beginners and more experienced crafters, so there is plenty of room to learn new skills and increase your existing ones.
What do I need for the shawl?
You will need:
8 balls of Scheepjes Alpaca Rhythm, a laceweight yarn. We'll be using it double stranded for this MAL.
4.5mm crochet hook (US size 7)
Approximately 2000 beads. More on the beads below.
A small needle to string the beads (or a split-eye needle)
Blocking materials. Blocking is always optional but heavily recommended for this shawl. For blocking instructions, please check out my blocking tutorial.
Where can I get the materials?
You can get the Scheepjes Rhythm Alpaca from Scheepjes retailers, such as:
You can get beads and split eye needles from your local jewelry store. For information on beads, see below.
Where can I show my progress and ask questions?
The MAL is sponsored by Scheepjes and so support can be found in the Scheepjes Facebook groups. There is a Dutch group and an international group. You'll be able to check in there and share your progress. I will of course also be present in the groups to help you along and to see all your beautiful creations! If you share your progress pics on other social media platforms, be sure to use the hashtags #Meghansmoment, #RoyalWeddingMAL, #Scheepjes and #Haakmaarraak too!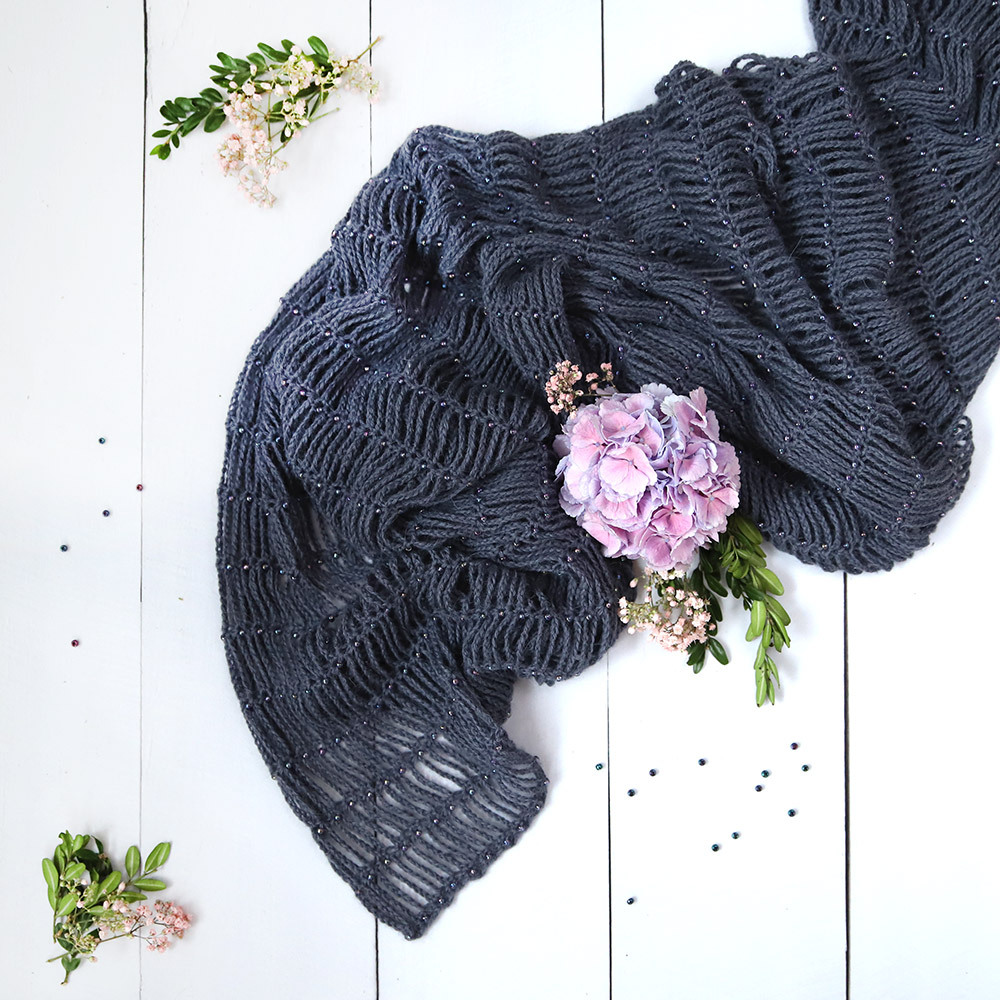 Shawl in Alpaca Rhythm 665 Hip hop and Toho Trans-rainbow sugar plum
Beads for the shawl
The main feature of this shawl are the beads, which add a little glamour. They look very delicate, especially when they shimmer and shine! The beads are also practical, because they add a bit of weight and help the shawl drape better. There are lots of choices in beads, so I've written down all info that you need on the beads below.
Brands
For my own shawl and the various samples ion the photographs I've used beads from the brand Toho. These beads originated from Japan and are available all around the world. Other big brands that produce beads are Miyuki (also Japanese) or Gütermann (German). If you're using other brands, that perfectly fine too. Just make sure that you have the right size, as sizing is important (see below). My personal preference also goes out to glass beads instead of acrylic beads, because of the quality and weight that glass provides.
Sizing
For this shawl you'll be needing so-called 'seed beads'. These are small, round glass beads used for embellishment. Choosing the correct size of seed bead for your yarn is important, because sizing doesn't only influence the actual size of the bead, but also that of the hole in the bead. If that hole is too large, it will slip in and out of your stitch and in general will sag a bit. If the hole is too small, you'll have difficulty threading and working with it.
I found that 6/0 glass seed beads are perfect for the Alpaca Rhythm when it's used double stranded. 6/0 seed beads are around 3-4mm in diameter and the size of the hole in the bead is around 1.5mm. So when shopping for beads, keep this in mind. 8/0 seed beads are already too small in my opinion and I did not enjoy working with them with double stranded Alpaca Rhythm. If you're interested in more explanation about bead sizing, check out this link.
6/0 seed beads are sold through various retailers, including:
Please note that I don't have personal experience with the above webshops except Wirwarkralen, which is my local Dutch jewelry store. There are also lots of webshops who sell 6/0 seed beads to be found on Google.
To easily thread the beads, I used a split eye needle. It's one of those needles that splits in the middle, allowing you to easily thread the two strands of Alpaca. With 2000 beads, this will make your life easier, trust me. You can find them at your local jewelry retailer or on Amazon: Big Eye Needle
Amount
For the shawl as described in the pattern, you will need ~2000 beads in total. I've used two colours of beads in my shawl, so I needed around 1000 beads per colour. Obviously, if you choose to incorporate more colours you will need fewer beads in each colour. If you want to create a custom bead pattern, I've created a colour scheme which you can use to keep track of how to thread your beads. You can find it here.
Weight of a bead
Do keep in mind that beads are often sold based on their weight and not by a specific amount. The weight of one particular type of bead might not be the same as others, as it's depending on the bead's finishing. For example, beads that are silver-lined weigh more than those without a silver lining. The difference is very subtle, but you can imagine that it adds up when you need 2000 beads. Double-check with your bead retailer, most suppliers will tell you how many beads there approximately are in the bags they sell. It can't hurt to order a few extra beads, for swatching and just in case.
Blocking and beads
The shawl looks best when it's blocked. This means that you'll have to submerge your beads when blocking. While this is usually not a problem with glass quality beads, it's always best to swatch a small piece and add a few beads to see how it looks after blocking. Better safe than sorry! When in doubt, ask your bead retailer.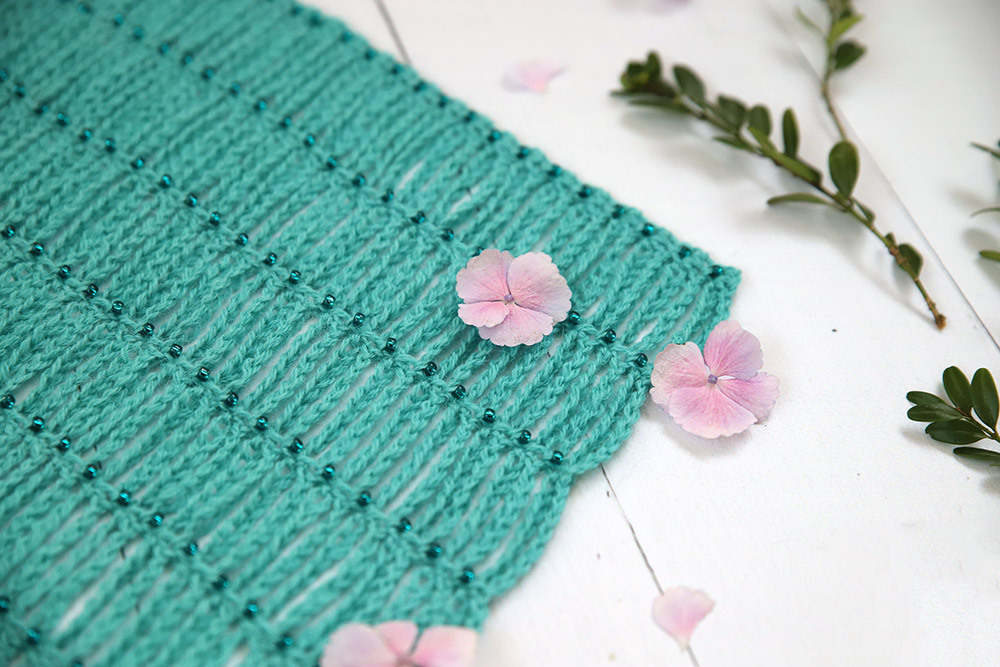 Alpaca Rhythm 655 Twist with Toho Silver-lined Teal
Bead inspiration
Oh, how I enjoyed putting these collages together! Because the base of the shawl is just one colour, you can choose any colour of beads to go with them. This is your chance to 'glamify yourself'! A little sheen, a bright colour, a sparkle, just that little bit extra to make it stand out from your shawl. And don't think you need to limit yourself to just one colour! I used two colours in my wedding shawl design, alternating them every bead. But you can also choose to work every row in another colour, or even have a mix of beads. Or work in columns… or… or… I'm sure you'll come up with something creative!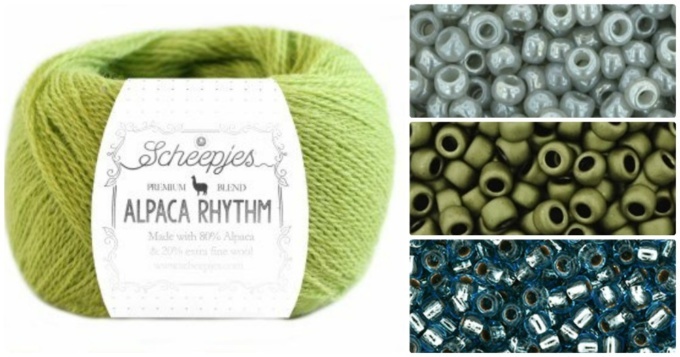 Alpaca Rhythm 652 Smooth with 1. Toho Ceylon Smoke, 2. Toho Matte-color Dark olive 3. Toho Copper-Lined Aquamarine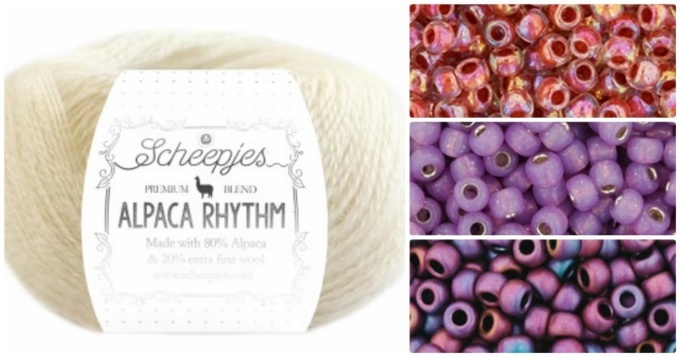 Alpaca rhythm 670 Bop with 1. Toho Inside-color rainbow crystal/sandstone lined 2. Toho Silver-lined milky amethyst 3. Toho Matte-color andromeda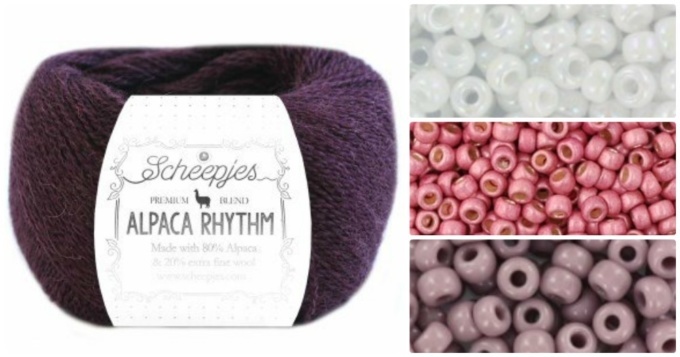 Alpaca Rhythm 662 Paso with 1. Miyuki opaque white 2. Toho permanent finish – Matte galvanized pink lilac 3. Miyuki opaque mauve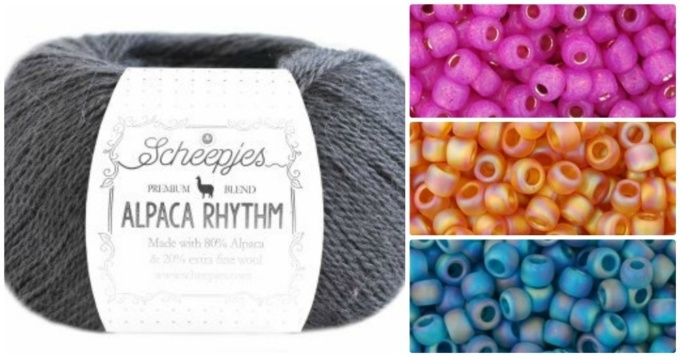 Alpaca 665 Hip hop with 1. Toho Silver-lined milky hot pink 2. Toho Trans-rainbow-frosted dark topaz 3. Toho Trans-rainbow-frosted teal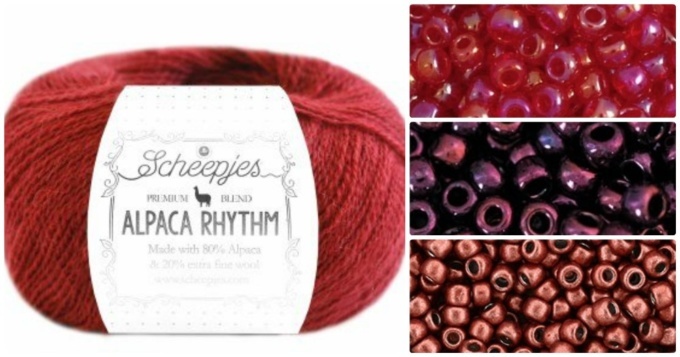 Alpaca 663 Tango with 1. Toho Trans-rainbow Ruby 2. Toho Higher-metallic dark amethyst 3.Toho Hybrid colortrends aurora red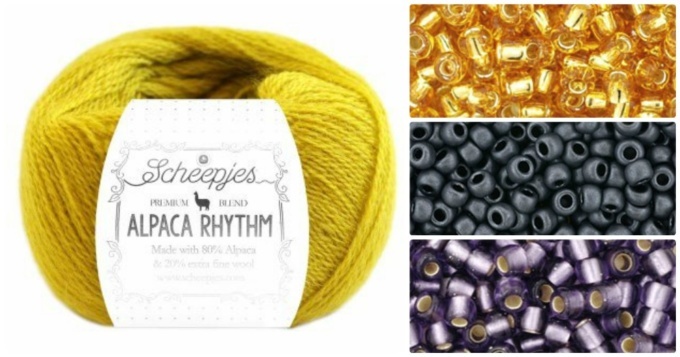 Alpaca 668 Disco with 1. Toho Silver-lined Topaz 2. Toho Matte-color opaque grey 3. Toho Silver-lined frosted lt tanzanite
Alpaca Rhythm 670 Bop with alternating Toho Opaque-Lustered Navajo White and Toho Silver-Lined Milky Soft Pink