Retro Ripple Blanket
08.Sep.14 / Kirsten Ballering
This is the pattern for the Retro Ripple! This blanket is easy to adapt in size. I made it pretty big, but with half the yarn you can also make a decent sized throw. The pattern is written in US terms, and I've included a chart for the ripple too, as well as a photo tutorial for the fringe. The pattern is suitable for beginning crocheters as the stitches are easy to memorize and have a nice 'rhythm' to them (a.k.a. TV crochet). Enjoy!
Materials and preparation
Yarn
Scheepjes Soft Fun (60% cotton, 40% acrylic, 50g/140m)
Colour A: 2410 Red x 2 balls
Colour B: 2449 Coral x 2 balls
Colour C: 2515 Dark Purple x 2 balls
Colour D: 2519 Purple x 2 balls
Colour E: 2535 Dark Green x 2 balls
Colour F: 2517 Apple Green x 2 balls
Colour G: 2431 Terracotta x 2 balls
Colour H: 2427 Orange x 2 balls
Colour I: 2514 Bright Pink x 2 balls
Colour J: 2513 Pastel Pink x 2 balls
Colour K: 2518 Yellow x 2 balls
Colour L: 2496 Soft Yellow x 2 balls
Colour M: 2452 Dark Blue x 2 balls
Colour N: 2511 Turquoise x 2 balls
Colour O: 2408 Black x 3 balls
Crochet hook
4.0 mm (US size G/6).
Measurements
This blanket measures 120cm x 200cm, excluding fringes. (47 x 78in).
Gauge/tension
Gauge is not critical for this project. One finished ripple row measures 120cm in width.
Notes
Clarifying remarks and references to the photos are placed in italic between brackets. Italic text is not a pattern instruction, regular text is! Also, the photo tutorial uses different colours as you will crochet the first stripes of your blanket with.
Abbreviations
ch: chain
dc: double crochet
dc3tog: double crochet 3 stitches together. (Yarn over, pull up loop in stitch, yarn over, pull through first two loops on hook) for each of the three stitches, you now have 4 loops on your hook. yarn over, pull through all loops on hook
ss: slip stitch
st(s): stitch(es)
Repeat formats
(…) in same st/sp Indicates that all instructions between brackets are worked in the same stitch or space.
With Colour A, ch193.
Row 1 Ch3 (counts as first dc), 1dc in 4th ch from hook (photo 1), 10dc, dc3tog (photo 2), 10dc (you'll see a bend in the blanket starts to form, photo 3), (1dc, ch1, 1dc) in next st, *10dc, dc3tog, 10dc, (1dc, ch1, 1dc) in next st; repeat from * another 5 times, 10dc, dc3tog, 10dc, 2dc in last st, turn work. (photo 4)

Row 2 Ch3 (counts as 1dc), 1dc in last st of previous row, *10dc, dc3tog, 10dc, (1dc, ch1, 1dc) in chain-space of previous row (photo 5); repeat from * another 6 times, 10dc, dc3tog, 10dc, 2dc in last st of previous row (which will be the ch3 with which you started your row, photo 6), turn work.

Rows 3-5 Repeat Row 2. You now have 5 rows of the same colour (photo 7), Cut yarn.
Rows 6-10 Join Colour B with a ss on the same side as where you've finished with your last row. Repeat Row 2 five times (photo 8, 9), cut yarn.

Row 11 Join Colour O with a ss, Repeat Row 2. Cut yarn.
Repeat Row 2 for every next row of the blanket, using the following colours:
Rows 12-16 Colour C
Rows 17-21 Colour D
Row 22 Colour O
Rows 23-27 Colour E
Rows 24-28 Colour F
Row 29 Colour O
Rows 30-34 Colour G
Rows 35-39 Colour H
Row 40 Colour O
Rows 41-45 Colour I
Rows 46-50 Colour J
Row 51 Colour O
Rows 52-56 Colour K
Rows 57-61 Colour L
Row 62 Colour O
Rows 63-67 Colour M
Rows 68-72 Colour N
Row 73 Colour O
Repeat the whole colour sequence, including using Colour A and B another time. For the second repeat, don't work the final row of Colour O but instead, end with the 5 rows of Colour N. Fasten off and weave in all ends.
Fringes
I've added the fringes on different places (arrows, photo 10). I started out with fringes in between two colours and in every black row, but that seemed a little sad and lonely. So I've added fringes in every 3rd row of a colour block too. If you're not too sure, just start with making fringes in between the colours and in every black row, and add extra fringes if you deem this necessary later.
Making fringes is easy. First, gather all your yarns and put them in a bucket or box so they can't roll away. Grab a strand from each yarn and cut sections of 15cm. Divide these into two strands of 7 threads each with the colours split at random. The fringes are going to be knotted double in your blanket and if you make fringes with 14 strands, they'll end up too bulky in my opinion.
Take a fringe and fold it in half (photo 11). Insert your crochet needle through the loop, and pull the loop through your blanket (photo 12). If you make a fringe on the border of two colours, use the stitch in which you've attached your new colour. If you attach fringes to other parts of your blanket, just take the stem of the dc.
Insert your thumb and index finger in the loop (photo 13). Then pull your ends through your loop and pull gently to tighten the fringe (photo 14, 15). Trim your fringes to size.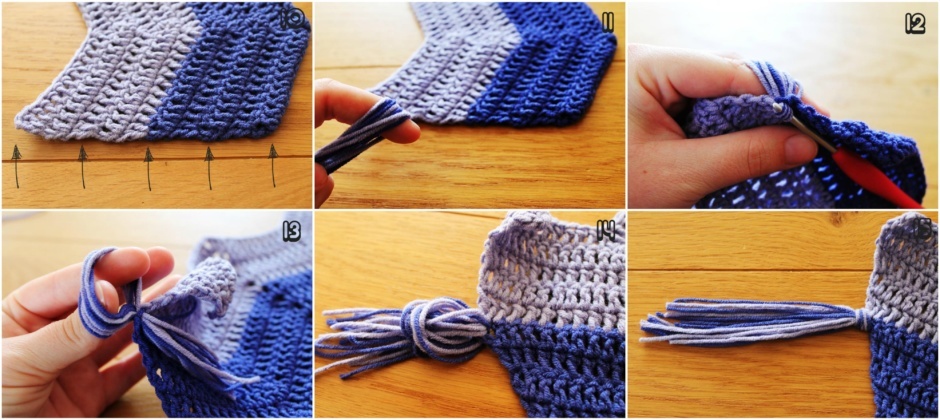 Adjusting measurements
If you want to increase or decrease the width of your blanket, add or subtract 24 chains to your beginning chain of 193. Every 24 chains create one ripple. If you want to increase in height, simply add more Row 2 repeats to either the colour blocks or add new colours altogether.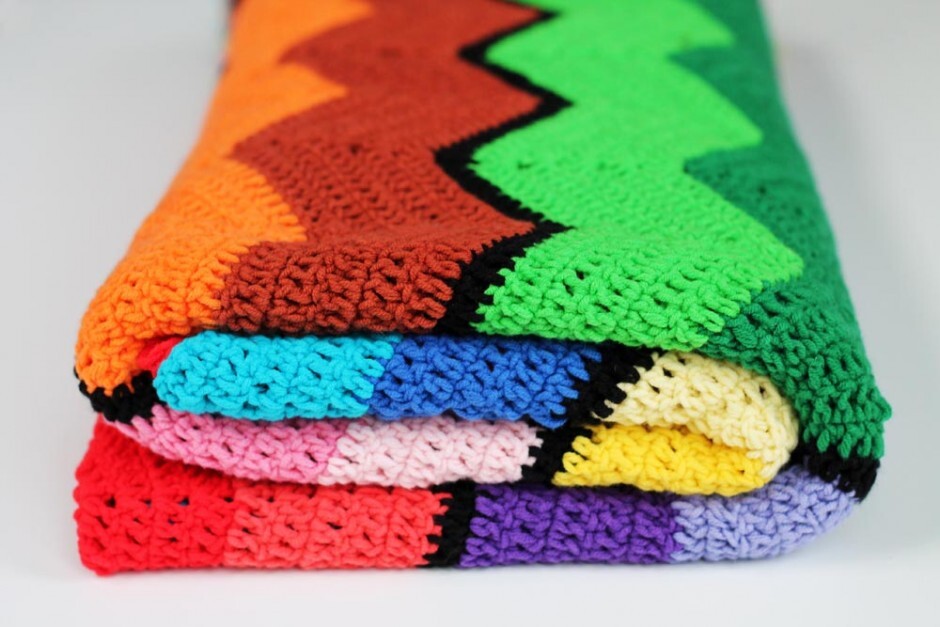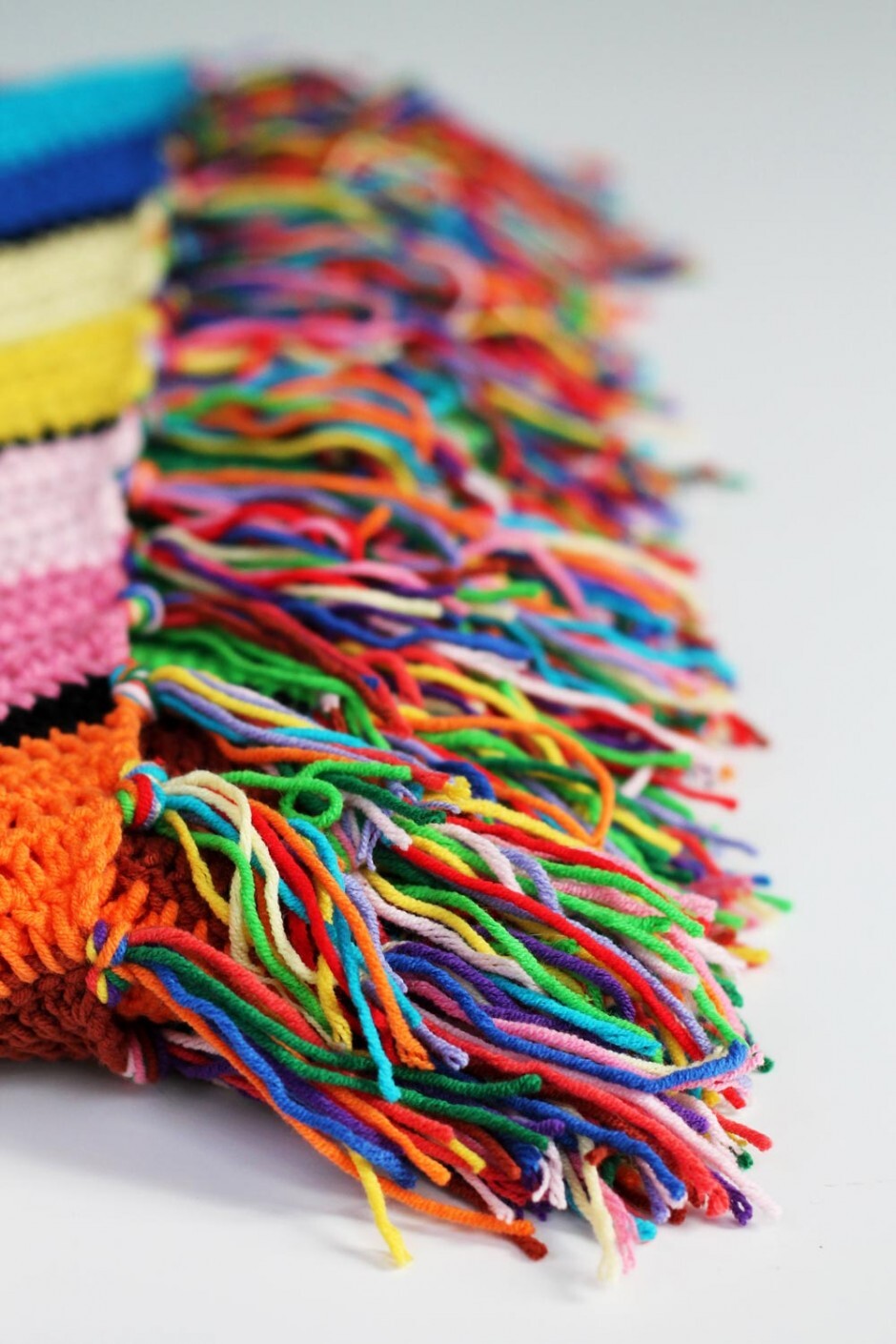 Diagram