Herringbone Phone Cover
03.Jul.14 / Kirsten Ballering
A while ago I lost my cork phone case. I seriously have no clue where I could have left it. I searched all over the place, but it just seemed to have vanished from the face of the earth.
I was thinking about making a new one. And I did not make one but five, to match every outfit, mood or general urge for colour!
But if you look closely, you can see that it isn't made out of ordinary single crochets. Instead, I used a stitch called the Herringbone stitch. These stitches are slanted, hence the name. It's a very textured stitch and feels pretty sturdy, perfect for a protective phone sock!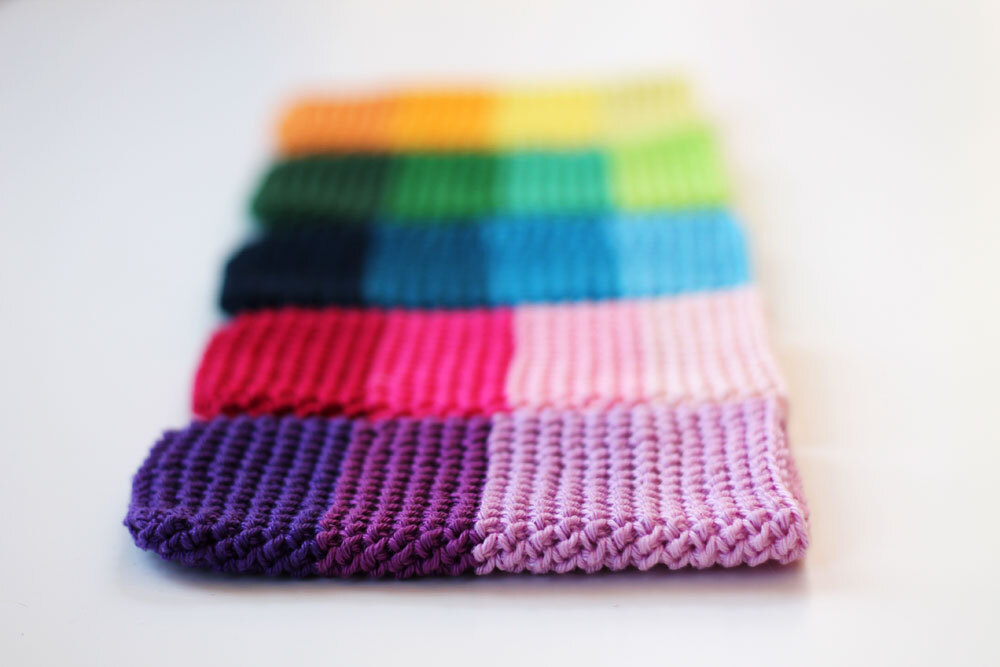 Crochet hook
3.5mm (US size E/4).
Measurements
The example measurement is for a phone that's 14 x 6.8 x 1cm (5.5 x 2.7 x 0.4in).
Gauge/tension
Gauge is not critical for this project, as you need to make it fit your phone.
Notes
Keep in mind that every phone size is different and you can expect a tiny bit of trial and error to get it to fit your particular phone. However, the pattern is easy to modify and you can see early on if your phone fits.
If your phone is larger (especially in height), you might want to consider adding one extra row for every colour to cover your entire phone.
Abbreviations
hhdc: herringbone half double crochet: yarn over, insert hook in stitch, pull up loop, pull through first two loops on hook, yarn over, pull through remaining loops.
ss: slip stitch
st(s): stitch(es)
Repeat formats
[…] Indicates the amount of stitches at the end of a row or round.
Bottom section
Round 1 Take your darkest shade, ch13.
Round 2 Start in the second chain from the hook. 11hhdc, 4hhdc in last ch. You will now work on the other side of the beginning chains. 10hhdc, 3hhdc in last ch (which is the first st of this row). [28 hhdc]




Round 3 Place a stitch marker or yarn scrap in your first stitch to remember where you round starts. 13hhdc, 2hhdc in same st, 14hhdc, 2hhdc in last st. [31 hhdc]
Rounds 4-9 1hhdc in each st around, working in a spiral upwards.
Check if your phone fits after Round 7 or 8. If so, great job! If not, you can adjust the beginning chain to adjust for the width of your phone.
After finishing round 9, 1ss in next st, cut yarn. I prefer to make my sixth row a few stitches short, so my change of colour will be on the back of the case rather than on the side.

Changing to next colours
Rounds 10-15 Take your next, lighter shade. Join with a ss a couple of sts before where you ended your last colour. 1hhdc in the same st, 1hhdc in each st around for 6 rows. You can skip the slip stitch you made when ending the with the previous colour. This helps you to prevent the jog in colour from being too visible.

Rounds 16-21 Repeat the instructions for rounds 10-15 with a lighter shade.
Rounds 22-27 Repeat the instructions for rounds 10-15 with your lightest shade. When you're finished, 1ss in each of next 2 sts, cut yarn. Weave in all ends.