Wow, the first week of embroidery is off to a great start! My feed is filled with Hygge shawls, adaptations and cross-stitch and it's filling me with joy to see that you are embracing the cross stitches and are looking forward to week 3!
In the Facebook groups that are set up for the CAL community there are many talented ladies (and men!) who are making their own version of the Hygge shawl. With their permission, I'd like to show you some of my favourites!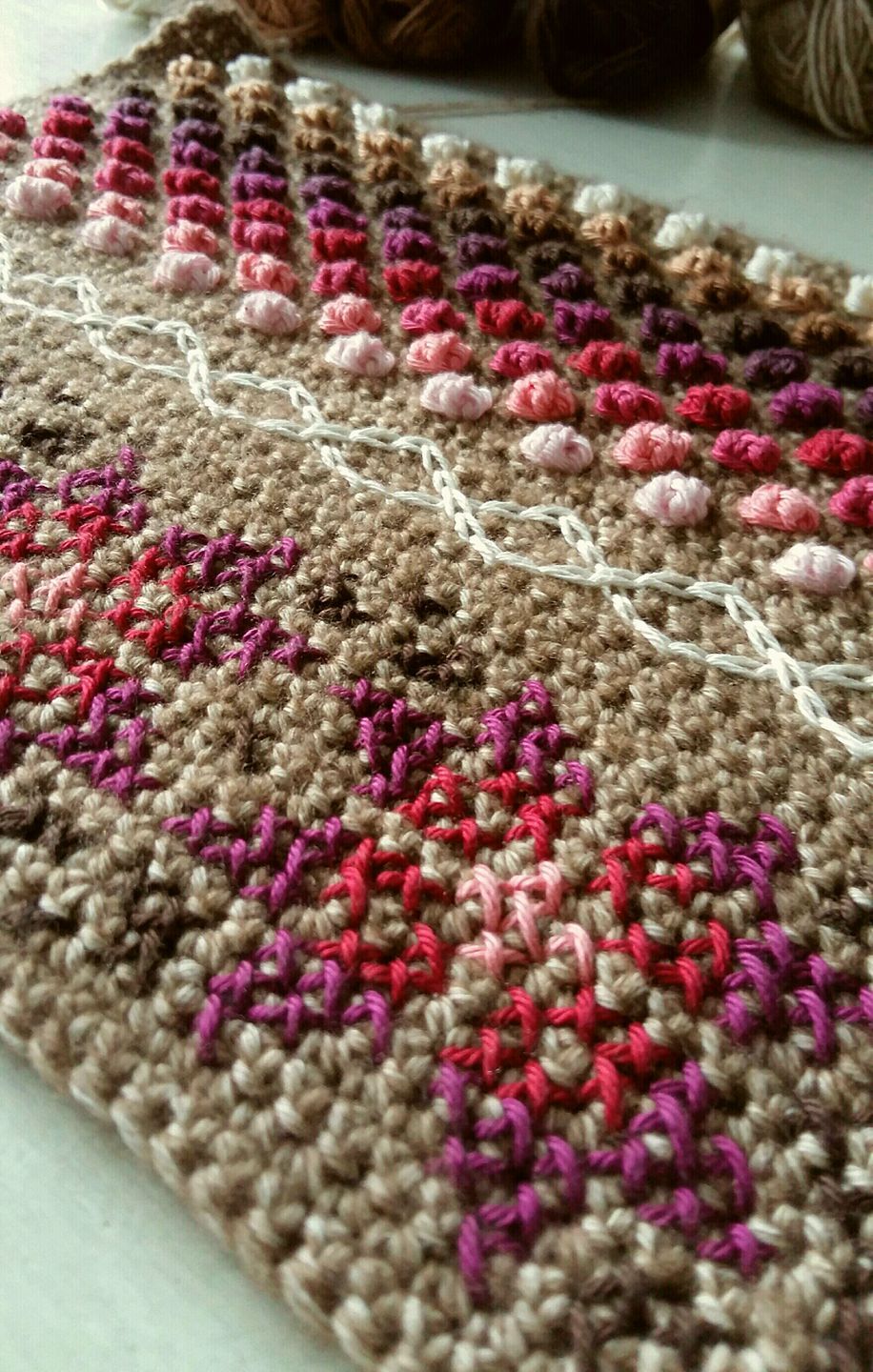 1. Hygge Shawl by Jill Haakt
Aren't her colours just perfect? The combination of a brown background and warm embroidery colours really give off a very 'Hygge' vibe.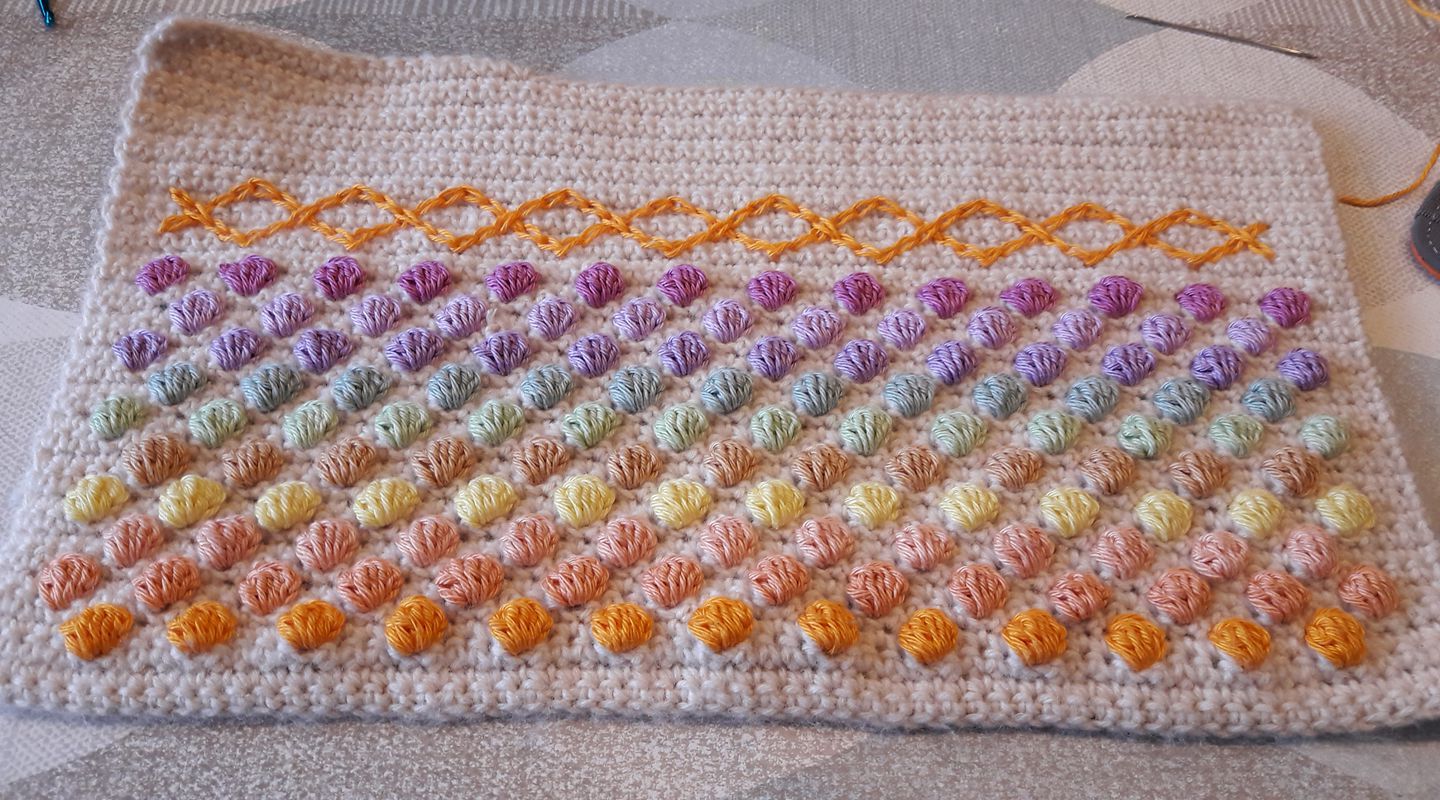 2. Pastel Combination by Linda Godrie
Linda has switched out some of the colours from the Pastel kit with her own colours. The result is so very warm and colourful! Well done Linda!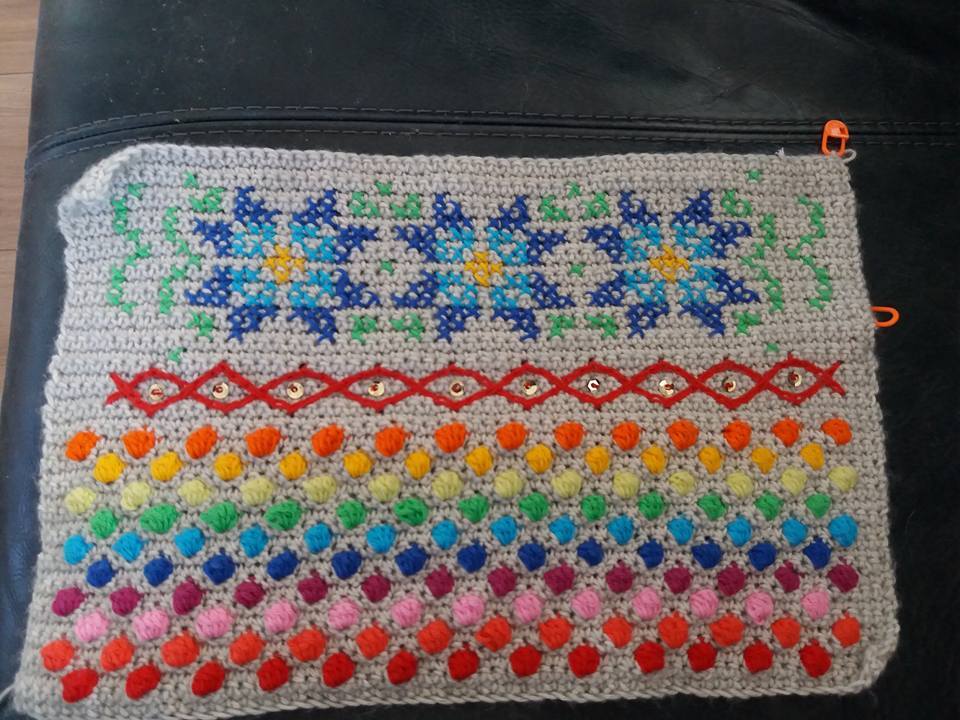 3. Hygge Shawl by Miranda Smits
Miranda has added her own touch of Hygge by adding little sequins to the separator row. Brilliant!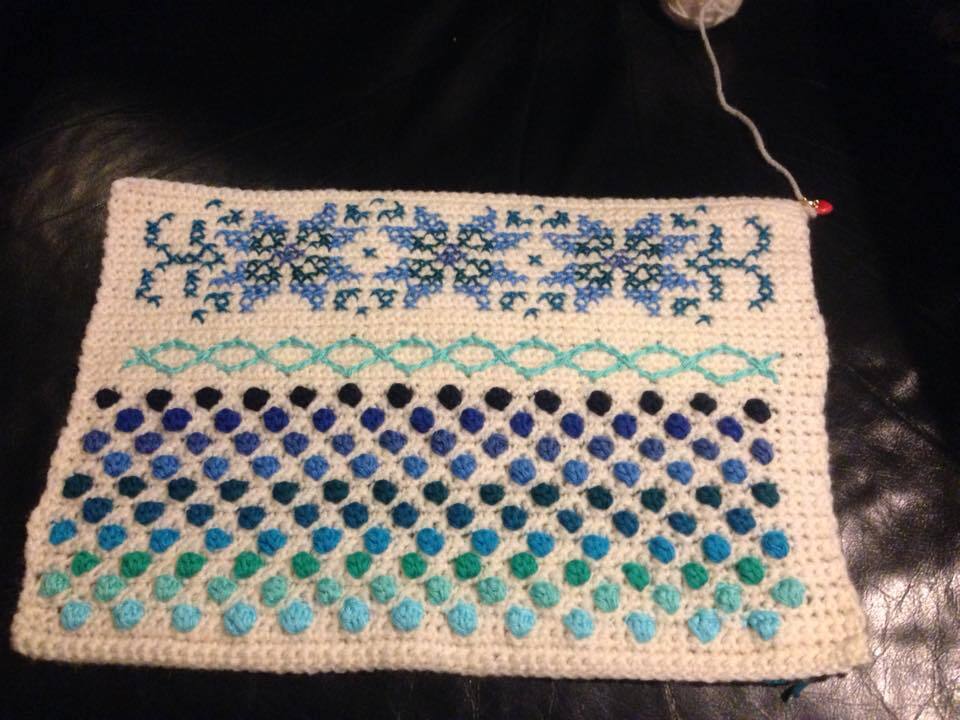 4. Hygge Shawl by Clare Lander
Clare has chosen for all sorts of blues on a white background. It looks so sophisticated! I'm really excited to see the full shawl in these colours!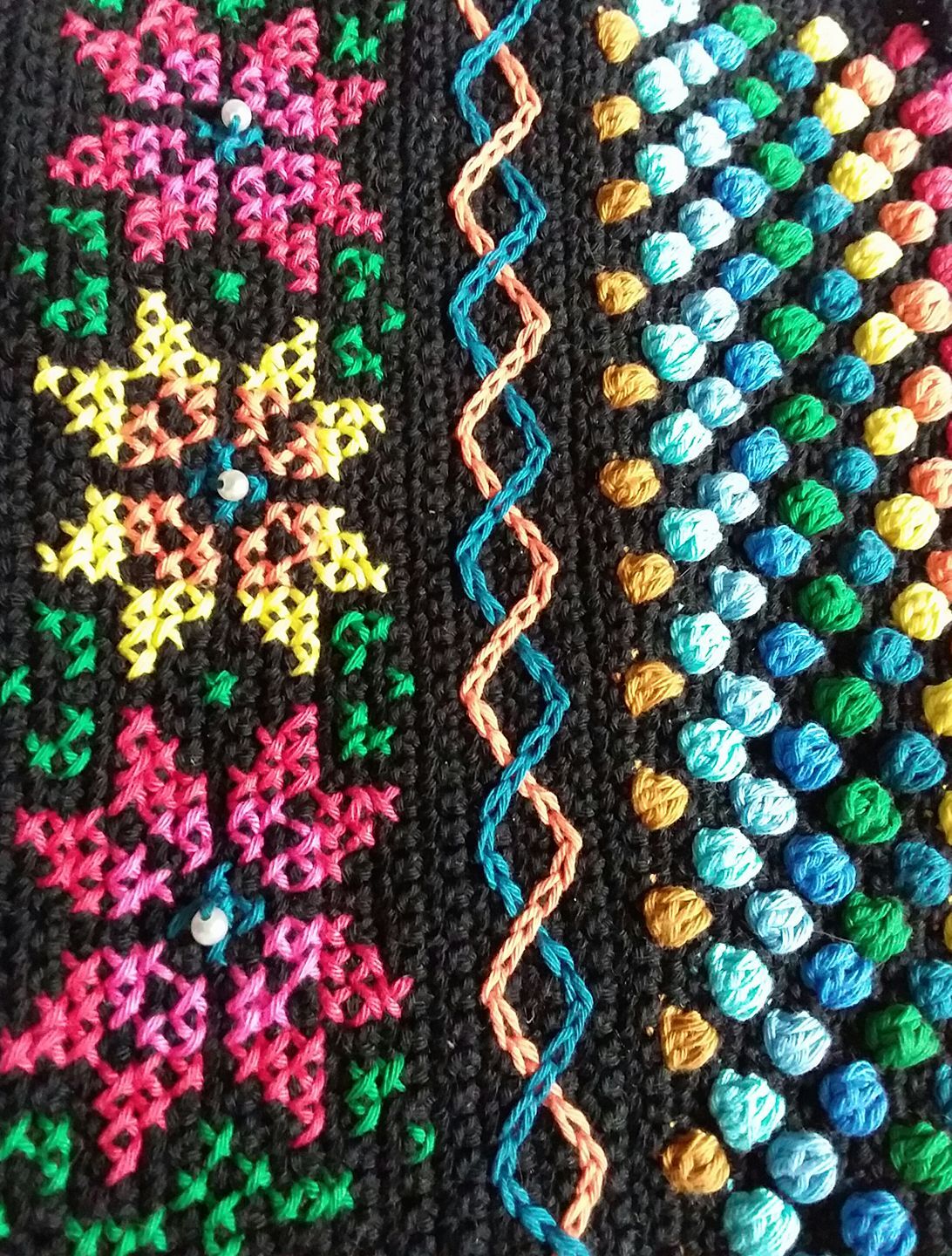 5. Hygge Shawl by Sylvia Wezemer – van der Veer
Sylvia has used her own yarns to make the Hygge CAL. I love her little twist on the separator row and the pearls she has placed in the center of the embroidery motifs. Changes like these are a great way to make a pattern your 'own'!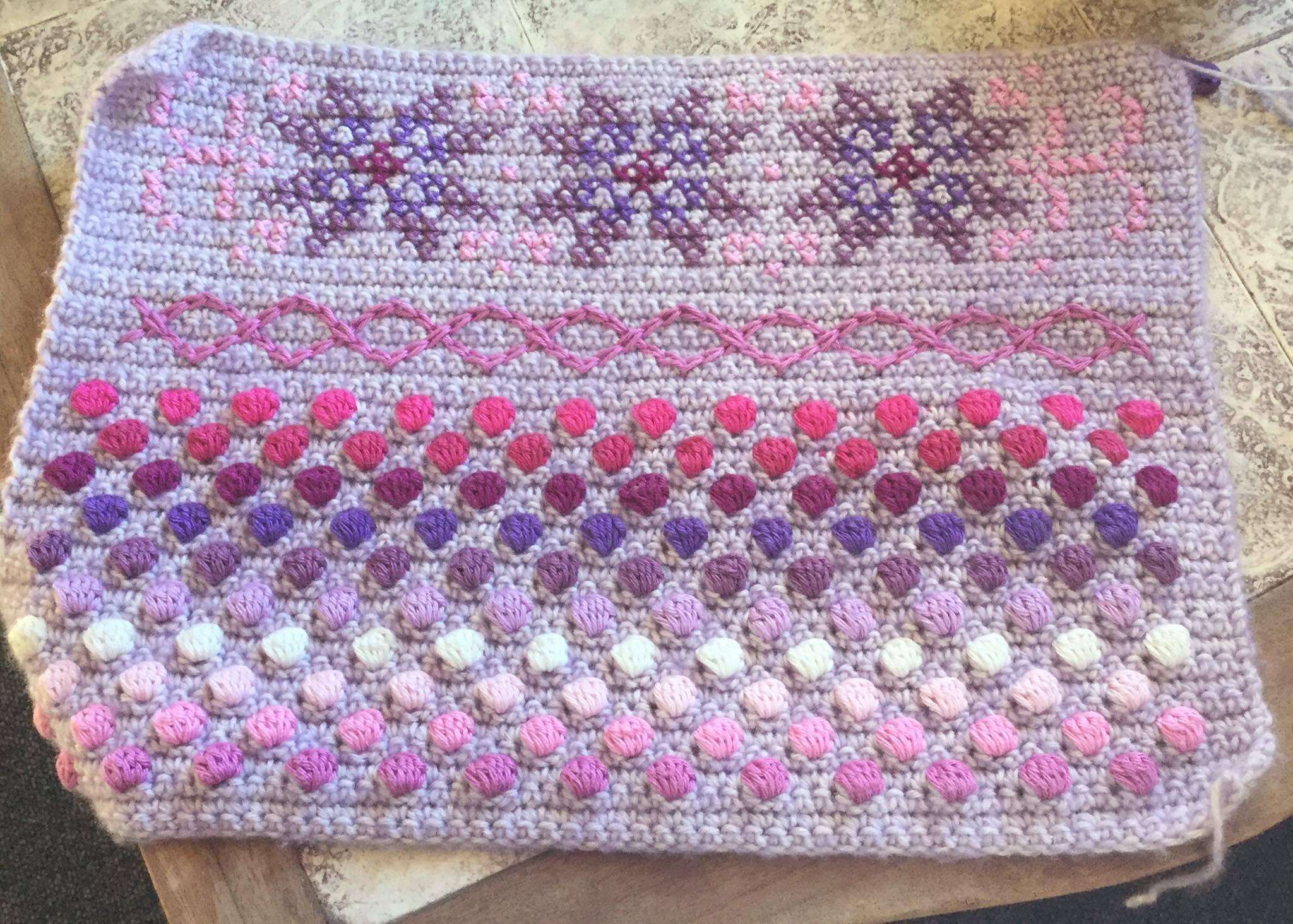 6. Hygge shawl by Helle Reed
Helle has put together her own colours for the Hygge shawl. The very soft lilac base with the variety of purple and pink shades are just amazing! It's funny to see how Helle put together these colours, because it looks like she works just like me: 2 or 3 really bright highlights, a few really deep colours and all others ranging in between. It's a great recipe for balanced colour palettes!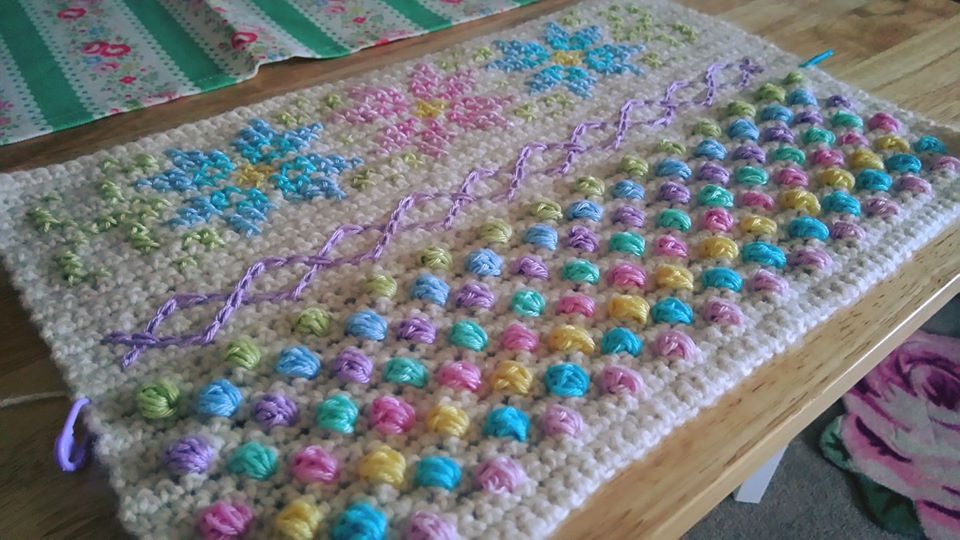 7. Hygge Shawl by Patience Boggis
hmm, these sweet colours really make me long for spring! The flowers are so colourful and happy. As you see she changed the middle flower motifs to stand out from the others: I think it's a great choice!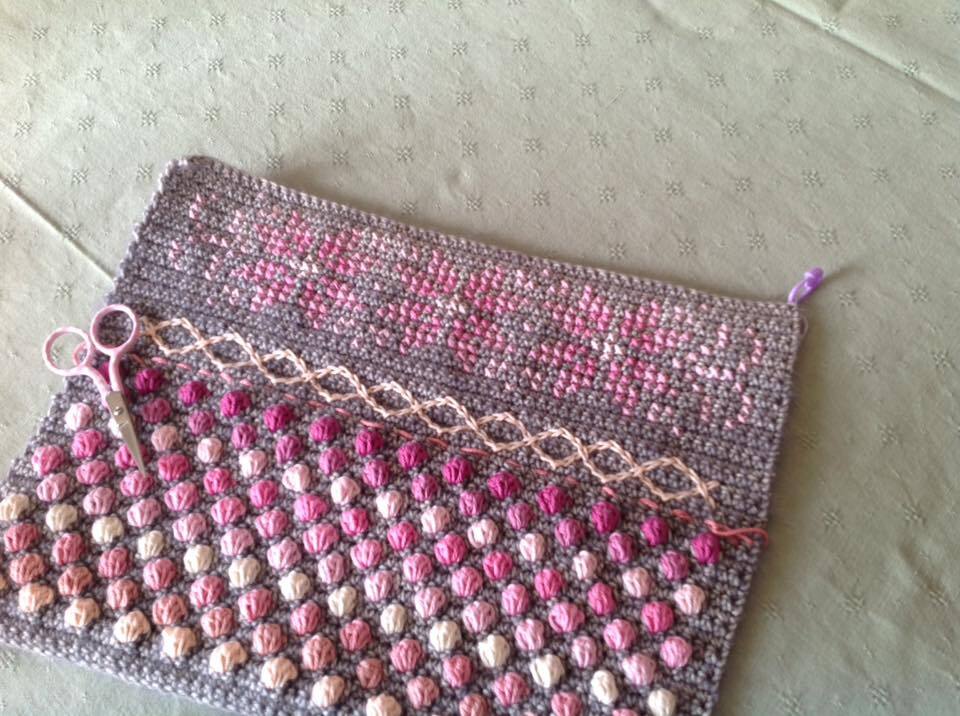 8. Hygge Shawl by Anci Bjärnhag Gustafson
Anci has opted for a soft and dreamy palette, in shades of pink, beige and white! It looks amazing and I can't wait to see how her complete shawl will look like!
If you're not in the groups already, I really urge you to join! They are filled to the brim with inspiration, encouragement and support. You can find the Dutch one here, and the International group here!