Hygge Embroidered Wristies
20.Nov.20 / Kirsten Ballering
The Hygge wristies are an accessible introduction to cross stitch on crochet. The technique is easy to master, with a wonderful result. And if you enjoy these wristies, you might give the Hygge CAL a try too! The Hygge wristies have been featured in Mollie Makes issue 115, and are now available for you to work your magic on. A suitable pattern for the colder winter months ahead!
The pattern for the Hygge Embroidered Wristies is also available as a styled and advertisement- free PDF in the Haak Maar Raak shop.
Materials and preparation
Yarn
Scheepjes Stone Washed XL (70% cotton, 30% acrylic), 50g/75m
Colour A: 854 Crystal Quartz x 2 balls
Colour B: 856 Coral x 1 scrap
Colour C: 847 Red Jasper x 1 scrap
Colour D: 874 Morganite x 1 scrap
Colour E: 866 Fosterite x 1 scrap
Colour F: 864 Turquoise x 1 scrap
Colour G: 876 Tourmaline x 1 scrap
Shop the yarn!
You can find Scheepjes Stonewashed XL at Scheepjes retailers, such as:
Crochet hook
5.0mm (US size H/8).
Measurements
16cm in height (6.3in), 20cm in circumference (7.9in).
Gauge/tension
14 sc and 17 rows measure 10 x 10cm over a 5.0mm hook.
Notes
The wristies are made from the bottom up. You start with the ribbing and continue working your way in sc upwards the wristie towards the thumbhole. For the thumbhole, your work is split into two separate sections that are each worked in rows. Once you reach the top of the thumbhole, the pieces are crocheted together again into one continuous row. After finishing the wristie you will embroider the pattern on the wristie. After embroidery, you'll sew the sides of the wristie together to form a tube. The seam will be on the palm-side of your wristie.
Depending on your tension, the edging round on the top can be used as a tightening round to make sure your wristies are snug against your knuckles.
Abbreviations
BLO: work stitch through back loop only
ch: chain
sc: single crochet
sc2tog: single crochet 2 together: (insert hook in next st, yarn over and draw up a loop) 2x, yarn over and draw through all 3 loops on hook
ss: slip stitch
st(s): stitch(es)
Repeat formats
[…] Indicates the amount of stitches at the end of a row or round.
Wristie (make 2)
With Colour A, ch7 (photo 1).
Row 1 Starting in second ch from hook, 6sc, ch1, turn. [6 sc]
Row 2 6sc BLO, ch1, turn (photo 2).
Rows 3-27 Rep Row 2 (photo 3).
Row 28 6sc BLO, ch1, don't turn, instead, rotate your work 90 degrees.
Row 29 Work 29sc in the row-ends of your ribbing all the way to the beginning chain, ch1, turn (photo 4). [29 sc]
Row 30 29sc, ch1, turn.
Rows 31-40 Rep Row 30, don't cut yarn (photo 5).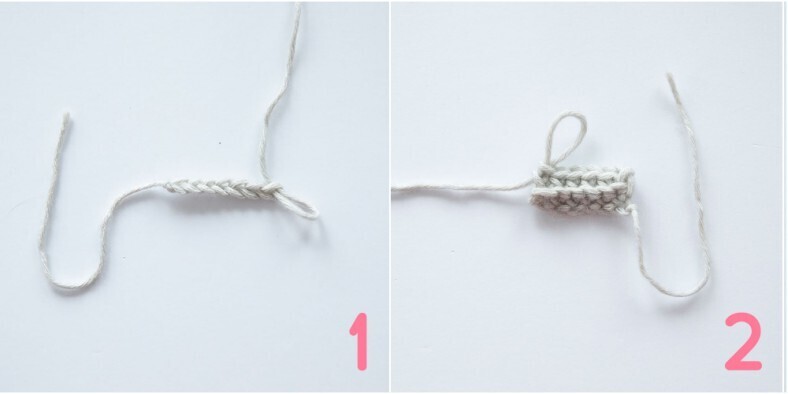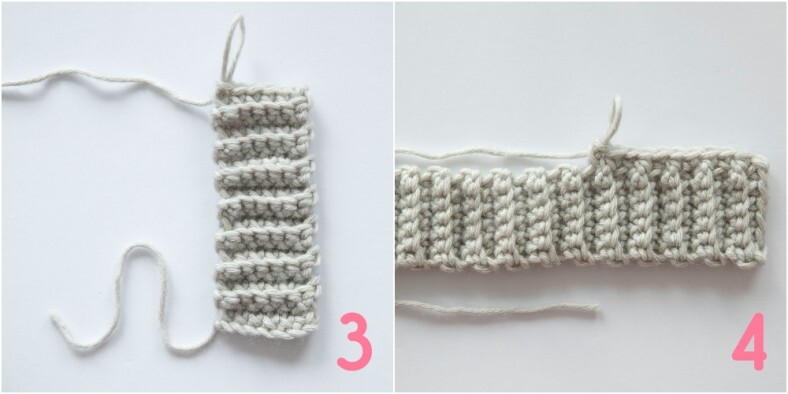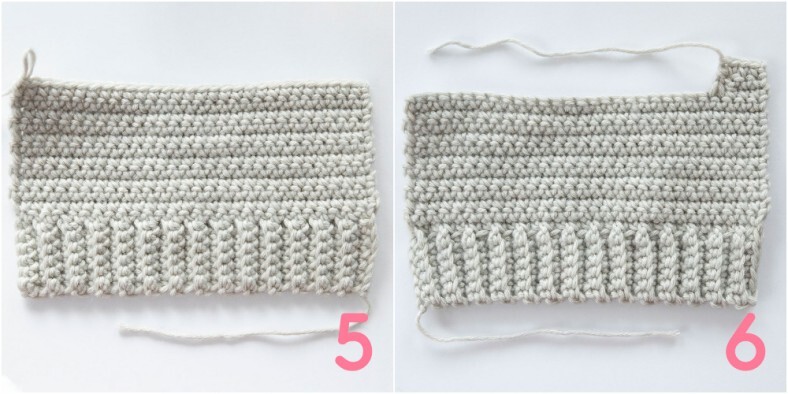 Thumbhole
Note: because you're splitting your work here to create a thumbhole, each row has two sections: a short section (before thumbhole) and a long section (after thumbhole). The sections on each corresponding rows are designated as 'a' and 'b'.
Short section
Row 41a 3sc, sc2tog over next 2 sts, ch1, turn. You will leave the rest of the row unworked for now. [3 sc, 1 sc2tog]
Row 42a Sc2tog over sc2tog and next st, 2sc, ch1, turn (photo 6). [2 sc, 1 sc2tog]
Row 43a 2sc, 2sc in the next st, cut yarn. [4 sc]
Long section
Row 41b Return to Row 40 and rejoin Colour A with a ss in the third st after the sc2tog in Row 41a. Ch1, sc2tog, 20sc, ch1, turn (photo 7). [20 sc, 1 sc2tog]
Row 42b 19sc, sc2tog, ch1, turn. [19 sc, 1 sc2tog]
Row 43b 2sc in sc2tog, 19sc, ch1, turn. [21 sc]
In the next row, you will crochet in Row 43 of both the short and the long section to create one continuous row again.
Row 44 20sc, 2sc in last st, ch2, 2sc in first st on short section, 3sc, ch1, turn (photo 8). [27 sc, 2 ch]
Row 45 1sc in each st and ch, ch1, turn. [29 sc]
Rows 46-49 Rep Row 2. Fasten off (photo 9).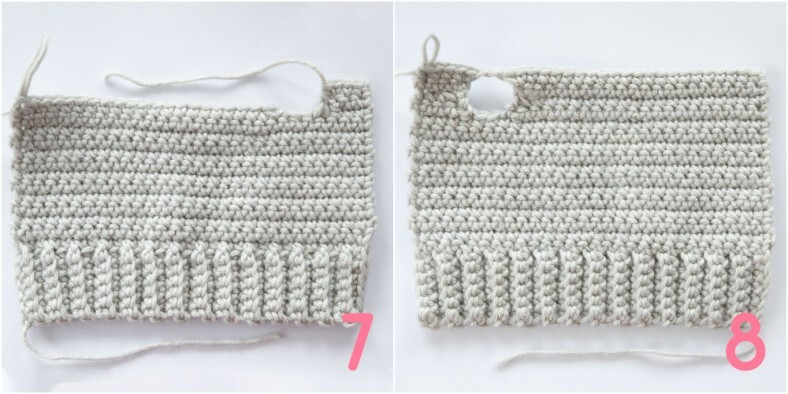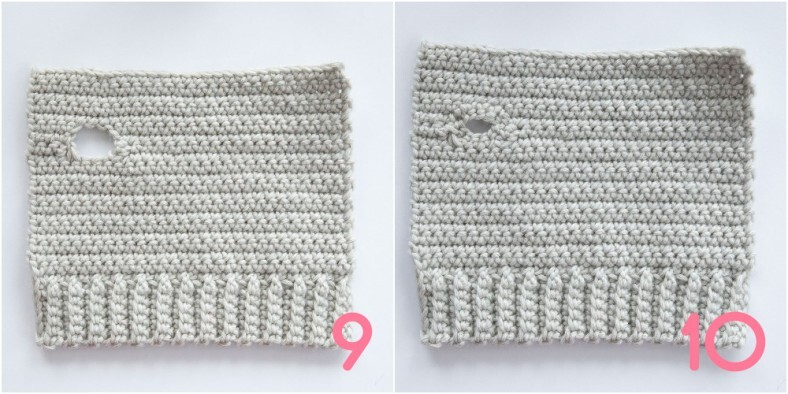 Finishing thumbhole
Join Colour A with a ss in any st of the thumbhole, 14sc around thumbhole, join with ss in first sc, fasten off (photo 10). [14 sc]
Embroidery
Please note that because your wristies are reversible, you'll embroider one wristie on the one side, and one wristie on the other side of the fabric to create both left and right wristie. If you need any help visualizing the embroidery area, use a contrasting yarn to create a grid. You will work the embroidery in the centre of your wristie, over Rows 30-48 (photo 11). See the diagrams for the cross stitches below the pattern.

The cross stitch charts show which stitches to cross stitch over in the sc-section above the ribbing. When you look closely at your fabric, you will see that each stitch has a hole in each corner, much like actual embroidery fabric.
To make a cross stitch, insert your needle from the back to the front in the right upper corner of the stitch, then insert your needle from front to back through the lower left corner. Come back up to the front via the upper left corner, and insert your needle again from front to back through the lower right corner to complete the cross stitch.
Don't pull too tight on your yarn to keep your cross stitches plump and fluffy. Work with lengths of ~50cm of yarn to avoid tangling. If you run out of yarn before completing your stitches with that particular colour, weave in the ends and continue with a new length of yarn (photo 12-16).
If you are skipping multiple sc's to embroider a different section of the wristie in the same colour, make sure to weave your yarn through the backside of the stitches. This way, your hands and nails will not snag on the yarn.
Once you finish your embroidery, remove any contrasting yarn, weave in all ends and block your wristies to size.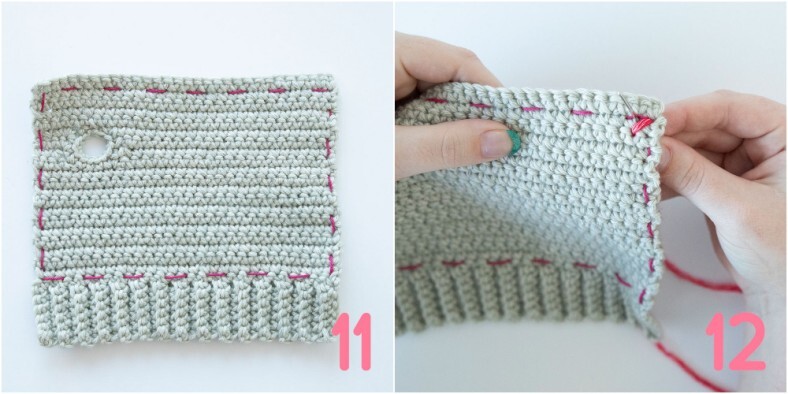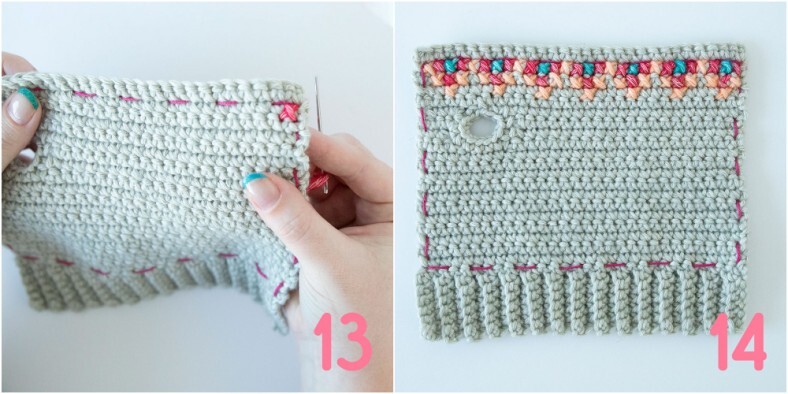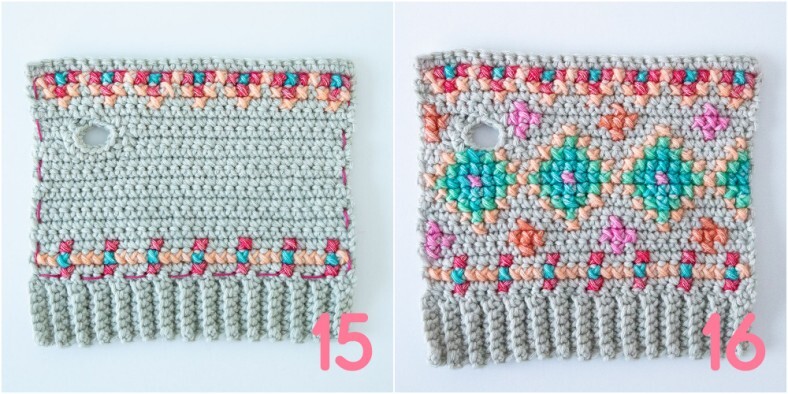 To finish
Sewing Sides together
Take a 75cm strand of Colour A and a sewing needle, sew the sides of the wristie together through the outermost stitches on both sides. Fasten off, weave in all ends (photo 17).
Edging Round Join Colour A with a ss in any st, loosely crochet 1ss in each st around. Cut yarn and thread needle with the yarn end. To make an invisible fastening, cut yarn and thread needle with end. Insert your needle under both loops of the first ss, then insert needle in top of last ss to form invisible fastening. Weave in ends (photo 18). [29 ss]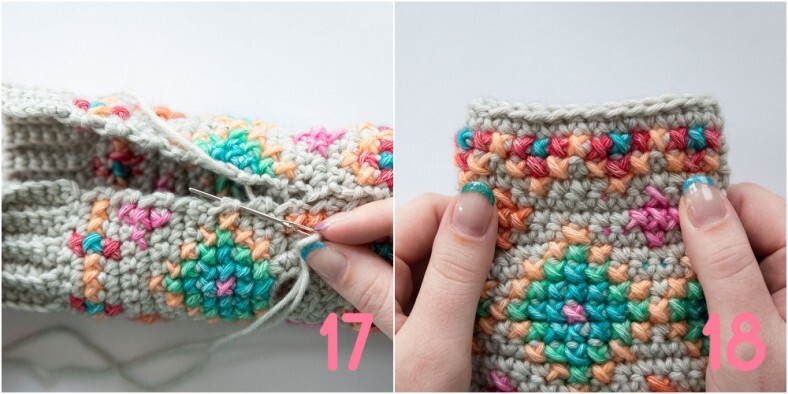 Diagram