A long, long time ago I bought a gorgeous skein of yarn from Blij dat ik Brei. It's a skein of Unicat, a 50% wool/50% Acrylic blend. But the best thing is is that the yarn is made out of 4 tiny strands, which each change colour somewhere along the way. And with a whopping 900m of yarn, that's a long way! This makes for the most beautiful colour changes. The yarn is available in a myriad of colours with fitting names such as 'Under water', 'Mamba' and 'Christrose'. I've chosen the colourway 'Pebble', as I was drawn towards the natural tones (I know, me? Natural tones?) and the tranquility of these colours. Insert images of pebble beaches and sandy shores flashing by… Perfect!
So for quite some time, I didn't dare to touch the yarn. I had NO clue which kind of project I wanted to make, and was afraid to 'ruin' the yarn. I had almost made my peace with the fact that this was going to be a permanent resident of my yarn cubby until I glanced over the Southbay shawlette pattern. Not that I hadn't seen it before, but it just never occurred to me that this could be THE pattern. THE PATTERN that's 'worthy' enough of my skein. But after seeing this post from Ms. Cuddles I was convinced.
Confident I started the pattern. Since the yarn consists of 4 unplied strands it took me a couple of rows to get the hang of it. But slowly but surely the shawl grew. I was so happy when I saw the first, gradual colour change. It's just so pretty!
But then the inevitable happened. The project lost its shine. Well, not lost, but something else was shinier. I'm like a magpie, you see. And the Southbay shawlette WIP ended up in a cupboard. It was only because I needed the crochet hook I was using that I found it back. I felt bad about the project just laying there. I was still very happy with it, no mid-project dip whatsoever. So I forced myself to finish it. Surely, after a couple of stitches it all went like a breeze and in about a week I finished the scarf.
So enough talking. Pictures!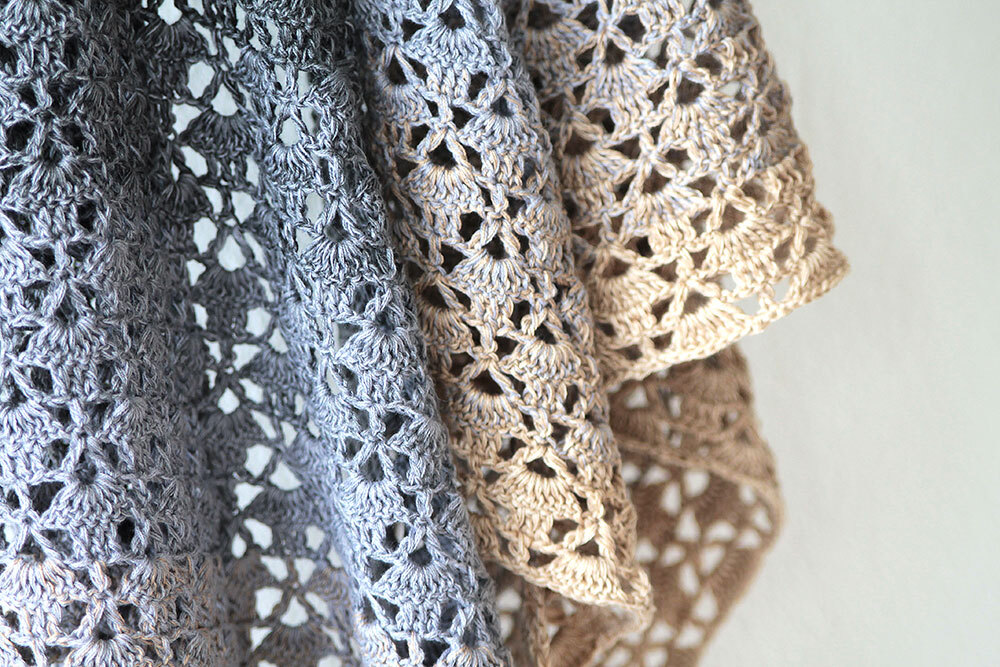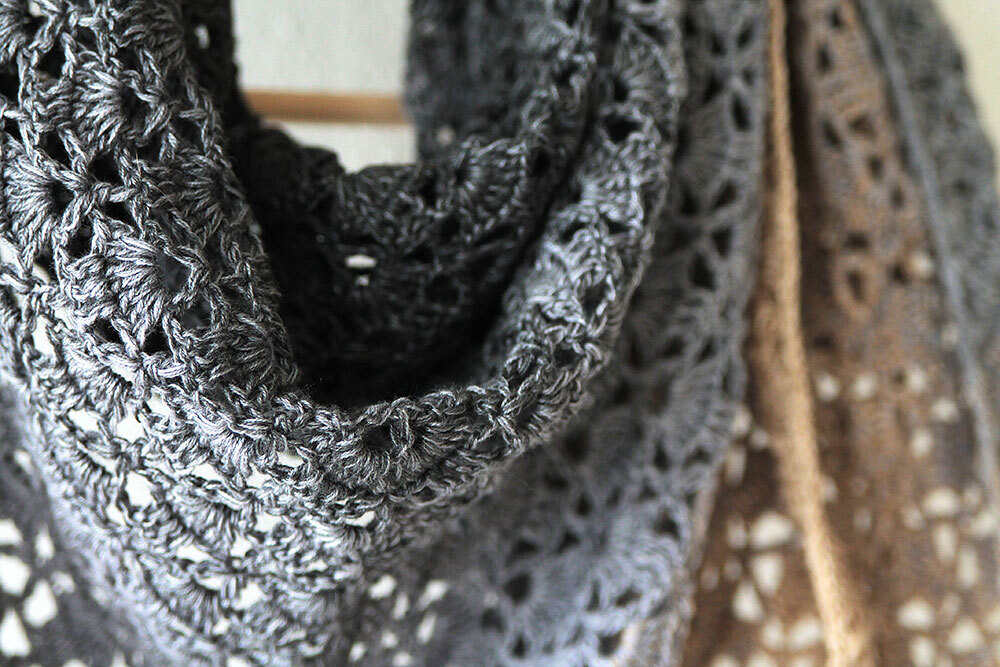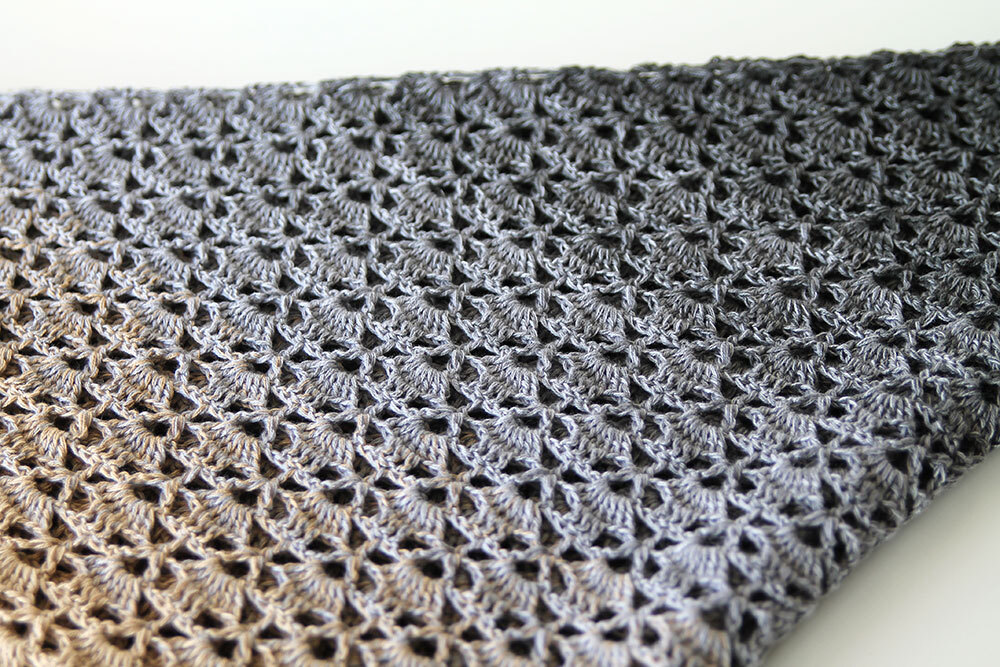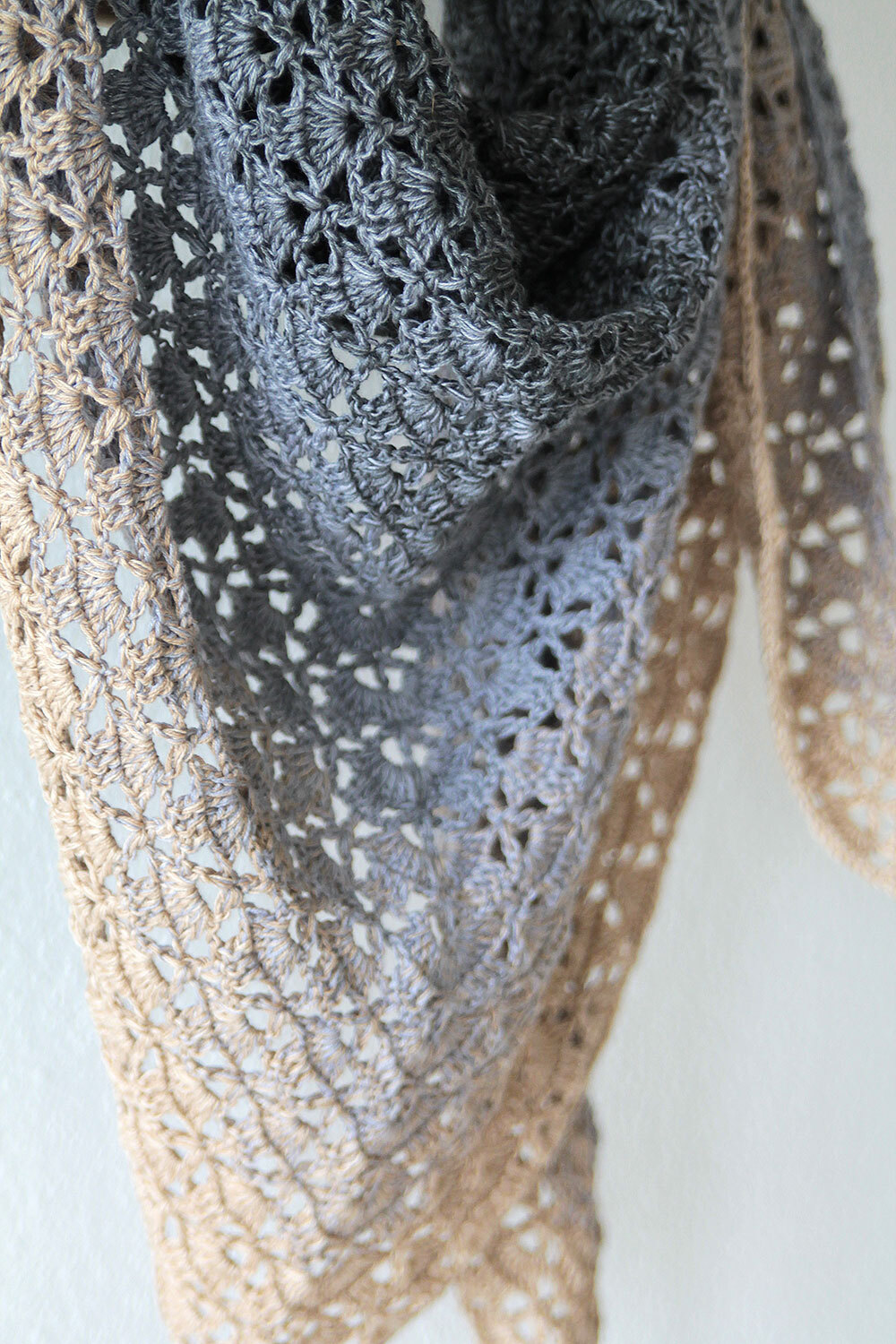 Isn't it marvelous? The yarn is very soft and even more so after wet blocking it with Eucalan (seriously, I use it for everything). The shawl is pretty large, about 1.75 m in width and 80 cm in length. Love it! Because of the open pattern it's still light and airy though, and has a great drape. So a great summer Shawlette! I've used hook 4.0mm by the way.

Because it's not possible to keep all of my shawls, this one is for sale in my Etsy shop. Go and have a peek before it's too late!
Is this the end of my Unicat story? No, it isn't. When I was visiting Sascha to get her awesome book and to have her sign it, it was love at first sight. The book party was at Atelier Jafari, home of the Blij-dat-ik-brei blog, you see. I saw the stacks of Unicat. I couldn't resist. I went home with the fabulous 'Pro fumo', a mystical dark reddish-purple slowly turning into old rose pink. So will this be the permanent resident of my yarn cubby? Will this yarn stay in pristine shape forever? Who knows? Surely not me, as I haven't found a project that I deemed 'worthy'. To be continued….