If you're a yarn addict like me, chances are you have quite a couple of hanks lying around. And before you can work those hanks up into something, you'll need to wind them into a ball or cake. I remember sitting in the kitchen with my grandma, having to hold up two hands so she could make her hank of yarn into a ball suitable for knitting.
Here's the problem though: I can't get my husband to sit still for that long, and the arms of my kitchen chairs are no use either. What to do?
Luckily, there are nifty little helpers: yarn winders. I've owned a small plastic one for years, and I accidentally broke the plastic cone. Luckily for me, Scheepjes has just released a brand new wooden yarn winder! I couldn't resist: I bought one to try it out. Let me tell you about my thoughts!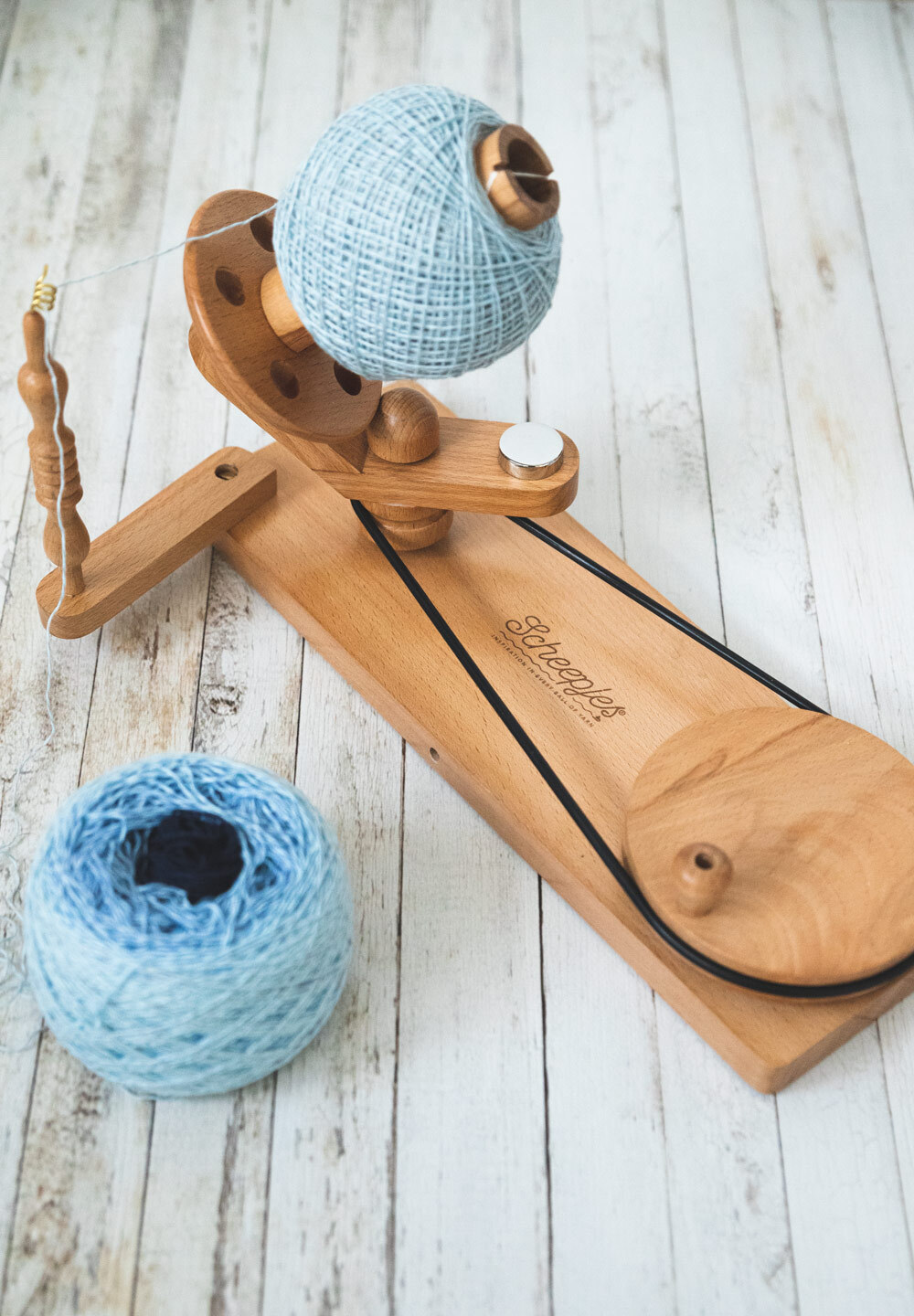 The look and feel
Scheepjes really splurged on this yarn winder! When I opened the box (I was too excited to remember to photograph it, sorry!) I was pleasantly surprised. The yarn winder is made out of beechwood and feels very soft and durable. This is important as you don't want any snaggy bits ruffing up your yarn.
Weight
The yarn winder is relatively heavy and has anti-slip feet on the bottom to prevent it from moving around. It comes with a table clamp, something that you will need if you're winding up lots of yarn. The Scheepjes logo is an eye-catcher, right in the middle of the winder. It all looks pretty polished.
Assembly
The yarn winder needs to be assembled before you can use it for the first time, but that's rather straightforward. The winder mechanism and turning wheel have both been installed on the base already, all you need to do is screw on the yarn guide (the little rod holding your thread) and pull the black rubber band over the two wheels in order to allow it to wind. This shouldn't take more than 30 seconds in total. After that, you're ready to start!
Testing out the yarn winder
I have had a frogged ball of Blueberry Bambam Whirl lying around for ages. My old yarn winder couldn't handle the full ball so I had made two smaller balls which started to come undone. So I used that particular Whirl as my test yarn. I figured that a lot of people can use this yarn winder to re-wind their Whirls so they can start with the other colour end. So this is a perfect use-case, don't you agree?
Getting started
Starting is simple. Guide the end of your yarn you want into the centre of your cake through the metal yarn guide and place it into the little indents in the wooden cone. These indents don't hold, so you'll need to keep the thread in place with your finger the first couple of turns. Simply turn the wheel until the yarn catches, and you'll see a cake forming soon. the picture above I was about one third through my Whirl. It's quite satisfactory (and relaxing) to see your yarn cake grow.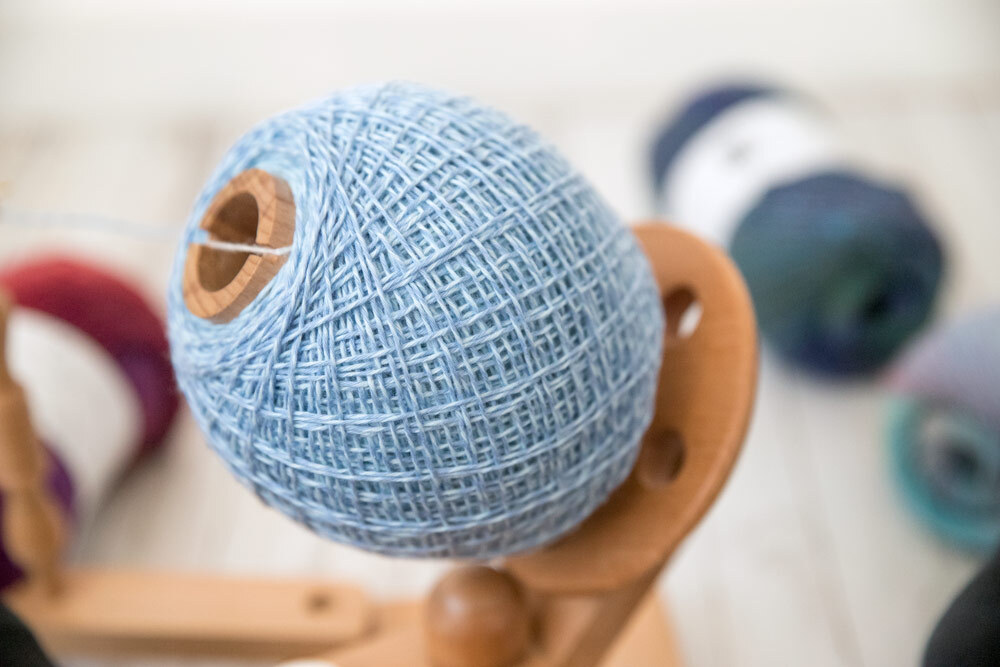 Halfway through
Below I was almost halfway. With yarn winding, it's important that you turn the wheel at a constant pace so that the yarn that goes through your thread guide has little to no slack. Otherwise, you risk your yarn getting caught in the rotating mechanism of the winder. While the mechanism of the Scheepjes winder is made of wood and it won't break the strand, it's no fun to stop and unwind who-knows-how-many rotations to get everything sorted. So keep a steady pace, and use one hand to gently feed the yarn to your yarn guide.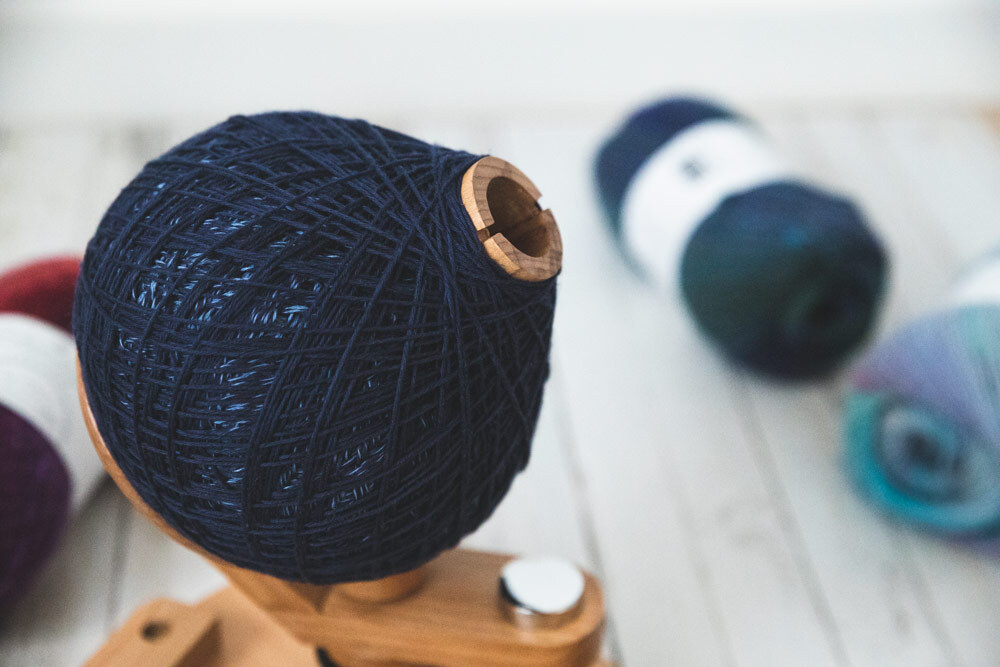 Almost done
Here I was nearing the end of my Whirl, so that must mean that there's about 900m on the cake already. At this point, it became a bit harder to form the cake as the yarn was sometimes skipping over the top of my cone, so it was even more important to keep a steady and gentle pace. Also, my remaining Whirl started to bounce around the room while I fed the yarn, making it harder for me to keep an even tension; I should have used a yarn bowl to prevent that. If you're winding up a proper hank, a yarn swift would be invaluable. Scheepjes has those too in similar wood finishes.
Done!
Below you can see my cake after I finished. I never re-wound a complete Whirl as my previous winder couldn't handle it. This one can, so that means that it can wind up at least 200-225 grams of fingering yarn in one go. That's not bad!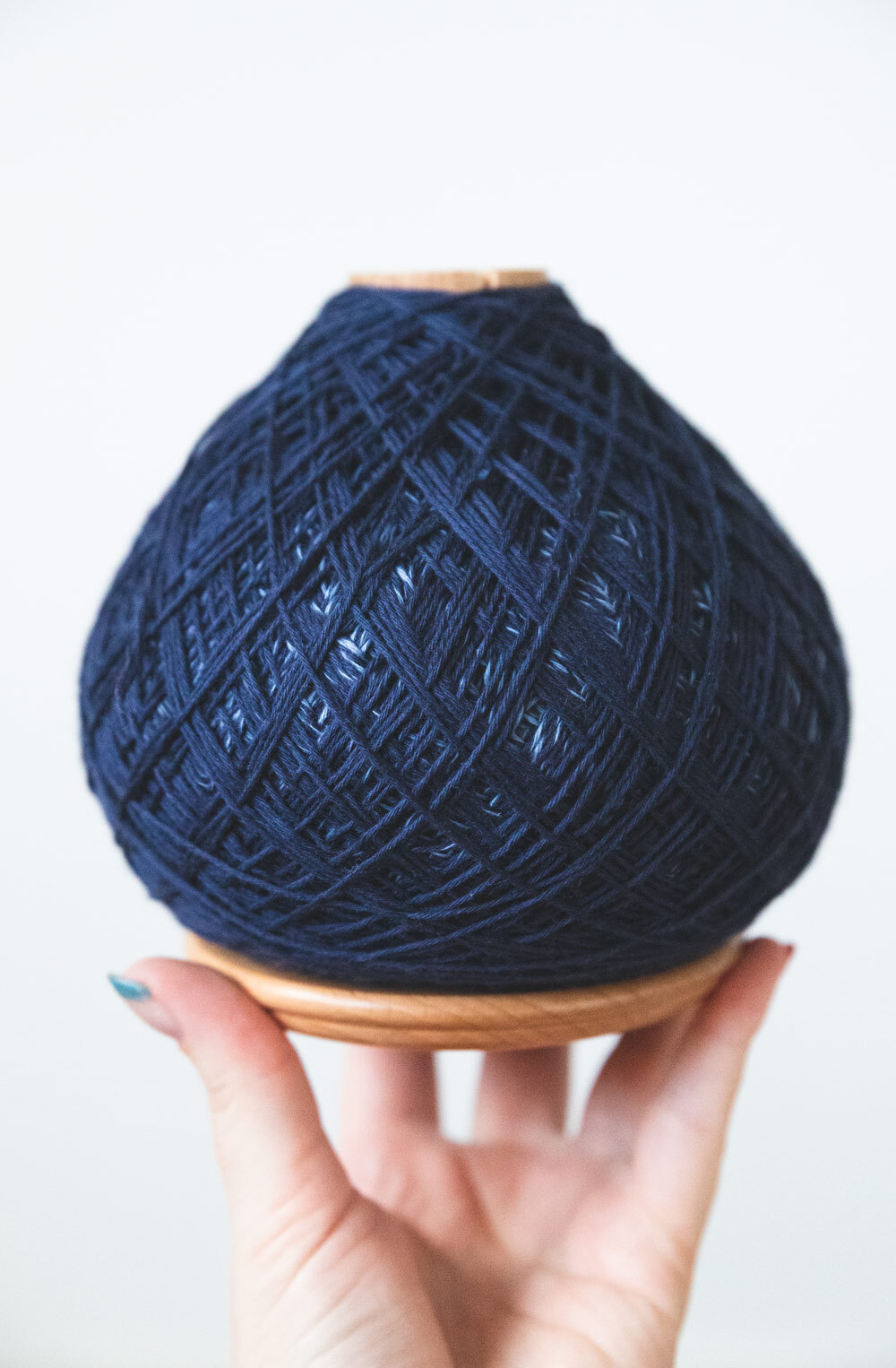 It's my own little Whirl-vase. After removing my cake I was happy to find that the assembled yarn winder fits into the carton box it came with. All you need to do is take off the wooden cone of the rotating mechanism and it fits, so there's no need to disassemble the thread guide again. It's the little things!
Action video
To show it in action, I made a little snapshot video. I'm purposefully turning the wheel slowly here to show the movement of the winder but you can see that it rotates smoothly. I didn't assemble the table clamp so that's why I'm holding the winder in place.
To sum it up
All in all, I'm excited about the new Scheepjes yarn winder! It's sturdy, beautiful and feels like it will last you a long time. It can handle a full ball of Whirl (so that's 225gr of fingering weight yarn). It's available in multiple finishes. I've got the 'natural' yarn winder, but there's also a walnut, tiger and dark finish.

Price
Is there any downside to this product? Just one: the price. It retails for EUR 82.50 (~ USD 92) which is relatively expensive for yarn winders if you compare it with regular models. However, keep in mind that regular models can't handle this much yarn and are quite often made out of (cheap) plastic. You get what you pay for, and this yarn winder is definitely a luxury model.

Where can you buy the Scheepjes yarn winder?
You can shop the Scheepjes yarn winder at the stores below:

I'll be using this yarn winder again in the future. If you have a yarn winder, I'd love to hear any tips or experiences you like to share!