Today is a day of mixed emotions. As you might know, last year my friend Wink from A Creative Being sadly passed away after a long battle with depression. During her final weeks, she was working on a design for a new Scheepjes CAL. She never got to finished it, but the basics were there.
After her passing, in honour of Wink, our group of Scheepjes bloggers came together and decided to finish her design, with the approval of Wink's family. Each of us designed a square, based on her chosen theme, her chosen colours and based on our memories of her. The result is a beautiful blanket. But it's bittersweet. I'd love for her to see the result of her hard work, to see how many people are in awe of her designs and miss her now she's gone. But unfortunately, that's not the case, and instead, we have a beautiful tribute to an amazing woman.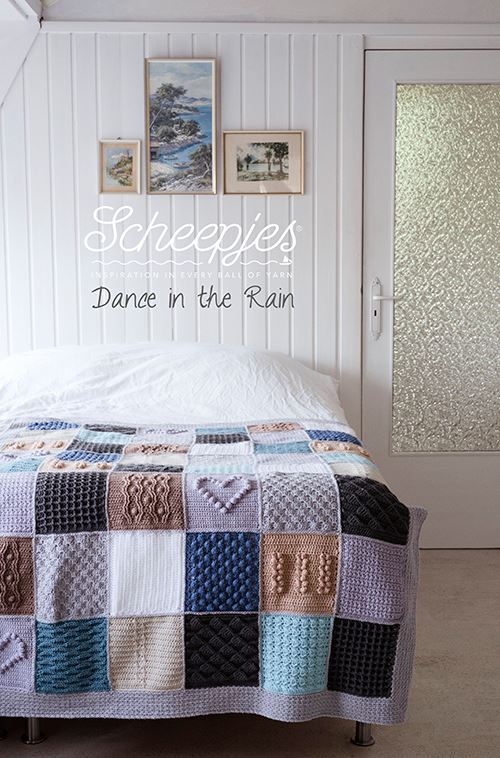 The blanket comes in three colourways. Dancing in the rain, which has a calm colour palette. Then there's also Dancing in the sea, which includes shades of green and blue. And there's my personal favourite, Dancing under the stars. This blanket includes more bright colours such as mustard yellow, pink and red. But all three are beautiful in their own way and fit the theme perfectly.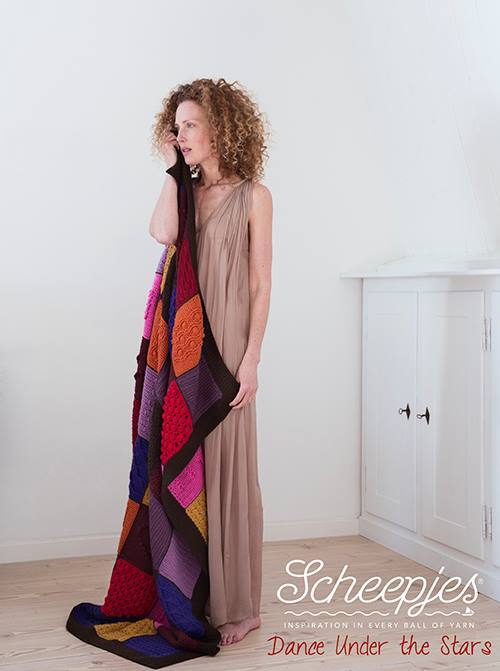 To make it possible for everybody to join in the CAL, all colourways are available in two versions. There's the basic kit, which contains all the necessary colours from the premium acrylic yarn 'Colour crafter'. This is a 100% acrylic yarn but incredibly soft and with beautiful colours. The kit also contains a special tribute label. Then there's also the luxury kit. This kit includes all the necessary colours from the 'Merino soft' yarn, which is incredibly soft and very breathing! The luxury kit furthermore includes a special tribute label, but also embroidery scissors, a pretty olive wood button, stitch markers and more goodies. I've had the pleasure to work with both yarns in the past and both are great picks! The basic kit will cost € 43,40/ £33.99, and the luxury kit will cost € 159,00/£119.99 and will be sold by a lot of retailers, including Deramores and Woolwarehouse. Dutch retailers are widely available as well.
There's this wonderful thing Scheepjes has decided: For each kit sold, Scheepjes will donate € 2.00 to 'Mind', a mental health charity. So with the purchase of this kit, not only will you celebrate an incredible designer but also contribute to helping those of us who are coping with mental health problems.
Patterns for the blanket will be released from April 20th onwards. Each week a new pattern will become available, to keep the CAL running at an enjoyable pace. You will learn many new stitches and techniques, and all patterns will be accompanied by charts and written instructions. The patterns will come in both Dutch (NL) and UK terms.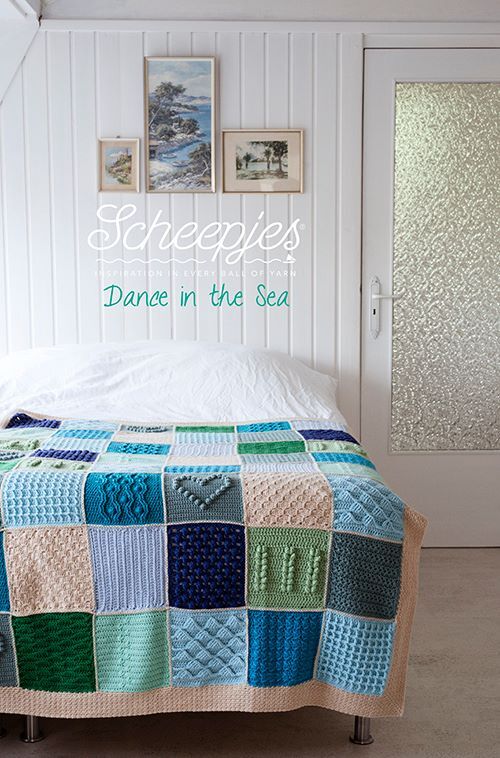 So, mixed emotions. I'm happy for this beautiful blanket to have its proper reveal, but it's days of this which remind me most of how much I enjoyed Wink's company and miss her now she's gone. A beautiful blanket, a bittersweet CAL. Fortunately, there are lots of things to be arranged for such an event and currently, I'm very active in the Scheepjes CAL groups, where a lot of CAL'lers have gathered in anticipation of the CAL. Will you join in? There's a dutch group, and an international one.

Hope to see you there!