My last post got me super excited for Rainbows! After posting I ended up browsing Pinterest for some rainbow ideas, and I immediately longed for the colourful season to begin again.
To get you in the mood too, I've created a roundup of some of my favourite rainbow project, both knit and crochet.
Proceed with caution, because after checking out this roundup you definitely want to start making!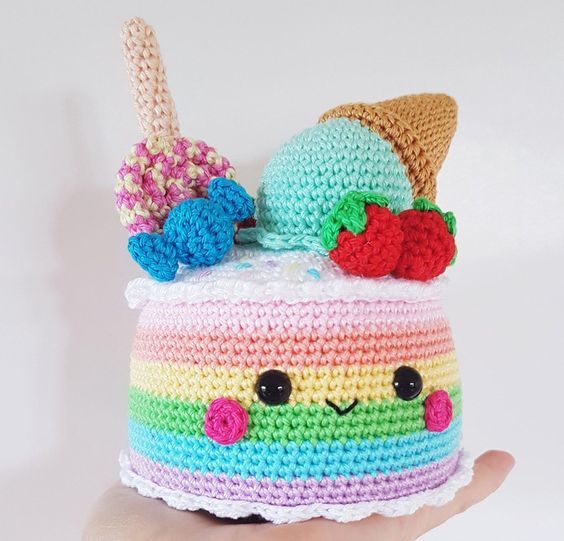 The details on this Rainbow Cake are incredible! While I'm normally not one for Amigurumi, This Rainbow Cake melts my home decor heart. Also, I adore her pastel rainbow colours! The rainbow crochet pattern for the Rainbow Birthday Cake is available on Etsy.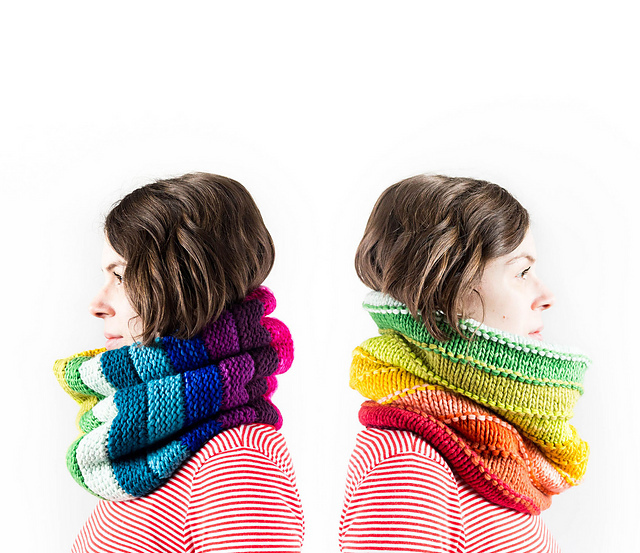 A magical col indeed! The Magicol is knitted with double stranded bulky yarn, and looks like the perfect companion for a cold and dreary day. And you can wear the cowl two ways, so style it anyway you like! You can find the knitting pattern on Ravelry.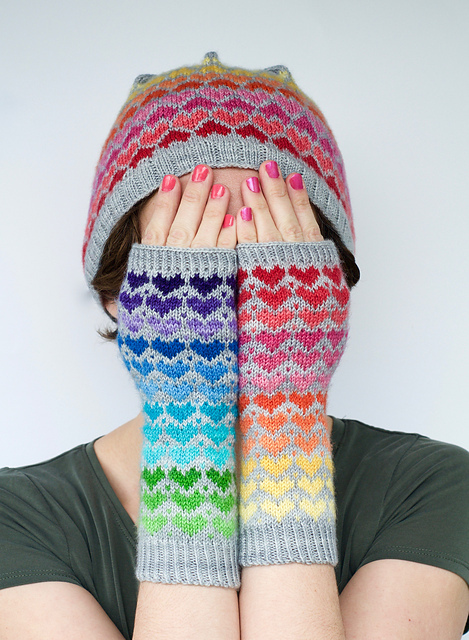 Aren't these knitted fingerless gloves stunning? There's something mesmerising about the change in colours on a blank background. The subtle grey makes the hearts pop even more. Well done, Stephanie! You can find this rainbow knitting pattern on Ravelry.
4. Rainbow Ruffle Blanket by Dada's Place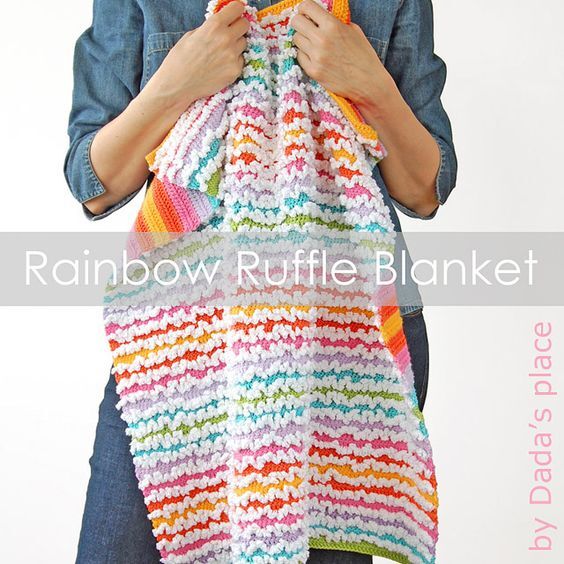 I absolutely love Dada's rainbow style, and this Rainbow Ruffle Blanket doesn't disappoint! I think this would be a perfect blanket to snuggle up in when you make it a tad larger. It reminds me of warm, fleece-lined slippers! You can find the free crochet pattern on Dada's Place.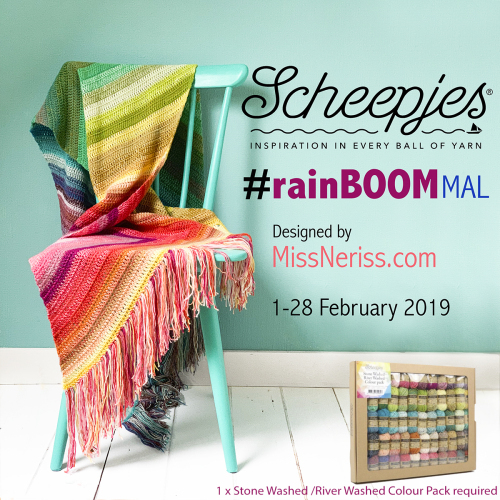 The RainBOOM Shawl just breathes warmth and colour. Miss Neriss has designed the shawl to make the most of a Stone Washed/River Washed colour pack, a sampler box with all colours of this soft yarn. So naturally, that means RainBOOM! There's a MAL going on that starts on February 1st, in case you have your eyes set on this pattern. But if you are reading this after the MAL has ended, the pattern is also available for free on Nerissa's blog.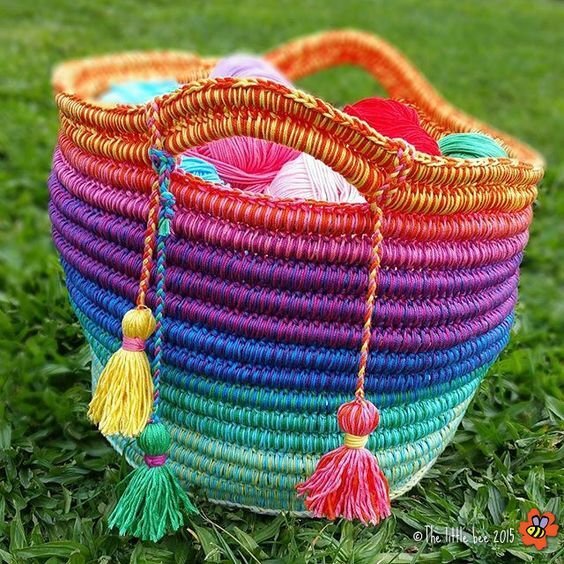 I will take one in each colour, please! The Ropey Rainbow tote is perfect for home storage or to show off at your local market. Who wouldn't want one of these colourful bags? The rainbow crochet pattern is available for free on The Little Bee.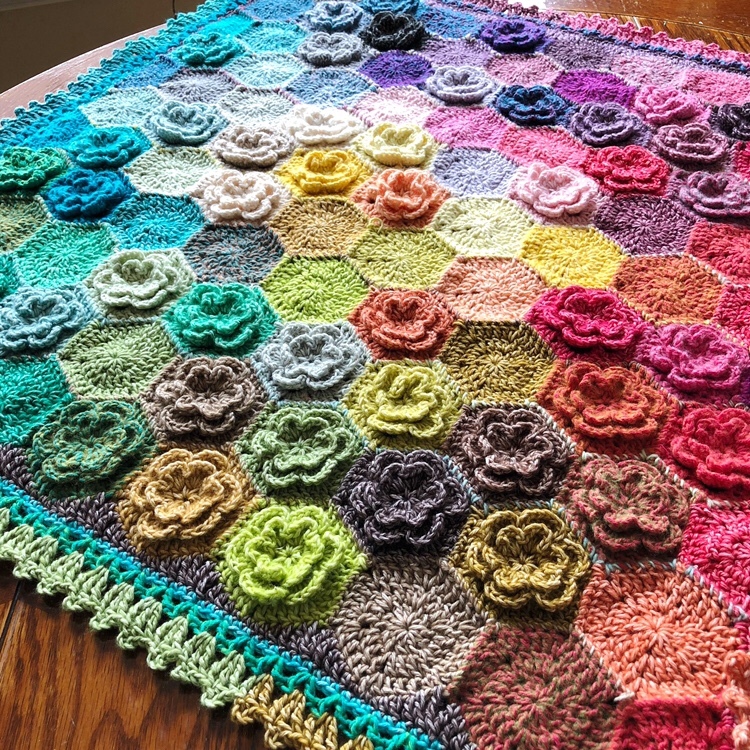 The Happy Little Tree Blanket deserves a Happy Little Dance! This blanket is made using the Scheepjes Stonewashed XL Colour Pack, and is absolute beginners friendly. Rachele is a master in combining plain and textured motifs, and her Happy Little Tree Blanket is no exception to that. You can find this colourful free crochet pattern on her blog!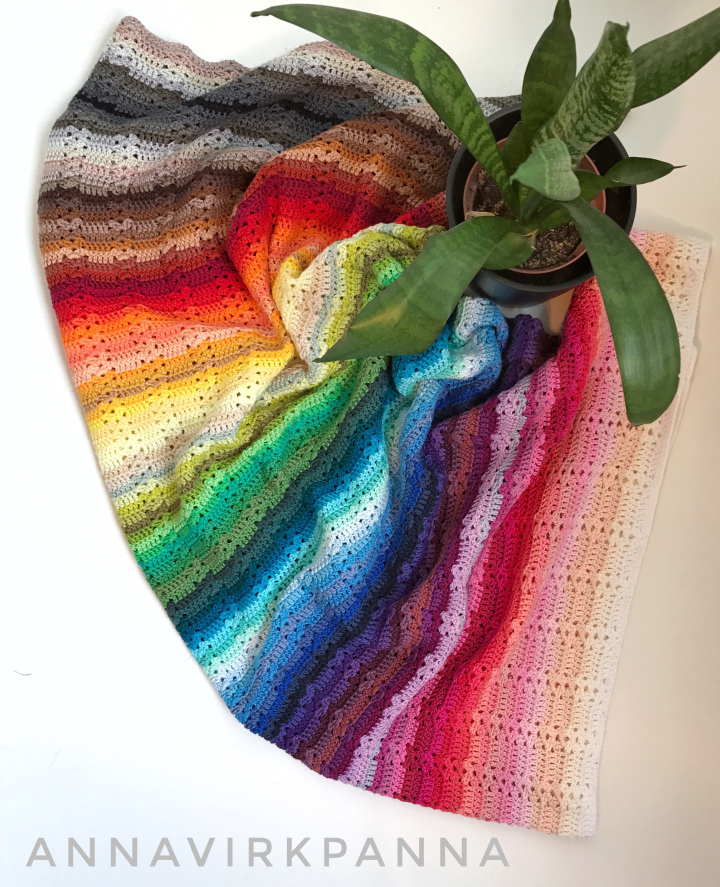 This blanket makes my heart sing! Anna has used 105 colours of Scheepjes Catona to create this wonderful crocheted blanket. It looks like the perfect project in front of the tv, ticking off one colour after the other. Put that one on my to-do list! The free crochet pattern for this amazing blanket is available on Anna's blog.
9. Rainbow Puff Hexagon by Crafty CC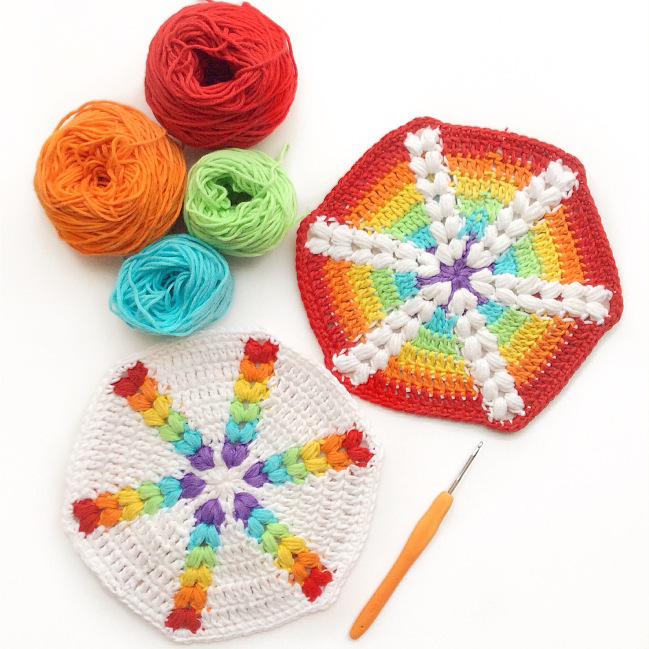 I've seen the Rainbow Puff Hexagon pop up in my Instagram feed and I instantly fell in love! The colours combined with pure white make the colours jump out of your screen. Blankets, pillows, bags, this motif would be good for anything! You can find the free crochet instructions for this motif on Crafty CC.
That concludes my Rainbow Roundup. I hope it has inspired you to create something colourful!