"Creative Christmas – A gift guide for crafters who already have more yarn than closet space"
Shop the Cohana range at Habbedash. You won't be disappointed!
2021 Update: There are some beautiful new collections like the Sakura 2021 Spring collection. A dreamy cherry blossom-inspired range of your favourite Cohana tools!
Enough with the yarn!

If you're like me, chances are you got a big yarn stash. There's a part 'practical' stash that you use for swatching, designing, actually making items. This is the stash that gets regularly replaced and contains all your favourite yarns to work with. The high-turnover stash, so to speak. Then there's also a 'pretty' stash. Skeins and hanks you might not have a plan for, but were begging you to take them home. Novelty yarns that were so special that you just had to get them. A rainbow of silk/cashmere/merino yarn that you just needed, because, rainbow. Am I right?
Bottom line, I've got a lot of yarn. And the stash keeps growing because family and friends think that there's no such thing as too much yarn for a crochet designer. While this is not necessarily untrue, I'm running out of closet and storage space and frankly, I'm starting to feel a bit guilty!
While I was visiting Scheepjes HQ last September, we were introduced to a brand unlike anything I've ever seen before: Cohana. It is a Japanese collective of craftsman, creating handmade crafting tools. The name has a symbolic meaning, according to the group:
"The brand name 'Cohana' is derived from the goddess Konohanasakuya-hime from Japanese mythology. Konohanasakuya-hime is beautiful like the blooming of cherry tree blossoms, and worshipped as a goddess of Mt. Fuji, the symbol of Japan, and symbolises prosperity."
Do give their website a read, if you have time. They've captured the look and feel of their products perfectly!
First impression

We lucky birds got to take a parcel filled with Cohana supplies home with us to review. I've been using them for a while now and my first impression is that the items breathe quality, and will last you for a long time. Due to the fact that the items are handmade in Japan, they're relatively expensive. Although it might not appeal to all, I think it is the perfect gift for the crafter who already 'has it all', especially yarn.
Cohana is an exclusive brand and is not sold everywhere. Luckily, Habbedash stocks the Cohana range and ships worldwide. So now we've got all bases covered, let me introduce you to my favourites!
Item # 1 – The 'Shozaburo' Thread Clipper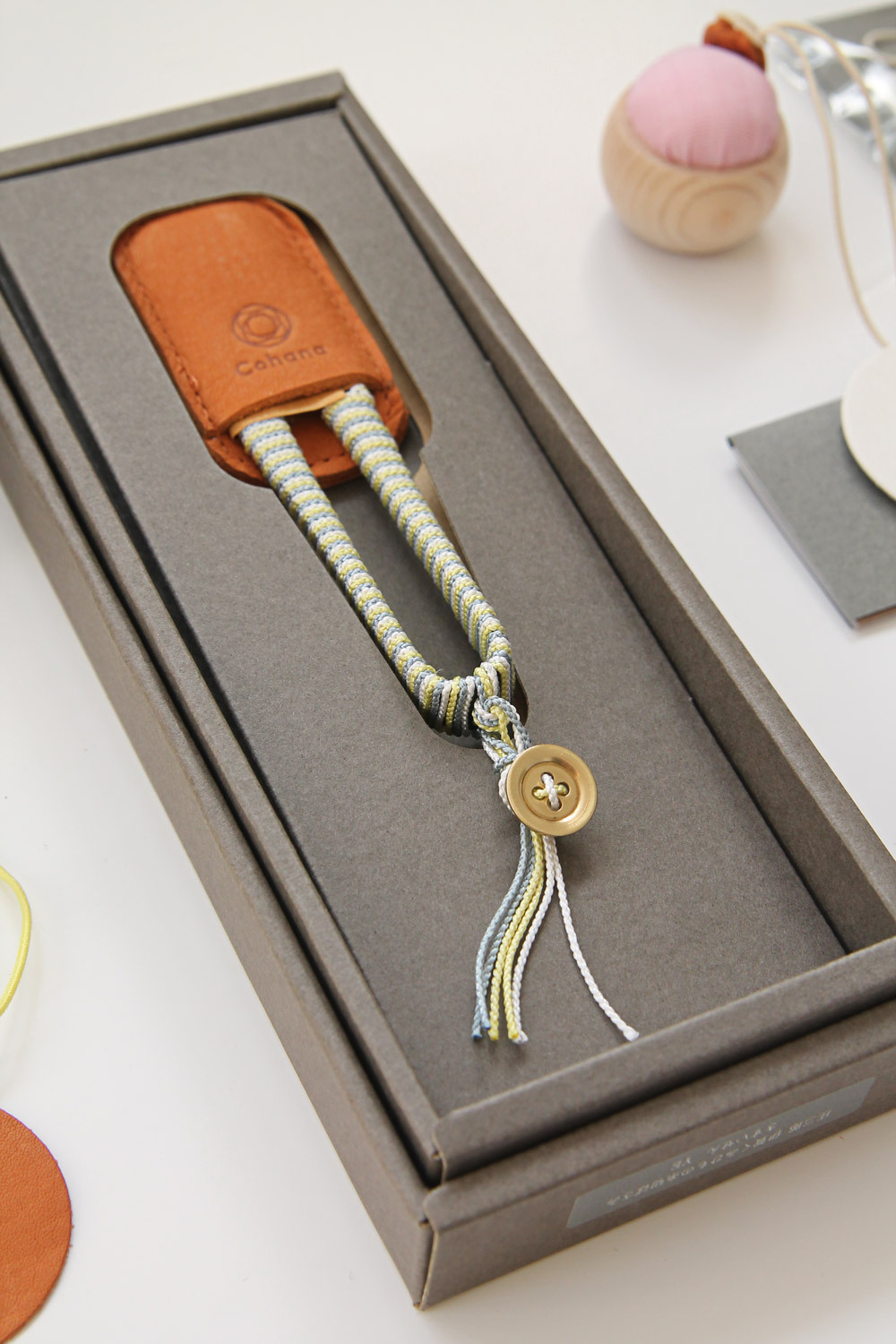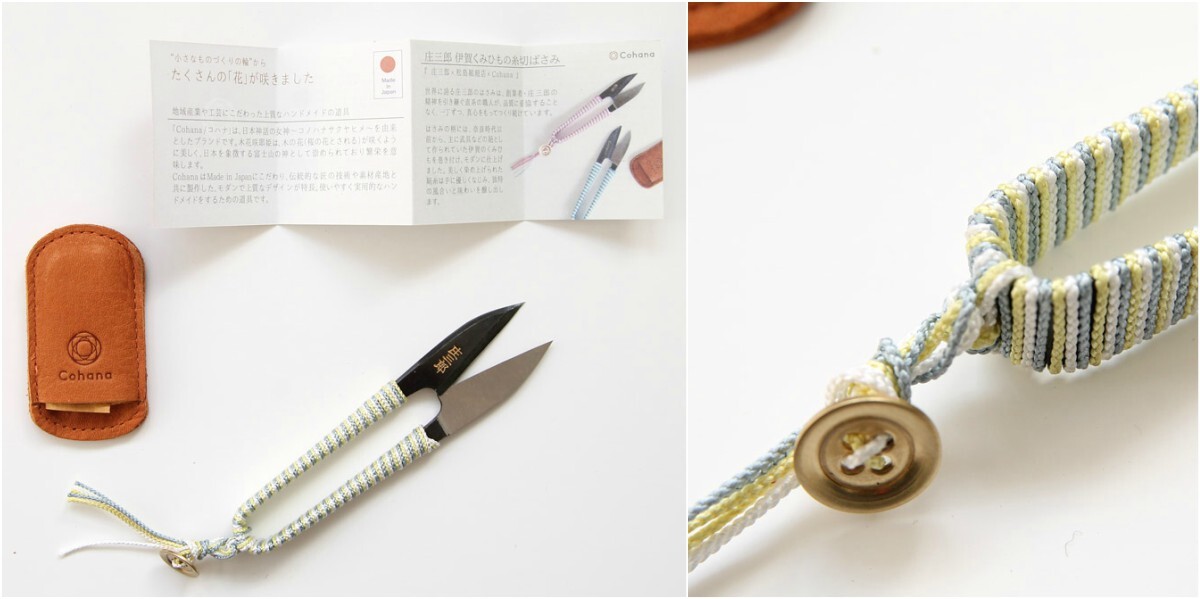 I want to start off with the (in my opinion) prettiest of them all: the thread clipper. They make that 'snappy' sound when they close. They're (very) sharp and come with a protective leather casing which you definitely need if you want to carry them in a bag without them poking holes in your fabric. The handle of the clippers is wrapped in silk 'Iga braids', which were also used in traditional Japanese armours. Details like this make something so simple as a pair of clippers special, don't they? The clippers are available at Habbedash, and come in multiple colours. Mine is the yellow colour.
Item # 2 – The 'Hinoki' Pincushion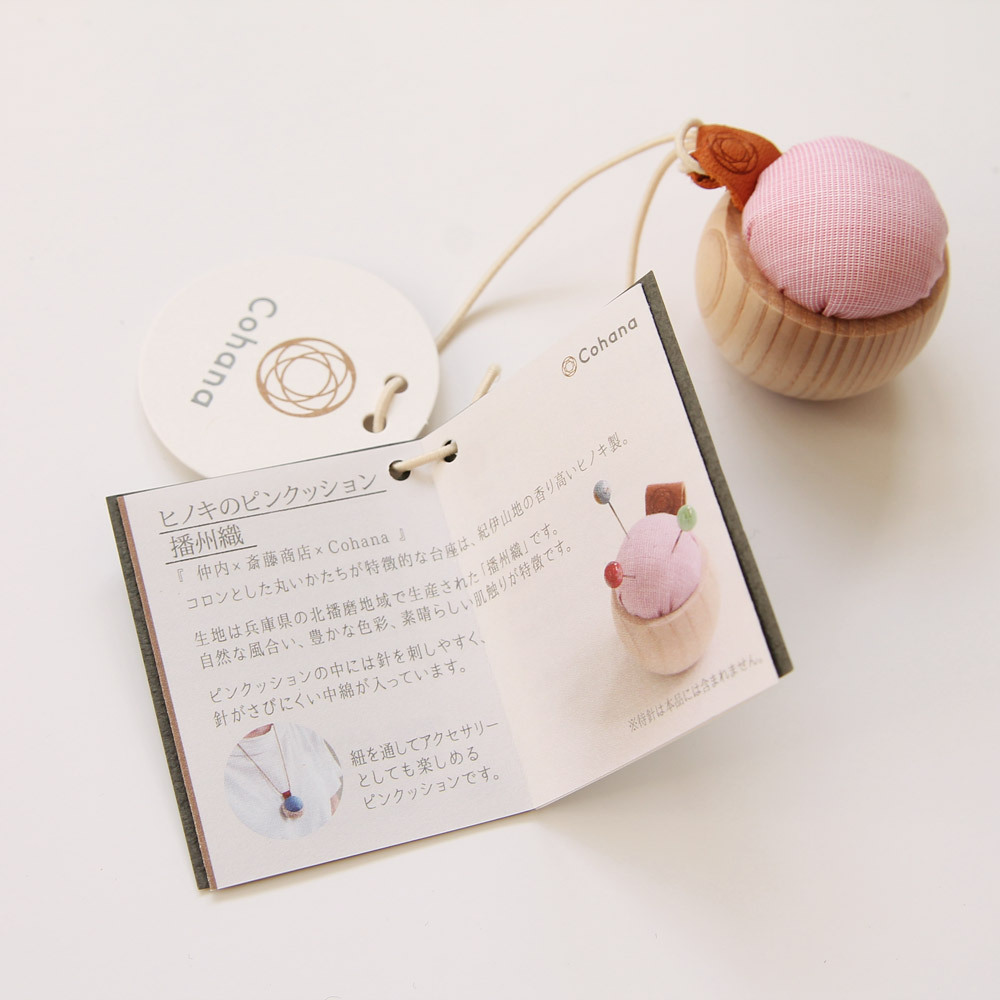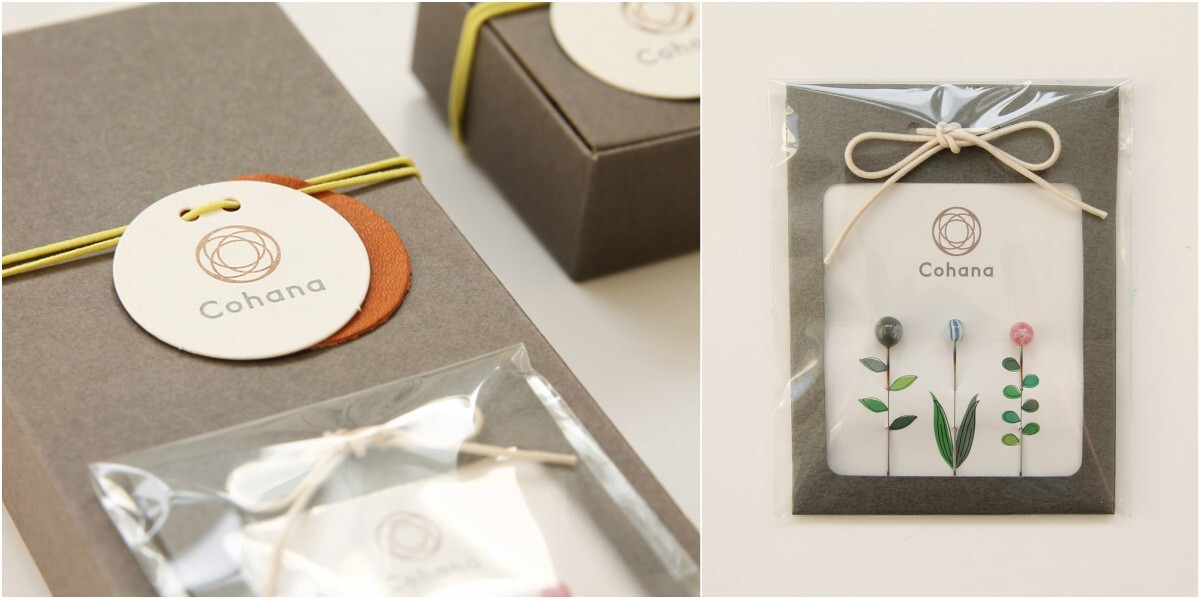 In my parcel was a very dainty pincushion. As I'm not very fluent in Japanese, I had to rely on the pictures to tell me they are meant to wear around your neck. Thus far I haven't used it like this, but as it's very light I can imagine it won't be a burden as opposed to those pincushions which you wear around your finger or wrist (I can't stand anything on my wrists when working). They're perfect to pair up with the handblown 'Tombo-dama' glass pins! Both the pincushion and pins are available at Habbedash. As you can see, the pincushion also comes in multiple colours!

Item #3 – The paperweight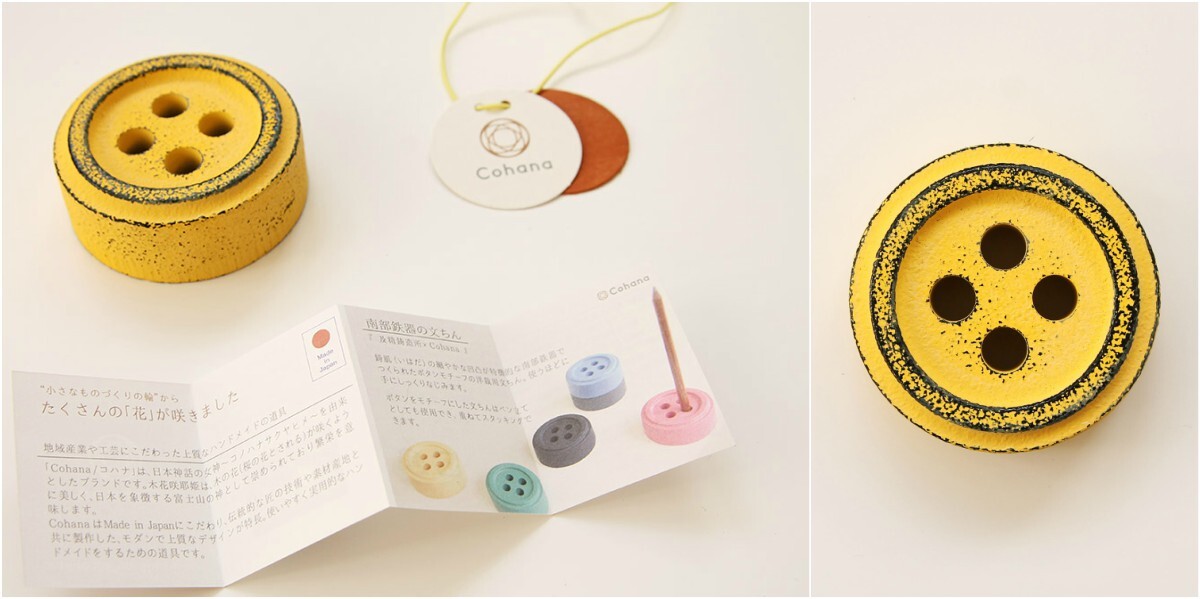 When unpacking, I didn't realise it was a paperweight so I was very surprised by the weight of this. It's pure cast iron, with a rough surface and holes big enough to put your crochet hooks in. I can definitely see this paperweight being put to use when I'm crocheting in the backyard where my papers tend to fly away with every gust. But currently, I'm using it to collect some of my loose crochet hooks and scissors in my craft room.
The paperweights come in several colours. There's also a polished brass one. I think that's my favourite!
Item #4 – The Canvas bag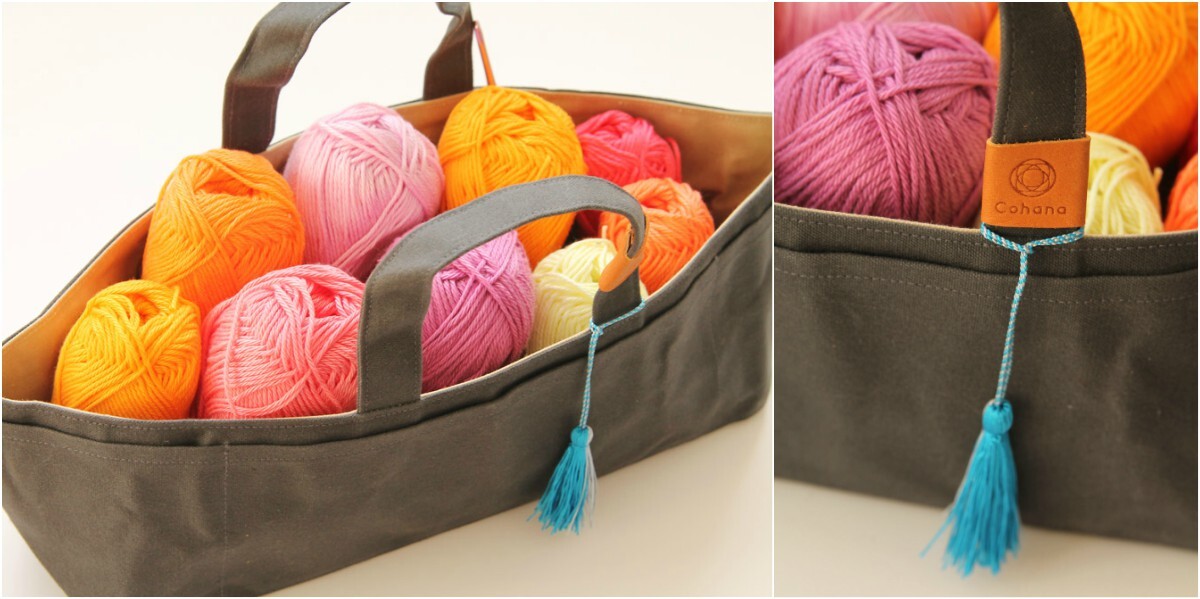 This is my little happy canvas bag which I use for smaller projects. It's made out of very sturdy canvas and it's waterproof as it's been treated with paraffine. It has space for a couple of (small) balls of cotton and has a few extra pockets for hooks and needles. There are inserts available to put in the big bag too if you'd rather use it more compartmentalised. Isn't the tassel cute? You can find them all here.

I hope this has given you some inspiration for the upcoming holidays and beyond! I know it can be very hard to find a present for somebody who already seems to have everything. Quality products like Cohana are ALWAYS a good idea. Plus, they've extended their range of products so there's even more to pick from now. Enjoy!