If there's one pattern all crocheters know by heart, it's the humble Granny Square. For most of us, it's the first pattern we learn to crochet right after we learn how to make chains, single and double crochets. And rightfully so, as it's one of the patterns that hits close to home. But do you know the humble origins of the Granny Square? I looked into it.
I'm sure every grandma in the world either has a granny square blanket, a granny square pillow, a granny square vest (hello 70's!) or maybe all of the above. There are so many patterns for granny squares, it looks like this pattern has been around for ages! And that got me to wonder: where does the Granny Square actually come from?

The History of Granny Squares
So I did some research. It turns out that I wasn't the first one to wonder. Interweave has written an article about it back in 2014. The first mention of Granny Squares that they could find was in The Art of Crochet, published by the Butterick Publishing Company in 1891. Technically they didn't mention the term Granny Square, but surely described something resembling it:
'All the odds and ends of fancy colours left over from other crochet work, or small quantities of bright-coloured Germantown or zephyr wools (…). The outside row of every block is made with black wool, and then the blocks are crocheted together with some bright colour, usually yellow… A handsome fringe of black interspersed with bits of all the colours used is generally added to the top and bottom of the robe, and sometimes all around it.'
It's worth mentioning that the 'robe' in the text above is actually old-American for a baby blanket. So technically, this book described the first Granny square baby blanket!
In the years following, many magazines have features examples of the humble Granny Square, such as Victorian Crochet (Weldons & Company, 1895) and Fleisher's Afghans (1930). The latter describes the pattern as an afghan with multicoloured squares in bright colours with a black border around each of the squares and the entire afghan. It surely paints a granny square picture, doesn't it?
9 Free Granny Square Patterns
While this motif might have been invented out of necessity and scarcity, yarn is hardly the sought-after commodity it once was. And that means that we are able to create any granny square we want, mismatched or not. If you're a crochet novice who's looking for patterns for Granny Squares, I've got you covered! I've listed some of my favourite Granny Square patterns below, including sources and links to tutorials!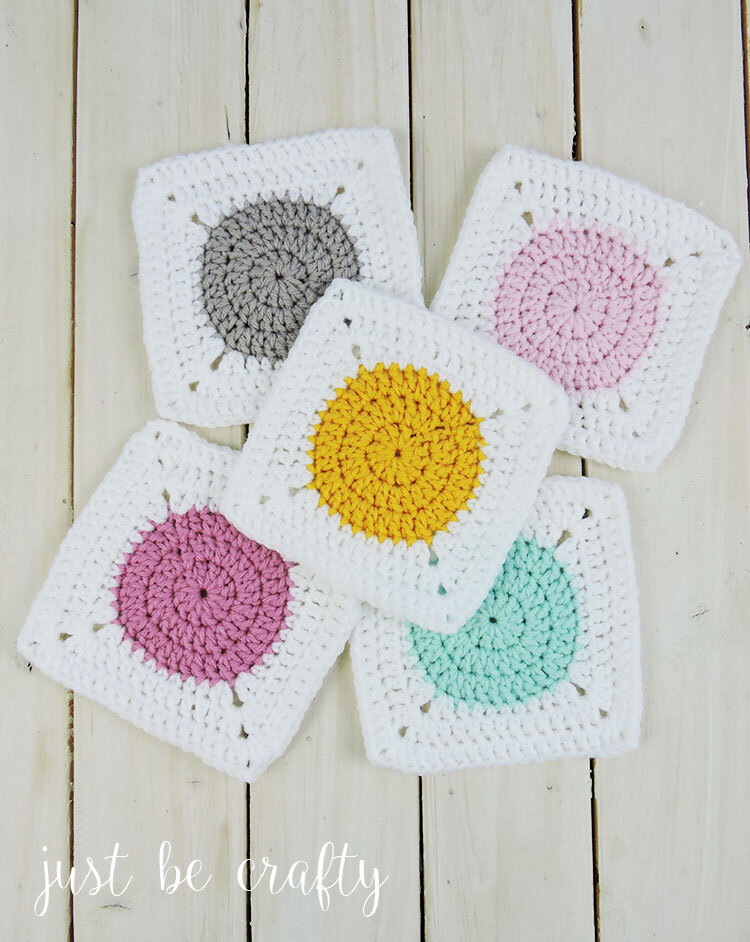 This is the 'Circle To Square' Granny pattern by Just B Crafty. Isn't it a smart and elegant way to turn your scraps into something elegant? You can make the circles in all kinds of colours, thus tapping into the happy scrappy theme of Granny Squares. But if you like a more rustic or natural palette, this pattern can work for you too.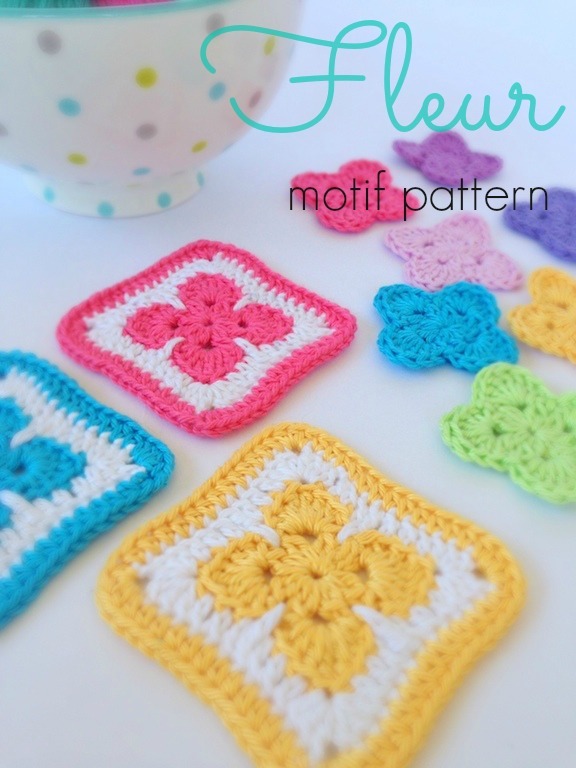 The Fleur Granny Motif by Poppy and Bliss still has some of that 70's retro vibe but in oh-so-eclectic colours! It looks wonderful as a stand-alone motif, but on her blog, she has got a beautiful example of these motifs turned into a proper Granny Square Blanket.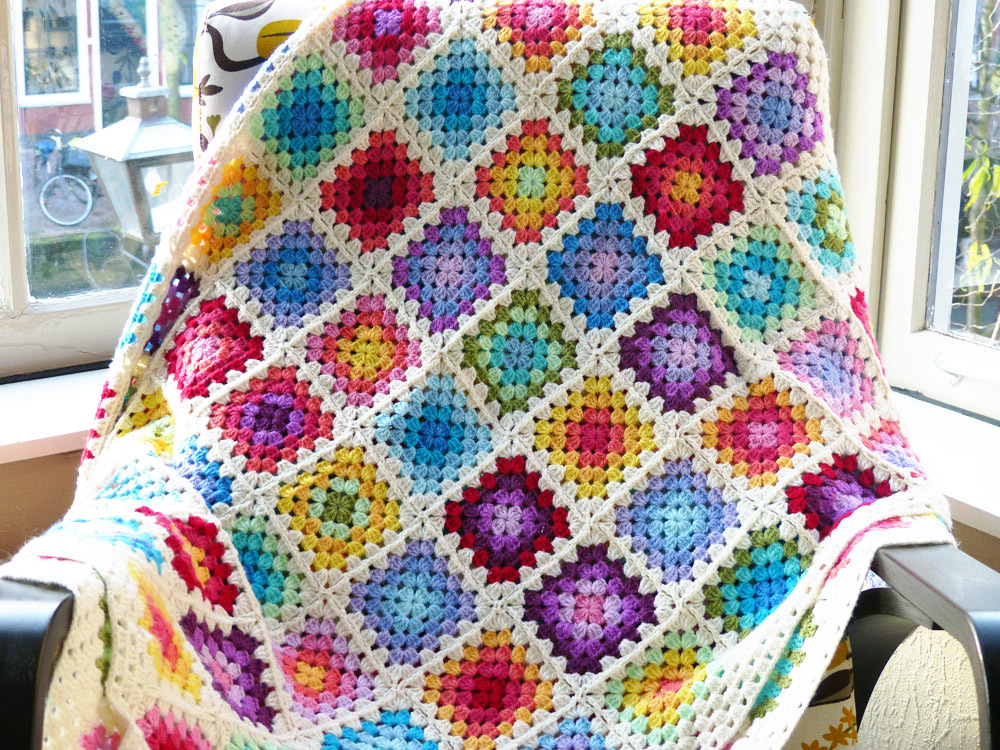 And if you're a big fan of colourful rainbows, this blanket will certainly make your day. It's my own Rainbow Granny Square Blanket, made with all different kinds of colourful scraps. Instead of traditional black, I used cream white to tie all the colours together. It remains one of my favourite blankets!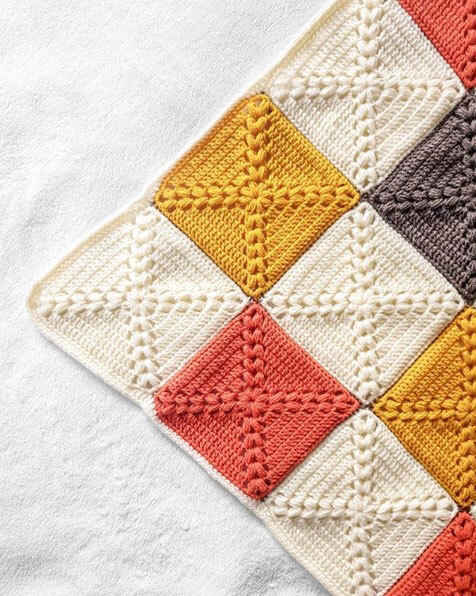 If your colour taste leans more towards rustic, the Farmhouse Granny Square is the perfect pattern for you. Worked in one colour per square, this pattern has that calm look. I can't get enough of that mustard! You can find the free pattern with a video tutorial over at Design Peak.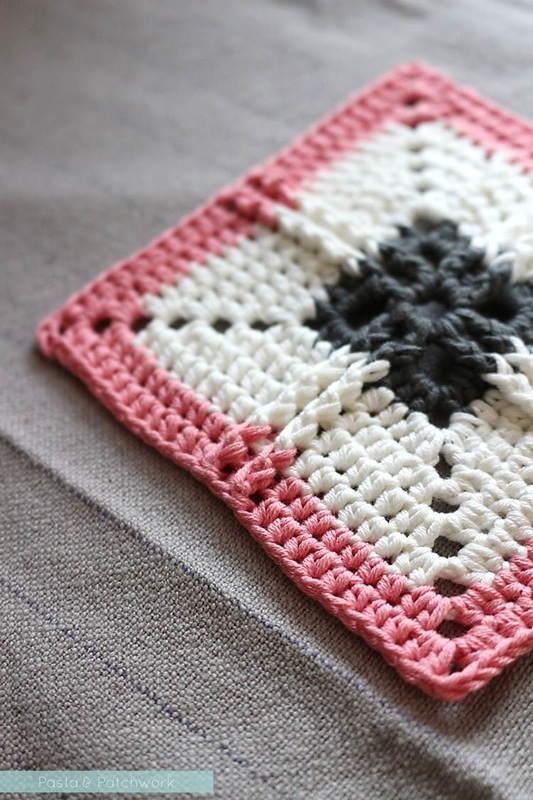 The Ribbed Granny Square is a more solid motif than the traditional three-dc-cluster Granny, but stunning nonetheless. You can use the raised stitches to bring some texture into your blanket, creating a secondary pattern all across the motifs. Doesn't that sound like a great plan? Pasta & Patchwork has got the pattern ready for you!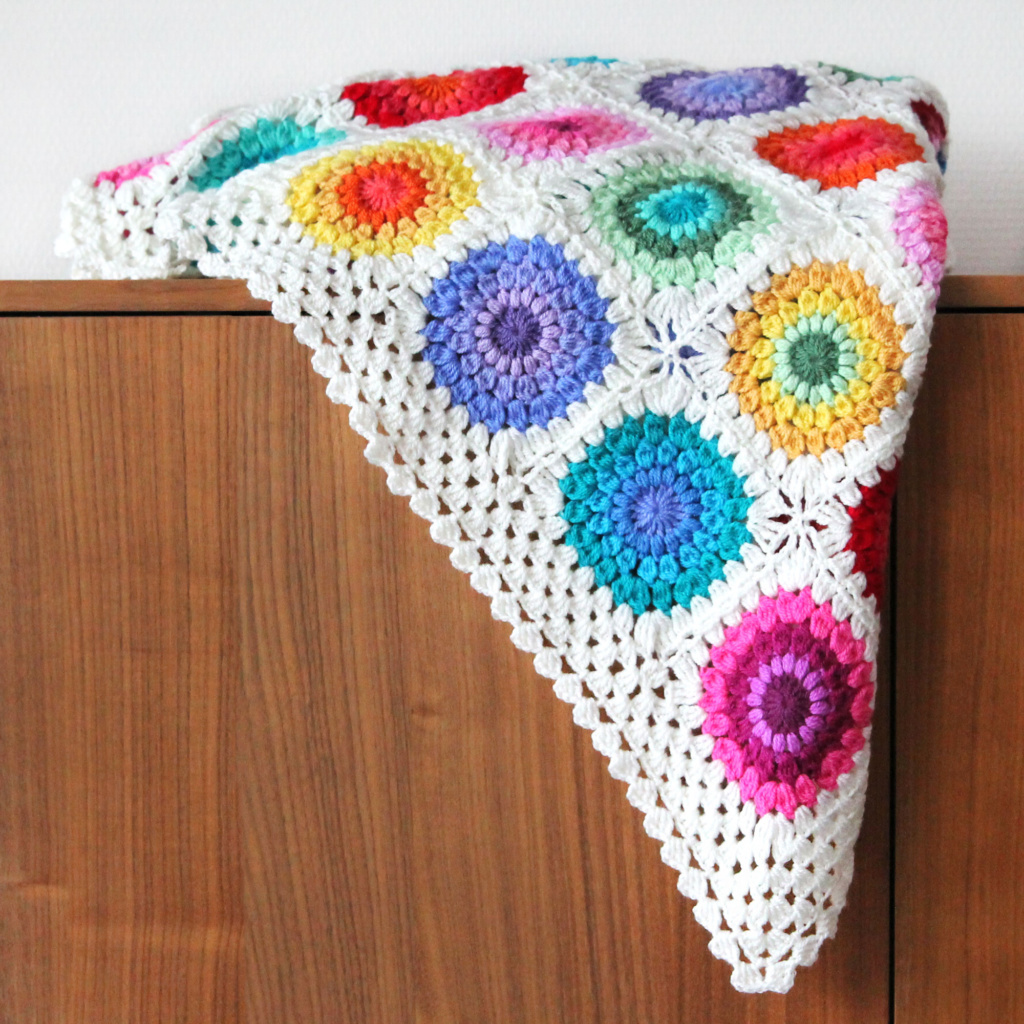 The Colour Wheel Granny Blanket is what happens when Sunburst Granny Squares meets Rainbow. The blanket is colourful, big, and the colours are a joy to work with. You can find the pattern for this granny square motif on my blog, for free!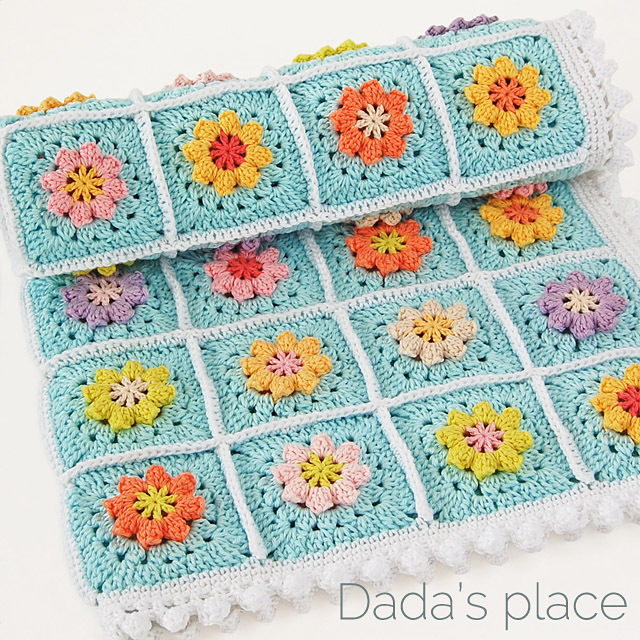 Dada's Place is a household name when it comes to colourful crochet patterns. The 'Primavera blanket' combines traditional Granny motifs with flowers, resulting in this beautiful mix of colours. What a joy to look at! You can find the full tutorial, including many photos, on Dada's Place.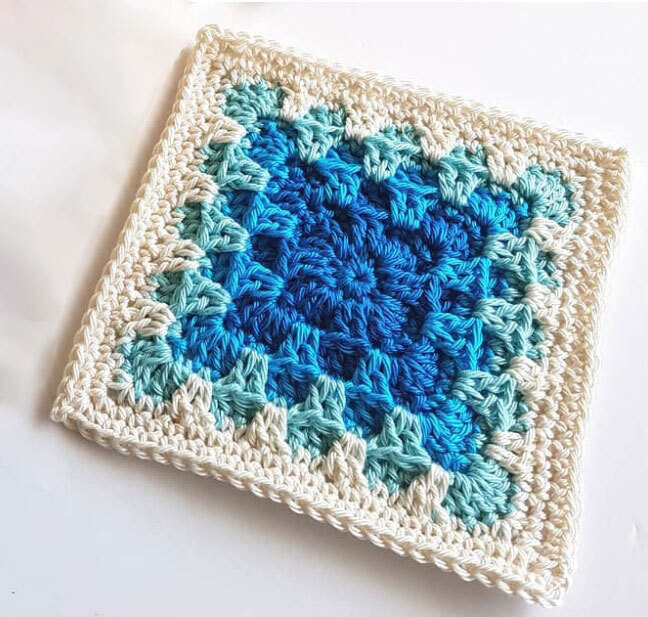 This overlapping Granny Square Motif is made in beautiful Ombre colours. It makes it ever so special! Can you imagine a blanket made out of these beauties? With the video tutorial, you can! You can find the free pattern on Design Peak.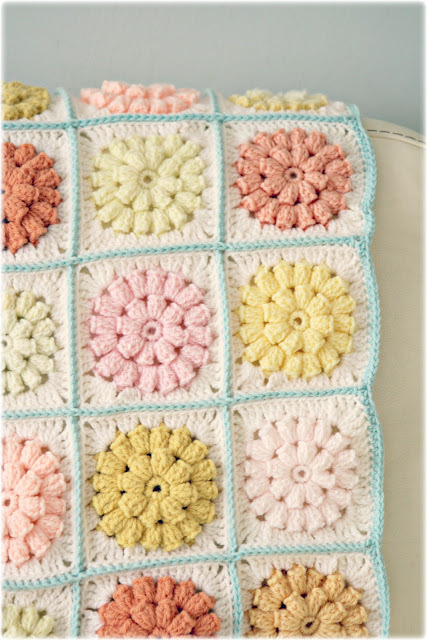 And finally, there's the beautiful pattern of the Popcorn Flower Granny Squares. This one might take up a lot of yarn (a lot more than scraps at least), but it's absolutely worth it. The original picture is by Coco Rose Diaries. The free pattern for this granny square can be found on the Mille Makes blog.
I hope you've enjoyed these patterns! Granny never goes out of style, so you really can't go wrong with a classic (or slightly more modern) Granny Square. Do you have a favourite pattern for Granny Squares that you like to share with us? Place them in the comments!