After my latest stint with Scheepjes Chunky Monkey (the Winter Sun Blanket in YARN 10), my hands were itching to create something new.
While the Winter Sun Blanket, as the name suggests, uses a lot of yellow, this time I went the other way. Rather than yellow, I chose shades of green, blue and pink tied together by a beautiful delicate greyish purple. Oh, what a fabulous set they make!
Chunky and Rainbow don't mix that well
I don't use chunky yarns often. For rainbow designs, it usually means that a project will either become colourful but very big, or you only use small amounts of yarn and have a lot of leftovers. Neither are very desirable from a budget point of view. So for this project, I chose a modest amount of colours - seven.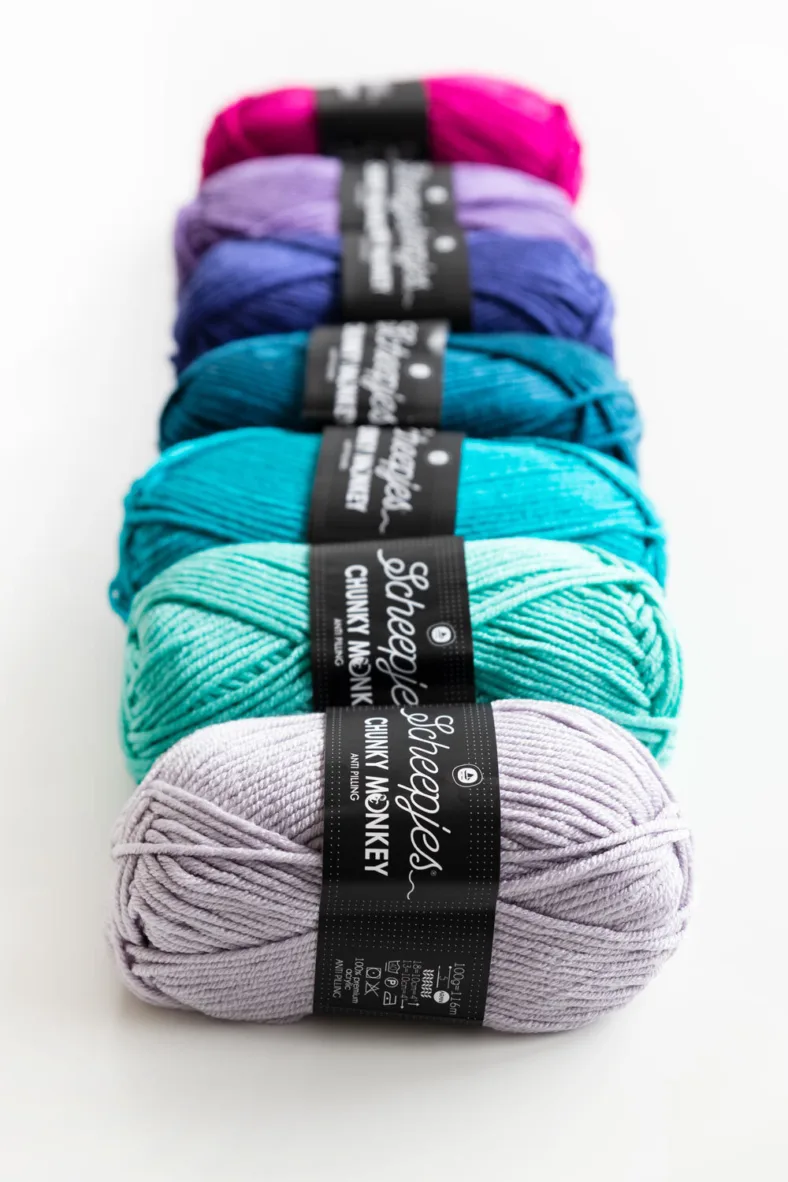 Chunky Monkey
Chunky Monkey is the latest aran weight (borderline chunky) addition to the Scheepjes yarn family. It's a 100% acrylic yarn, and the 93 colours are similar to those of the Colour Crafter. However, The Chunky Monkey has a slight sheen to the thread that's unique to this range. The most recent batch is also anti-pilling, which means that it's more resistant to pill forming (those little puffs and bumps of yarn that tend to gather under your armpits and on the sleeves of cardigans).
There's 116m of yarn on each ball, and while that doesn't sound like much it works out to a decently sized piece of fabric because of the yarn's chunkiness. I estimate 12-15 balls are more than enough for a properly sized project (which is Haak Maar Raak speak for play blanket)!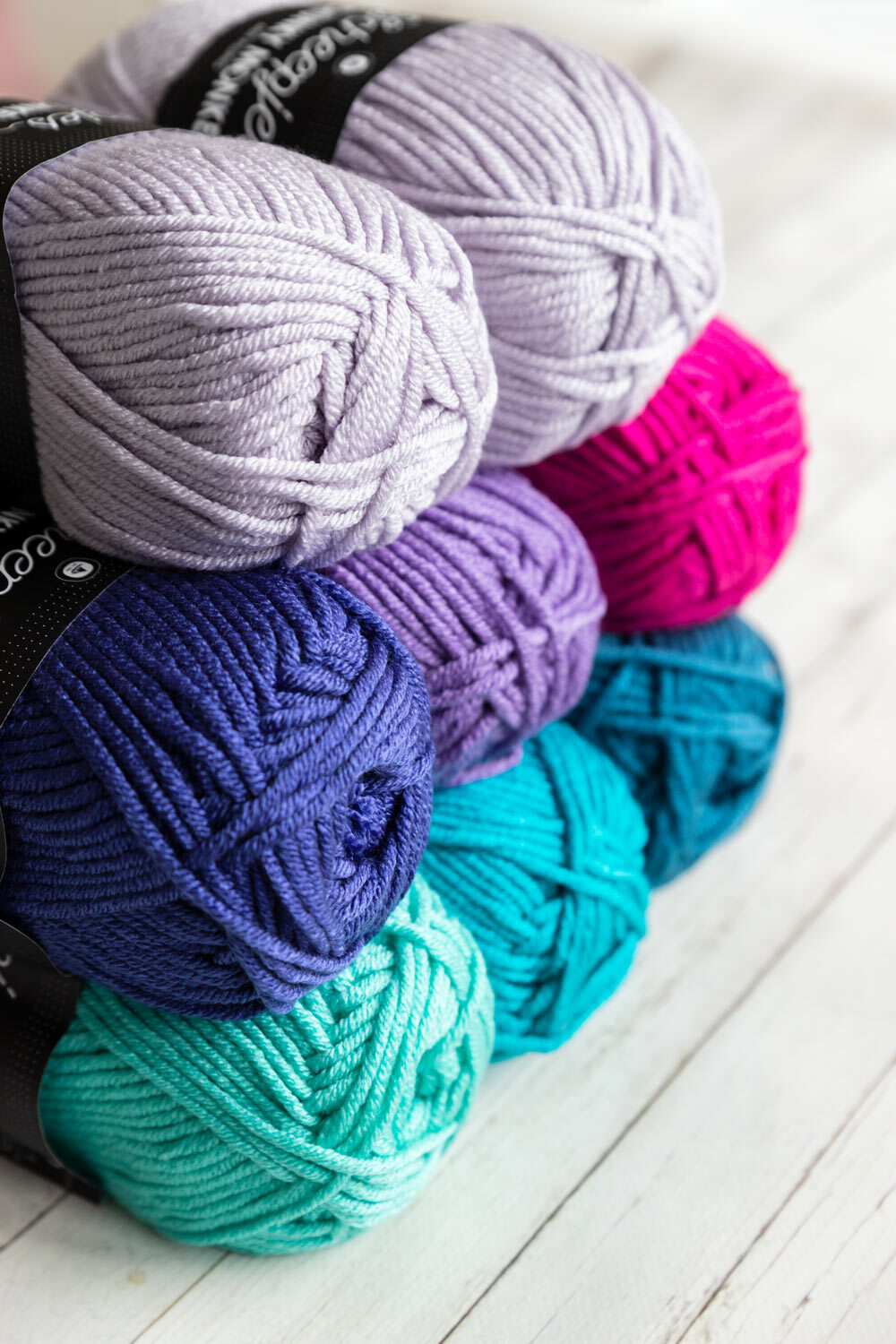 I picked some of the most vibrant shades:
1422 Aqua
2015 Ocean
1708 Petrol
1825 Midnight
1277 Iris
1827 Deep Fuchsia
1724 Heather
Heather is a peculiar shade of grey. When you place it next to a purple, it looks like it contains a hint of purple too. Next to other colours, the purple hint seems to disappear. Quite fitting in this colour palette!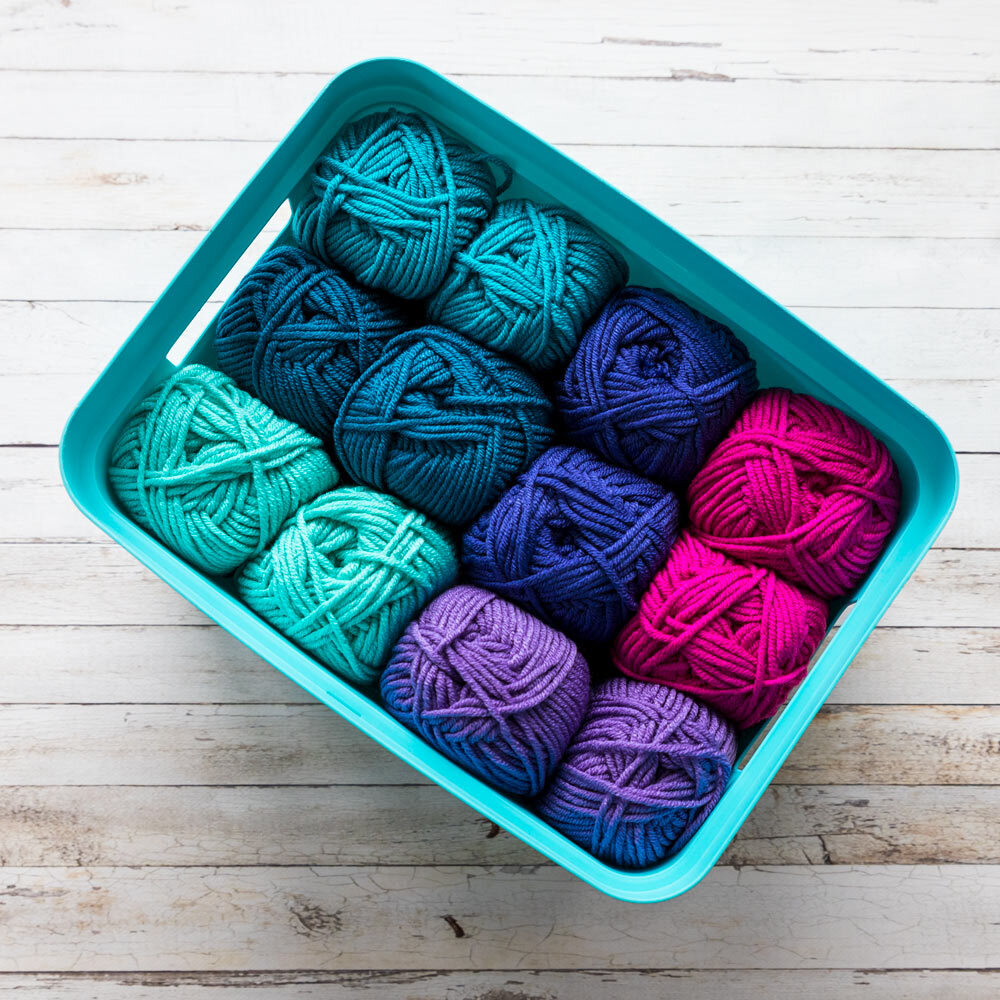 So, off I go with my basked full of chunkiness. The only question that remains: with which colour shall I start: pink or green?