Rainbow Origami Blanket
07.Sep.19 / Kirsten Ballering
When the Metropolis mini colour pack was released, I was in the middle of creating my Origami Blanket. And what do you do, when a yummy pack of colours comes along like that? You make rainbows!
The tricky part was getting the colours right. My original Origami Blanket was made to suit multiples of three rows, but with a colour pack like this all rules fly out of the window. So after a day of fiddling I got the combinations sorted. As I am also working on the Summer version of my Origami blanket myself I couldn't handle another blanket (unless Spring 2020 would be fine, of course). So my maker Jovita was kind enough to take the colourful work off my hands!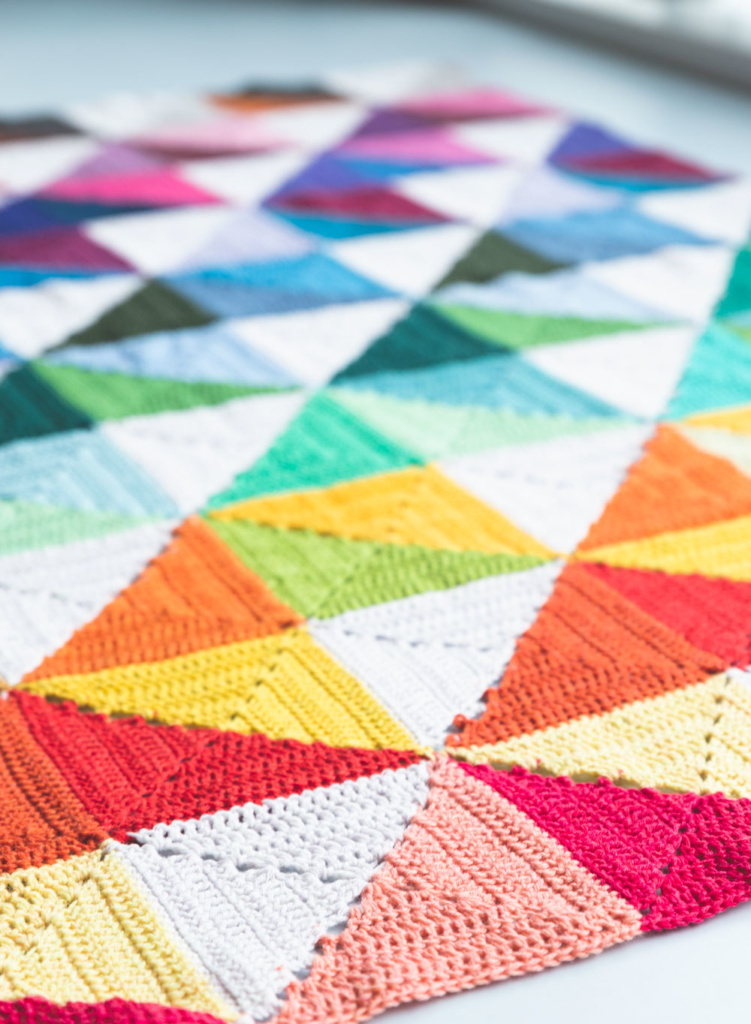 The pattern for the Rainbow Origami Blanket is also available as a styled and advertisement- free PDF in the Haak Maar Raak shop.
Materials and preparation
For this blanket you'll need one Metropolis colour pack, and 5 balls of Scheepjes Metropolis 024 Cota. Some people who crochet tightly will be able to make it with 4 balls of Cota and the 10 gram mini ball from the colour pack, but if you are like me and crochet on the loose side, you are going to need a bit of that 5th ball. No way around that without skipping rows and thus using fewer colours from the pack, unfortunately.
Yarn
Rainbow
Scheepjes Metropolis (25% nylon, 75% extra fine merino blend, 50g/200m)
Metropolis Colour Pack: x ball
Colour A: 024 Cota x 5 balls
Shop the yarn
You can get Metropolis from Scheepjes retailers, such as:
Crochet hook
4.0mm (US size G/6).
Measurements
145 x 130cm (57 x 51in).
Gauge/tension
One square measures 14 x 14cm (5.5 x 5.5in) unblocked over tr. You use 4.2g of every colour for each square (8.4g per square in total).
Colour layout
You will follow the pattern for the original Origami Blanket. You'll use all but 9 colours from the colour pack, using each colour twice. If you stick to the original pattern's gauge and use max 4.2 grams per triangle per colour, you'll have ~1.5 gram per colour to join the squares. Because the colours of each square differ you can't use the continuous two-colour row join as in the original blanket, but rather join each square with its own colour (and subsequently fasten it off). That's a bit more work, but the end result is worth it. If you run out of yarn to join, pick one of the remaining colours that are close to the colours you're joining. It won't be very noticeable.
For this blanket I've created a separate printable colour placement. The numbers in the colour placement diagram are the colour numbers in the pack.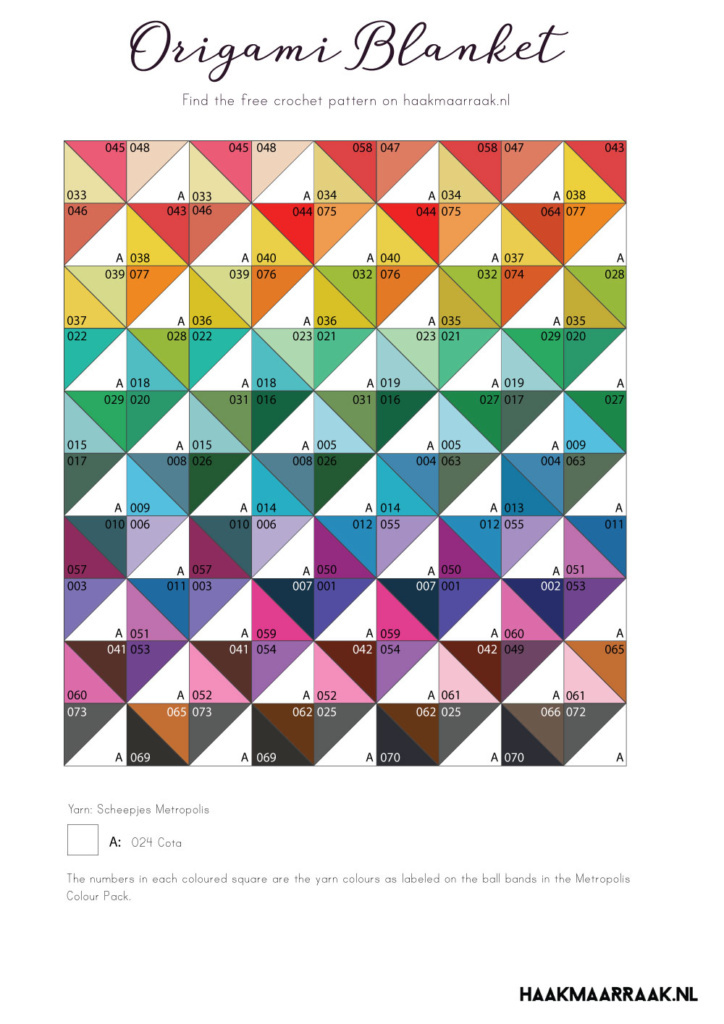 You can download a printable PDF version of the colouring template here.
You will follow the pattern for the Original Origami Blanket, but use the colour placement information above.