Hey there! Just a quick message to show you guys what I've been working on for the past week!
My younger sister has moved into her own room last week, and she was asking me for a blanket to cover up her sofa/bed (this is not decided yet). And not just any blanket, but the same blanket I've made for my grandma last year. The blanket bore the name 'colour of my dreams', and since my sister might or might not be a little hot-headed (she's reading here so I have to be very careful) I've decided to make the same blanket with the addition of some red tones.
And now the best part; the Drops delight yarn used for this blanket was on sale! The whole month of May there is a 35% sale on many varieties of the garn studio yarns. So if you might use them, make a pitstop at your local retailer because in most countries they participate in this sale!
This is the yarn I've ordered. It's Drops delight in various tones, which is made of 75% superwash wool and 25% polyamide (a.k.a. acryl) and the colour changes are just beautiful!! Sorry for the crappy pictures, they were taken with my phone as my camera was back home at the time.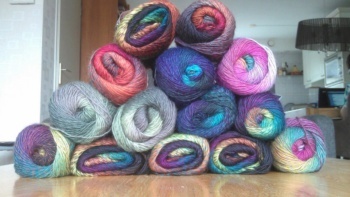 So far I've made about 33 squares, out of the 180-ish I have to make. The final blanket will approximately measure 90 cm x 200 cm, and with the squares being 10 cm x 10 cm this totals the 180... If it's really going to be this big I have to order about 4-5 skeins more. But we'll see in the end if this is necessary!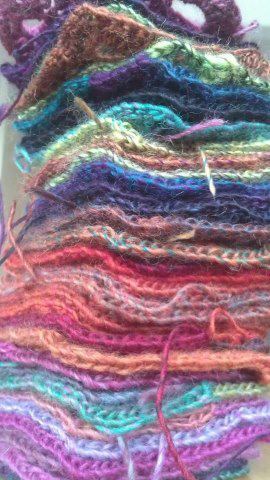 All stacked together... Just a playful mixture of colours!