I have to admit, that I never felt much for doilies, shawls, hats and hand warmers. The latter is still the case, they just aren't doing it for me. I love to see designs of other crocheters but my hands stay clear of warm woolly winter wear. However, in the past year doilies and shawls have made a comeback. In search of decorations for my market, I started to make some modern doilies as you might have seen popping up on my facebook. But shawls have also grown on me.
A while back I bought two beautiful skeins of KAUNI wool from Galchik on Etsy. I marveled over them, caked them up and then put them in my yarn closet... This stuff usually happens with pretty yarn as I am not sure about the project yet.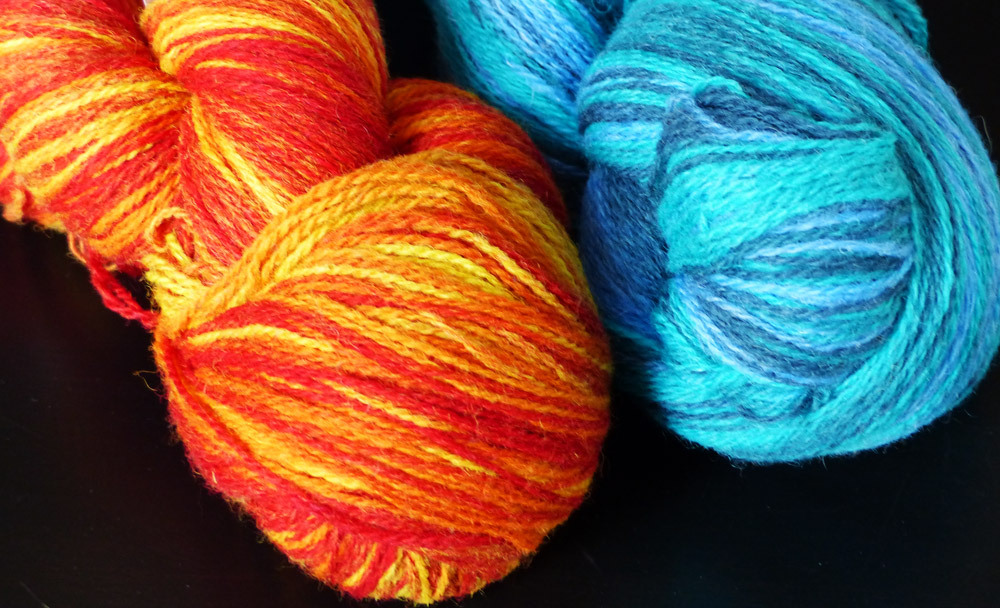 But the flamy yarn was determined to be put into a useful item. It screamed at me: I WANT TO KEEP YOU WARM! Now the problem is, it's 100% wool and quite ticklish as you can see on the picture. However, after reading a few tips online and talking to fellow crocheters who had gone down this path before I found out that once you put it in the freezer the ticklishness was gone (is that even a word?).
As the flame skein was listed as 178 gr, and I had no idea about the yardage. I set out on searching a pattern that was easily adaptable but could also double as a handkerchief in case of a lack of yarn. Well the last part didn't really work out for this pattern, but as I was confident that there was at least enough to make a shawl or wrap for me or a tiny family member I started anyway, with the Elise shawl pattern (which seems to be a hit all over the internet).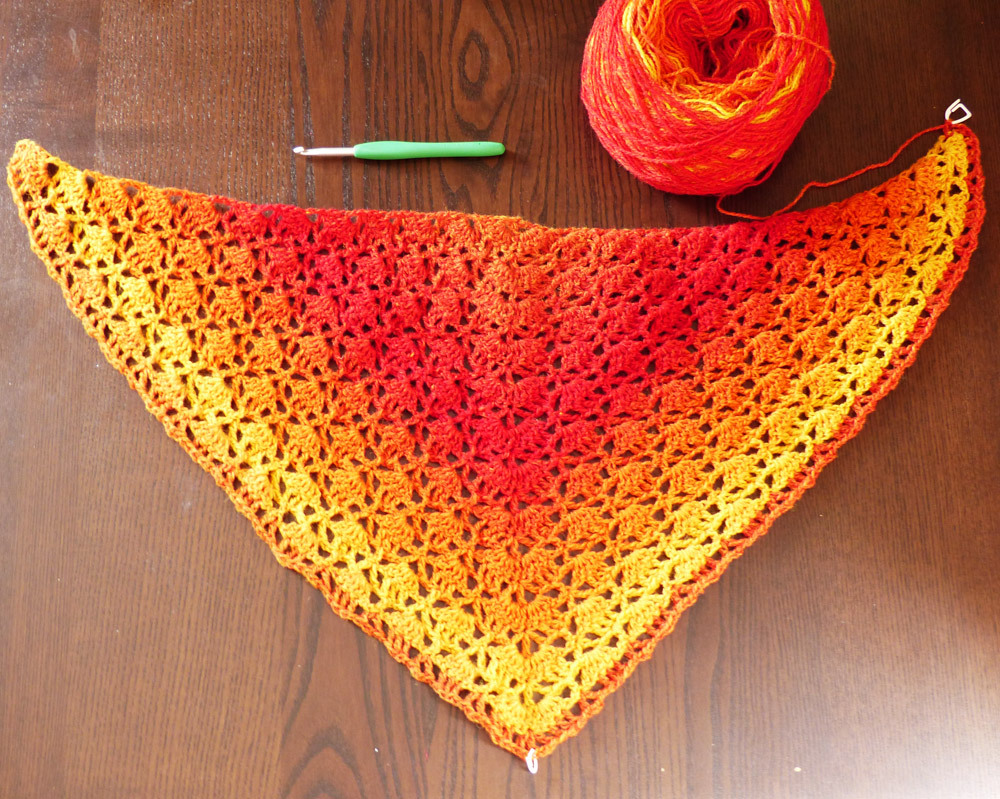 This was September... The sun was shining, the yarn was ticklish and sturdy, and I had a market to prepare. This project entered the pit of doom, a.k.a. the bottom shelf of that same yarn closet. It didn't see the daylight for a few months. I actually forgot all about it. My shawl endeavor ended right there, or so I thought. Until I re-discovered the WIP a few weeks back. It felt like a waste of pretty yarn as ripping out everything didn't really work out with the yarn. So I continued!
and it grew, and grew, and grew.
Then there was the point where I didn't find my shawl big enough, but started to run out of yarn. Every row was guessing whether there was still enough for a row back and a border. I actually managed to border everything with about 1 meter of yarn left!
On to the next challenge... Blocking! The length of the shawl was unblocked about 1.30m. I stretched, and pinned, and stretched on my ironing board. I was steam blocking the hell out of it but it didn't want to get in shape. After a while, I figured that it couldn't be worse than it already was (unblocked it was really a bunch of frotted shawl). I used a low wool-heat on my iron and I started ironing it. At first, I was afraid I would damage it very badly. The scarf blocked out neatly though (wouldn't recommend it to anyone though as usually ironing isn't great for wool). It also softened up the wool a bit, making it more flexible. I was in heaven, except that it was still a little bit ticklish. It's now about 1.50 m wide, So I can wear it as a triangle scarf.
This was 2 weeks ago. You might have already caught a sneak peek of the shawl in my posts about the market. But it deserves its own proper display, don't you think?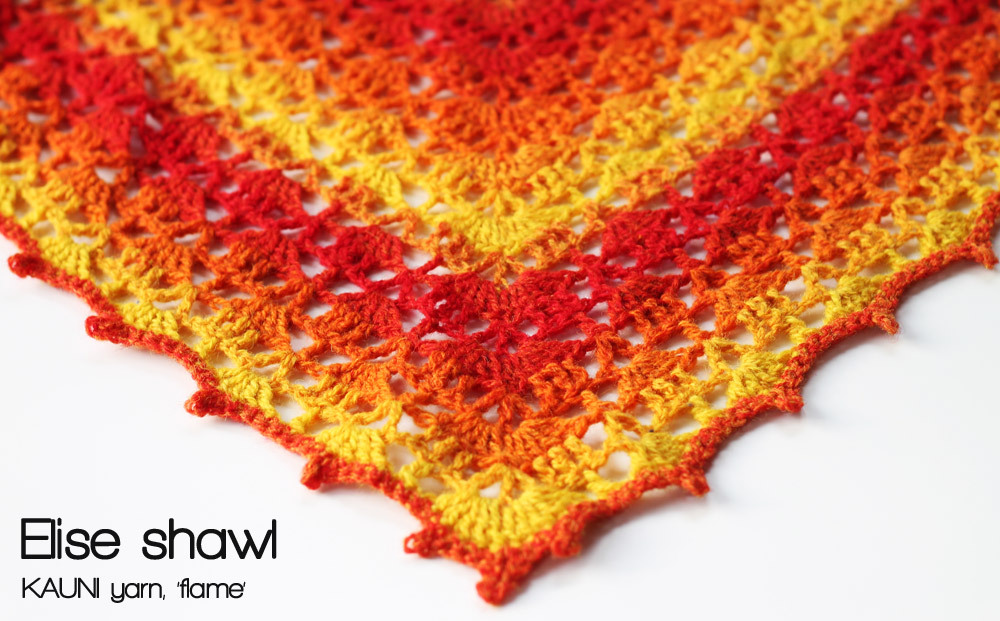 Nice huh? The yarn variegation worked out very well in this shawl.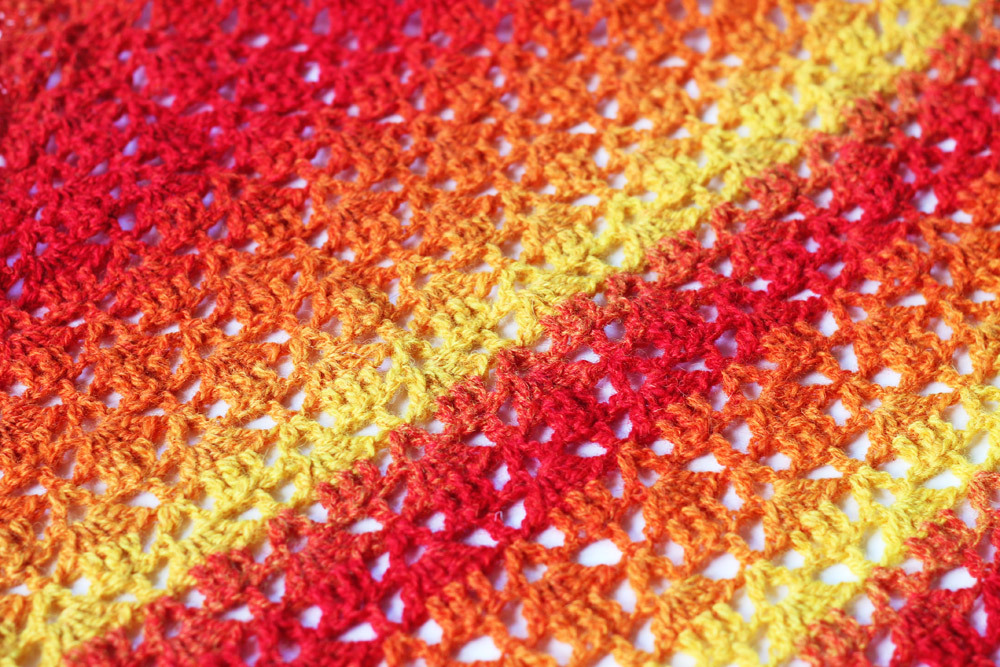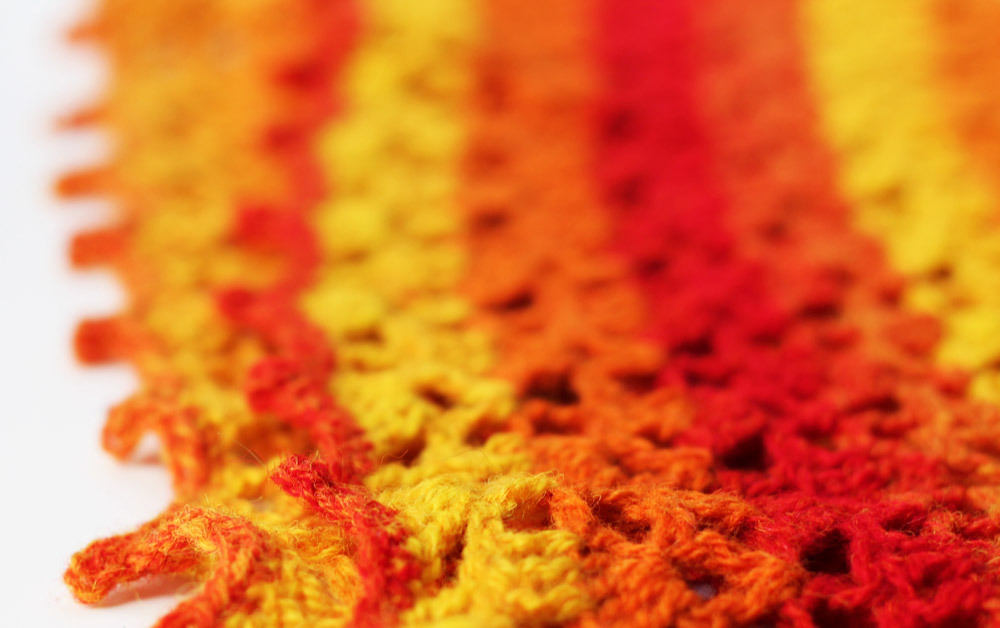 The pattern is still not as flat and stretched as it should be. I think it's because of the sturdiness of the yarn, and it should wear off over time when it becomes more supple.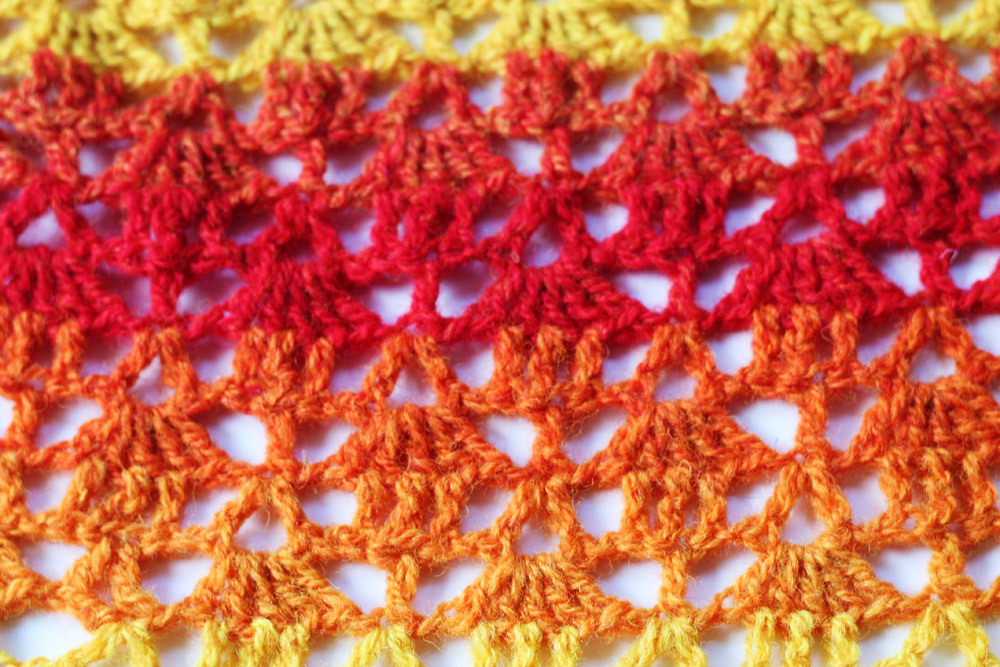 So I'm still not wearing it. It's way to ticklish. I want to put it in the freezer so badly... But it's full of Christmas food waiting to be eaten! So I guess I have to wait until the holidays are over. It's way to warm out here anyway for a shawl... It shouldn't be 10 degrees Celcius when it's Christmas. It should be windy and snowy and cold and dark!
Well. Maybe next year it will be. Who knows, I could even get the urge to crochet some beanies!