I think we've all started with, or made a granny square early on in our crochet journey. My second project was actually a big granny square blanket. And although the square seems simple, the variations are endless. Shelley Husband from Spincushions thought so too, and she created over 50 patterns and projects, all based on that one simple square. Today I'll be reviewing her new book, 'Granny Square Flair' which was published on July 20th this year. Read on!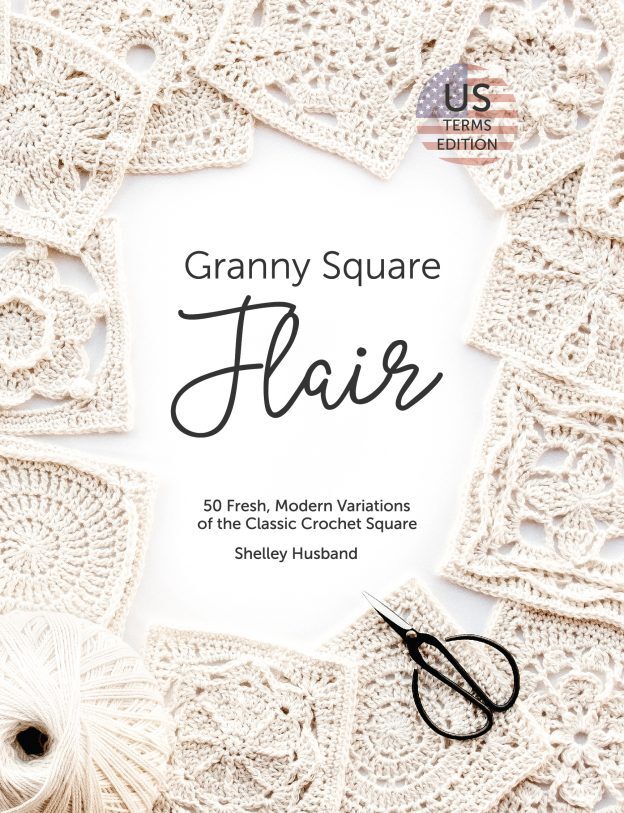 Granny Square Flair
As you would expect from a book with over 50 motifs, it's quite big with no less than 108 pages. And while it's always attractive to skip over the explanatory chapters and go straight to the patterns, it really pays off to have a look at the first few pages of the book. Shelley has clearly explained all the little 'need-t0-knows', which include info on hook sizes, yarns, stitches and little tips and tricks to help your squares look better. As Shelley herself says:
"While not a "learn to crochet" book, I have provided a lot of hints and tips to create beautiful, seamless crochet and if the basics are known, any adventurous crocheter will be able to use the patterns in the book."
Besides, the tips are not only applicable to the patterns in the book, but to other projects as well.
And then, the squares! It won't come as a surprise that the book is filled with all different kinds of squares. Lace squares, solid squares, flower squares, you can find them all. Each square has been written out and charted. For each square, colour and yarn suggestions are also given and photographed. This really helps to give you an impression of how the square looks like in different colourways. Colour can make such a difference. I mean, the solid potholder below looks beautiful in blue, but you can imagine that the same potholder in ombre colours, for example, looks very different.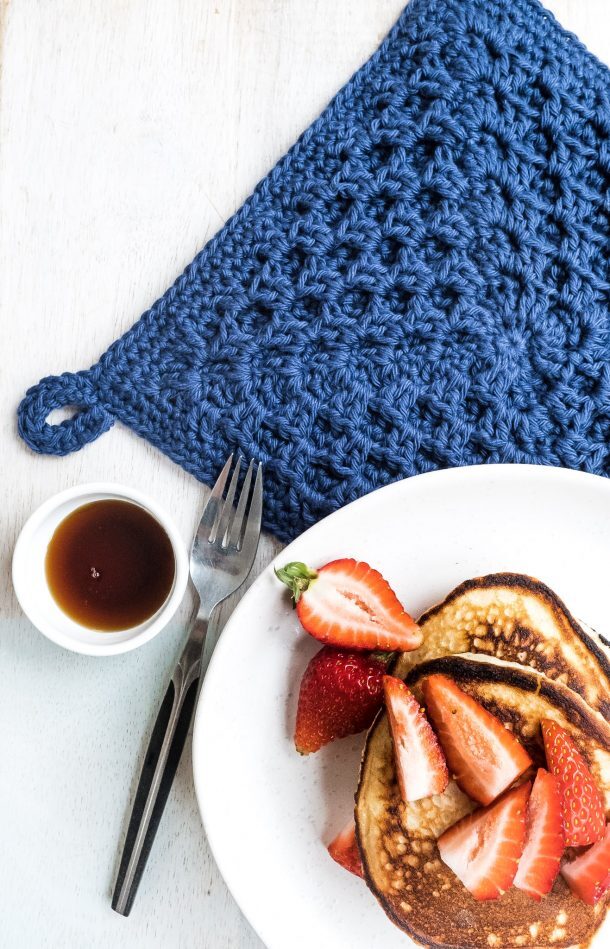 Hot shot potholder from 'Granny Square Flair' by Shelley Husband, photo by Jo O'Keefe
The squares are all about 6″, so that means that you can mix and match them and make a huge patchwork blanket. Hint: there are gorgeous pics of one in the book!
Granny Flair Projects
Shelley has dedicated a large section of the book to the projects that you can make with the various squares. When somebody asks me what to make with motifs, my first thought is always 'blanket' or 'pillow'. But it's nice to remember that there's so much more than blankets out there, ha!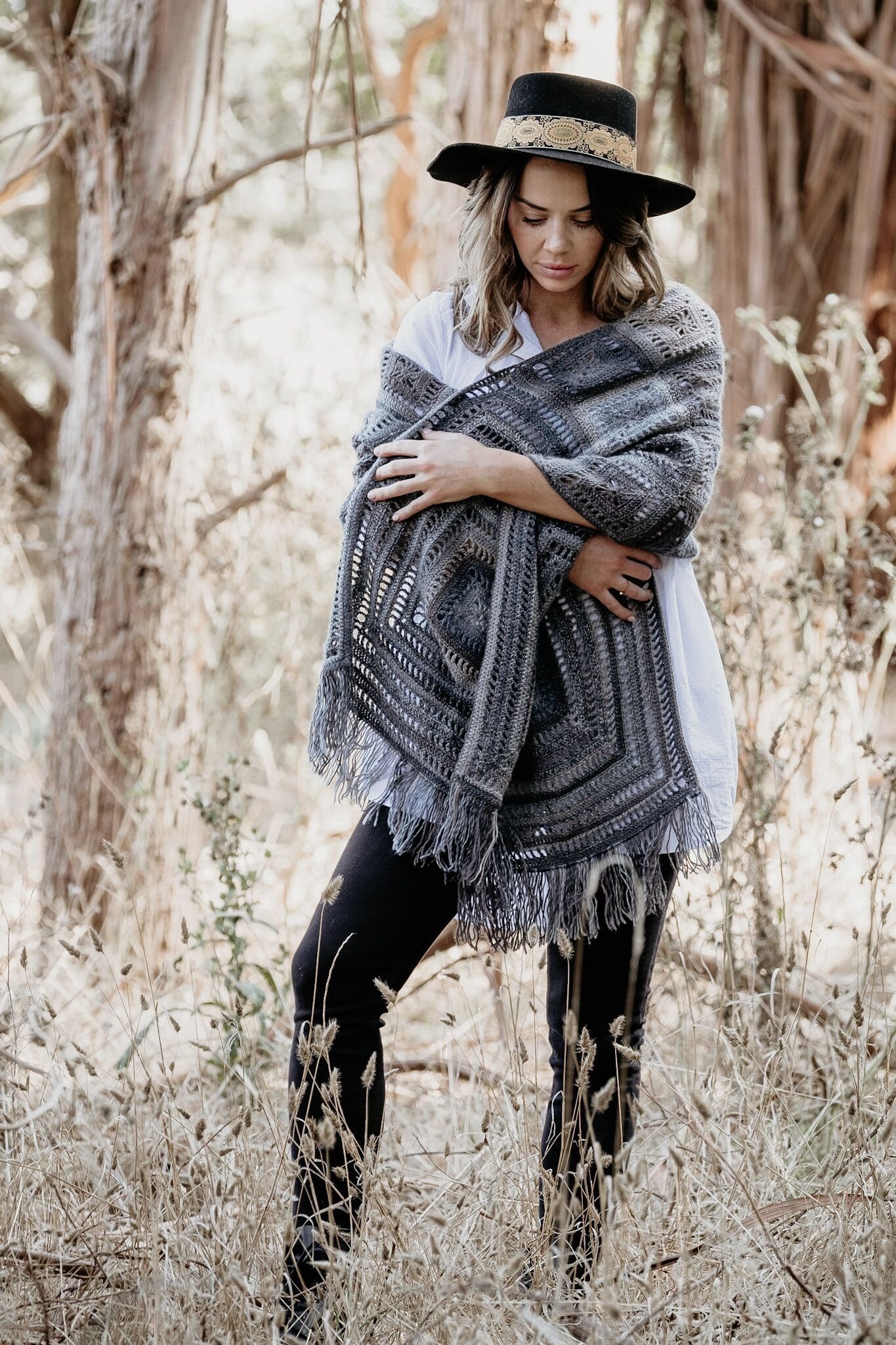 Melbourne wrap from 'Granny Square Flair' by Shelley Husband, photo by Jo O'Keefe
Like this gorgeous wrap. Don't you just love how comfortable this looks!?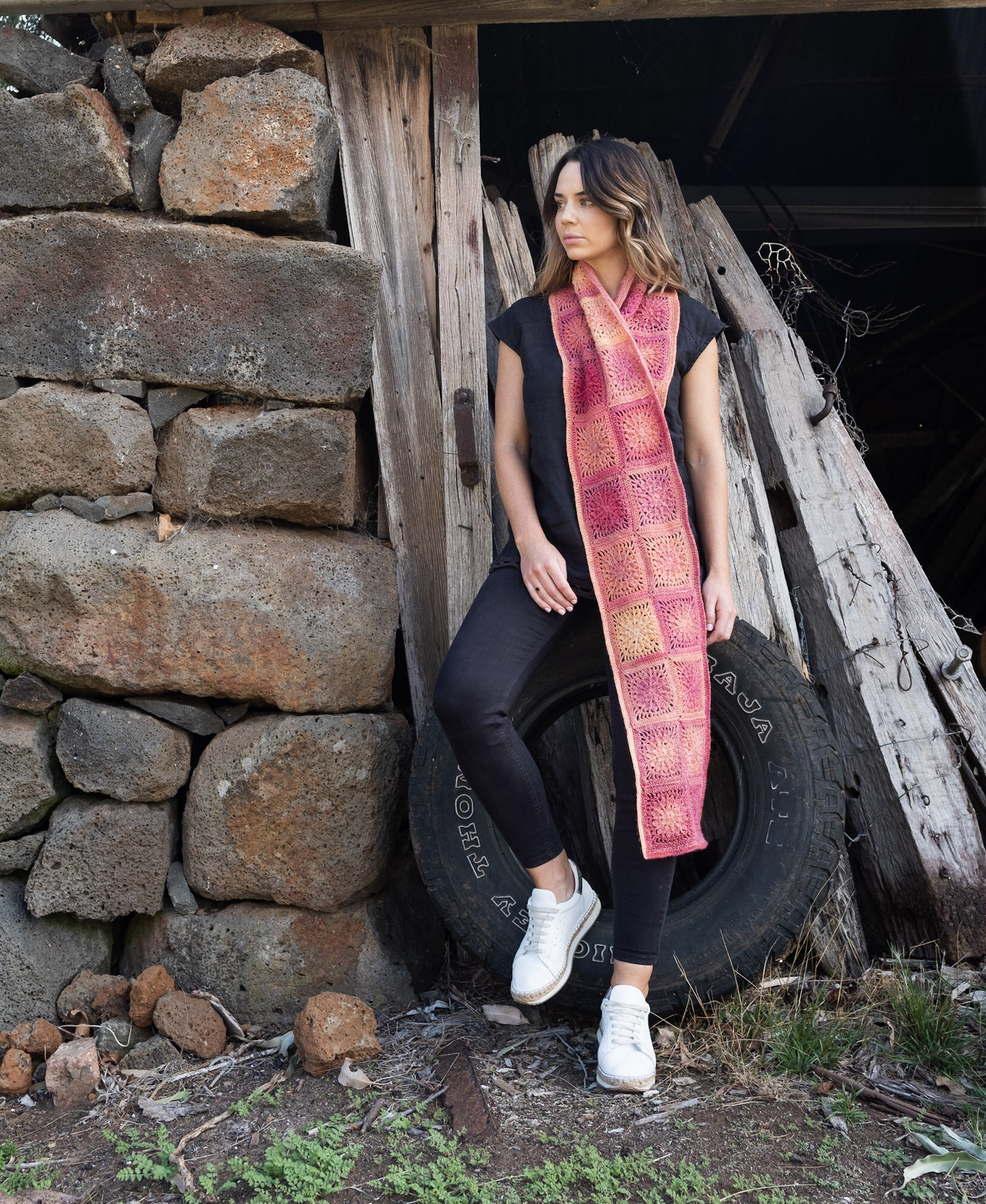 Dahlia scarf from 'Granny Square Flair' by Shelley Husband, Photo by Jo O'Keefe
and I love this scarf! Full disclosure, I'm a little bit biased because the yarn Shelley used here is the Scheepjes Our Tribe 'Haak maar Raak' (my colourway!), haha!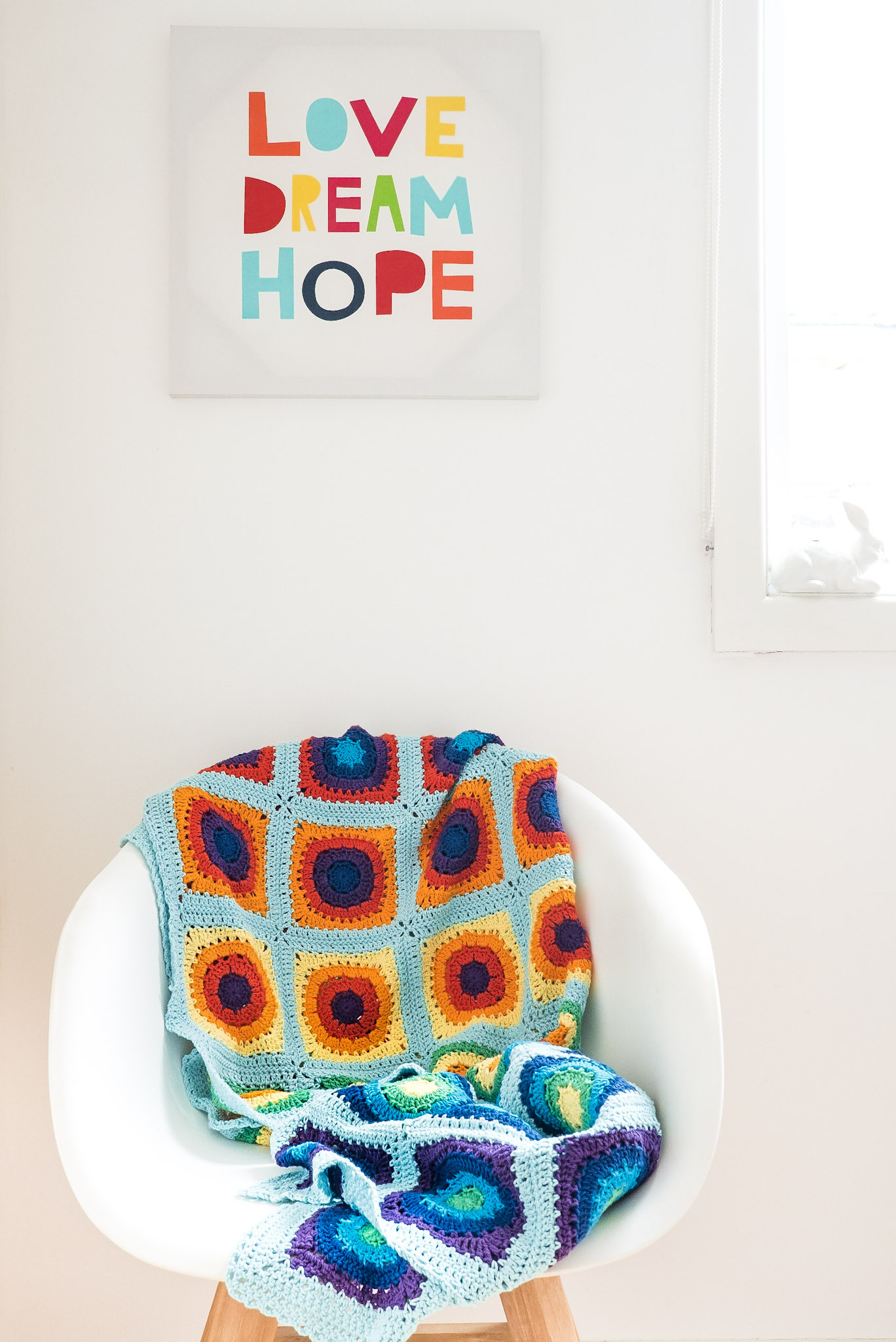 I can't help but show you this blanket too:
Prism Lap blanket from 'Granny Square Flair' by Shelley Husband, photo by Jo O'Keefe
Those colours are just stunning. Instant happiness!
All the details
The verdict? Shelley has created a lovely book filled with beautiful squares. Just by flicking through the pages and having a look at the project you can't help but get inspired. There are two versions of the book available: An US, and an UK version. While the projects in both books are the same, the crochet terms are either US or UK terms, so you can pick whichever you feel most comfortable with.
The book is available as a hardcopy ($29.99) and as E-book ($14.99). If you're located in Australia, you can purchase the book directly through Shelley's website (if you want to support designers in their crafts, really consider buying from them directly!) If you're located elsewhere, you can find the book through other retailers such as:
You can purchase the PDF E-book from Shelley's website too (scroll down a little bit), no matter where you are located.
If you don't already, definitely follow Shelley through @Spincushions on Instagram! She shares the most delightful projects and pictures, so it's a win for your feed.
Giveaway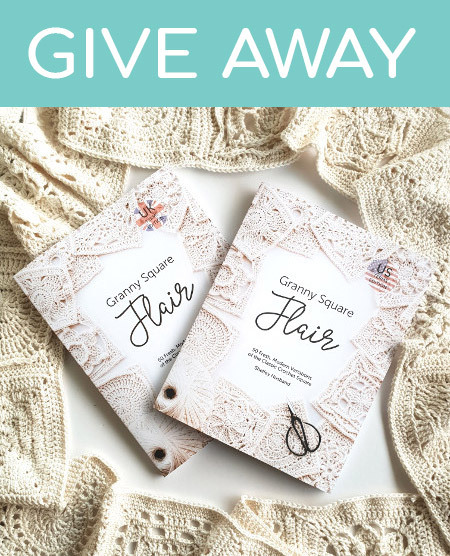 Shelley has generously offered one hardcopy book for one of my followers to win! All you need to do to win is answer the following question:
Which project would you make with a (granny) square?
You get brownie points (i.e. an additional entry!) if you follow Shelley and Haakmaarraak on Instagram. Let me know in the comments on this post, and also whether you'd like a US or UK version of the book. The giveaway will run until midnight on August 7th (GMT+1). After that, I'll pick a winner who will receive the book! The giveaway is open worldwide.
Enjoy!
— update —

The giveaway is now closed! Thank you for all your enthusiastic comments! And now on to the winner: Maria Alvisio! Congratulations Maria, I'll be in touch with you shortly!