Sometimes you stumble upon the right product. I haven't had the chance for a little getaway over the summer, so my husband and I were planning on taking a little vacation in September.
One of my major fusses on holiday is how to take a project with me. I don't want to take too many balls or different projects, and I'd rather not stash them in a random bag in my suitcase to prevent rubbing and – god forbid – knots. So when my eye fell upon the Namaste Maker's Train Case at Scheepjes, I was immediately sold.
The Namaste Makers Train Case is manufactured by the brand 'Namaste', which in turn is part of the Jimmy Beans family. Jimmy Beans is a US store which sells (and designs!) many yarns and yarn-related articles such as this train case. Read on for my full review!
A first impression
When the train case arrived, I was initially surprised by how large the train case is. It measures 30.5 x 16.5 x 15.2cm (12 x 6.5 x 6in), so it's not a problem if you stash a lot of items in there. It's made out of a vegan (faux-)leather with a terylene lining which looks and feels like suede. It's easy to clean with a damp cloth. The case has a magnetic snap-fast closing which feels like it can hold a lot of weight – not that yarn weighs that much, but still. The case itself weighs a little bit over 1200 grams, which isn't particularly light but considering you'll probably put it next to your feet as soon as you sit down it's not a big issue, in my opinion.
| | |
| --- | --- |
| The Namaste Maker's train case in blush | The U-shaped yarn feeder |
And then there's this nifty little extra: the yarn feeder. It's a metal U-shaped thingy on the small side of the case. This means that when you close the lid, you can continue to crochet or knit! A clever feature, especially when you're on the go. No need to take out your balls of yarn any time you want to craft when you're travelling, you can feed multiple strands through the yarn feeder.
The train case comes with a complimentary 'Oh-Snap pouch', which can hold your hooks and needles if you have multiple projects in your train case. I like how the Namaste logo is stamped on each little snapper. It gives the case a luxurious feeling.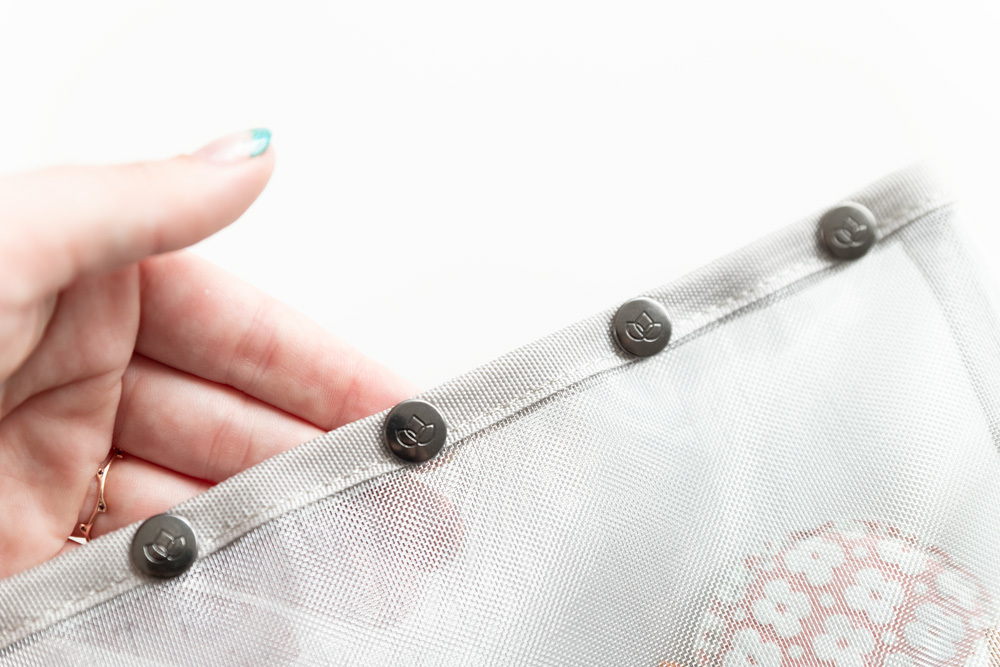 How much yarn does the train case fit?
It's one of the bigger questions in life, isn't it? I've tried a couple of combinations, and I have to say that I'm pleasantly surprised. The case easily fits two balls of Scheepjes Whirl (I'm looking at you, RBTL'ers!), with plenty of room to spare for supporting material such as hooks, needles, patterns, and oh, your WIP itself. But also 7 or 8 balls of Metropolis can be stashed inside (hello, Origami Blanket!). Even four hanks of 100g fingering or DK weight fit without any issue. It's safe to say that you can take pretty much anything with you that you would want to work on on the go.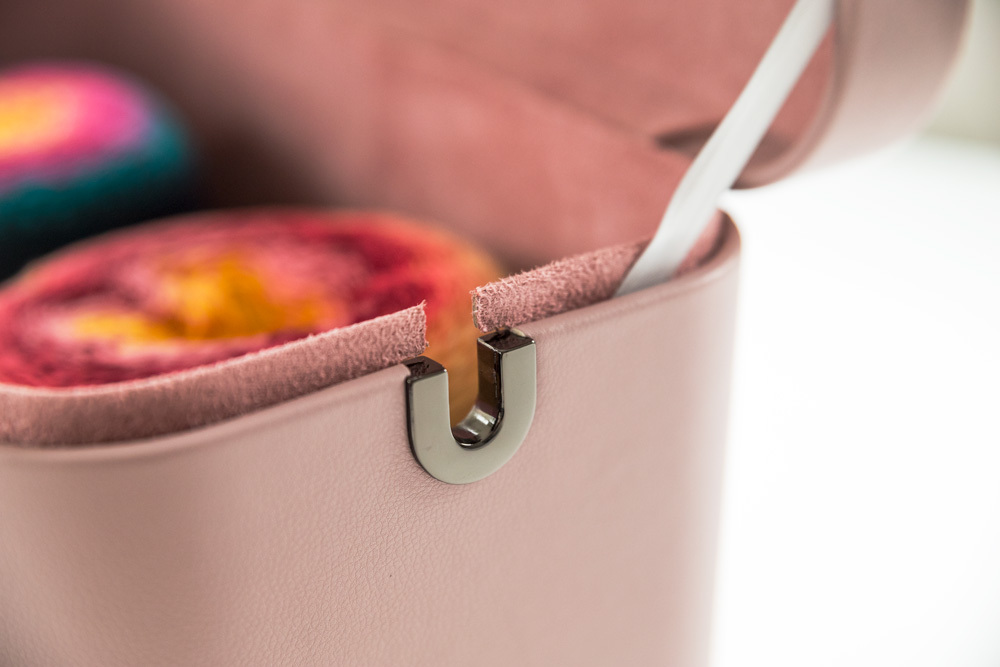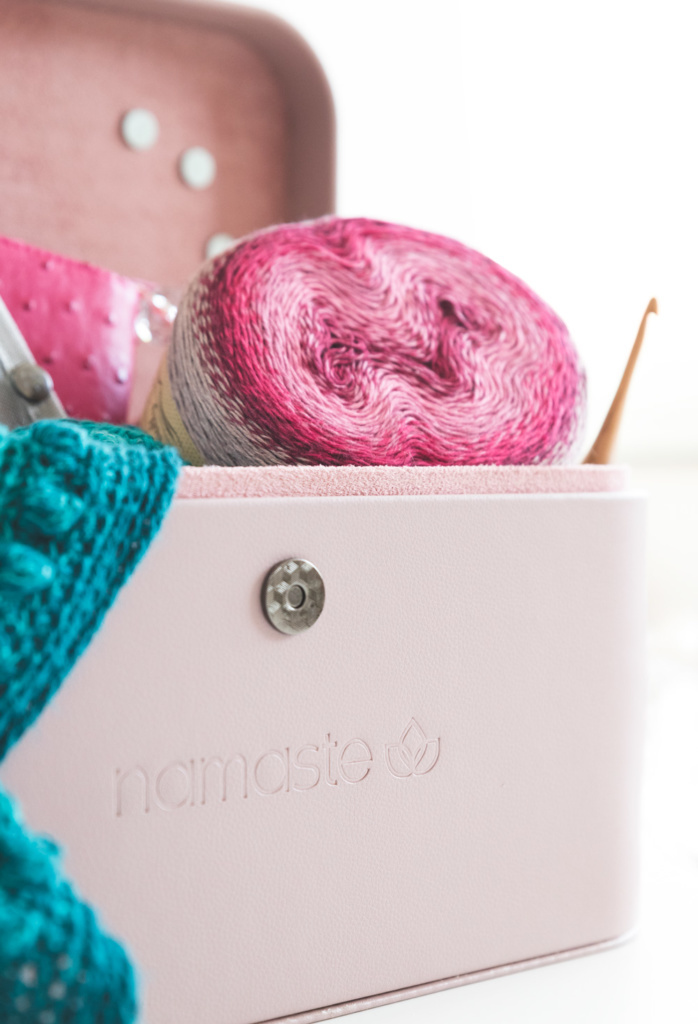 What I think
If you're a frequent crafter-traveller, this case is something you must consider. It's sturdy, easy to carry around and keeps your yarn and projects clean and safe. It's all a crafter can ask for, right? There's just one minor flaw: the magnetic fastening can come undone if you carry heavy items in it (think weight like 3 kg). Luckily, yarn is quite light, and I've only had it happen to me once when I didn't fasten the snap properly!

The case also comes in different colours. I've got the Blush variety, but there's also Black, Aubergine and Dark Teal to pick from. I heard there's also Cream and Brown nowadays!
The recommended retail price for this case is EUR 68.00 (~ 75 USD). That's moderately expensive, but if you take a lot of (costly) yarn with you… Well, you do the math! I'm prone to losing my hooks while travelling, and that's (mostly) a thing of the past now. Those hooks don't come cheap either, so I see it as an investment.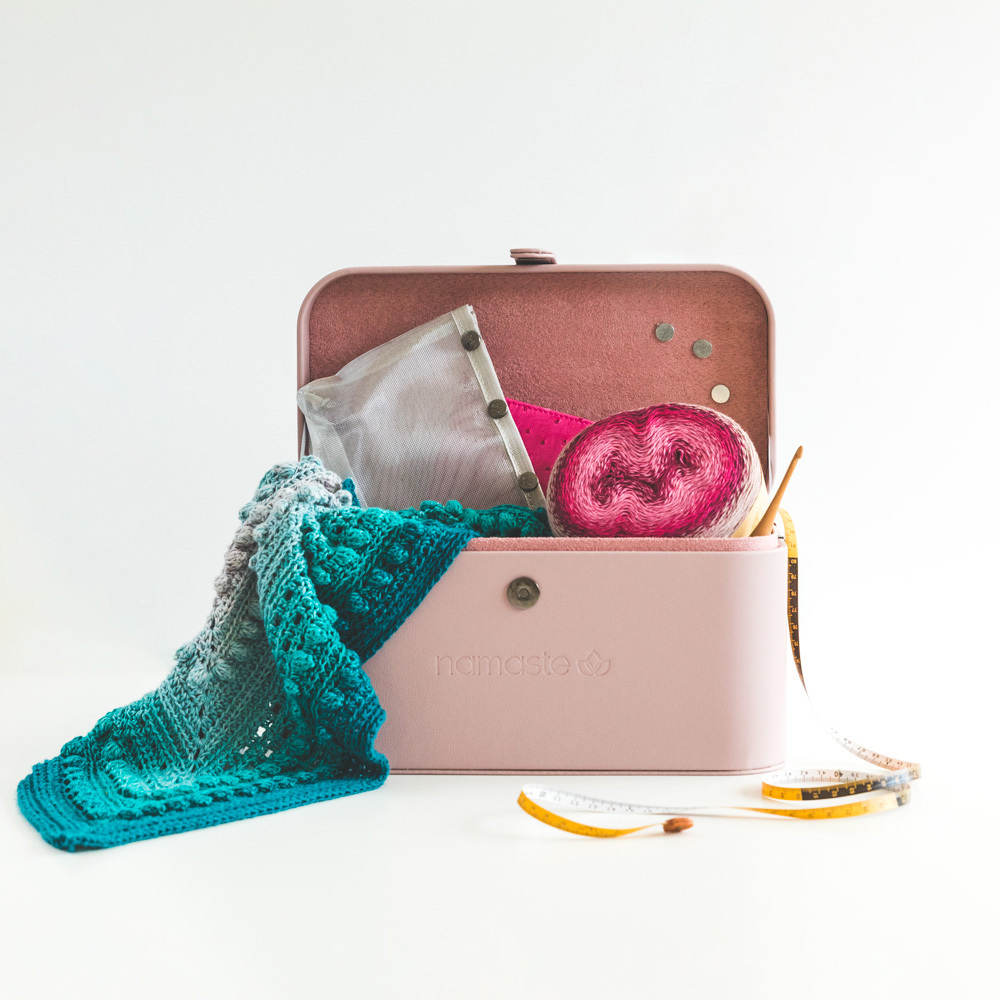 Where can I get a Namaste maker's train case?
Scheepjes is stocking these beauties, so you can get them from your local Scheepjes retailer. If you can't find a retailer near you, you might consider buying yours at Habbedash, which ships worldwide.
I hope you'll enjoy your train case as much as I do! If you have any comments or questions, place them in the comment section below!