Reindeer Mug Cozy
11.May.16 / Kirsten Ballering
Hi there! I know, it's been a while. I actually had to log in again to my wordpress… Something I haven't done in a long, long time! But I'm back, with a treat for you guys! I'm participating in a sweet blog hop. The theme is 10 days of Christmas, and every day there's a new pattern (knit or crochet) revealed! It's a superfun blog hop, because all the patterns are quick and easy to make. Yesterday, the very talented Sarah from Crafts from the Cwtch has revealed her cute knitted star coaster. Isn't it nifty? I need, NEED to get my knitting act together and start learning!
So today it's my turn, and as you might expect I have a crochet project for you: a Reindeer mug cozy!
Materials and preparation
Yarn
Scheepjes Cotton 8 (100% cotton, 50g/170m)
Colour A: 722 Yellow x 1 ball
Colour B: 659 Brown x 1 ball
Colour C: 510 Red x 1 ball
Other
mug (8cm in diameter, 9.5cm in height)
button
stuffing
pompom maker
Shop the yarn
You can buy Cotton 8 via Scheepjes retailers, such as:
Crochet hook
3.5mm (US size E/4).
Measurements
Fits a mug that's 8cm in diameter and 9.5cm in height.
Gauge/tension
Gauge is not critical for this project, just make sure it fits the mug tightly after several rows.
Abbreviations
ch: chain
hdc: half double crochet
ss: slip stitch
st(s): stitch(es)
Repeat formats
[…] Indicates the amount of stitches at the end of a row or round.
Mug cozy
With Colour A, ch45.
Round 1 Start in second ch from hook, 44hdc, join with ss to first hdc to form a circle, make sure not to twist the hdc's. [44 hdc]
Row 2 Ss to next stitch, 42 hdc, leave last stitch unworked, ch1, turn. [42 hdc]
Rows 3-14 42hdc, ch1, turn.
Row 15 Ch12, turn work, 42hdc, fasten off.
N.B. The 12 chains in Row 15 are depending on the size of the button. A large button requires more chains to fit.
Antlers
Large piece (make two)
With Colour B, make a magic ring.
Round 1 4sc in ring.
Continue making 1sc in each st until your piece is approximately 4cm long.
Small piece (make two)
With Colour B, make a magic ring.
Round 1 4 sc in ring.
Continue making 1sc in each st until your piece is approximately 2cm long.
Antler Assembly
Stuff all the pieces with filling and sew the small pieces to the larger ones, to make the Y-shape of the antlers.
Tail
Create a pompom, and trim this until it's approximately 3cm in diameter.
Assembly
Sew the button right next to the top of the mug handle, and check if your cozy still fits your mug. Next, sew the pompom tail to the backside of the cozy, approximately 2 or 3 rows from the bottom. Attach the antlers to the front of the cozy. I've secured it with a couple of stitches halfway through to the cosy to make sure they won't topple over.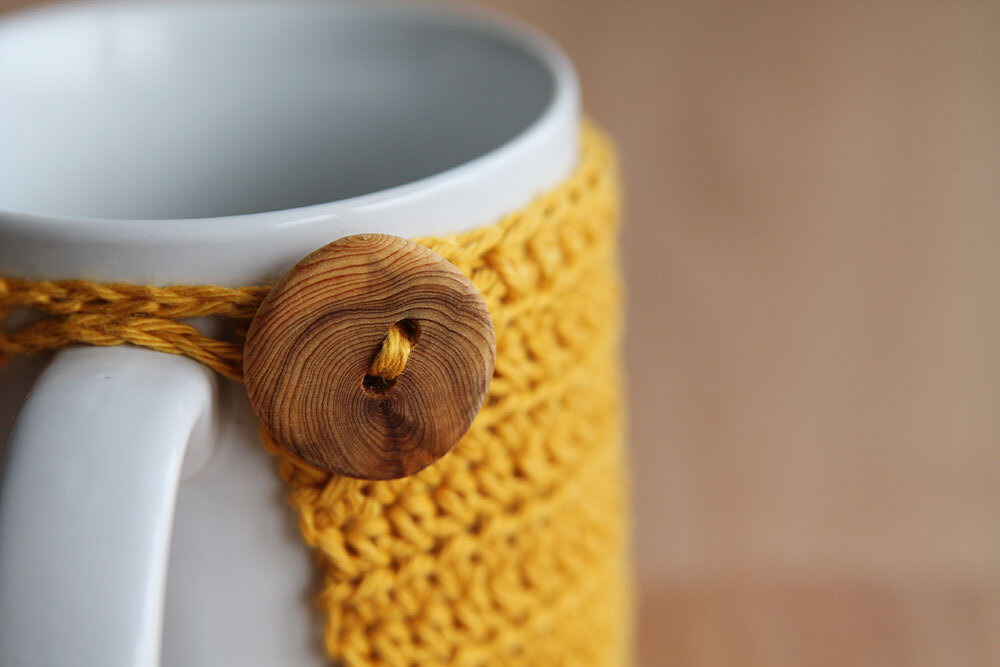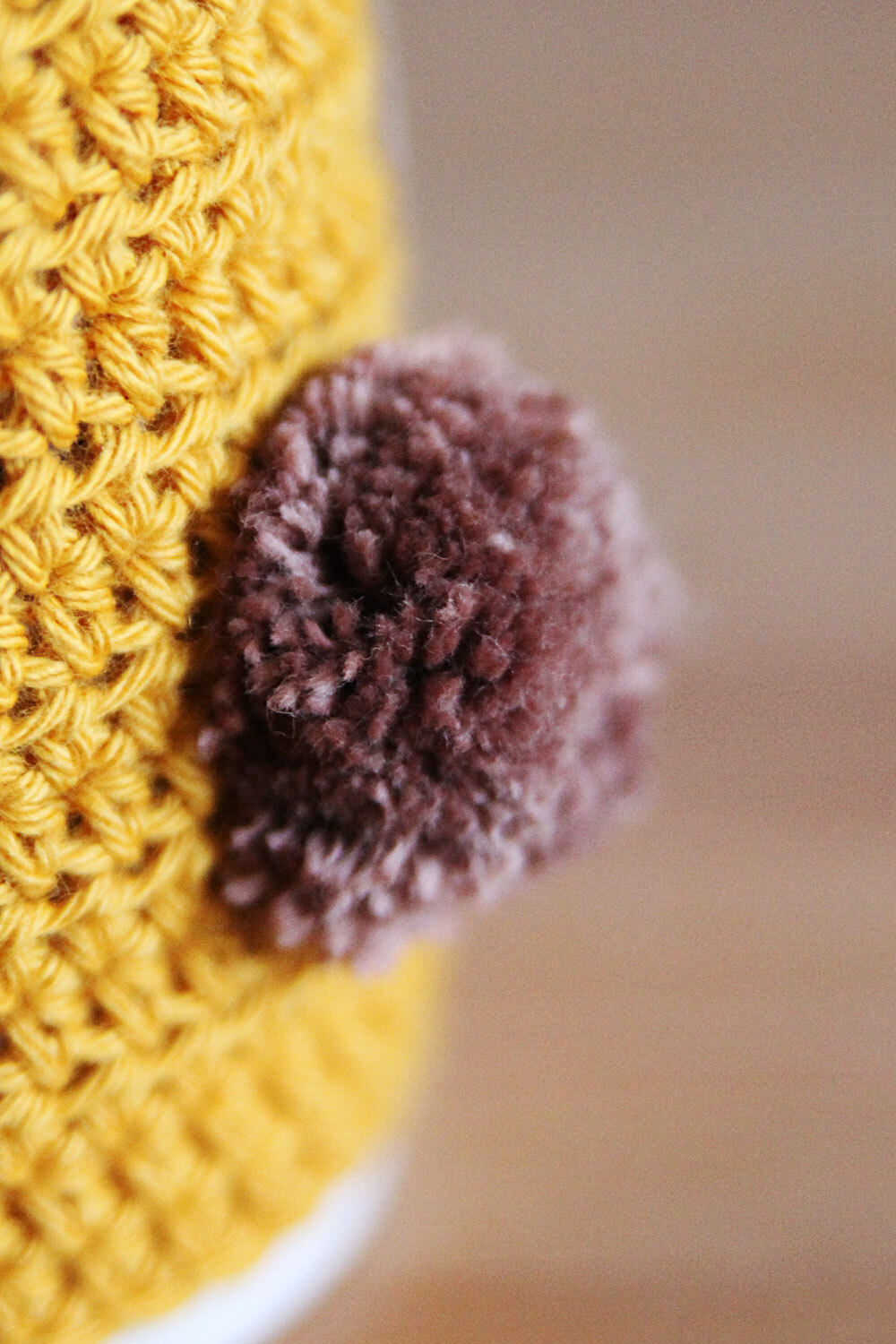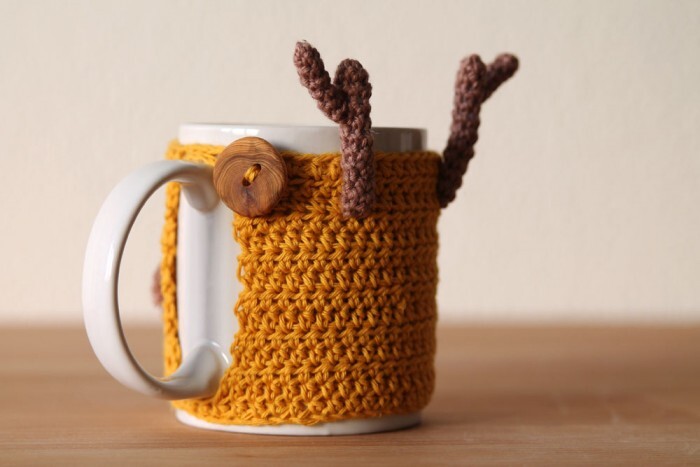 Nose
If you were creating a reindeer cozy, you're all done and you can go enjoy a nice cup of tea! If you want to create a Rudolph cozy, you can add a little red nose.
With Colour C, start with a magic ring.
Round 1 6sc in ring. [6 sc]
Round 2 2sc in every sc. [12 sc]
Round 3 sc2tog in every sc. [6 sc]
All you need to do next is to stuff the nose lightly and sew it to the reindeer mug cozy.