My XOXO pillow pattern is here! This crochet pattern has been teased and teased and teased, ever since I showed sneak peeks of the design last year. The XOXO pillow was originally designed as a kit for the XOXO Be Inspired tour through South Africa last year, and now it is also available as a PDF pattern.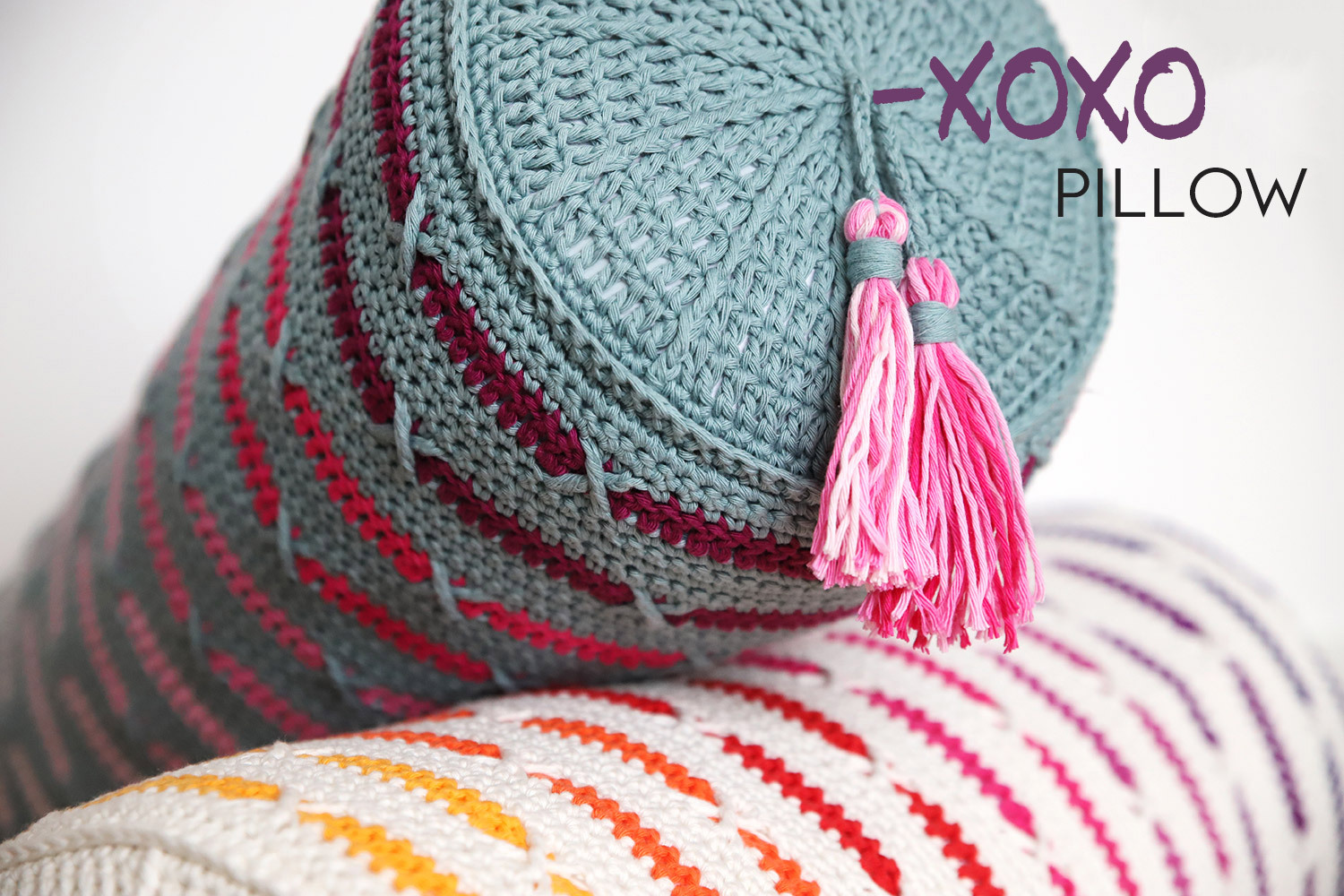 Or find this pattern on Ravelry. Don't forget to favourite it!
XOXO pillow: Chunky, big, lovable!
The XOXO pillow is a big, lovable and chunky pillow! It measures 60cm (23.5in) in length and 22cm (8.6in) in diameter, making it a colourful addition to your porch, lounge chair, living room or bed. I've alternated the main colour of the pillow with other warm shades, causing a colourful gradient to emerge, with little 'X's over them. The end caps are adorned with little tassels as a fun and colourful twist.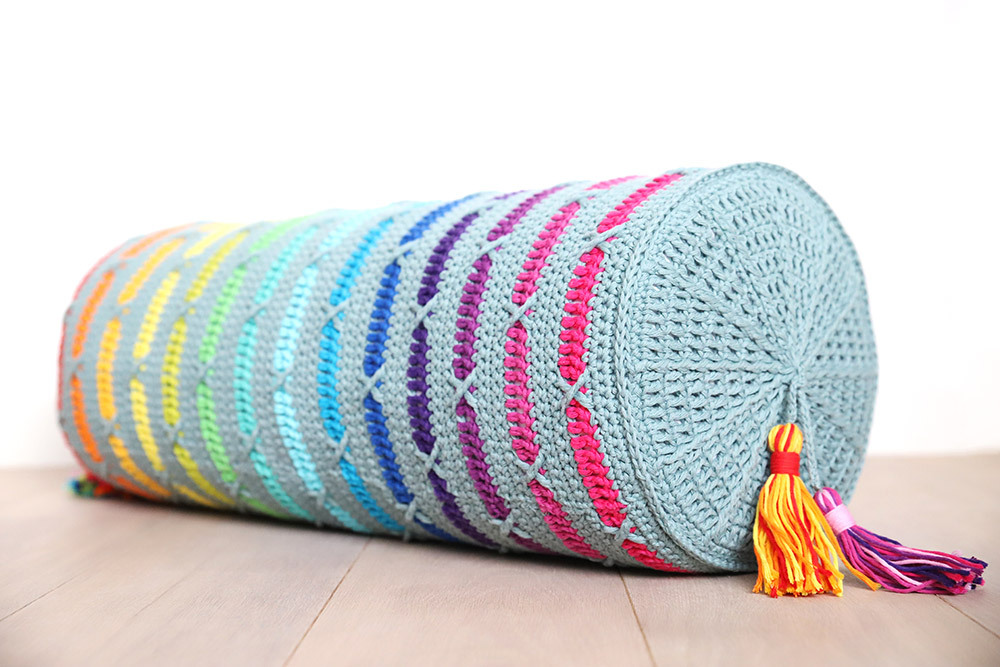 Yarn and Colour Combinations
I've used Scheepjes Cahlista, a chunky, 100% cotton yarn. One of the big advantages of this yarn is that it is available in 109 colours. So I didn't have to compromise on colour choices! The chunky weight means that even though it is a large pillow, it works up rather quickly. I found that Cahlista is the perfect yarn for a pillow. It's durable, yet relatively soft. It might take a few rows to get the 'hang' of this non-mercerised yarn as it's not treated with an extra shiny coating, but that also means that there are lovely muted pastel shades in the colour range.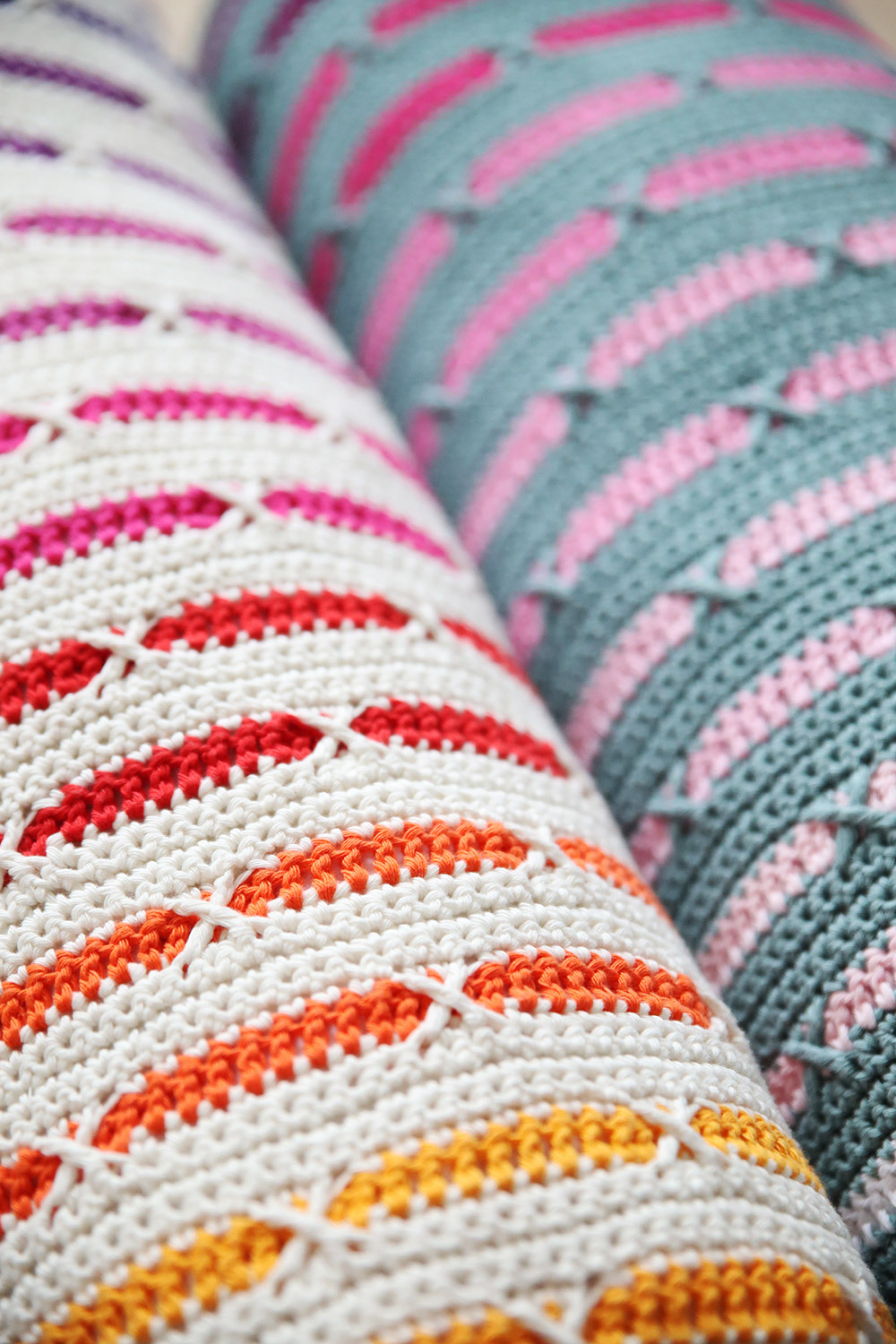 The crossed trebles and tassels
The stars of the show are the crossed trebles. It's a little feature with a big impact, as they appear all over the body of the pillow. The pattern repeats are designed in such a way that they're geometric and when the pillow is assembled as described, it will look seamless. The end caps have Front Post double crochets radiating from the centre with big tassels at the end, just to give them a little extra flair. The pillow might look a bit intricate or daunting, but after teaching over 150 people how to create these pillows, I'm happy to say that every single person was able to start on it during the workshop and continue at home. So I'm sure you can do it too!
You can make the pillow as colourful as you want. For the tour, I've put together 3 colourways that use 15 balls each. And as a little extra to myself, I put together a rainbow colourway too! It uses more colours so you'll have a little bit more yarn left, but hey, it's rainbow!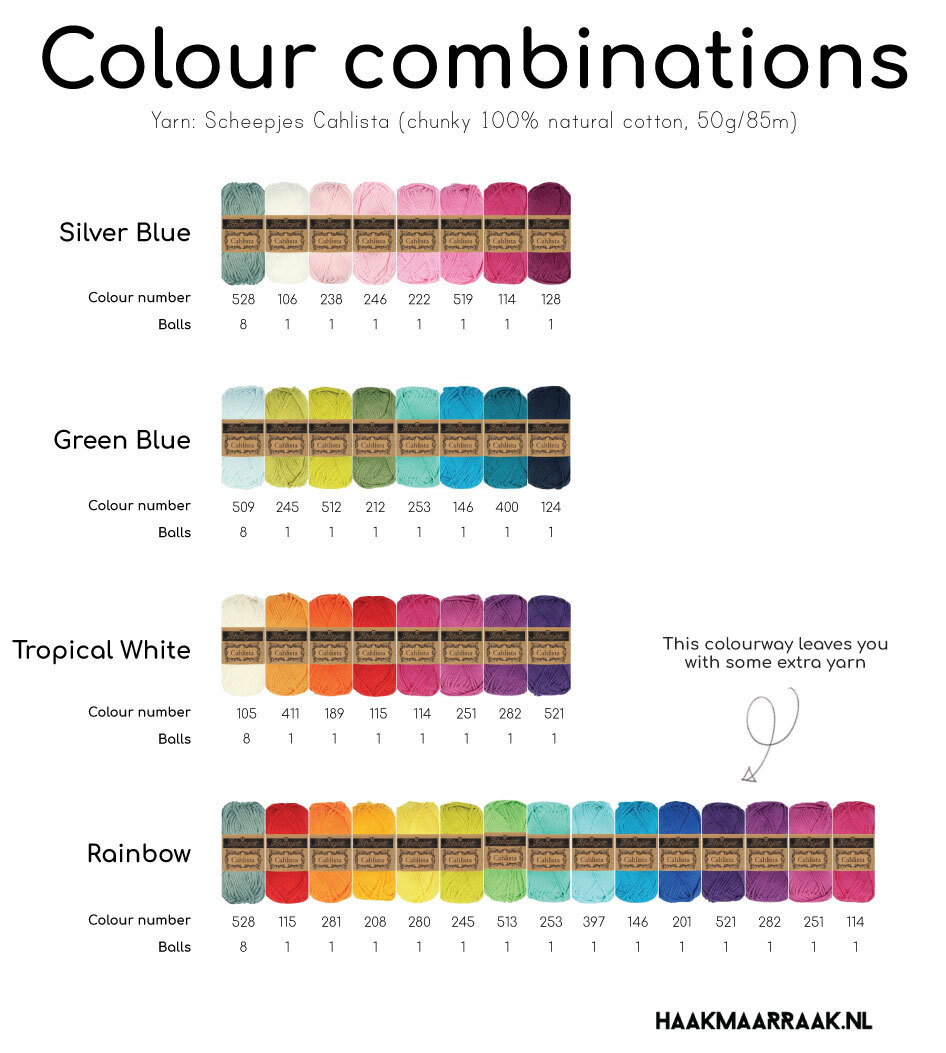 You can get Scheepjes Cahlista from your local Scheepjes retailer. If you have no retailer nearby, check out one of the following online retailers:
Inner pillow
In the Netherlands, you can purchase the inner pillow at Creahuys 41 or at Slaaptextiel (the 60 x 22cm one). If you're abroad, it might be trickier to find an 8.5 x 24in diameter pillow! These pillows on Amazon come very close to the size I use. The only difference is that they're 8in instead of 8.5in, so keep an eye on the width of your cover. Alternatively, you can sew your own!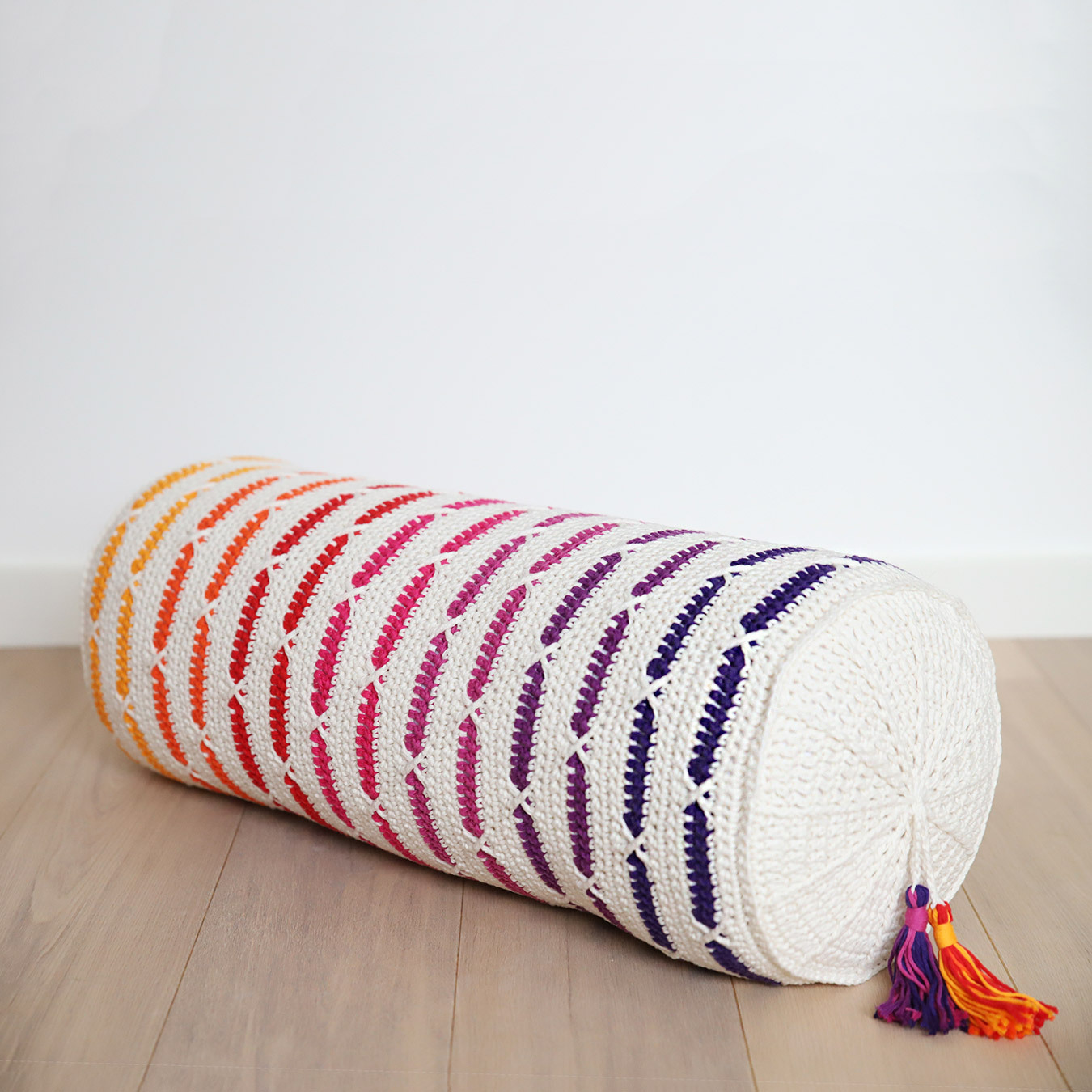 Pattern details
The crochet pattern is written in US terms. A Dutch version is also available and will be included in your purchase. I've created extensive photo tutorials for the crossed trebles and the tassels. A crochet diagram of the stitch pattern is included in the pattern as well. The pattern is meant for a pillow measuring 60cm (23.5in) in length and 22cm (8.6in) in diameter, but there are instructions on how to adjust the sizing of your cover, in case you want to accommodate for other sizes. So you're pretty much covered on all bases!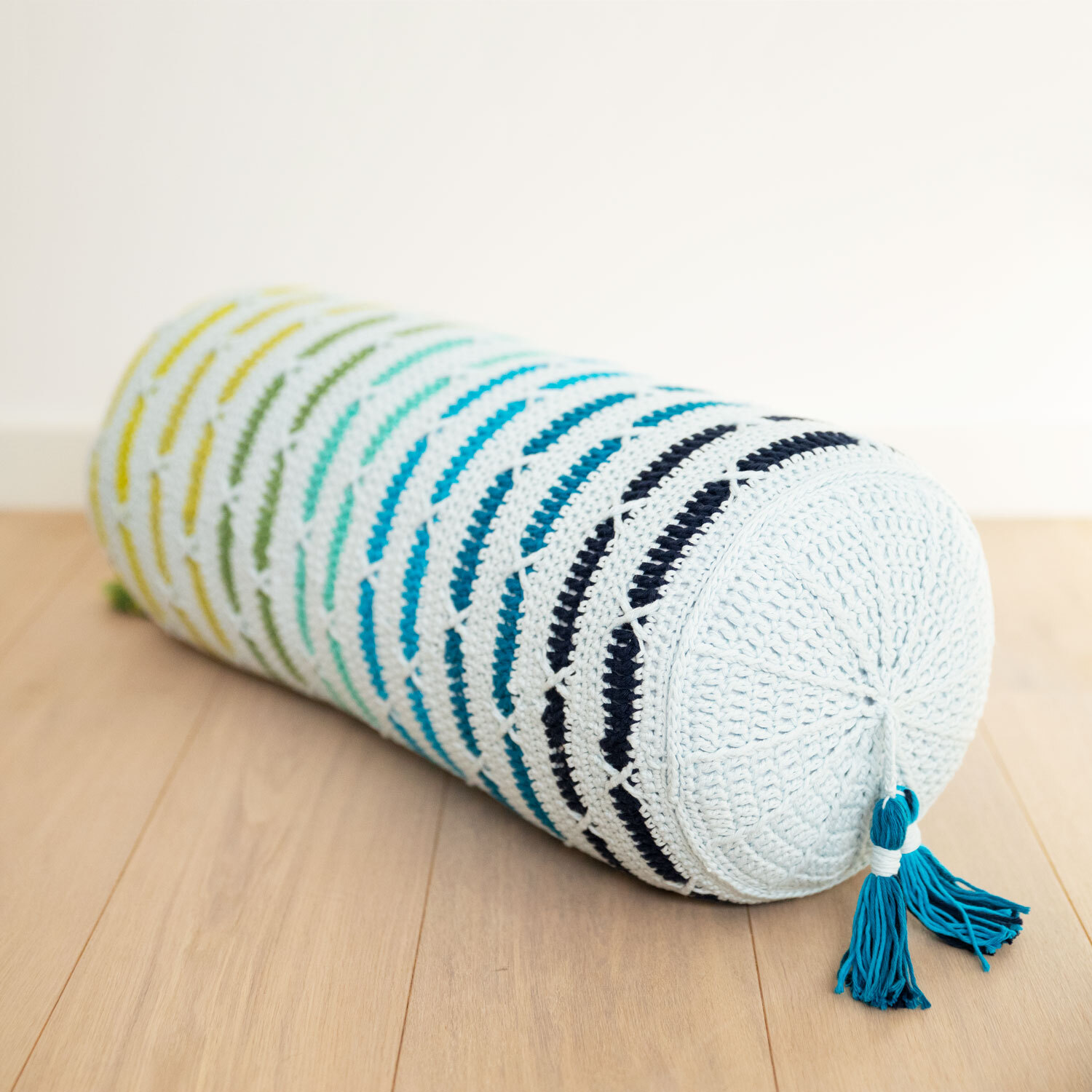 The pattern is available in my Haak maar Raak store. You can also purchase the pattern on Ravelry. Enjoy, and I would really love to see your pillows, so if you share them on social media don't forget to tag me and use the hashtag #XOXOpillow!