The Larksfoot Rainbow blanket has been long in the making! I've started my big Larksfoot blanket while I was on tour in South Africa since I just couldn't resist the rainbow of colours that came rolling out of my closet when packing. I've been working on and off on it. Sometimes being put aside in favour of other projects, and the last couple of weeks waiting for the right moment and idea to photograph it. And now I can finally show you how the blanket has turned out.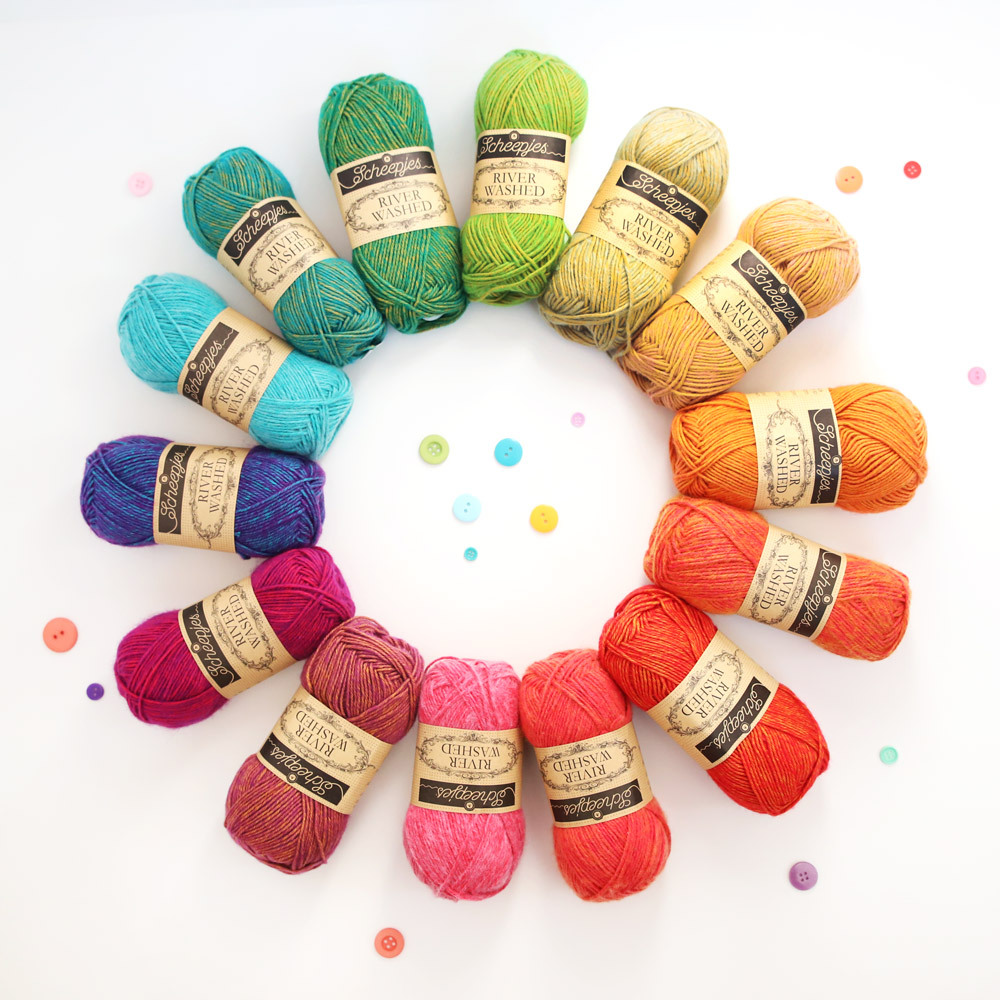 The Big Blanket
As the title already says, it's Big with a capital B! The blanket measures 180 x 205cm (71 x 81in), big enough for a bedspread or cover. It's also big enough to wrap around you once, or twice, or three times. I've used Scheepjes River Washed for this blanket. River Washed is a cotton/acrylic blend, meaning it's quite soft but also durable. Important, if you're going to use this blanket a lot. The edging is made out of Scheepjes Stone Washed; the River Washed sister yarn. I've used three balls of each colour and four balls of the Stone Washed, resulting in a total of 46 x 50g balls. That means the blanket is also comfortably heavy: it weighs over 2 kg.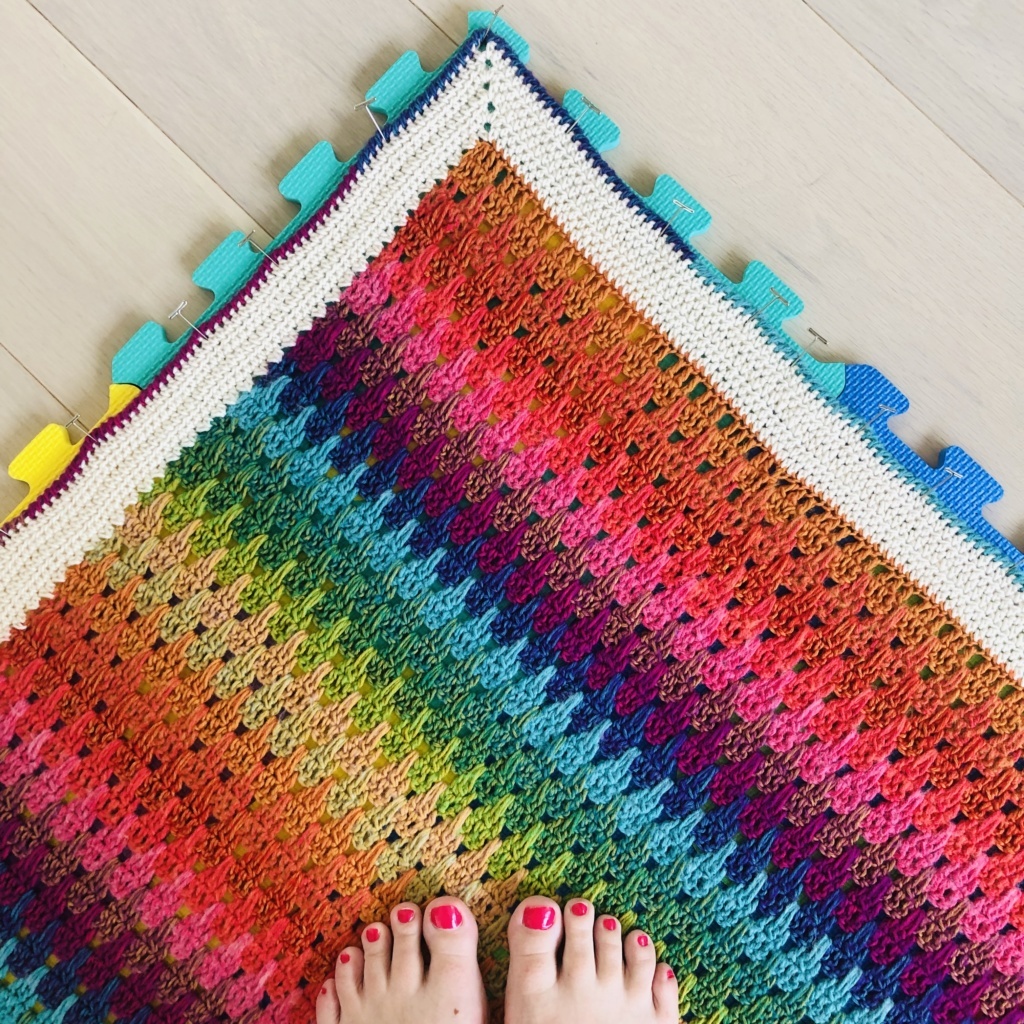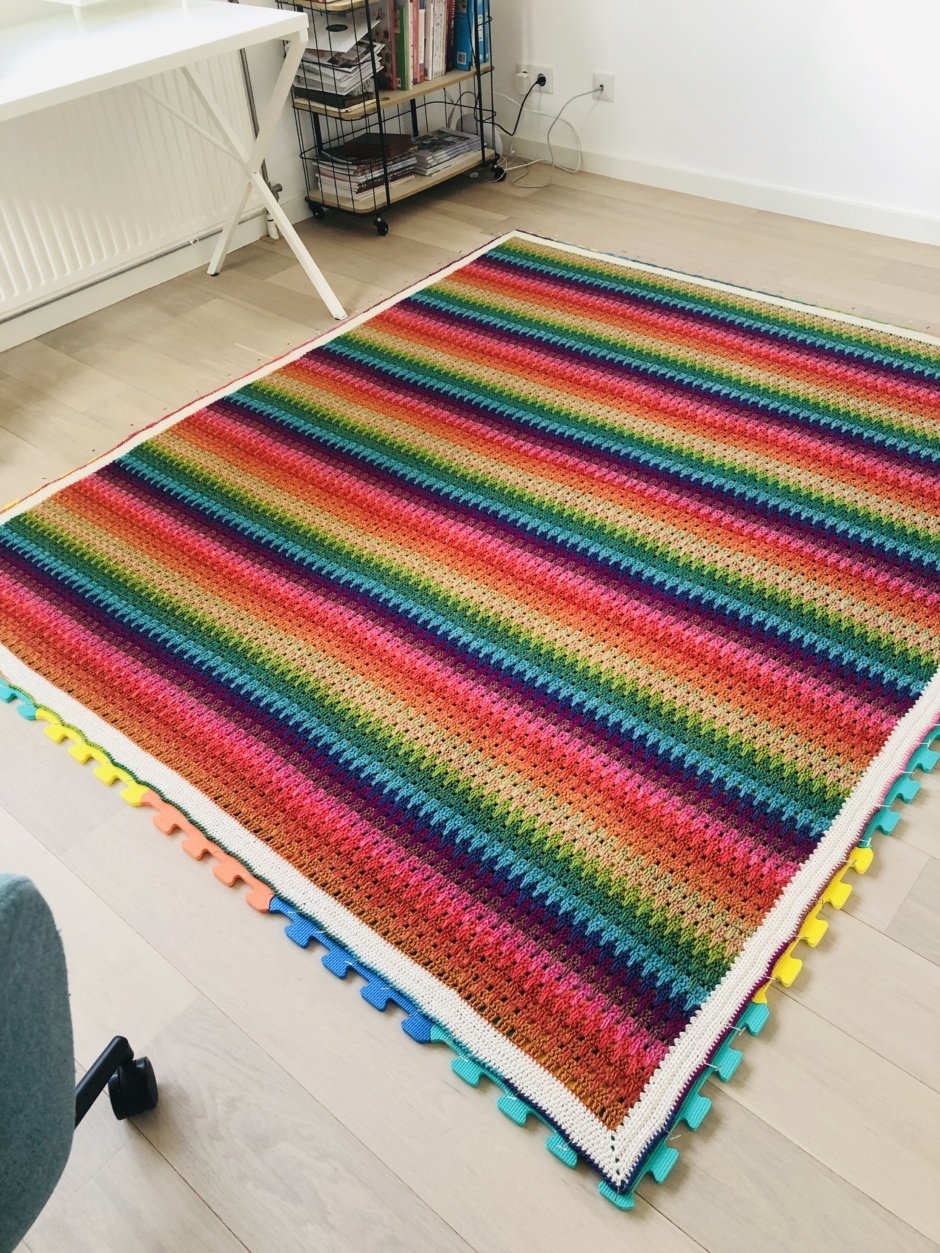 This is a badly lighted snapshot of when I blocked my blanket, intended for a friend who was wondering how large it was. As you can see, it takes up most of my craft room. I had to pull out all the blocking mats I had, and it was barely enough. It's worth blocking this blanket though, as it makes the edges crisp and straight.
Change up the Larksfoot
I tweaked the Larksfoot Stitch a little bit. My version of the stitch has a little bit more volume compared to the original. The tradeoff is that it uses more yarn, of course. However, I made the most of my leftovers and re-used them in the final round of the white border. It adds a final bit of colour to this already colourful blanket!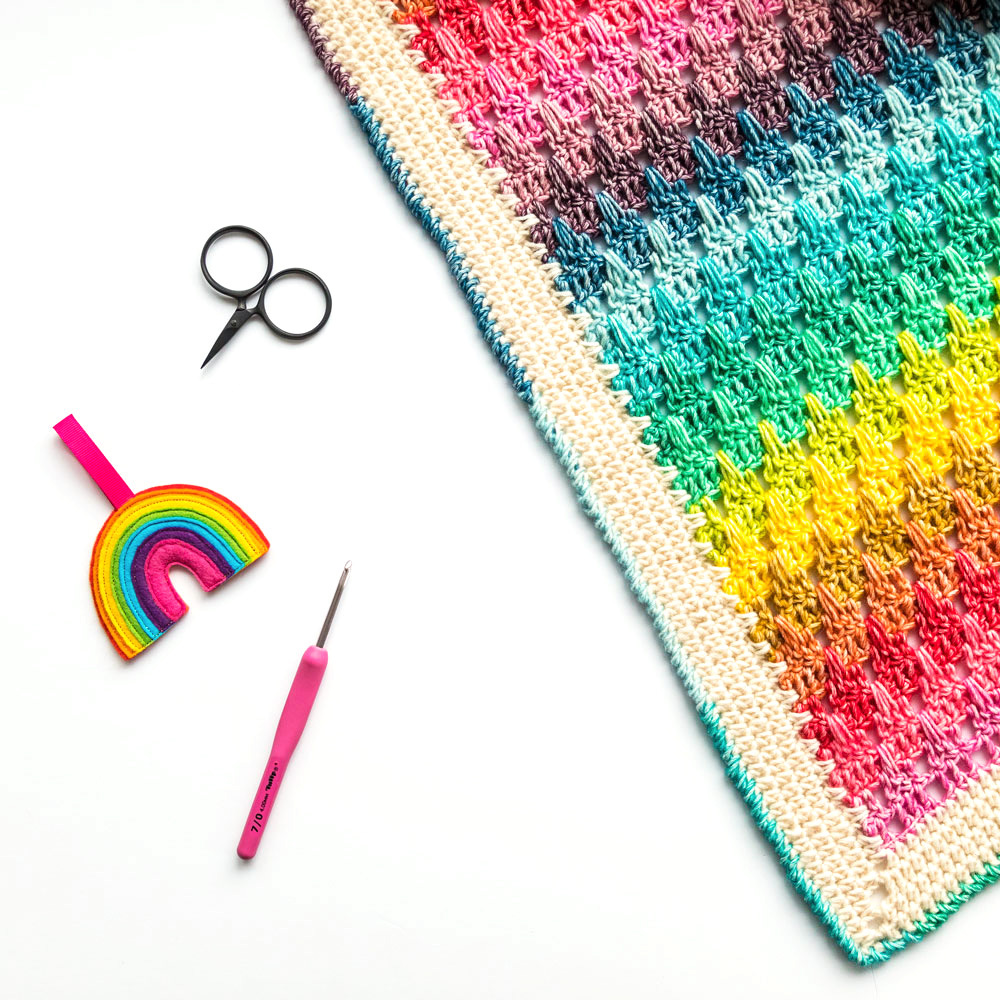 The Little Blanket
While working on the Big Blanket, I realized that it was quite the endeavour. So I set out to create a smaller version of the blanket, one that's quicker to make and also more affordable in terms of yardage. This time I picked the vibrant Stone Washed colours that I had still left in my stash. The pattern is the same, but the amount of repeats is different. I just did the math, so you don't have to do it yourself!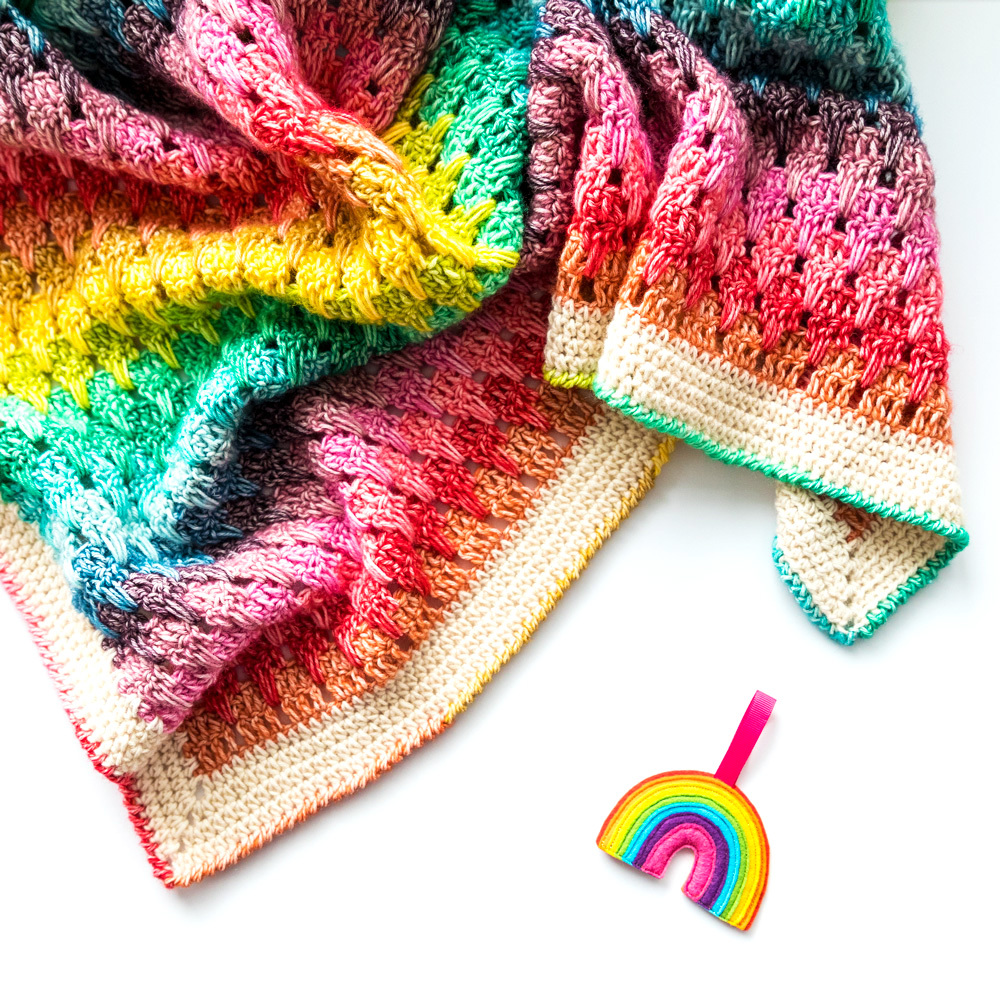 The Little blanket uses 16 balls of Stone Washed and measures 120 x 95cm (47.25 x 37.5in). Stone Washed and River Washed are sister yarns. They have the same fibre mix, but the colouring is different. While River Washed has a two-toned core and halo, River Washed has a coloured core and a white halo. This makes the colours a little bit brighter. Very suitable for a baby blanket.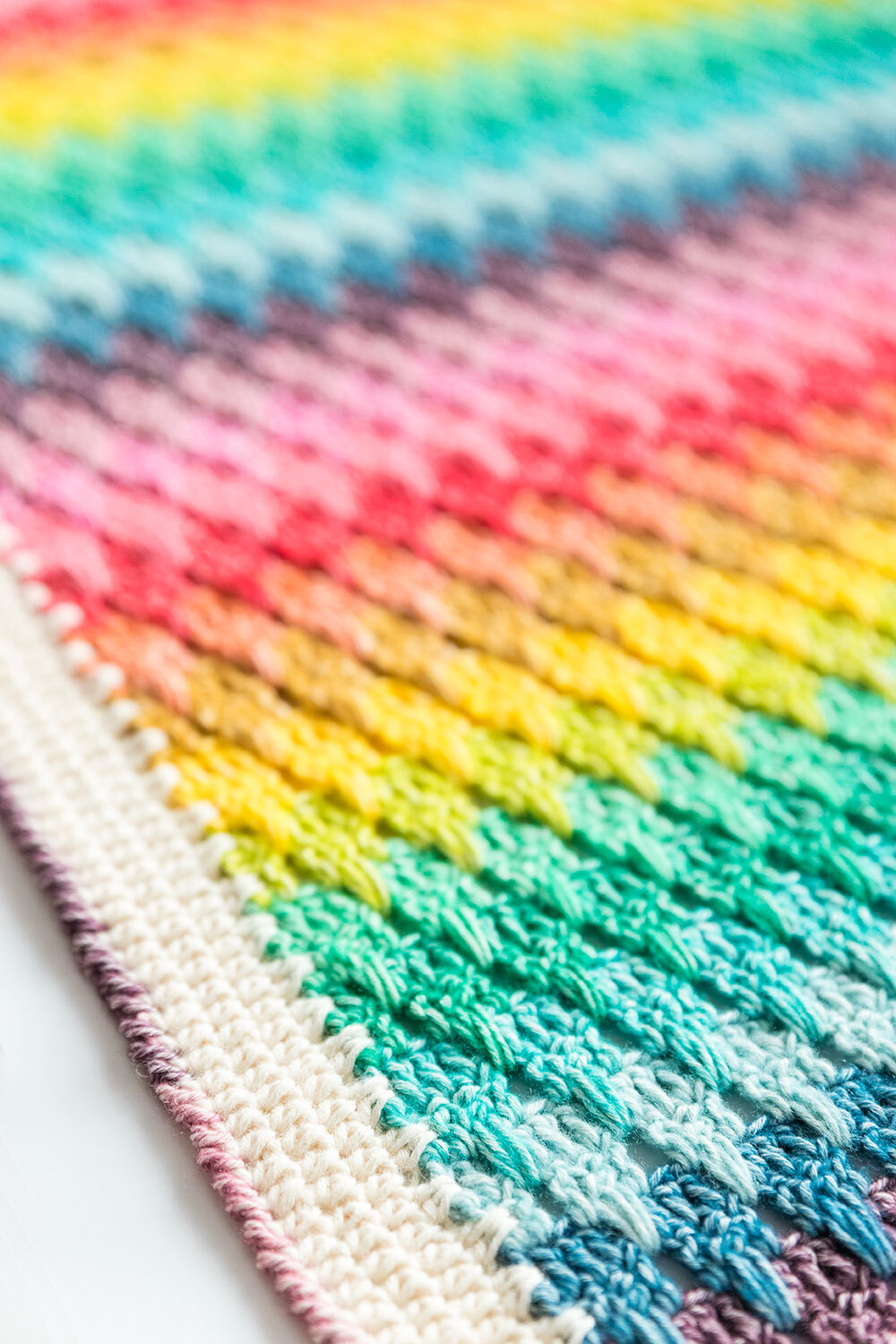 I'll leave you with this final photo. This does spark joy! Next week I'll upload both patterns to the blog so that you can start your blanket too. Until then!