Sometimes you just catch a lucky break. That's exactly what happened to me last year. I was looking for a project that I could bring with me to South Africa. I didn't want anything small, as I realized I would have plenty of crochet time in the car driving between destinations. But I was also pressed for suitcase space because it would be a month-long trip. When I opened my yarn cubby a couple of balls of Scheepjes River Washed came rolling out. Green, beige, and yellow-beige. Let's just say, that combination didn't really get me excited. Upon putting them back on the shelf the whole lot came tumbling down.
Major sigh.
But that was actually my lucky break in disguise. Because not only did the green, yellow and yellow-beige fall out again but also purple, pink, red and orange. I hadn't touched the River Washed since finishing my Borealis blanket and hadn't bothered to put all the colours together yet, but the addition of the newer colours actually made it a decent Rainbow palette!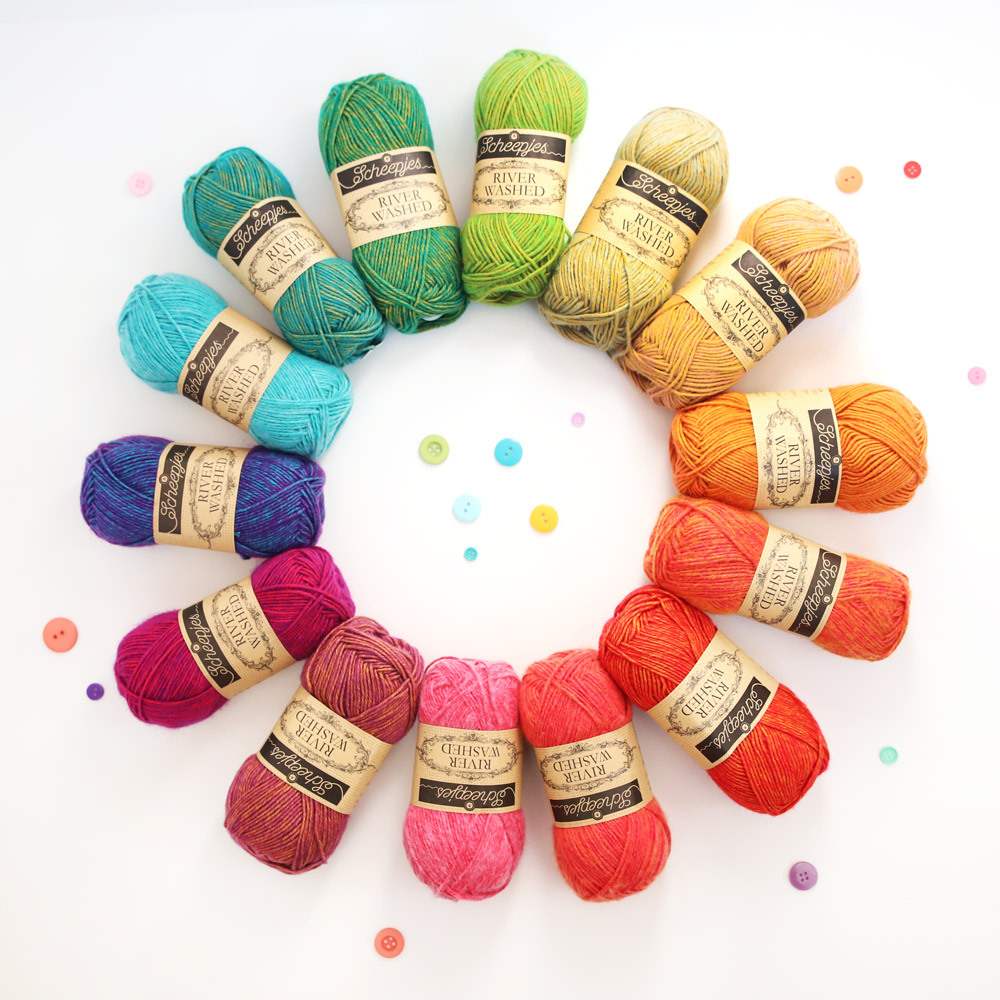 The colours look a bit muted, mostly due to the plied nature of River Washed. It's the sister yarn of Scheepjes Stone Washed, a yarn you already might be familiar with. Stone Washed has a 'white' fuzzy halo around its core, and River Washed has a coloured halo resulting in a two-toned yarn. For some yarns, you can see that quite clearly (like 957 Eisack, left to the pink). For others, it's more subtle (952 Rhine, the light blue).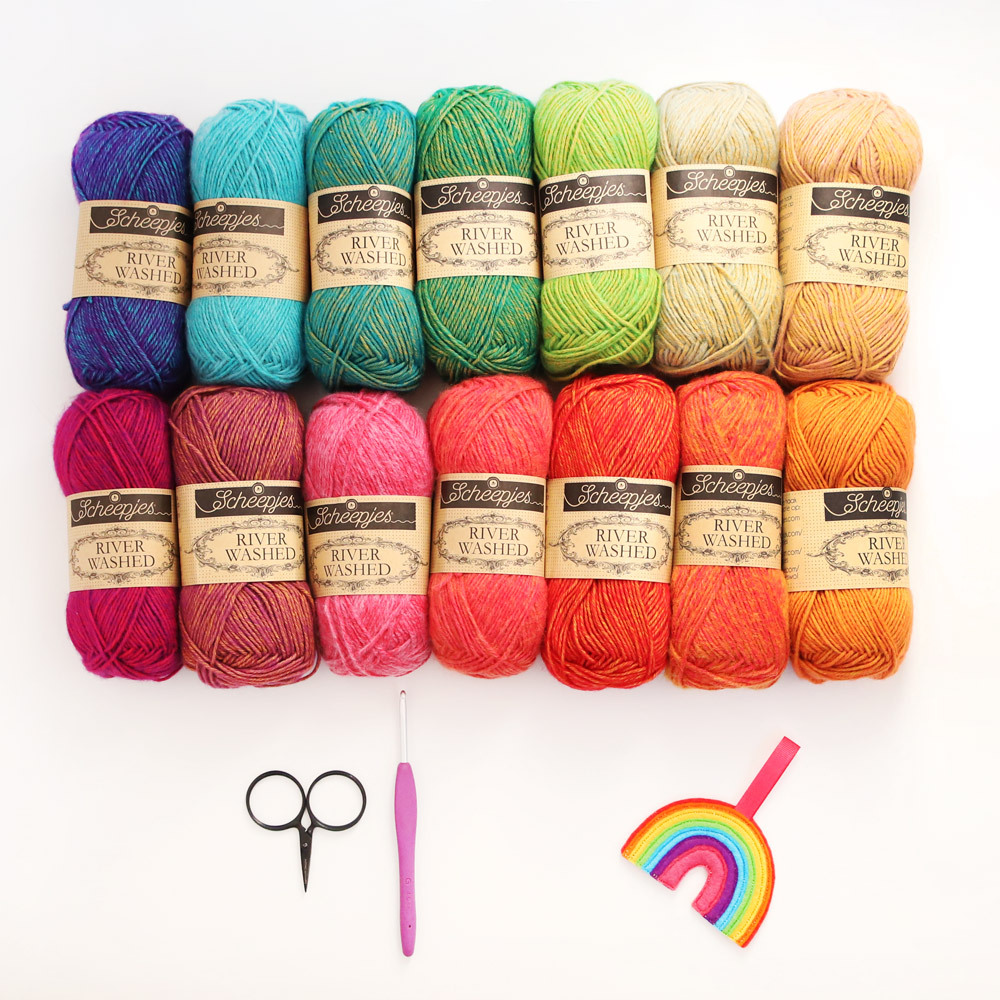 As you can see the warm colours are heavily represented in my rainbow palette. That's because the colder, blue and purple colours for this yarn feel very strong to me. It's all about balance, and an accompanying advantage meant that I could get started with the yarns I already had at home (not lying, that tipped the scale). Did I say that this happened the afternoon before I left? There was NO time to get me some more!

So that was one problem solved, the yarns. But I also needed a project! It had to be big enough to keep me busy, not too difficult to prevent me from giving directions to my hubby driver (kidding, I'm horrible with directions. That's what Google Maps is for), and I wouldn't be able to bring any more yarn than this. Solution? A row-based blanket! That meant that I could just bring the first 'batch' of balls with me, and the other ones would be waiting for me at home to finish.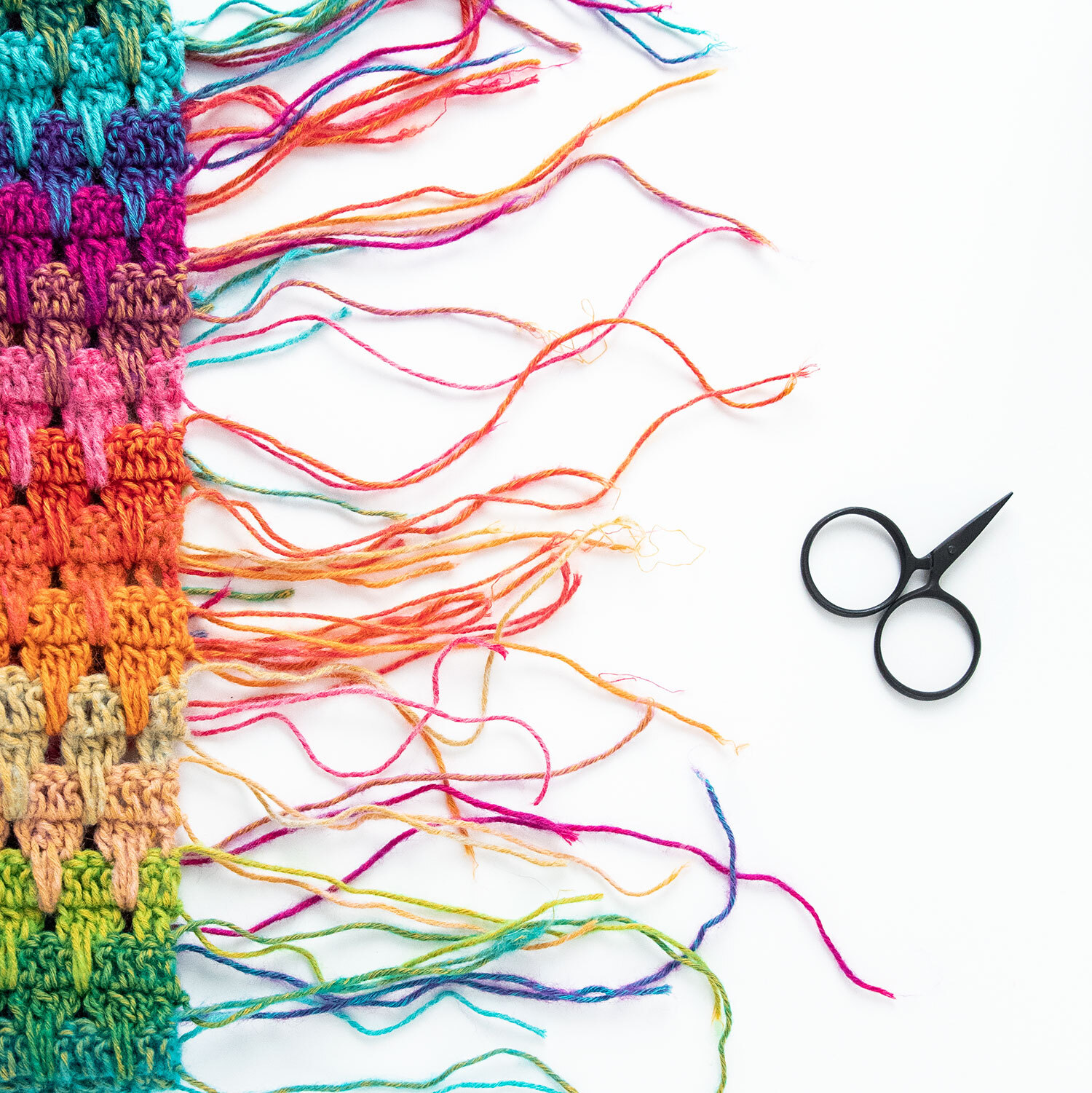 The only downside to row-based, colour-changing blankets? Jup, the ends. Well, at least it gave me something to do! It's a big project (think king-sized), so progress is relatively slow. I'll keep you updated. Next time, I'll show a bit more! And if you want to grab yourself a set of these colours in the meantime, you can get River Washed at your local Scheepjes retailer or online via webshops such as Deramores and Wool Warehouse who both ship worldwide, and Knotty House on the US side of the pond.