Colourful Rainbow Sampler CAL
Blocks of colour, a variety of stitches and a large comfortable size make the Colourful Rainbow Sampler blanket a must-make! This project is a Kickstarter for both your stitch repertoire and your rainbow collection. Written instructions and crochet charts step you through the different sections, with photo tutorials to help you visualize the pattern. If you're a crocheter who has mastered the basic stitches, and if you're looking for something exciting to make, this blanket checks all the boxes.
Starting May 6th 2020 I will host a CAL for this fabulous pattern. Each week you will get a section of the pattern, and we'll crochet along together towards a finished blanket. Doesn't that sound like a great way to spend time right now?

How did the Sampler Blanket start?
The Rainbow Sampler Blanket is one of my very first patterns. Back when I started crocheting I decided to challenge myself. I grabbed some paper and lots of coloured pencils and started sketching. There were many stitches that I wanted to try, and it helped that I didn't consider this to be a 'pattern'. It was truly my Sampler Blanket.
Over the course of a year I worked on this blanket, occasionally posting pictures on Haak Maar Raak to show progress. Once finished I was stunned by the positive response from the crochet community. Because I never intended this as a 'designed' blanket, I didn't write a pattern along. So after many questions, I made up a recipe; loose instructions for anybody looking to make their own Sampler.
Over the years I've looked at this pattern as a designer and realised it wasn't up to standard with my other patterns. So at the beginning of 2019 I decided that it was time to recreate this iconic blanket. I used many of the colours I did in the original version, but this time I was determined to write a proper pattern. It took me the better part of a year and lots of testing, writing and charting, but I'm happy to say that that's now all done. To celebrate this new and improved version, I'm hosting a CAL for anybody who wants to join.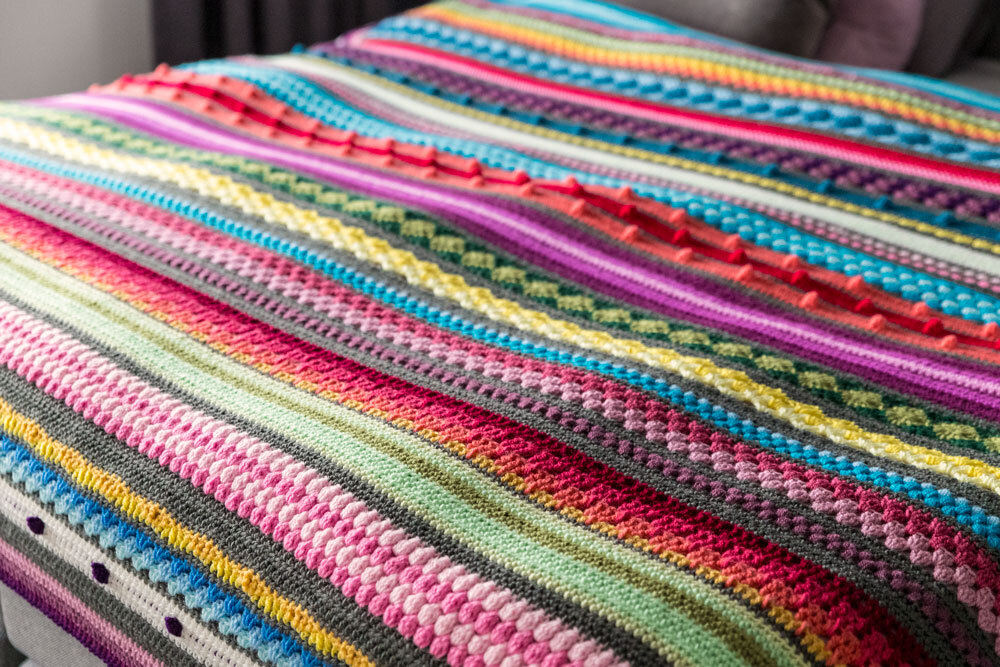 What has happened to the old Sampler pattern?
Because I've tweaked so much of the old pattern along the way I decided to take the old pattern offline. It would be very confusing to have an old and a new version of the same blanket. If you are working on the 'old' Sampler blanket I got two pieces of advice for you. If you are in the early stages, rip it out and start over, along with the CAL. I promise the new pattern will be much clearer. If you are already quite far in the pattern and don't want to start over, send me an email at kirsten@haakmaarraak.nl and I'll give you access to the old pattern.

When does the CAL start?
The CAL starts on May 6th 2020. It will run for 11 weeks, with the final part of the pattern being released on July 15th. I will run this CAL in the Haak Maar Raak Community on Facebook, so join us if you're not a member yet! If you can't keep up with the pace, no worries. The pattern will remain available indefinitely on my blog.
Who's the CAL for?
If you're a beginning crocheter who knows how to make chains, single crochets and double crochets I'm sure you can manage this project. You will learn several different stitch patterns (up to 13!) during the various weeks. I've written this pattern specifically with the not-so-experienced pattern reader in mind. So while I am using abbreviations, I'm not abbreviating the pattern to its fullest to improve on the readability of the pattern. The different stitch patterns will have photo tutorials to help you along, and there are colourful crochet charts included to guide you. Please note that at this stage video tutorials are not planned for this CAL.
Stitch patterns that you will learn are:
Popcorn
Bobble
Puff Stitch
Granny Clusters
Wave stitches
Larksfoot Stitch
Herringbone stitch
Reversed Popcorns
Crab stitch
Surface crochet
Catherine Wheel
Shells (well, one of the million versions that exist!)
Star stitch
The blanket has been designed in such a way that if you feel like you can't do a certain stitch, you can skip that section or replace it with a different stitch pattern. We'll work it out! The blanket as designed measures 190 x 195 cm (75 x 77in). Large, and comfortable!
What yarn do we use?
I designed this CAL with Scheepjes Colour Crafter. Colour Crafter is an affordable premium acrylic yarn, available in many colours and deliciously soft after its first wash. Almost all Scheepjes retailers stock this yarn, so give your local retailer a call. If you want to order online, have a look at one of the following online retailers who stock Colour Crafter:
* Please do check the shipping policies before ordering. At this time they might not ship to all countries.
I understand that at the moment your preferred retailer might not ship internationally anymore. I can't help that, but what I can do is make all the available yarns and quantities per week known in advance so you have all the information necessary to check whether you have enough yarns at home and to see if your local retailer has what you need. I will do so over the following days.

This is the list of colours that we will be using:
Scheepjes Colour Crafter (100% Premium Acrylic, 100g/300m):
Colour A: 1063 Rotterdam x 4 balls
Colour B: 1005 Barneveld x 1 ball
Colour C: 1425 Deventer x 1 ball
Colour D: 1034 Urk x 1 ball
Colour E: 1019 Texel x 1 ball
Colour F: 1263 Leerdam x 1 ball
Colour G: 1081 Gouda x 1 ball
Colour H: 1241 Den Bosch x 1 ball
Colour I: 1130 Sittard x 1 ball
Colour J: 1020 Leiden x 1 ball
Colour K: 1316 Almelo x 1 ball
Colour L: 1065 Assen x 1 ball
Colour M: 1132 Leek x 1 ball
Colour N: 1083 Tilburg x 1 ball
Colour O: 1123 Roermond x 1 ball
Colour P: 1067 Hoorn x 1 ball
Colour Q: 1080 Venlo x 1 ball
Colour R: 1023 Tiel x 1 ball
Colour S: 1068 Den Helder x 1 ball
Colour T: 1009 Utrecht x 1 ball
Colour U: 1061 Meppel x 1 ball
Colour V: 1084 Hengelo x 1 ball
Colour W: 1390 Amersfoort x 1 ball
Colour X: 1246 Maastricht x 1 ball
Colour Y: 1708 Alkmaar x 1 ball
Colour Crafter is available in many more colours. So feel free to mix and match colour combinations to your heart's desire!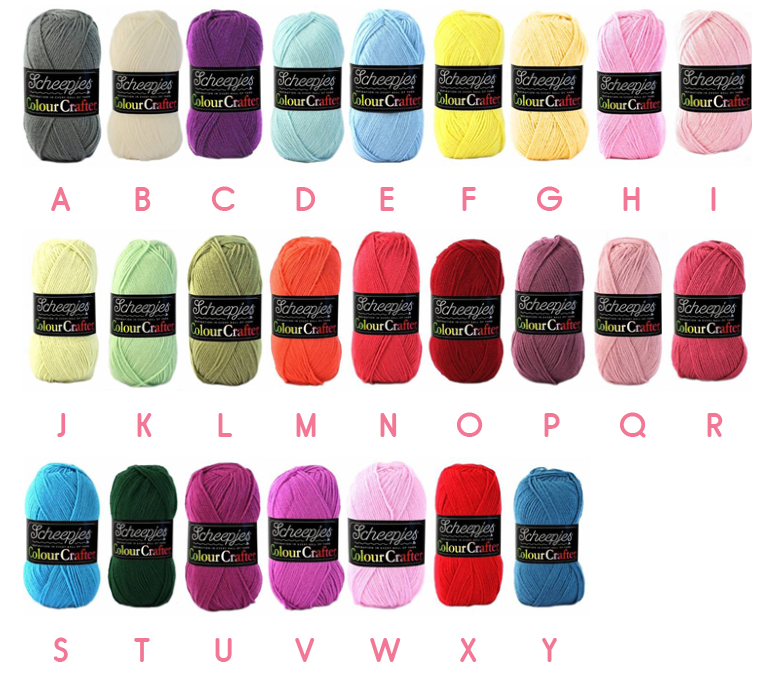 Yarn leftovers
It's both the joy and burden of designing with many colours: leftovers. I've optimised the new version of the CAL blanket to work economically with colours and removed colours that were only used for a single row. Still, you're still using 25 different shades in this blanket. We will have many leftovers after this is finished, ranging from ~15 grams to ~65 grams per ball. On the plus side, this means that you barely have to worry about gauge and can go by the look and feel of the blanket instead of yarn weight. I'd like to think of this blanket as your Rainbow Collection Kickstarter. You can make many more beautiful rainbow projects after this blanket. I'll hook you up with some tips later!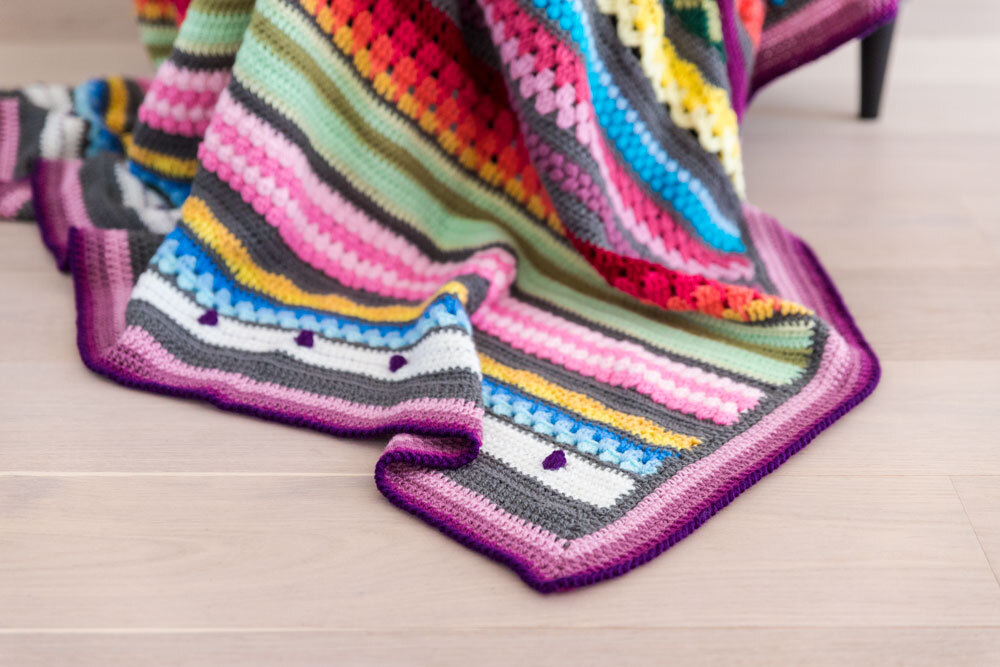 Yarns used per week
I have created an overview of the amount of yarn that you will use per colour per week. Please note: this is the max. yardage based on the results between me and my testers. The numbers represent the grams used.