Big news this Friday: Scheepjes released a new YARN bookazine! The theme for the 7th issue is 'Reef', which is a promise of colourful designs with a delicate flow to them. A bright and colourful promise indeed!
As always, it was a delight to see the new issue landing on my doorstep and flicking it through for the first time. Care to have a look with me?
YARN bookazine 7 'Reef'
If you've never heard about the YARN bookazines before, let me explain it to you in a nutshell. The YARN bookazines are a book-magazine crossover published by Scheepjes. I say crossover because the YARN is published every 6 months, just like a magazine. But to call YARN a magazine wouldn't do it enough justice. Each publication contains 16 or 17 knitting, crochet and/or sewing patterns and maker interviews. The photography is delightful, captures the theme perfectly, and all is printed on quality paper. Hence, a bookazine!
I'm the lucky owner of all 7 issues of YARN. Although issue 2 (Midnight Garden) is hard to get these days, there are still plenty of retailers who have the other YARNs available. I've looked up some links for you a couple of paragraphs below!

The patterns
Flicking through the bookazine, it becomes clear that Simy, Scheepjes' Creative Director, has outdone herself again. The patterns, the photos, it all fits the theme perfectly. I had a hard time picking which ones I'd like to show you. The patterns are divided into 4 chapters: In the Anemones, Kelp Forest, Coastal Reef en Coral life. So I've picked one of each!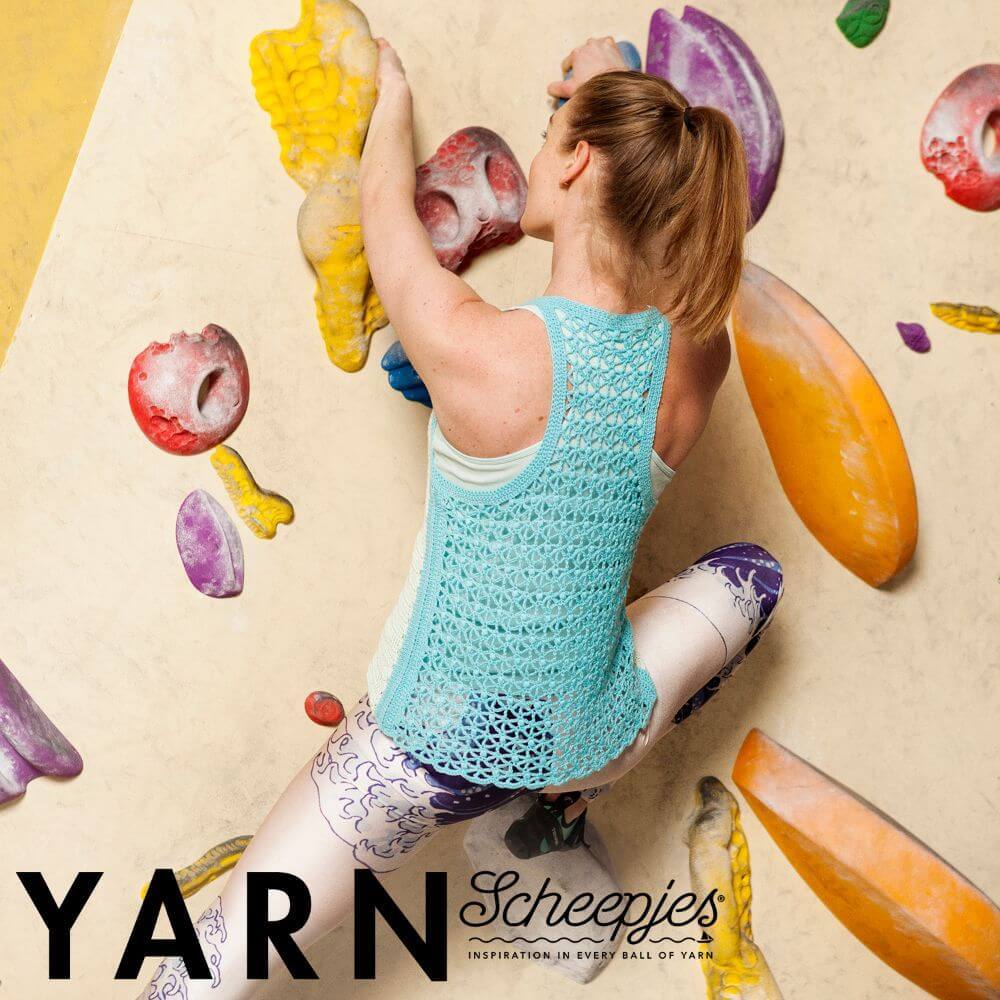 This is the wonderful Beach Wave Top by Susan Walsh from Peppergoose. It's part of a set, the pattern for a matching Cardigan is in the bookazine as well. The colour Susan used for this design is just amazing, isn't it? The pattern includes sizing from S-XXL. A little sidenote: I think the setting of this photograph is very clever, the boulder blocks look like pieces of coral!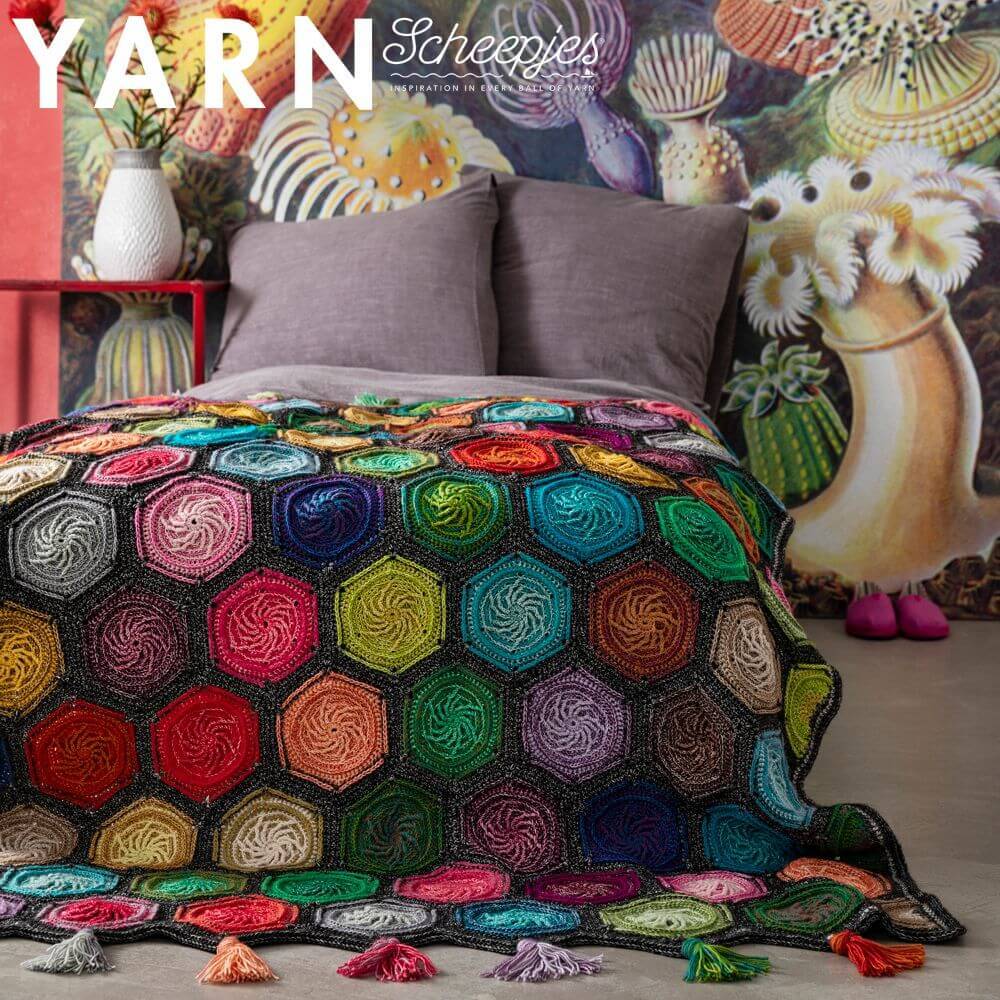 This is the Hydra blanket by Mark Roseboom from The Guy with the Hook. Simply stunning! Absolutely my kind of blanket with its colourful, swirly motifs. It's a mix of Stone Washed and River Washed colours, and plenty of opportunity to customise it to your own taste if rainbow isn't the style you're looking for.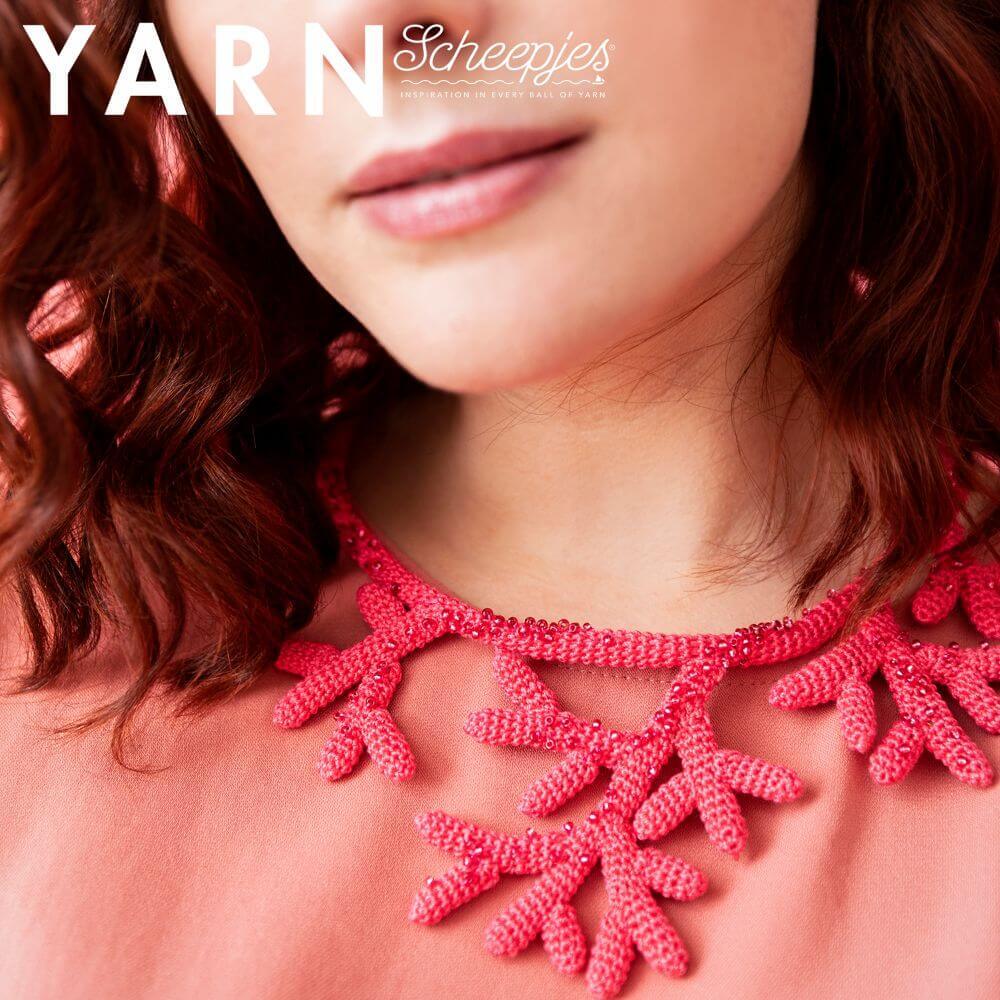 This is my favourite photograph in the bookazine. It's the Staghorn Necklace by Carmen from New Leaf designs, and it captures the reef and coral theme perfectly. What you can't see on this photograph but what you can see in the bookazine is that this necklace is fastened with a satin ribbon, a sophisticated touch to an equally sophisticated necklace.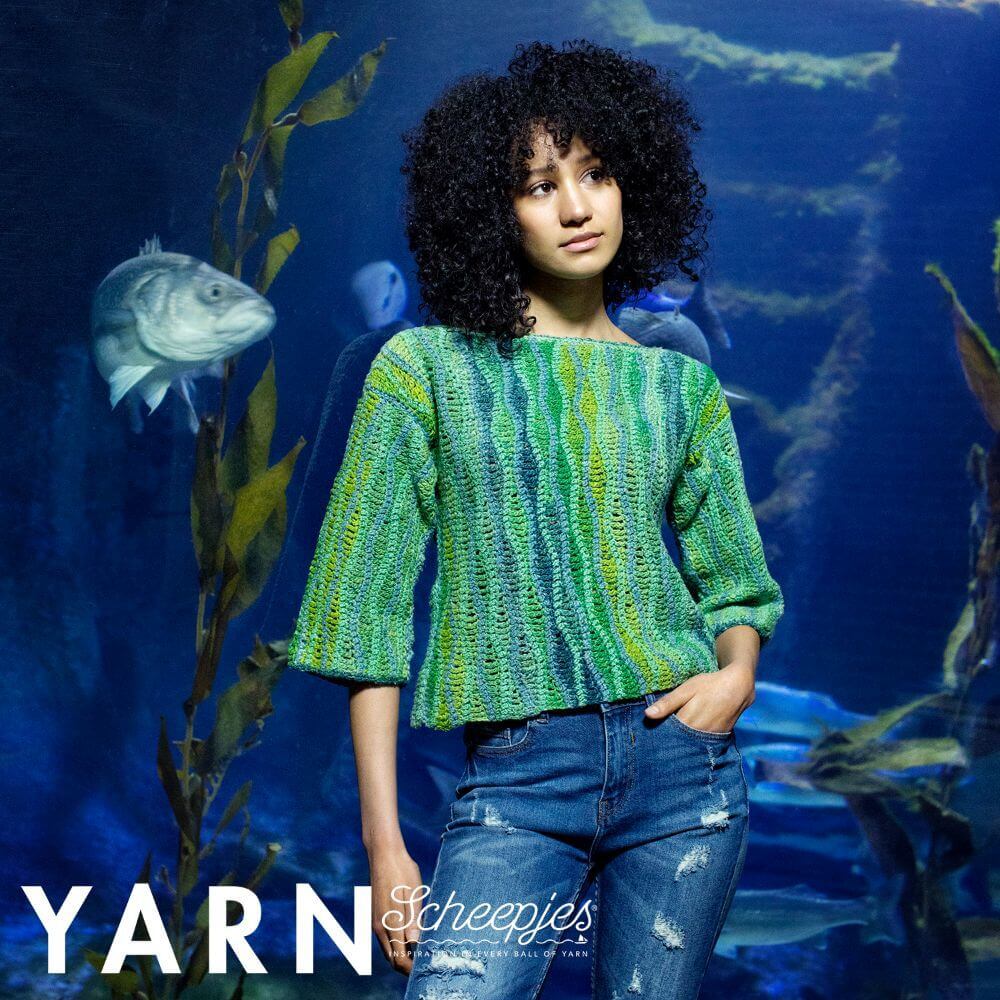 Ok, one more! This is the Kelp Garden Sweater by Ana D. I think it's a great design if you want to get started with garment making, as it suits every body type with its vertical waves. The sweater is available in sizes S-XXL too, so plenty of choices to make it your own!

Where to get YARN 7
YARN 7 Reef is available for EUR 8.95 / GBP 7.95 / USD 9.95. There are two versions, a UK and Dutch version. Most international stores only sell the UK version, and the Dutch version is sold in the Netherlands. Scheepjes retailers can order the magazine in for you, and otherwise, you can get your copy here:
Previous YARN issues
If you're looking for previous issues in English, you can find them here: