Welcome to the Origami Blanket Crochet Make-A-Long! In the coming weeks, we'll create a stunning gradient blanket together. You can join in at any time you like, and the pattern will remain available after the MAL on my blog. You will find it on my free crochet patterns page, together with the Rainbow Origami Blanket.
For your convenience, I put all the relevant information together in this post. Keep on reading!

The Origami Blanket

The Origami Blanket is a project that's very close to my heart. I've incorporated my favourite colours into geometric motifs which together form a vivid and lush gradient. The result is a comfortable and lush blanket measuring 145 x 175cm (57 x 69in). I've written a blog post about my inspiration and how this blanket took shape, you can read it here.
The pattern
The pattern is available as a free crochet pattern. I've also created a printable and styled PDF version. The pattern is written in US English and a Dutch (NL) translation is also available. Crochet diagrams and photo tutorials are also included. Please note, I have no videos available for the MAL.
Yarns & Kits
For this blanket I've used Scheepjes Metropolis, a new 75% Extra fine Merino, 25% Nylon sock yarn. You will need 26 balls of Metropolis in total for a 175 x 145cm blanket. I've also created versions of these blanket in Scheepjes Colour Crafter, an affordable 100% Acrylic yarn. Continue reading below for all the details on the colour packs.
Shop the yarn!
For the Colour Crafter versions, have a look here:

If you're looking to make the Metropolis version of the blanket, you can shop your yarn here:
Metropolis Kits

This is Origami Spring, one of two Metropolis colour packs:
Yarn A: 6 x 024 Cota
Yarn B: 2 x 030 Toulouse
Yarn C: 2 x 037 Istanbul
Yarn D: 2 x 035 Seoul
Yarn E: 2 x 048 Sydney
Yarn F: 2 x 052 Bangalore
Yarn G: 2 x 051 Marrakech
Yarn H: 2 x 055 Lima
Yarn I: 2 x 053 Santiago
Yarn J: 2 x 049 Ajman
Yarn K: 2 x 062 Valencia

Yellow is one of my favourite colours, but it's quite bold. So, I put together a second colourway for this blanket I've called Origami Summer. I'm currently working on a version so that I can show you the colours, but it's not ready yet (the curse of designing big blankets!) These pictures will follow as soon as I'm ready. What I do have for you is an overview of how I designed this blanket to be, which gives you a fair indication of how the end result is going to look like.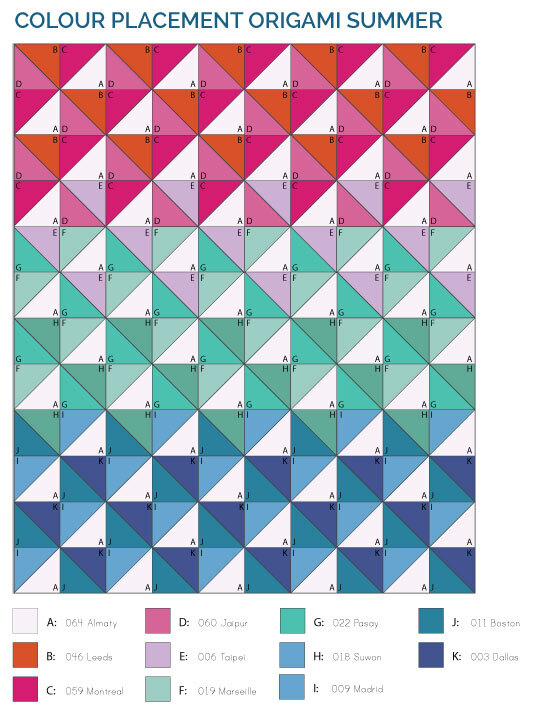 The Origami Summer pack:

Yarn A: 6 x 056 Almaty
Yarn B: 2 x 046 Leeds
Yarn C: 2 x 059 Montreal
Yarn D: 2 x 060 Jaipur
Yarn E: 2 x 006 Taipei
Yarn F: 2 x 019 Marseille
Yarn G: 2 x 022 Pasay
Yarn H: 2 x 018 Suwon
Yarn I: 2 x 009 Madrid
Yarn J: 2 x 011 Boston
Yarn K: 2 x 003 Dallas

Colour Crafter Kits
As I said, I've recreated the original colourways in Scheepjes Colour Crafter as well. Colour Crafter is a 100% premium acrylic yarn. I really enjoyed it when I worked up my Scheepjes CAL 2016 blanket with it! The yarn is a bit more affordable, plus you only need 13 balls of colour crafter for a 140 x 170cm (55 x 67in) blanket. These are the Colour Crafter Origami Spring colours:
Yarn A: 3 x 1001 Weert
Yarn B: 1 x 2010 Hasselt
Yarn C: 1 x 1114 Eindhoven
Yarn D: 1 x 1054 Haarlem
Yarn E: 1 x 1026 Lelystad
Yarn F: 1 x 1130 Sittard
Yarn G: 1 x 2006 Luik
Yarn H: 1 x 1432 Heerlen (1188 Rhenen works great too!)
Yarn I: 1 x 1277 Amstelveen
Yarn J: 1 x 2007 Spa
Yarn K: 1 x 1004 Veendam

And the Colour Crafter Origami Summer pack:
Yarn A: 3 x 1005 Barneveld
Yarn B: 1 x 1132 Leek
Yarn C: 1 x 1083 Tilburg
Yarn D: 1 x 1241 Den Bosh
Yarn E: 1 x 1724 Helmond
Yarn F: 1 x 1820 Goes
Yarn G: 1 x1824 Enschede
Yarn H: 1 x 1062 Dordrecht
Yarn I: 1 x 722 Alphen
Yarn J: 1 x 1708 Alkmaar
Yarn K: 1 x 2005 Oostende

If you want to make your own kit, I have a colouring template available where you can just mix and match your own colours according to the 'colour formula' for this blanket. You can find it here. Please consider buying the yarn through one of my affiliate links, as it helps me to put together future projects!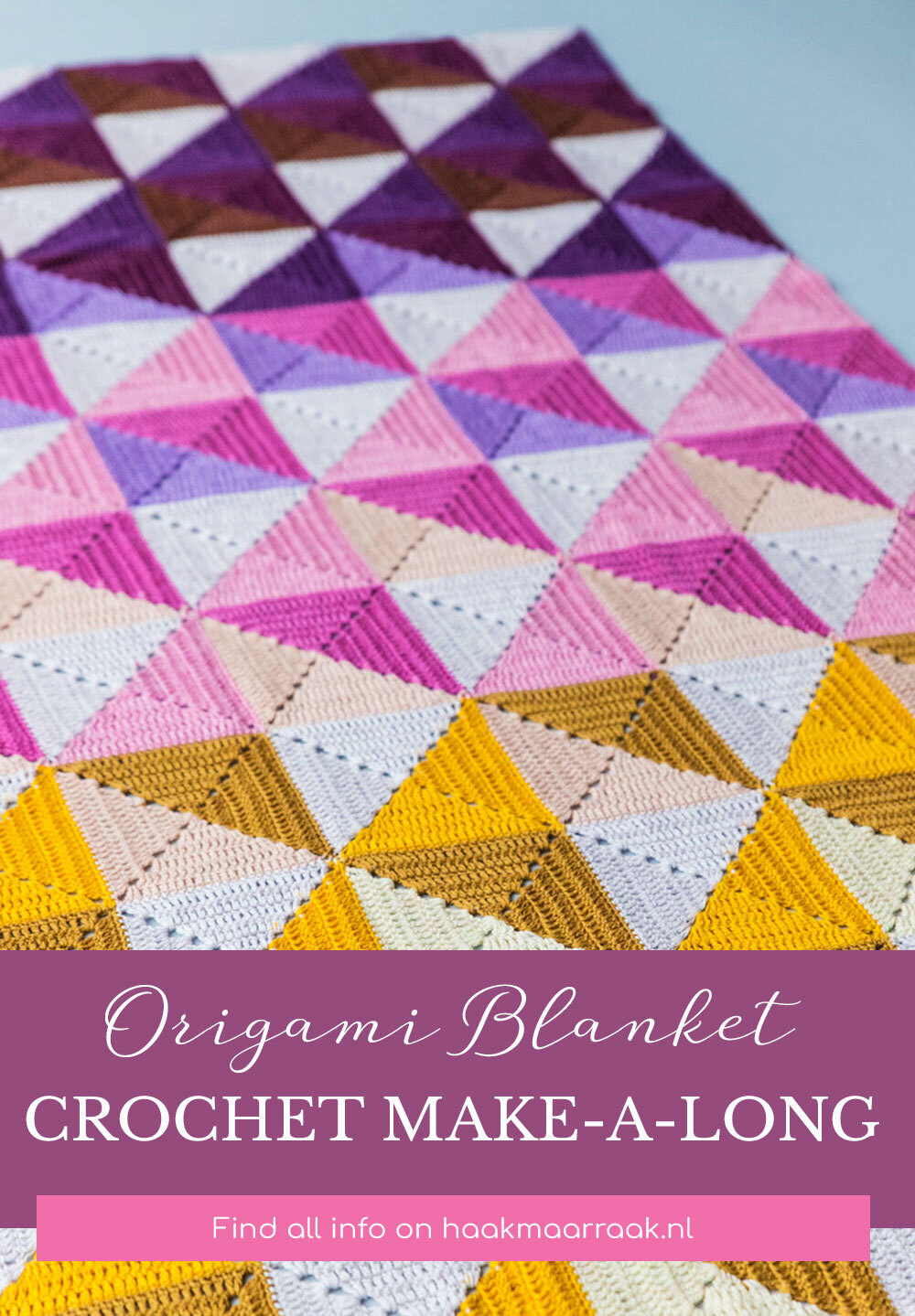 Starting Date and course of MAL
Technically the Origami Blanket Crochet Make-A-Long is a CAL, as there is no knitted version of this blanket. But I don't want to put any kind of pressure on you (or me!) so we'll just call it a MAL, which feels much more informal? The MAL will start Friday the 21st of June, giving you a little under a month to get your colour packs in! The MAL will then run over the course of 8 weeks, until August 16th. However, the end date is just an approximation and I welcome everybody who wants to finish their blanket sooner, later or start on a different date altogether! The MAL is going to be held in my Haak Maar Raak community on Facebook. My trusted mod Lize and me will be available there for you to answer all your questions, cheer you on and gawk at your stunning creations. I'm already excited to see which colour combinations you guys will come up with!
Extra links