Are you looking for a little bit of colour in your life? You're in luck because some people call me a rainbow crochet expert. I've always been drawn to colourful items. As a child, I was in awe when we would walk into unusual stores like 'Kitsch Kitchen' in Amsterdam, where we would occasionally visit.
As an adult that has translated to a love for colourful crochet and many rainbow crochet patterns. I'm what you would call a rainbow lover, with colour mix- and mashups for fun. Brightened up, toned down, I've tried it all! To show you, I've rounded up my 11 favourite rainbow designs to get you excited for your next project!
If you want to see all of my patterns, have a browse through my pattern list.
Rainbow Crochet Blankets
Blankets, my crochet crush. I've made so many over the years that they're piled up in every corner, even though I gave plenty away. An eye-catching, colourful blanket is just so satisfying!
1. Colourful Rainbow Granny Square Blanket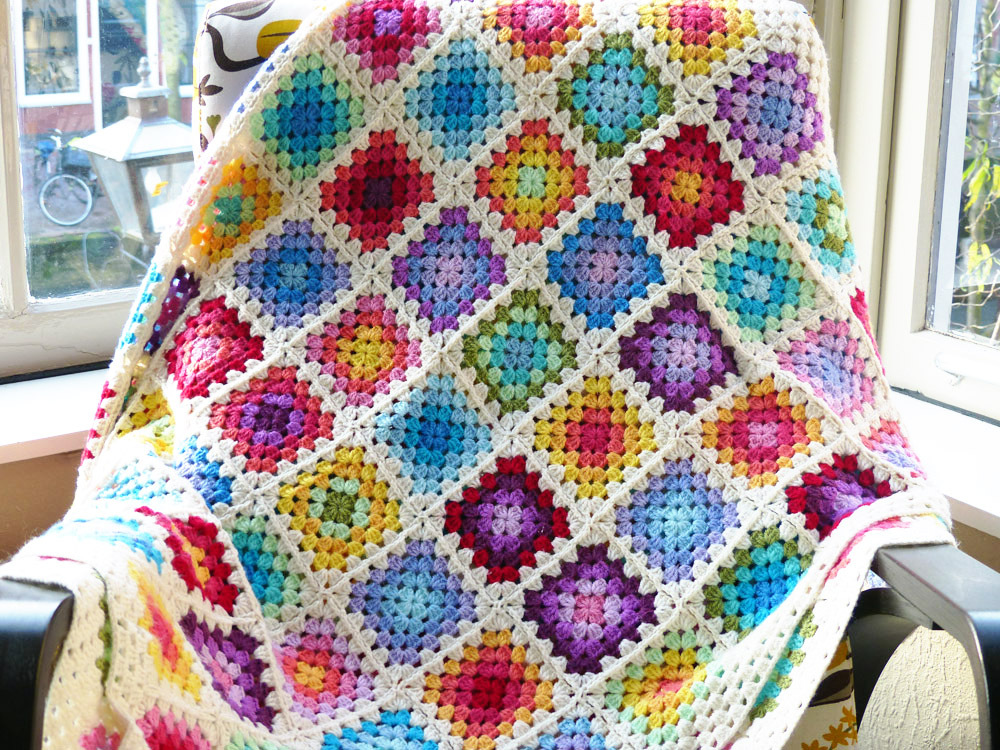 The free Colourful Rainbow Granny Square Blanket was the very first pattern I wrote. I've recently rewritten it to be even more beginner-friendly, with lots of graphics and explanations to help you put together your colour combinations.
2. Big Larksfoot Rainbow Blanket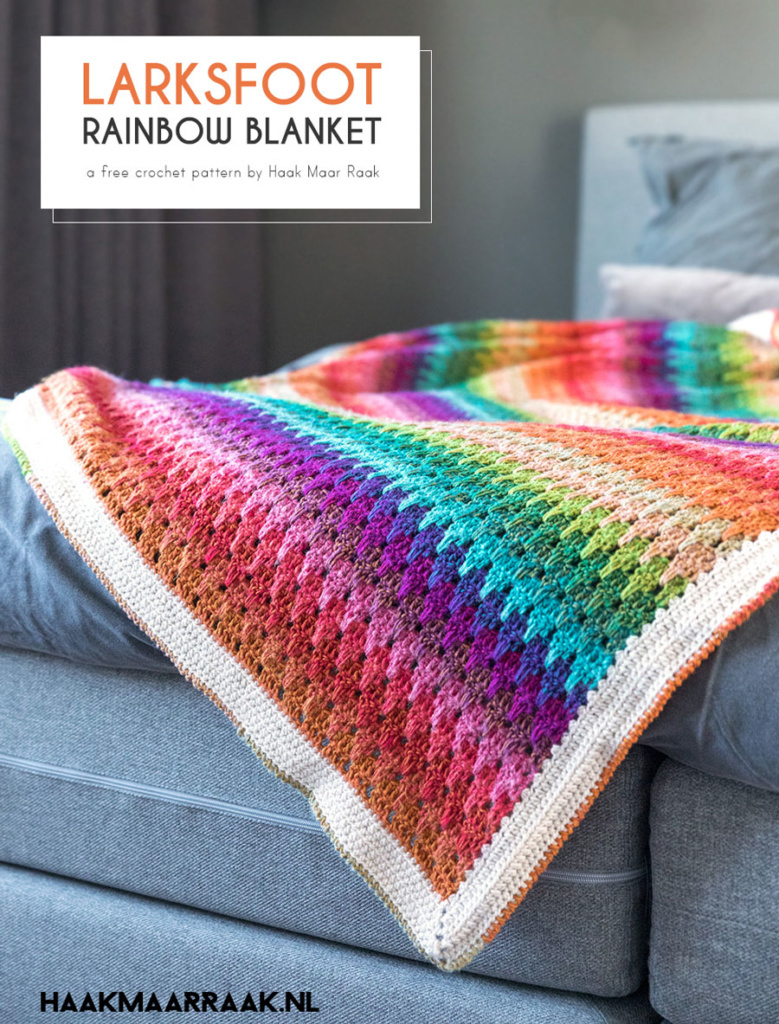 The free Big Larksfoot Rainbow Blanket is one of my more toned-down rainbow crochet designs. The River Washed yarn makes for an almost rustic rainbow, don't you think? The blanket is big, warm and cuddly. Perfect tv-crochet if you ask me!
3. Flower Shower Blanket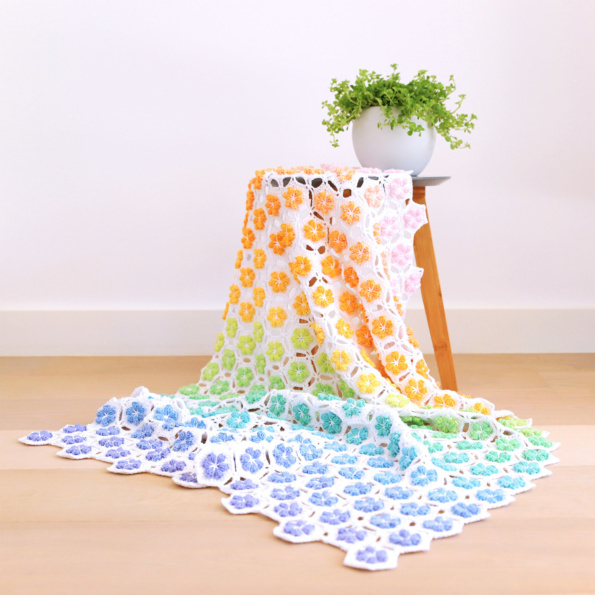 This crochet blanket is genuinely a shower of flowers. I've made it with Rainbow gradient yarn, so you don't have to do all the colour changing yourself. It's an intermediate crochet pattern, perfect for somebody who's looking for a sophisticated project.
4. Little Larksfoot Rainbow Blanket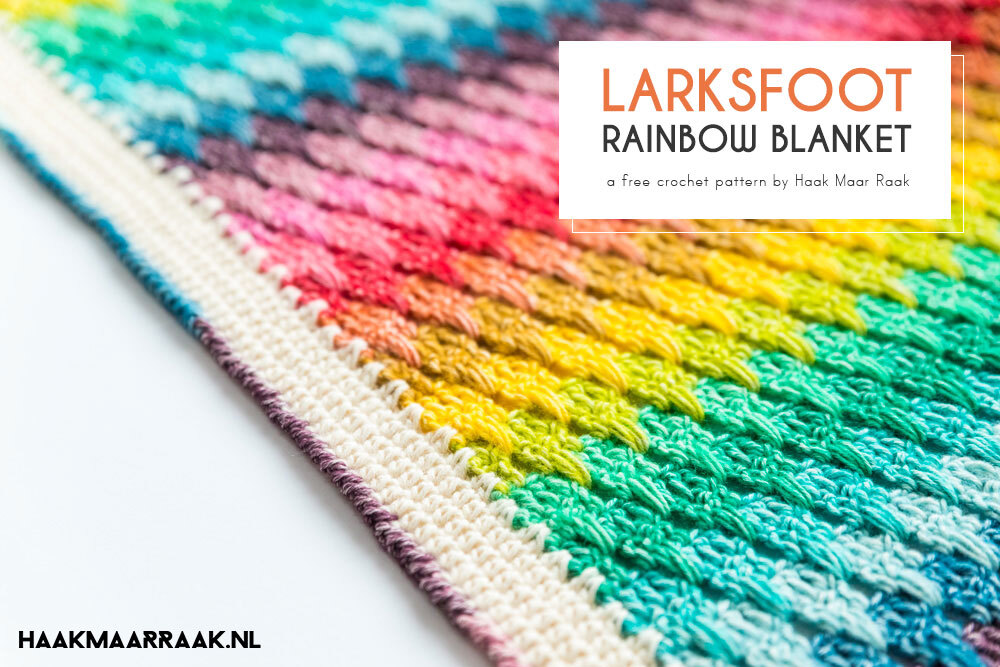 The free Little Larksfoot Rainbow Blanket is the little sister of the big one above. The blanket is bright and colourful, in the same Larksfoot stitch pattern but made with more vibrant yarn. Perfect for beginners who are looking for a baby blanket or a small throw!
5. Rainbow Origami Blanket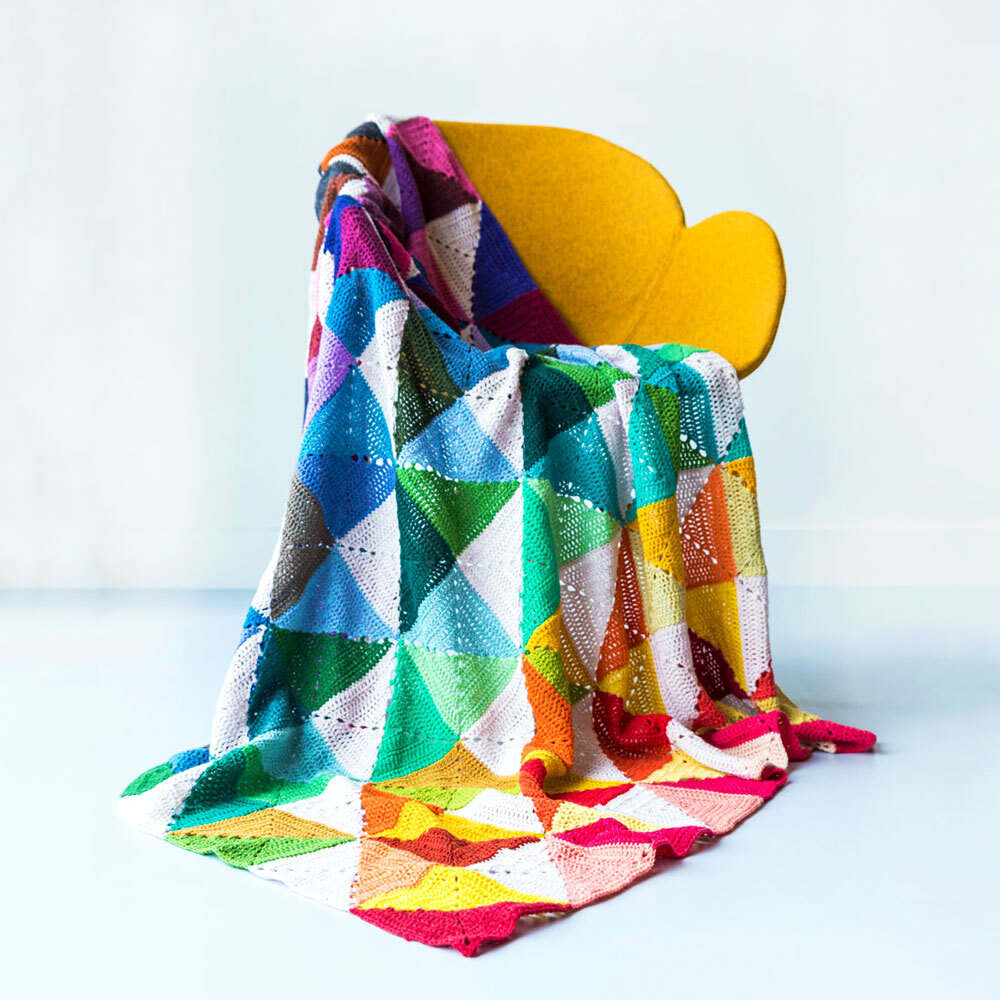 The free Rainbow Origami Blanket is the adapted version of my Original Origami blanket. Made with a colour pack and a few balls of main yarn, this project is perfect for colour lovers such as yourself. Try it out – you won't be disappointed!
Rainbow Crochet Pillows
I've also designed my fair share of colourful crochet pillows. Sometimes a specific motif or pattern just lends itself better to a comfortable cushion, rather than a blanket! The patterns below are specifically designed as rainbow crochet patterns, but of course, you can convert many of my other patterns into a rainbow as well.
6. XOXO pillow
The XOXO pillow is big, lovable and chunky. The crochet pattern is for a bolster pillow that can decorate your bed, porch, or perhaps even a lounge chair. Its bright rainbow colours are in contrast with the silver-blue background colour, and little tassels adorn the end caps. This pattern is a relatively quick make due to the Aran yarn used!
7. Rainbow wave pillow
The Rainbow wave crochet pillow is available separately or as part of a set of blanket and pillow. The bright colours are enhanced by the white 'waves' that flow over this pillow. The pattern uses a technique I call 'Anchor Crochet', which is a fun way to add an extra dimension to your already colourful cushion.
Colourful Crochet Projects
Besides pillows and blankets, there's so much more that I'd like to create (or recreate) in rainbow colours!
8. Rainbow Christmas tree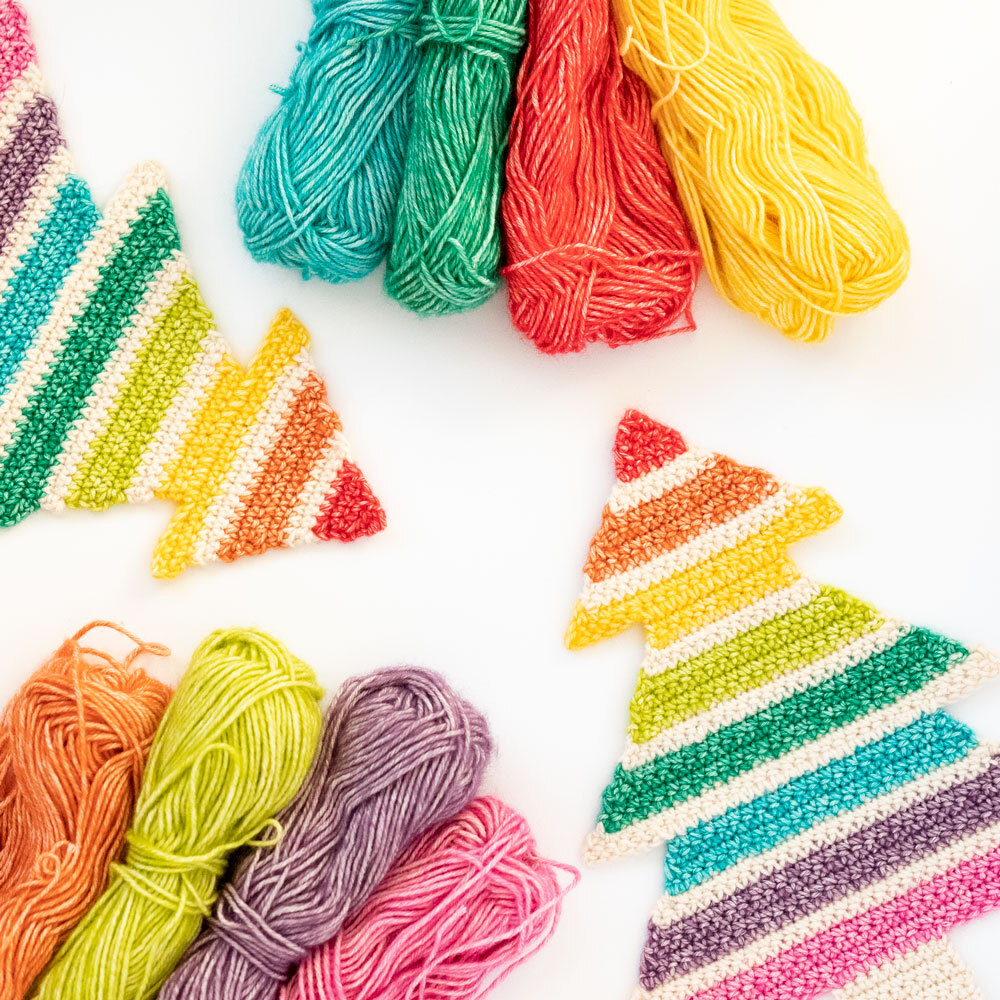 These colourful little Christmas trees were something I came up with last year. The pattern is easy to follow and creates these cute small motifs to decorate with. All you need is some scraps of yarn, some patience and a crochet hook. Within no time you'll have your rainbow Christmas project finished!
9. Rainbow Bobble Tablet sleeve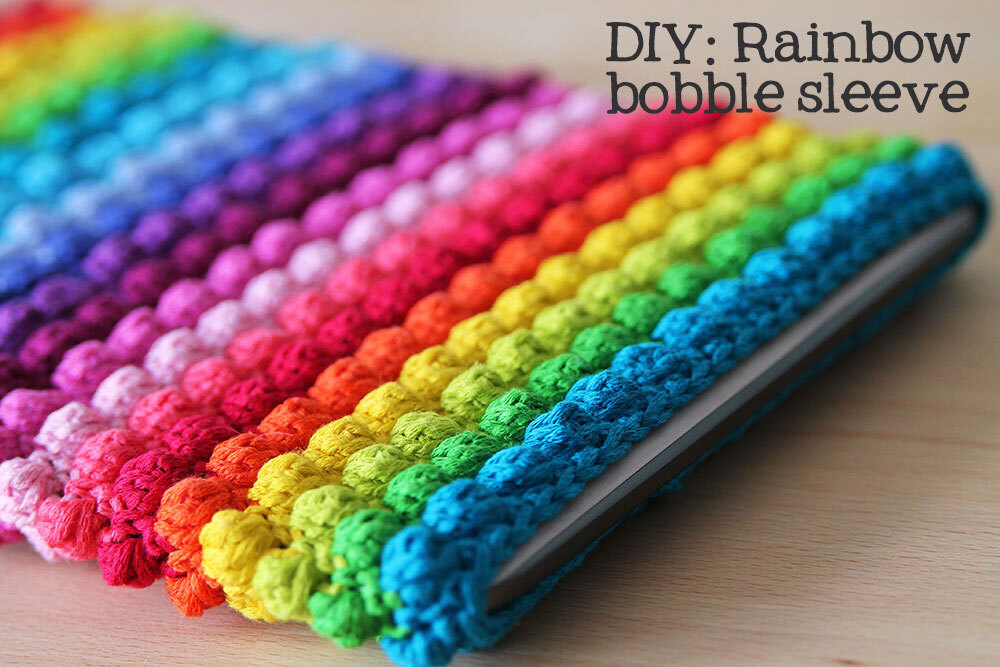 Who says that functional can't be fashionable as well? The bobbles make this tablet sleeve safe and protective, and the colours make it fun to look at! This rainbow crochet pattern can be put to use for many other things too, as the free design is easy to customise.
10. Hygge shawl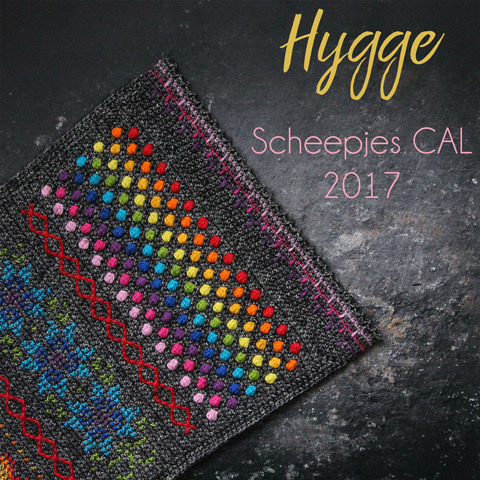 I've designed the Hygge shawl for the 2017 Scheepjes CAL, and one of my key elements in this design was the use of rainbow colours. It's a design that combines cross stitch on crochet, together with some bobbling and surface crochet. It's a very diversified crochet project that will surely teach you a lot!
11. Rainbow Holly Garland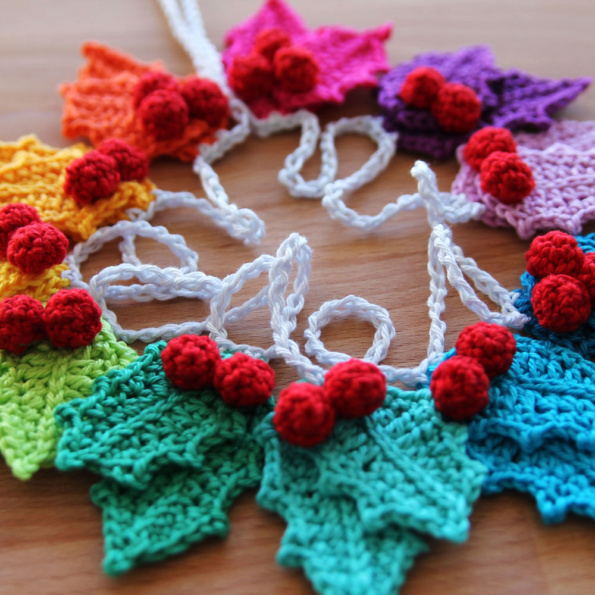 When you combine Christmas with Rainbows, anything can happen! This Rainbow Holly Garland is both colourful and multifunctional because you can use the separate motifs as individual decorations as well. Perfect for a last-minute rainbow touch of Christmas!
Have the crochet patterns above jumpstarted your imagination? I sure hope so! And if the above rainbow crochet patterns aren't tickling your fancy, have a browse through all of the other patterns that I have designed. There must be something there to get you crocheting!