Are you ready to continue your Sampler adventure? The Rainbow Sampler Blanket 2 features more stitches, vibrant colours, and a sprinkle of yarn magic.
Designed for adventurous beginners who want to take their crochet skills to the next level, this blanket teaches you everything you need to know about more advanced stitch patterns.
The Rainbow Sampler 2

After the huge success of the first Rainbow Sampler, it was clear to me that I was going to make a second blanket. I had many more stitches to share, and the idea of teaching more complex versions in a follow-up blanket seemed only fitting.
So over the past year, I worked on and off this blanket. A row here, A row there, and all those little moments add up. It resulted in the big, cuddly blanket you see today. It measures 170 x 210cm (67 x 82 ½in), but sizing is easily adjusted. It's made with 19 different colours; more on that further down this post.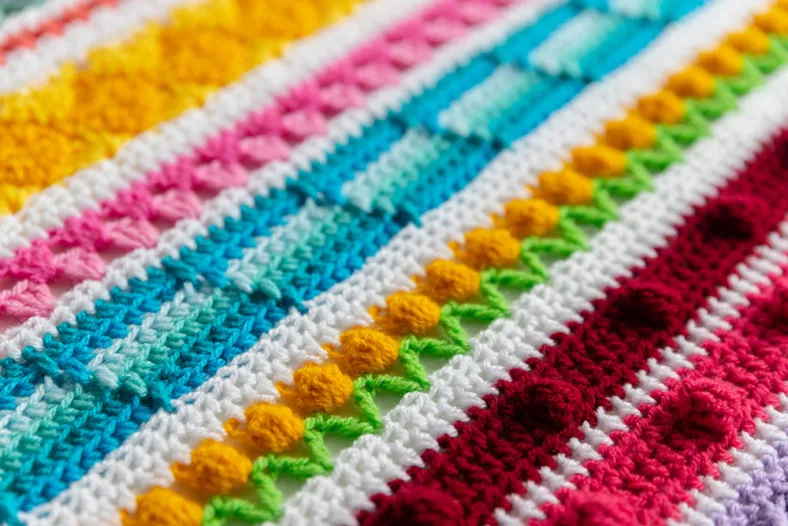 Stitches in this blanket
This CAL contains stitches used in the previous Sampler, combined with more advanced stitches. We'll be diving into:

Apache Tear
Catherine Wheel
Granny Stripes
Jacob's ladder
Puff stitches
V-stitch
Wrapped stitches
X-stitches
Popcorns (both with the same and different base colours)
Tulip stitches
Alpine stitch
If you want to, you can mix in stitches from the previous Sampler in as well (Star stitch, Larksfoot stitch, Crab stitch, Shells, Herringbone, Wave stitch, Surface crochet... It's quite a list!).
Between the two Sampler blankets, there are about 20 different stitches to learn. I'd really enjoy it if you were able to make this one truly your own. After all, that's what a Sampler is all about, right? Learning new stitches and having a project to show off all that hard work!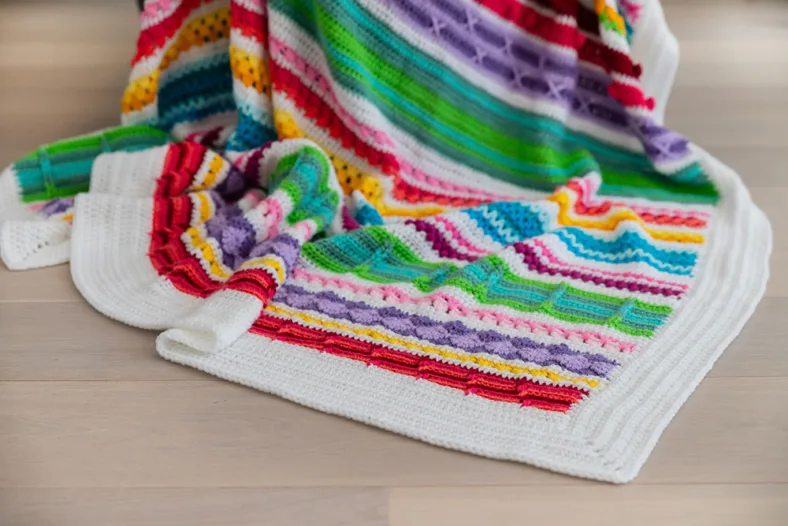 When does the CAL start?
The CAL starts on September 28th, 2023. It will last for 12 weeks, with a new pattern part released each Thursday. The last pattern part will be released on the 14th of December, so right in time if you plan to gift this blanket for the holidays!
The CAL patterns will always be available on my website. Additionally, my Haak Maar Raak Community on Facebook will be the place where you can share progress pics and help each other out. Of course, I'll be hanging out there as well for any questions. If you want to receive an email whenever a new pattern part is released, subscribe to my CAL mailing list too.
Who's the CAL for?
Of course, this CAL is for anybody! However, the pattern has been specifically designed to incorporate more advanced stitches than the first Sampler, but in a way that's also understandable for beginners. So if you know your basic stitches like single and double crochets, know how to turn, know how to crochet stitches together, you should be fine.
I made an effort to ease up on the pattern writing. For example, I do use abbreviations, but not to the point where the pattern becomes code. If I feel a full word makes for an easier read, then that is what is written. There are also photo tutorials for each stitch, and clear crochet diagrams to help you alongside the written pattern.
The pattern
The pattern for the CAL is available in one of two ways:

As separate parts on my blog once the CAL starts on September 28th
You can already purchase the printable PDF version from today on if you want to get an early start or want to look through beforehand. The information in both versions is the same - but the PDF is much easier printable. It consists of 70+ pattern pages and comes with a short printfriendly version ('only' 16 pages) as well. The PDF version will be 50% off until the CAL is finished and will revert to full price after December 14th.
Yarns used
For this CAL I used the wonderful Scheepjes Colour Crafter. It's a premium acrylic range, which has so many colours to choose from. I prefer acrylic for these big blankets because it's more affordable, and holds up pretty well! I still use my original (10-year-old) Sampler Blanket every fall and winter, and it still looks quite alright (and also important, it keeps me warm).

These are the specs:
Scheepjes Colour Crafter (100% Premium Acrylic, 100g/300m):
Colour A: 1001 Weert x 6 balls
Colour B: 1132 Leek x 1 ball
Colour C: 1083 Tilburg x 1 ball
Colour D: 1123 Roermond x 1 ball
Colour E: 2004 Brussel x 1 ball
Colour F: 1277 Amstelveen x 1 ball
Colour G: 1432 Heerlen x 1 ball
Colour H 1130 Sittard x 1 ball
Colour I 1241 Den Bosch x 1 ball
Colour J 1821 Terneuzen x 1 ball
Colour K 1725 Ameland x 1 ball
Colour L 1422 Eelde x 1 ball
Colour M 2009 Kortrijk x 1 ball
Colour N 2006 Luik x 1 ball
Colour O 1068 Den Helder x 1 ball
Colour P 1034 Urk x 1 ball
Colour Q 2015 Bastogne x 1 ball
Colour R 1114 Eindhoven x 1 ball
Colour S 1263 Leerdam x 1 ball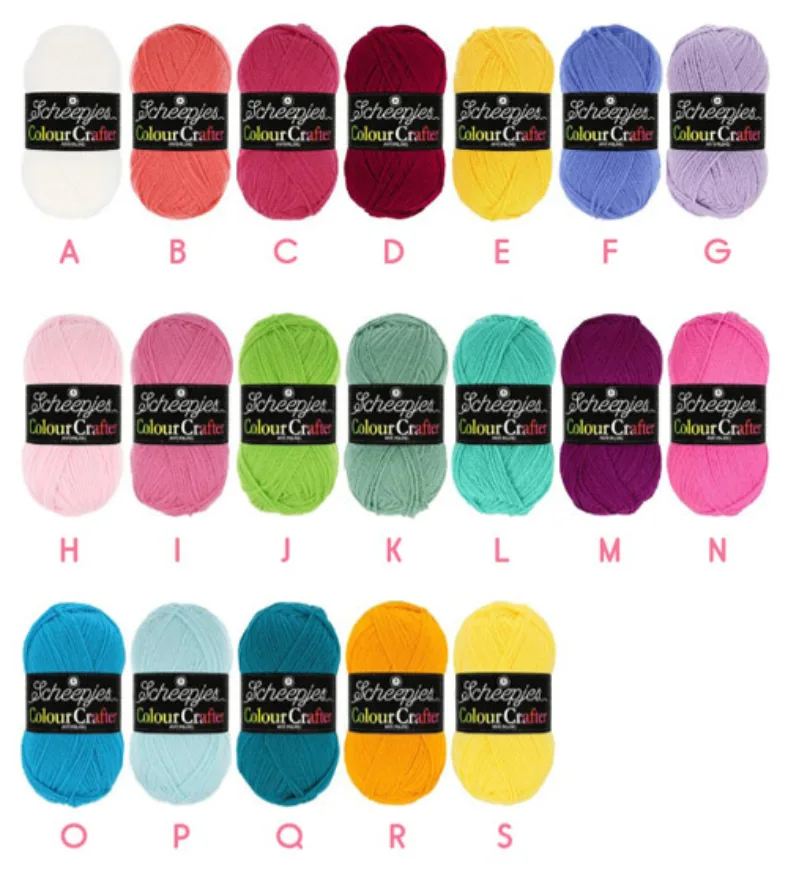 Yarn choice
You can follow my colour choice, or put together your own range of colours. You can see in the table below how much you need for each colour.
You can also use different acrylics or other ranges such as Scheepjes Scrumptious. I wouldn't advise going with a very bulky yarn though, because if you follow the pattern, then your blanket would end up being twice the size of the state of Texas.
I've created a colour template to use for your own colour selection too. Click here for the PDF, or save the images below.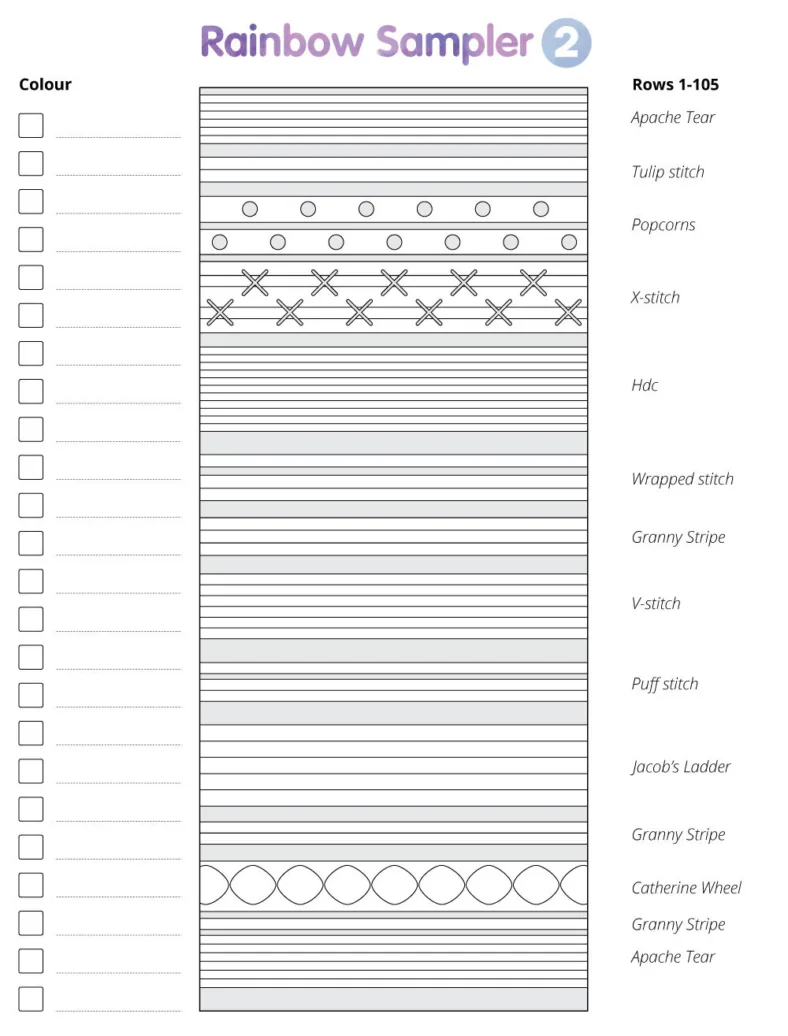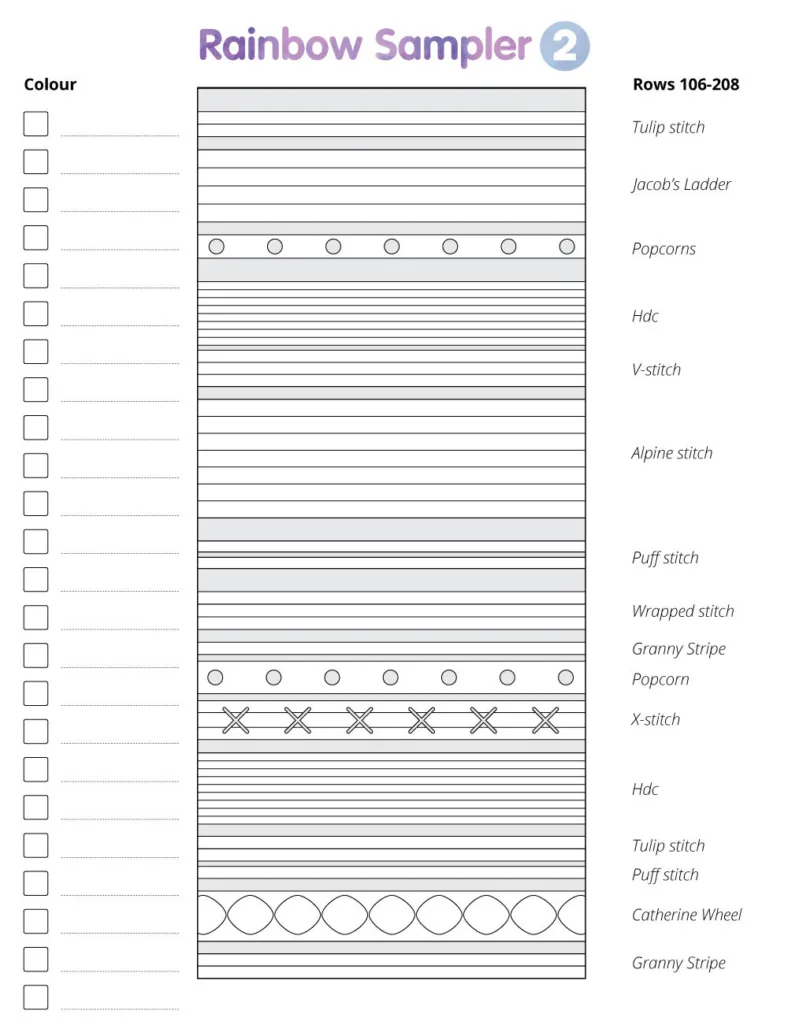 Colour replacements in Colour Crafter
With a range as large as the Colour Crafter, there are bound to be some colours out of stock at one point or another. To make it easier on you, I made a replacement list. Note that I checked the replacements with my actual colour cart - so I've looked at true colours, not screen images. Those can give you a distorted look. I hope you trust me!
Colour A: 1001 Weert ---- This can be substituted for any neutral colour. White, off-white, greys, even black. For example 2019 Sint Niklaas or 1203 Heerenveen.
Colour B: 1132 Leek ---- 1723 Vlissingen (slightly darker, slightly more orange tone).
Colour C: 1083 Tilburg ---- 1435 Apeldoorn (slightly brighter, more to red/pinkish side).
Colour D: 1123 Roermond ---- 1246 Maastricht (brighter red, like deep red lipstick).
Colour E: 2004 Brussel ---- 1823 Coevorden (more ochre).
Colour F: 1277 Amstelveen ---- 1188 Rhenen (bit more blue).
Colour G: 1432 Heerlen ---- Hard one, as there's no proper replacement. I would go with any purple that's brighter or darker than the Colour F. For example, the dark 2001 Antwerpen or light grey-purple 1724 Helmond.
Colour H 1130 Sittard ---- 1240 Ommen (very light pink).
Colour I 1241 Den Bosch ---- Any shade of 'normal' pink would do for this one. It's the most used pink in the blanket and is sort of a 'medium' tone. For example, the old pink 1080 Venlo.
Colour J 1821 Terneuzen ---- 2016 Charleroi (slightly darker shade of green).
Colour K 1725 Ameland ---- 1824 Enschede (bit more moss-green).
Colour L 1422 Eelde ---- No immediate replacement, but it combines with both green and blue in the blanket, so 2015 Bastogne would also pair well.
Colour M 2009 Kortrijk ---- 1061 Meppel (bit darker, more purple shade).
Colour N 2006 Luik ---- Difficult one to replace. You could go either neon pink with 1257 Hilversum, or go the opposite way and go for a more light, purple pink with 1390 Amersfoort.
Colour O 1068 Den Helder ---- 2012 Knokke (virtually indistinguishable).
Colour P 1034 Urk ---- 1019 Texel (slightly more blue).
Colour Q 2015 Bastogne ---- 1829 Wilnis (a bit more to the teal side).
Colour R 1114 Eindhoven ---- This is a hard one. It has no substitution, so in the spirit of the blanket, I would go with a whole different shade of yellow, like 1081 Gouda to still have that yellow contrast. Gouda is light yellow though, Eindhoven is dark.
Colour S 1263 Leerdam ---- 2008 Leuven (brighter yellow).
Retailers
If your local retailer doesn't have Colour Crafter, There are several online retailers who do, so have a look at them:
The above are all affiliate links, so I earn a small commission on them at no additional cost to you.
Yardage

You might want to make the most of your leftovers. That's why I put together a yardage table, with details about how many grams of yarn I used for each week.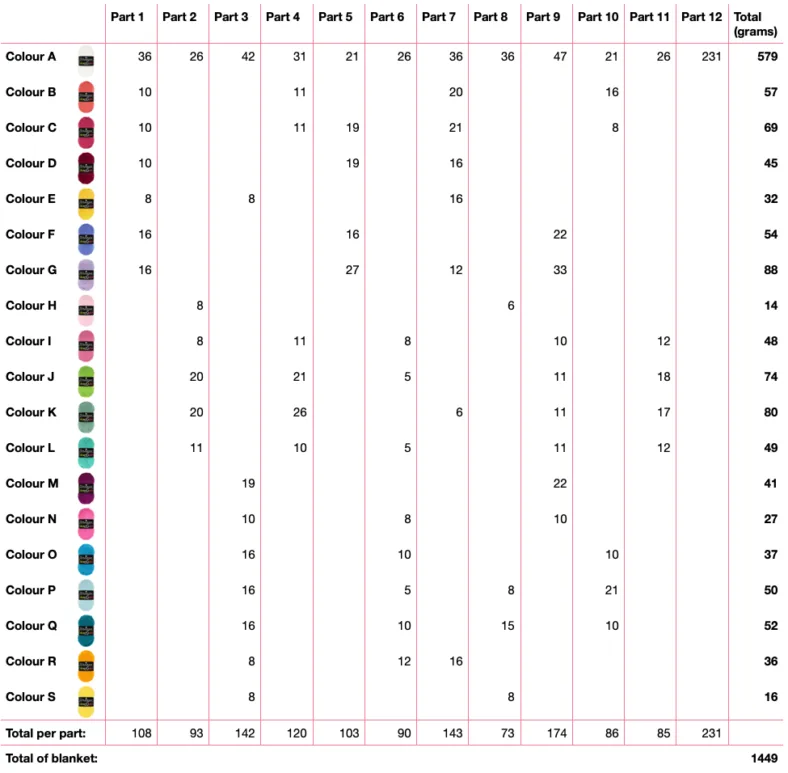 As you can see, you'll have leftovers from this blanket if you work with new balls of yarn. It's a side effect of working with colourful patterns, I suppose! I see it as an excellent way to kickstart a new colour palette. You could also consider making the first Sampler, or the Baby Sampler with these leftovers!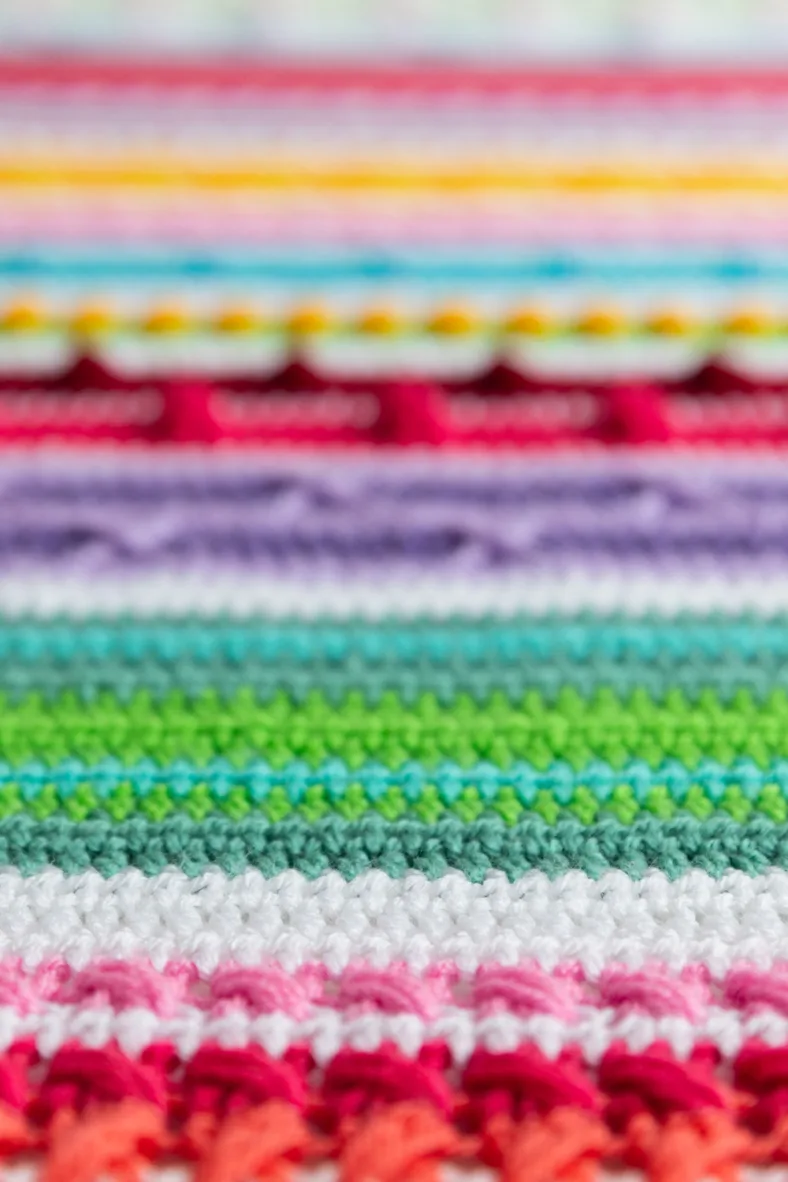 That's all for now! Will you join me when the CAL starts? I hope so!