- Edit- Since I've written this review, the set has been updated. There's now a sixth accessory included, a silver plated yarn cutter.
Perhaps you've seen it already: Simy's Embroidery set, put together by Simy Somer, creative director of Scheepjes. It's a very luxurious set, filled with accessories you might need when embroidering (or needle crafting in general). It's a thoughtful gift for any (needle)crafter, and I'm here to show you what's included!

The Rosewood Box

Let's start with the box. The box is made out of polished and smoothed rosewood. It has this 'antique' feel to it, almost as if you're opening up a jewelry box from your great-great-grandmother. Inside are the various accessories, which are plated with pure silver. Silver is known for its antibacterial properties, so besides it looking very beautiful it will also help in reducing any irritation that might occur when you're using tools for an extended period of time (hello red hurting finger, I'm talking to you!) The contents just breathes luxury to me.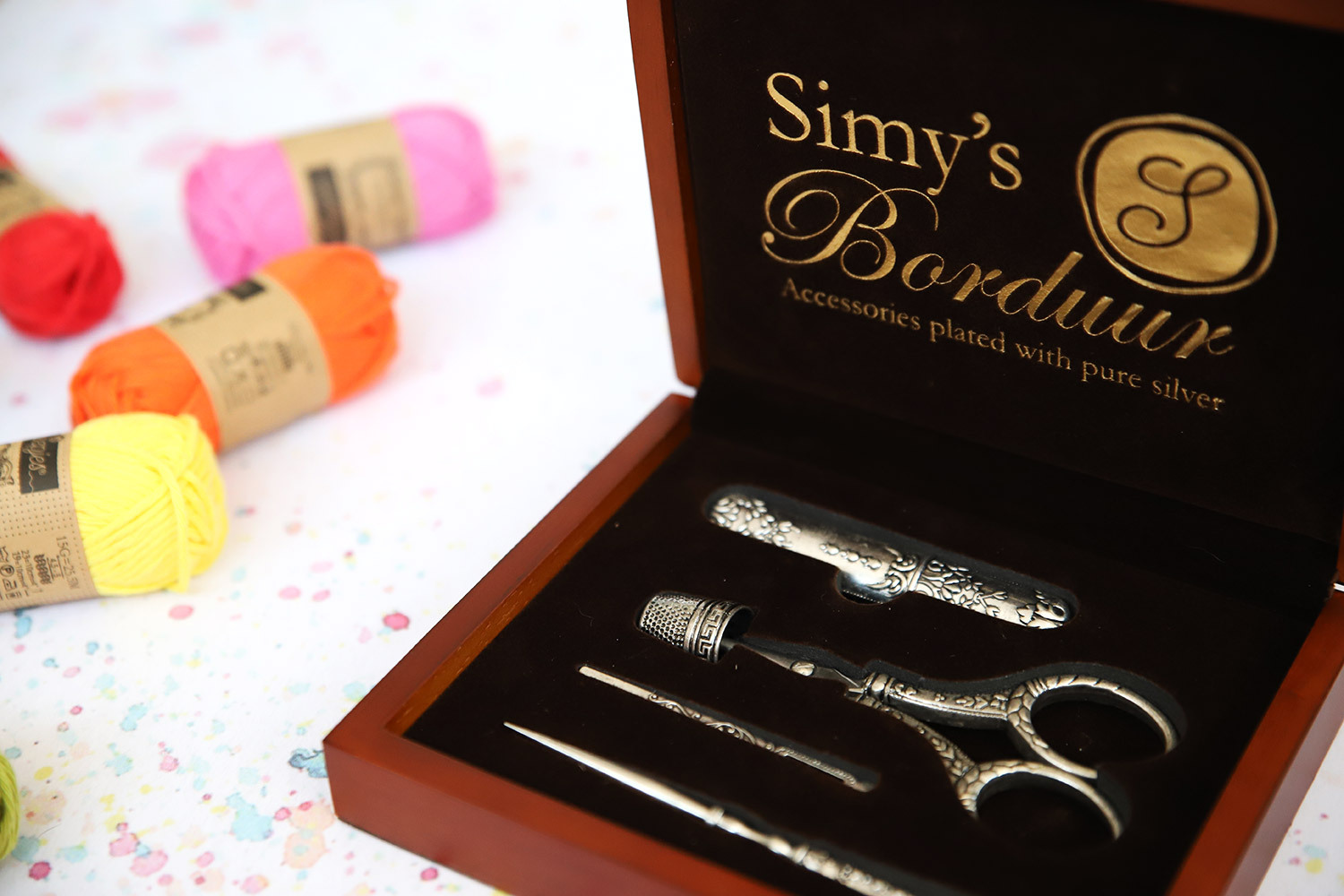 When you open it up the words 'Simy's Borduur' (Dutch for 'Simy's embroidery') are printed on the inside in big golden letters.

Embroidery accessories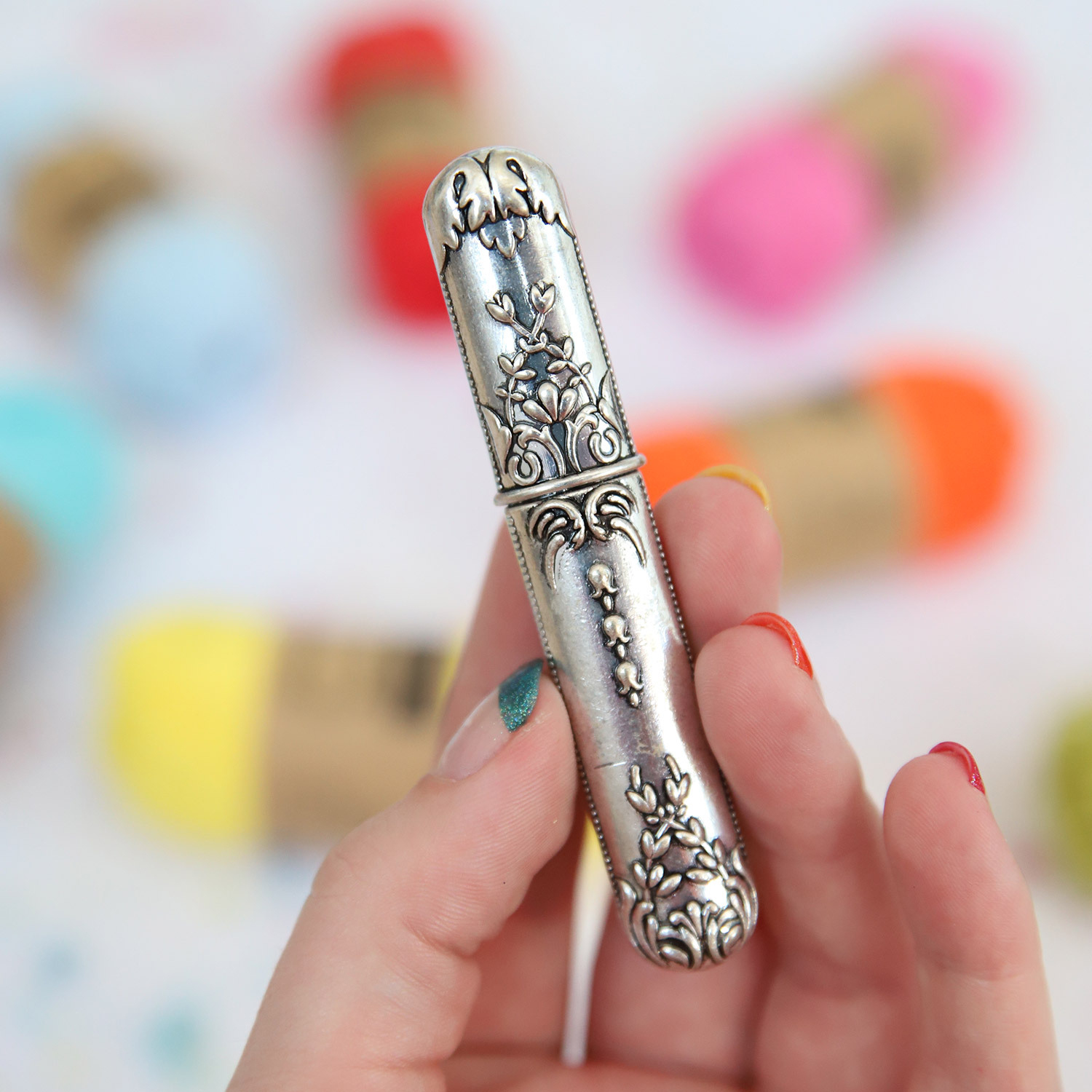 So there are 5 accessories inside. First, there's this beautiful needlecase. It's a dainty little thing that holds your darning or embroidery needles, plain and simple. Since mine keeps on falling between couch cushions I'm happy to store it in here in between embroidery sessions. The detailing on it is gorgeous, don't you think? The patterns have been used on every accessory. To give it a coherent look and feel, I imagine!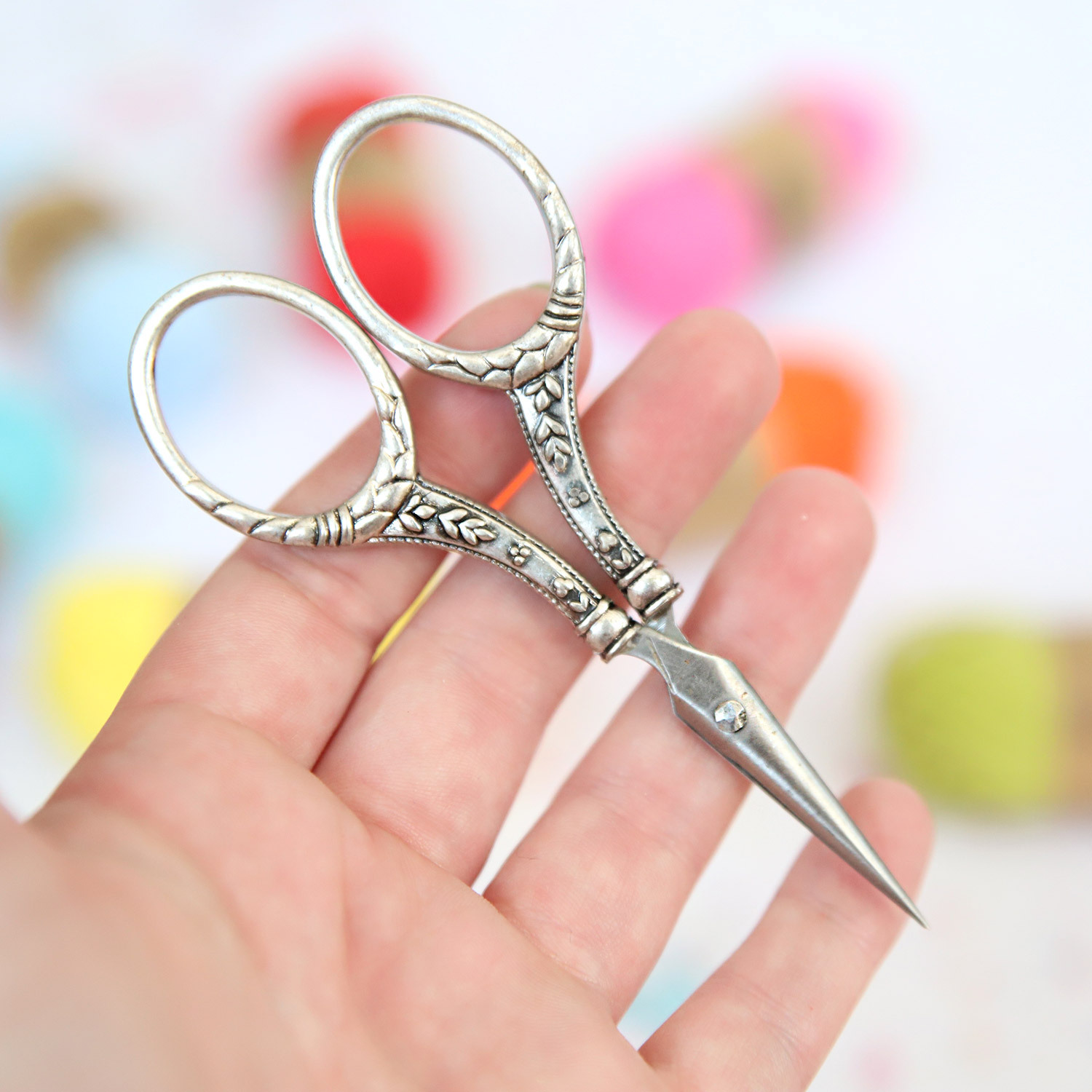 Next, there's the pair of embroidery scissors. It has a sharp point and that perfect 'snippy snap' when you cut thread. They stay very sharp, if you treat them right (so don't go cutting herbs or paper, or use them to pry out staples or anything!). I have one extra pair of these scissors which I use on an almost-daily basis and they're still as sharp as when I got them. The fact that they stay sharp for so long is what makes them my favourite pair. So I'm glad I have a backup in case I can't find my other pair!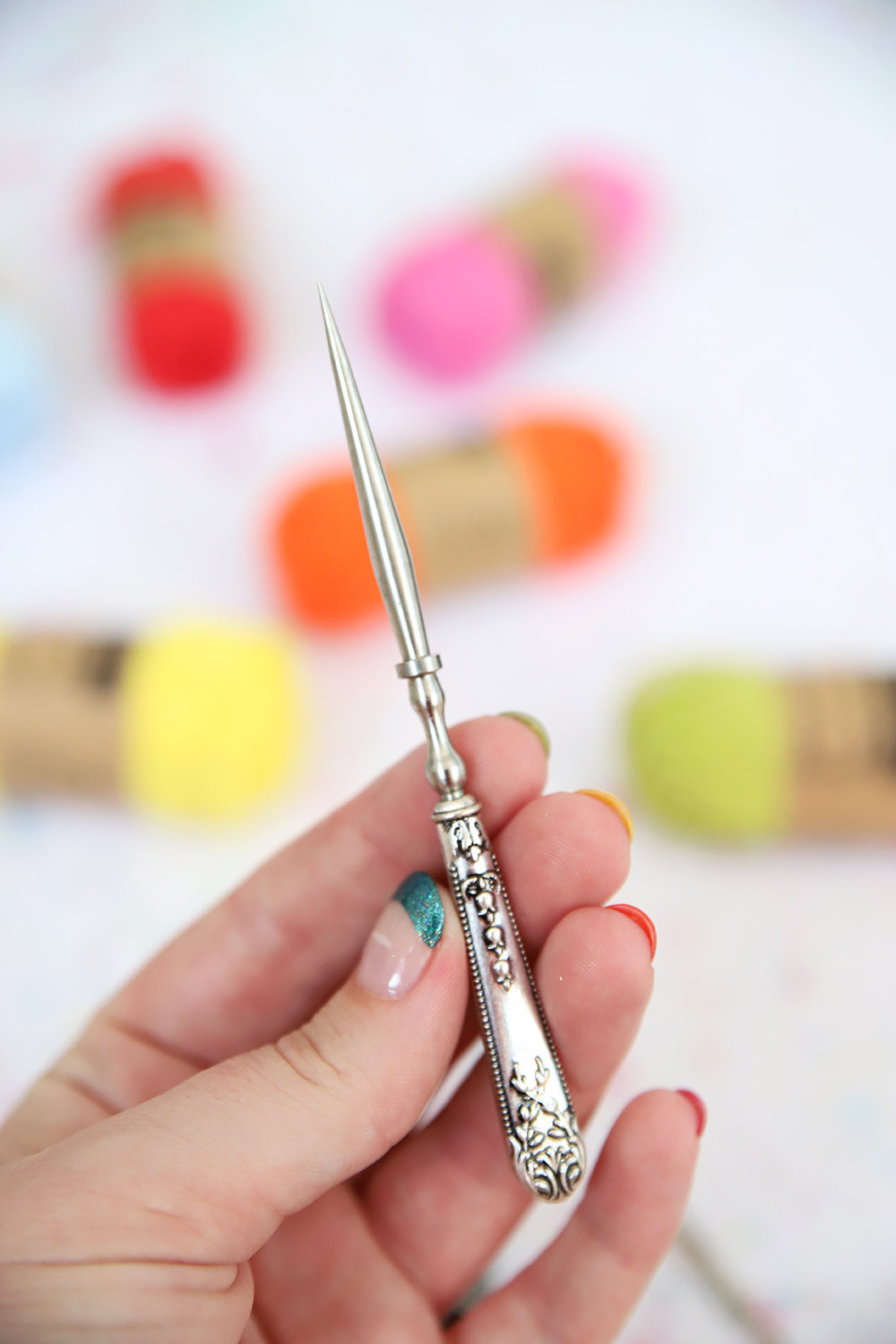 The set also contains a very sharp awl. Awls are used for making holes. Thankfully I don't need it as both my fabrics are ready to go, but it can be a lifesaver if you work with thicker fabrics, leather or ribbon for example! The awl comes with a little thimble to keep you from piercing your fingers. Keep it out of reach of children, as it really is sharp!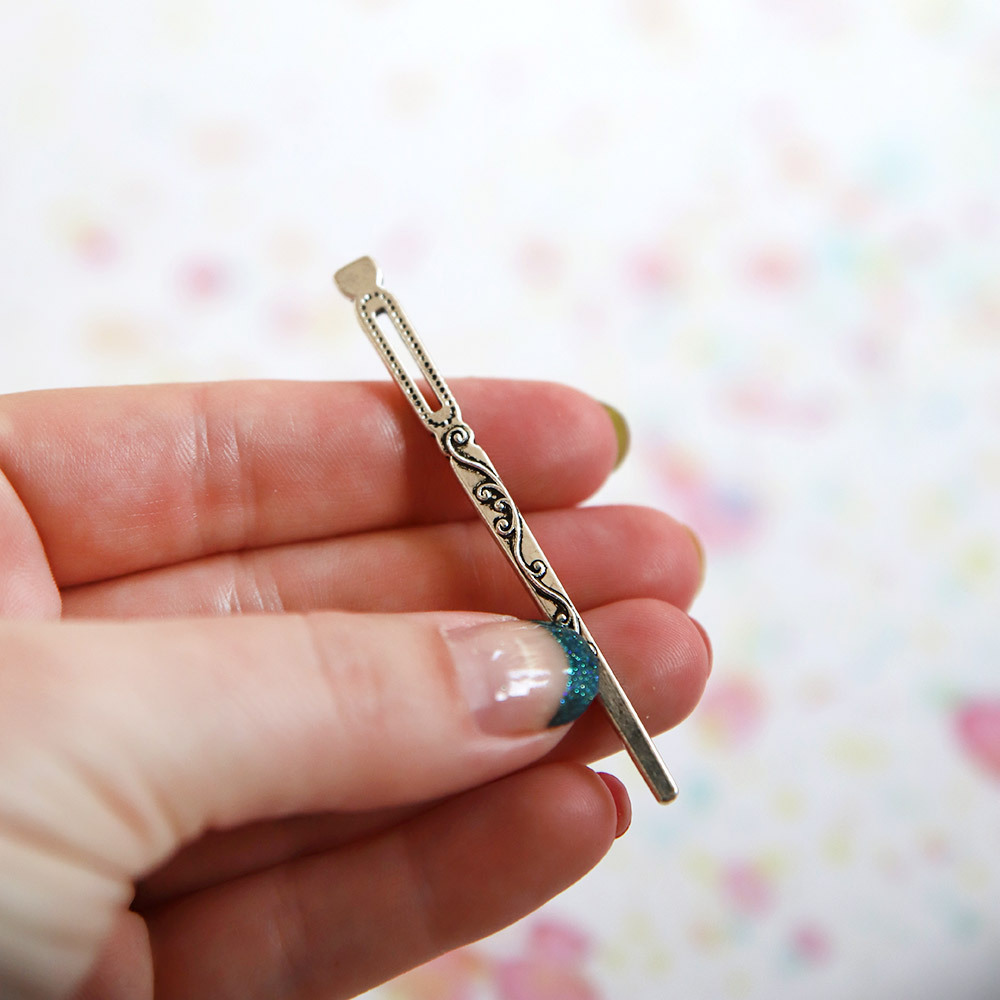 And of course, a threading needle or bodkin can't miss in an embroidery kit. It's really useful if you're threading larger threads such as elastic waistband or thick yarns through hems, for drawstring bags or waistband for example. I'm not in need of a bodkin for my embroidery project, but it completes the set perfectly!

Verdict
So to sum it all up, it's a gorgeous embroidery accessory set that would be a thoughtful gift for any embroiderer or needlecrafter. There are some accessories in there which I don't directly intend to use (the bodkin and awl), but I can definitely see how they can come in handy with other projects. And the rosewood, oh my. Very sophisticated!
There are a few Scheepjes retailers that sell the Simy's embroidery kit if your local retailer doesn't stock them:
If you find the kit too expensive but love the scissors (snippy snap!) you can also purchase the scissors separately at: