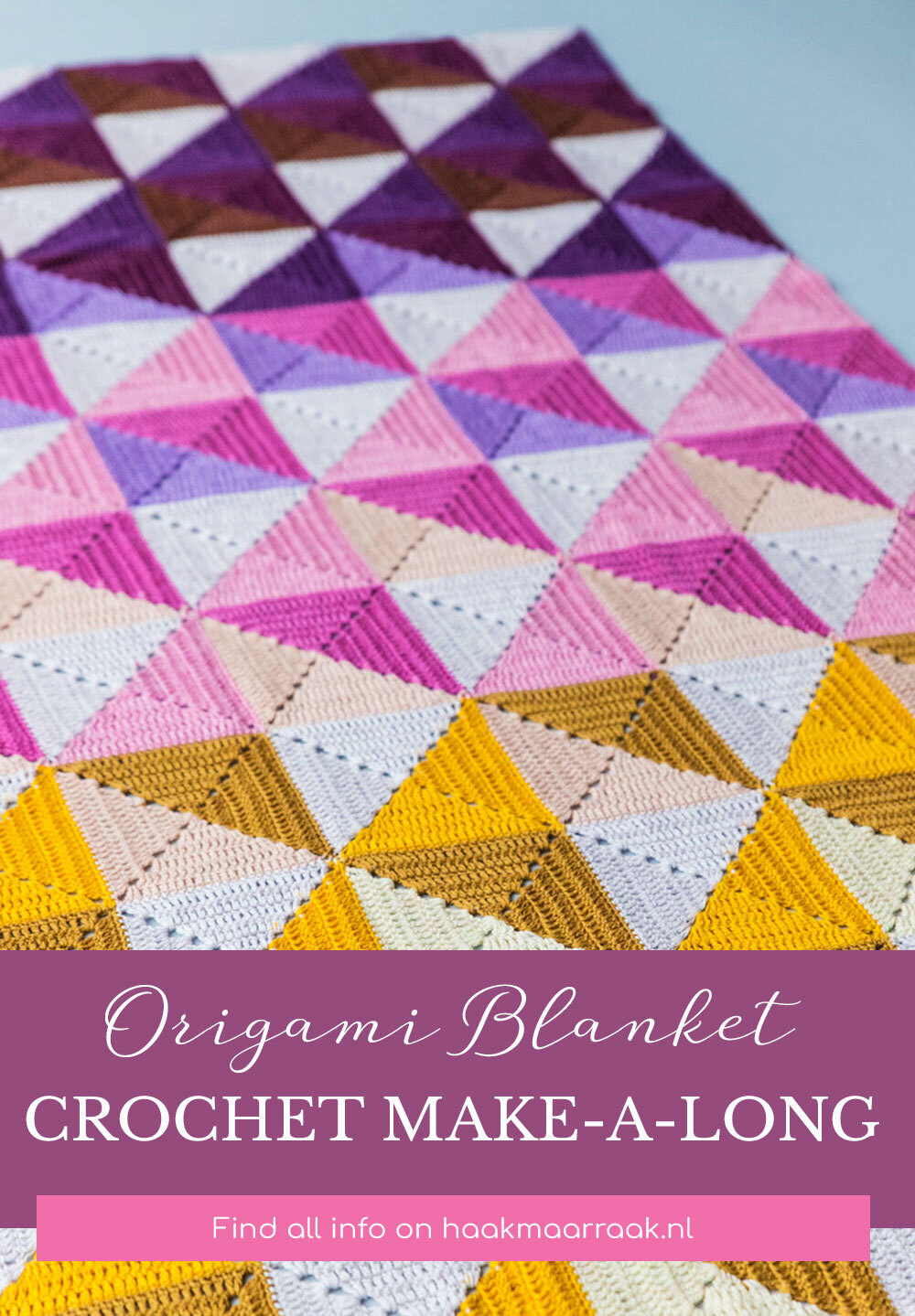 Welcome to the Origami blanket MAL! Today we're getting started, I hope you're just as excited as I am! First things first: the pattern is now live. You can find it here.

The MAL is running in my Facebook Community. The patterns are available for free on my blog. If you're looking for a printable, ad-free version, you can find those in my webshop for a small fee. If you're looking for more info on the yarn and yardage, have a look at the patterns or at my general information post

The MAL schedule
The MAL runs for 8 weeks, concluding on August 16th. Because the pattern is not suitable to divide up into various weeks I've decided to release it as a complete pattern right away. That means that the progress through the weeks will be marked by your blanket progress, not by the release of a new pattern part so to speak. I hope there will be loads of photo's that you share!
If you want to stay 'on schedule' and finish the blanket in week 8, I would recommend crocheting the border and/or blocking the blanket in week 8. That leaves us 7 weeks to crochet and join all 120 blocks of the blanket, meaning that you will make 17 blocks a week. Now what I would recommend is to aim to crochet and join 2 rows per week: this will leave you with some wiggle room in case you find yourself extra busy in some weeks. However, don't feel pressured to keep up! This is just to give you a rough indication.
An important remark about gauge
This is mentioned in the pattern as well, but I can't say this enough: pay attention to your gauge. Why? Because I don't want you to run out of yarn! You're going to make max. 20 triangles in one colour (except for the white colour A, but that's why you've got more balls of those!) so don't exceed 4.2 grams per colour. That leaves you with ~15 grams per colour to join and border your blanket.
To make sure of this, I suggest you weigh your first square. If your square weighs more than 9 grams (2 colours with 4.2 grams each, but your scale will probably round up 8.5 to 9 grams if it's too much), adjust your hook size. Remember that the pattern only goes to Round 5 for the Colour Crafter blanket, especially for this reason.
Troubleshooting
What if I can't get my squares to match gauge?
I hope it's not the case, but my experience with past MALs tells me that sometimes people find it impossible to match the gauge, no matter the changes they make. It sucks, but it happens and don't feel bad about it. What you can do is one of the following things:
Skip the last round of the square. This means your squares get smaller, and so does your overall blanket.
Skip the last column of the blanket. Depending on the colour this saves 1 or 2 triangles and might make the difference.
If your square weights between 8 and 10 grams, you can also use all the yarn for your squares and join with another yarn. However, using the same colour yarn as the squares themselves has the advantage that you barely see the joining, so that's up to you.
What if the strand of other yarn that I pick up on colour change is very visible?
I'm talking about the loose strand, next to the blue arrow.
Easy! All you need to do is crochet over the strand in the next row when you work into that chain space. This trick doesn't work for your last round, but if that really bothers you you can grab this loop while joining. I'm warning you though, it's a bit fickle. Personally, the loop in the last round doesn't bother me.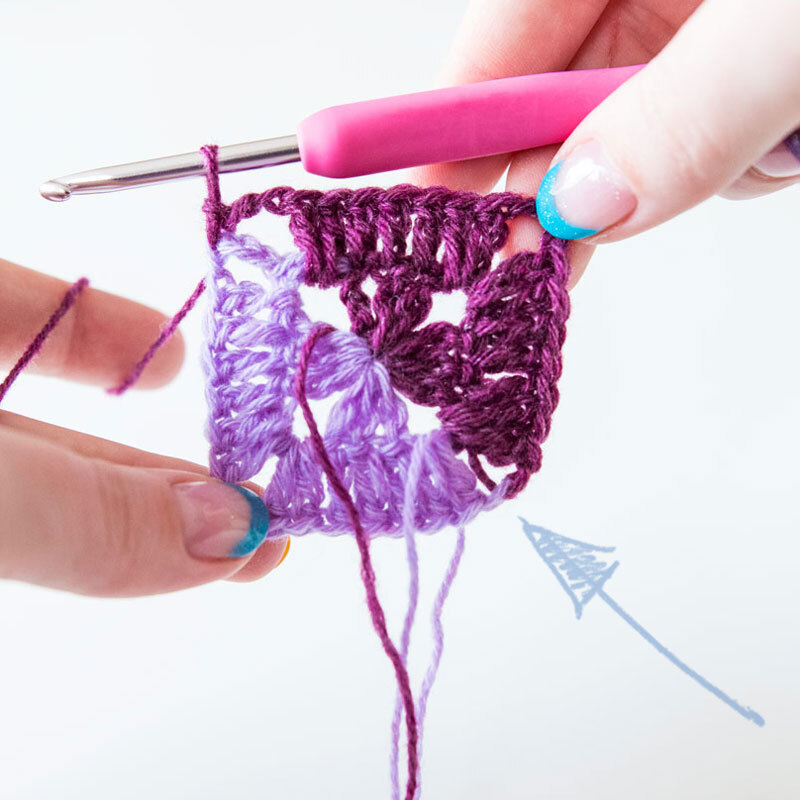 What if the corner spaces of my square aren't all equally big, but bigger in the corner where I change colours?
That's completely normal! You're working and fiddling away in that corner space more than in others, resulting in a bigger space there. It will mostly go away by blocking and the remaining difference will not be very noticeable. You can barely tell in my cover photo, can you?
What if I have another question?

You're always welcome to ask! You'll most likely receive the quickest answer by joining my Facebook group. I'm around to help, and so are many other members. Please kindly remember that I do have a day job, so I can't always answer straight away.
If there are more troubleshooting questions that arise during the MAL, I'll add them here so check back every once in a while. For now: enjoy!