We've all been there. For a beginner crocheter, a classic Granny Square pattern can look quite complicated. But it's such a wonderful pattern, and a great way for a beginner to learn! Before you know it you will crochet blankets or some other larger crochet project, and it all starts with this basic granny square pattern.
You can start out with the back block, and expand on your knowledge as your skills grow. They lend themselves to all types of projects. Coasters, potholders, blankets, pillows, clothing and pretty much anything you can imagine.
What is a granny square?

A granny square crochet pattern is a name for a motif that's worked in granny clusters. A granny cluster is a group of 3 double crochets (or in UK terms, trebles). All three double crochets are worked in the same stitch or space, separated with chains from other clusters. In every next row, you crochet clusters around the chains that separate the clusters of the previous row.
If this all sounds complicated, don't worry. It's all best explained in pictures, so I've made a photo tutorial for you, simply scroll down! 👇

What yarn do I need to crochet a simple granny square?
You can use any type of yarn. My advice to you would be to use a non-splitting thread, especially if this is your first time crocheting a granny square. You want to see your stitches clearly, and splitting yarn doesn't help with that.

I would recommend a 100% cotton yarn such as Scheepjes Catona, which is tightly plied and mercerised to prevent splitting. If you use Scheepjes Catona, also use a 3.0 (US Size C/2) or 3.5mm hook (US size E/4). For other yarns, check out the yarn label for the right size crochet hook.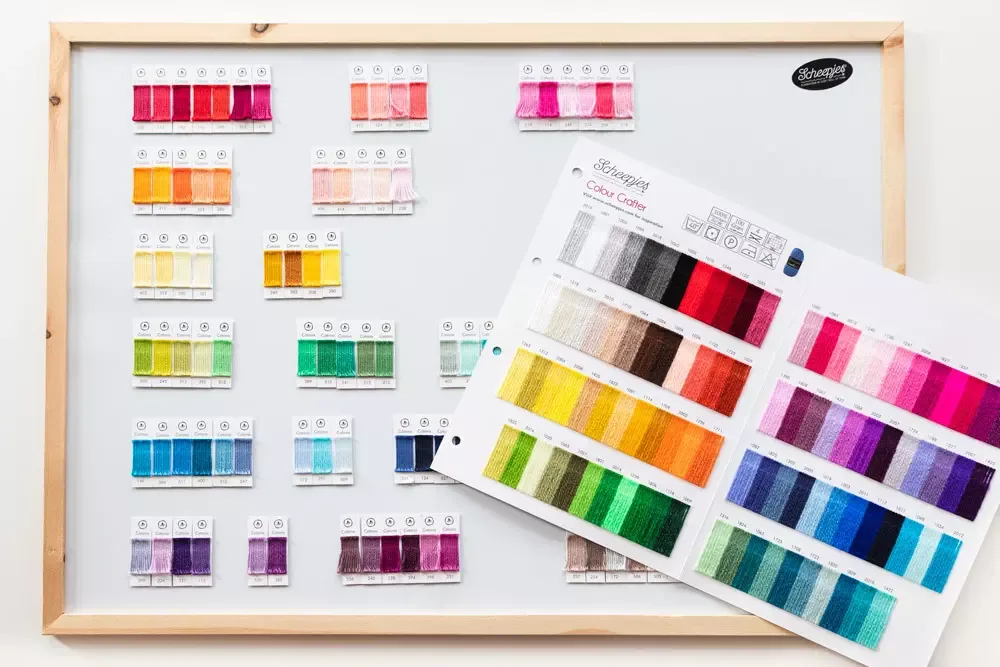 Where can you buy yarn for Granny Squares?
I recommend a non-splitting, 100% cotton such as Scheepjes Catona. You can find Catona in the following webshops:
Learn how to crochet a Granny Square
This granny square tutorial is written in US terms. If you prefer UK terms, simply substitute every double crochet (dc) with a treble (tr). This tutorial is made for absolute beginners and contains a lot of photos and extra explanations. If you're looking for the written pattern, scroll to the bottom of this tutorial for the free crochet pattern.

Getting started (photo 1)

Chain 4, then slip stitch the last chain to the first chain (photo 1). This will create a ring for you to crochet your first round in. Alternatively, if you've mastered the magic ring you can use that as a substitution for this step.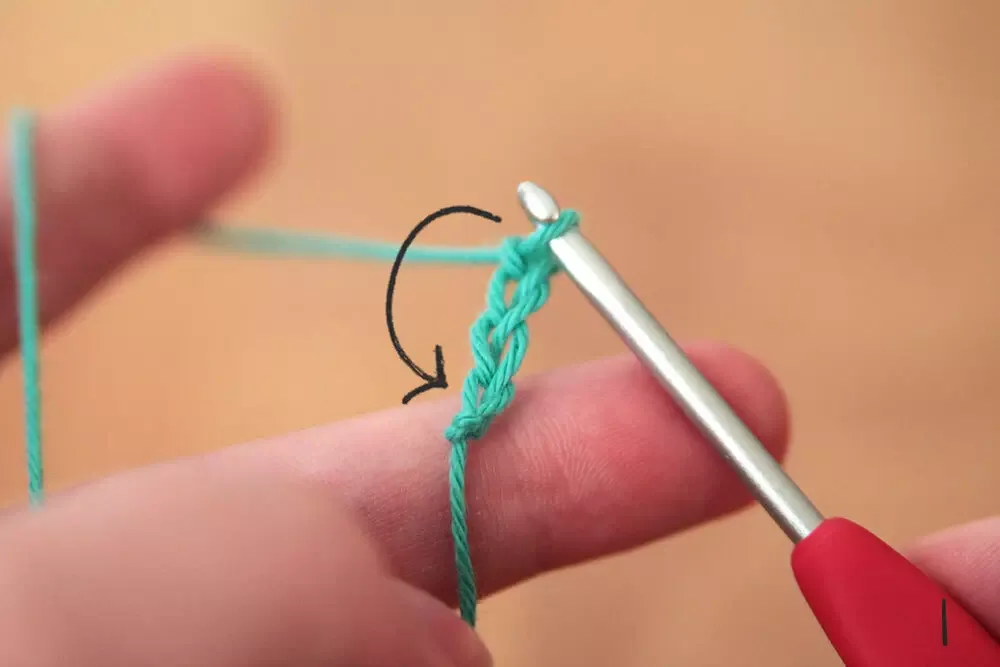 Round 1 (photos 2-6)
Chain 3. These three chains will count as your first double crochet, which I will abbreviate with dc from now on. Do you see the ring you've created by chaining the first and last ch together? The arrow in photo 2 indicates the centre hole. That's where you are going to crochet your first round in.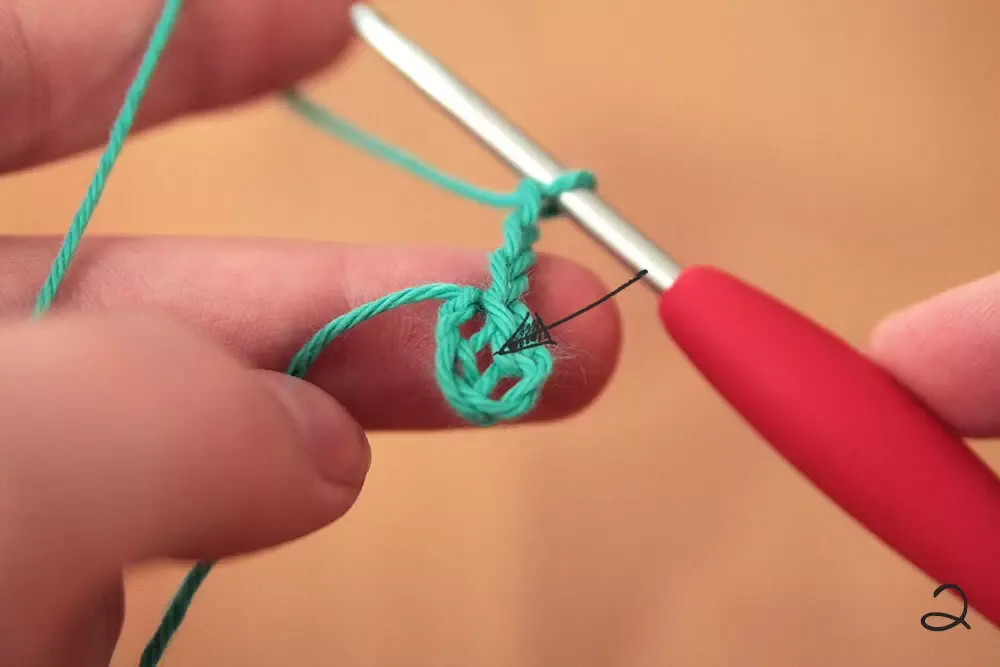 Make 2 dc in the ring indicated by the arrow in photo 2. You just made your first granny cluster (photo 3)! Chain 2. Those two chains you just made form your first corner (one chain on each side of the corner). Crochet 3dc in the ring again. You now have made two granny clusters and one corner, all in the same ring (photo 4). You might already see part of a square forming!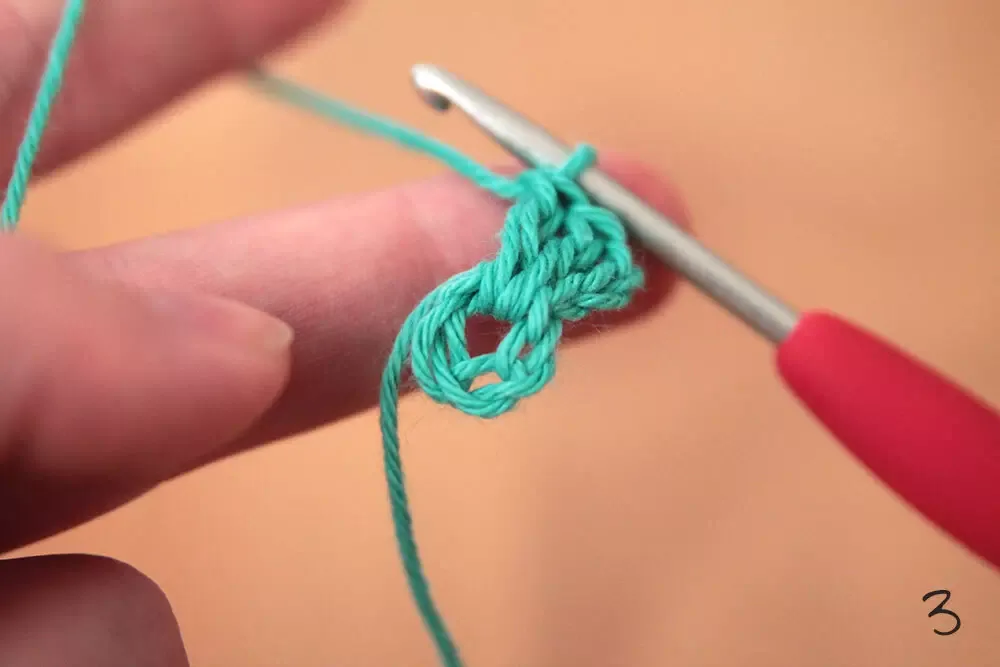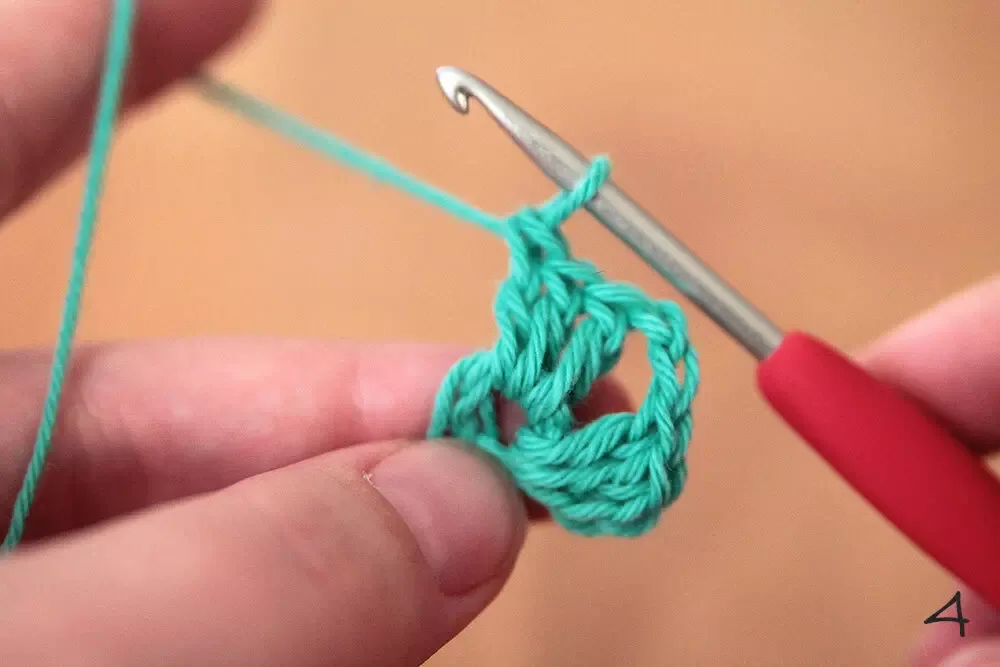 Now repeat the instructions "chain 2, 2dc in centre ring" 2 more times, to create two more granny clusters and corners. Finally, make another two chains for your final corner. Your work will now look as in photo 5.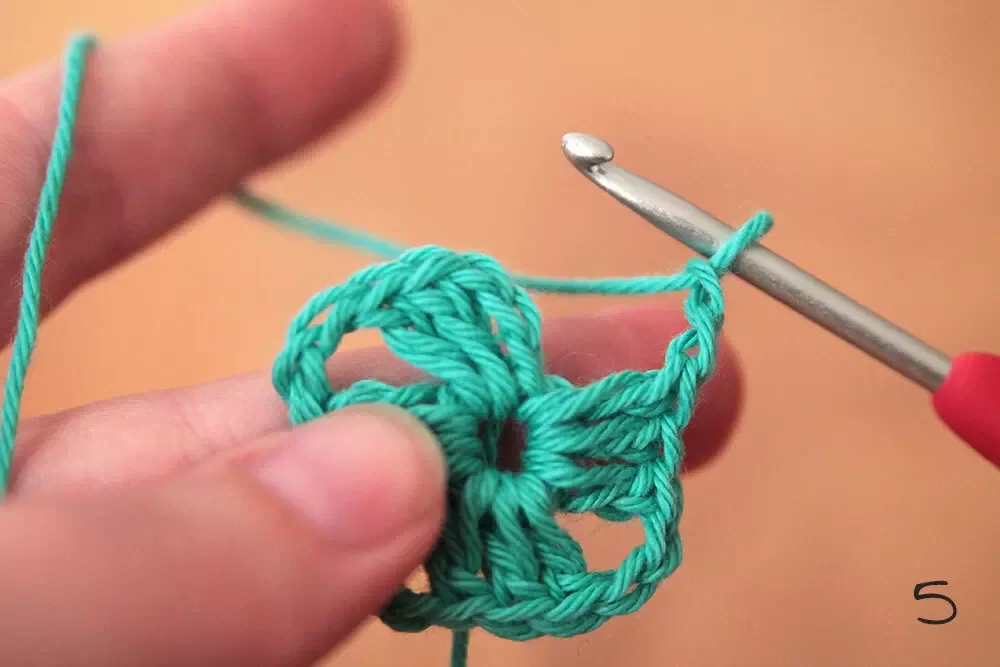 Now you will need to close your round. Do this by slip stitching the last chain into the third chain of the chains you've started your round with (photo 6). This closes your round and brings you back to the starting point.
As you might have noticed, I crocheted over the loose end of my yarn. I do this because it saves me an end to weave in later. If you're not comfortable doing this, then simply leave the loose tail at the back of your work to weave in later.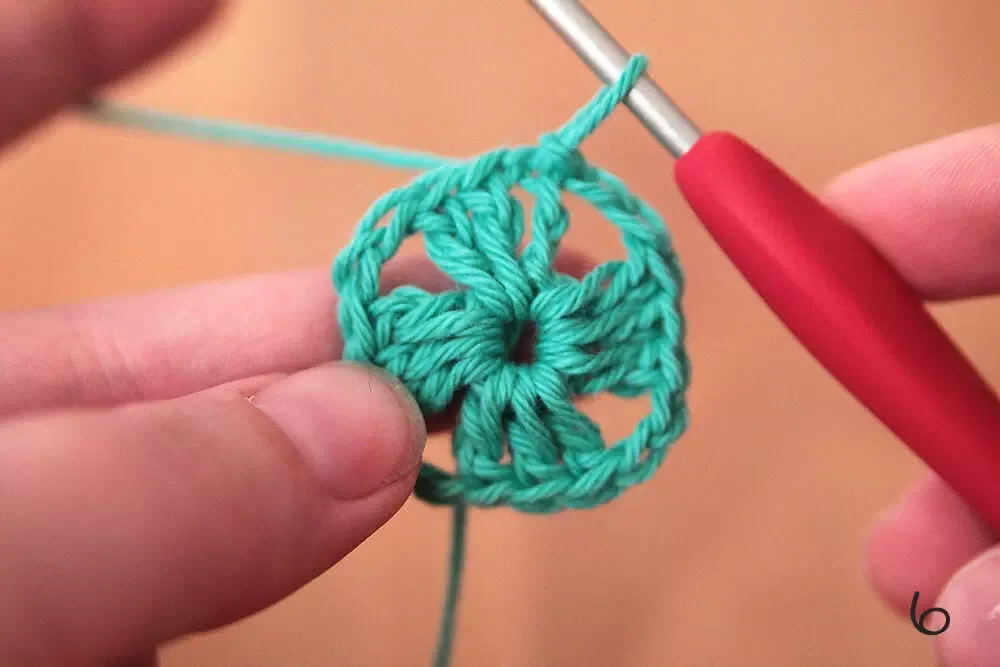 You just made the first round of your traditional Granny square. This row constitutes the basic stitches, and from here on it doesn't change all that much. You can stop here, or or change to a new color if you like, but I'll continue with the same color for a solid granny square this tutorial.


Round 2 (photo 7-11)
You're now going to start your next round. Your first cluster will be a special one: usually, you work your clusters in the chain spaces that you created between clusters in the previous row (in the case of Round 2, those are the corner spaces). However, because you crochet from right to left, there is no space for your other stitches in this round: your cluster from the previous round is in the way! That's why we're breaking up this cluster a little bit, and finish it in the final stitches of this round. Simply follow the steps below, and it will make sense!
Chain 3. This will count as your starting dc again (photo 7).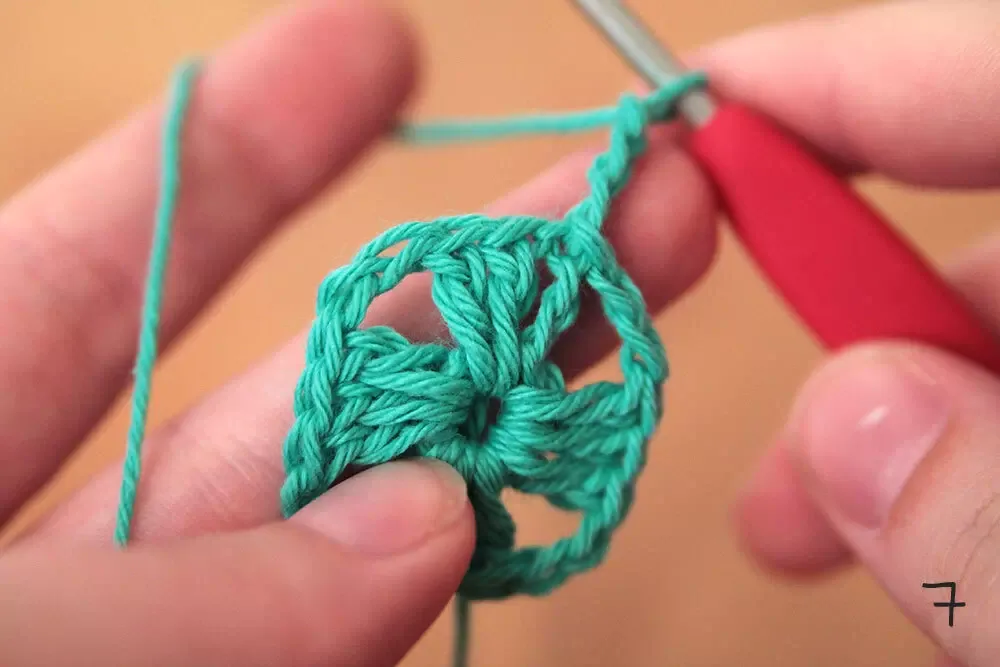 Chain 1 more. You have now made a dc (your first three chains) and an extra chain for a chain space. Remember, you only need one chain in between clusters on the same side, and two chains if you're crocheting a corner.
In the corner space of the previous round, crochet 3dc (photo 8). Do you see what's happening? You're going to make a new corner, in the corner space of the previous round.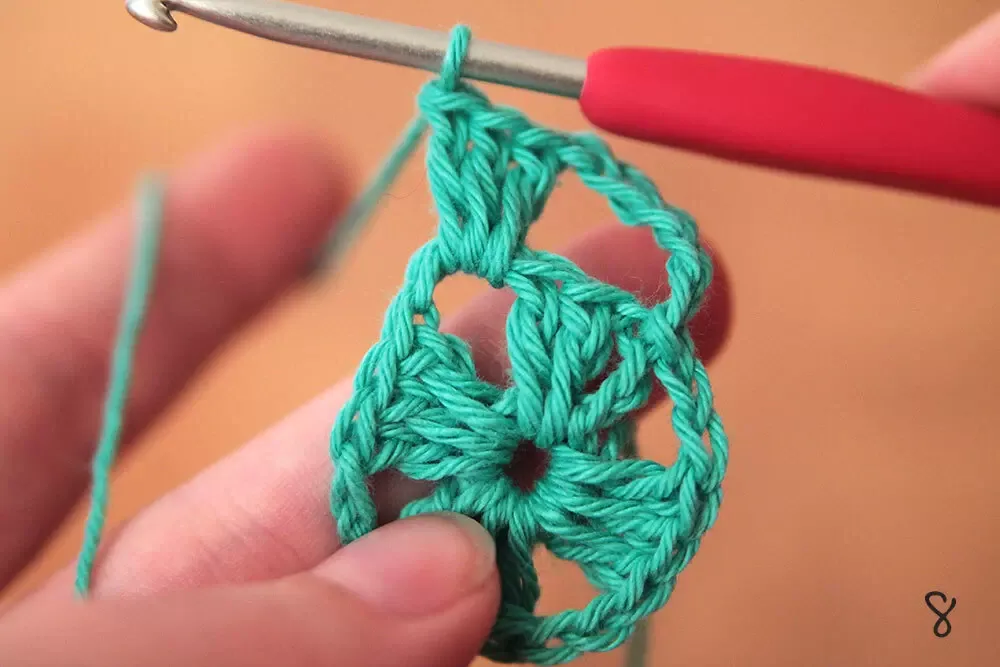 Chain 2, and then make another 3dc in the same corner space (photo 9).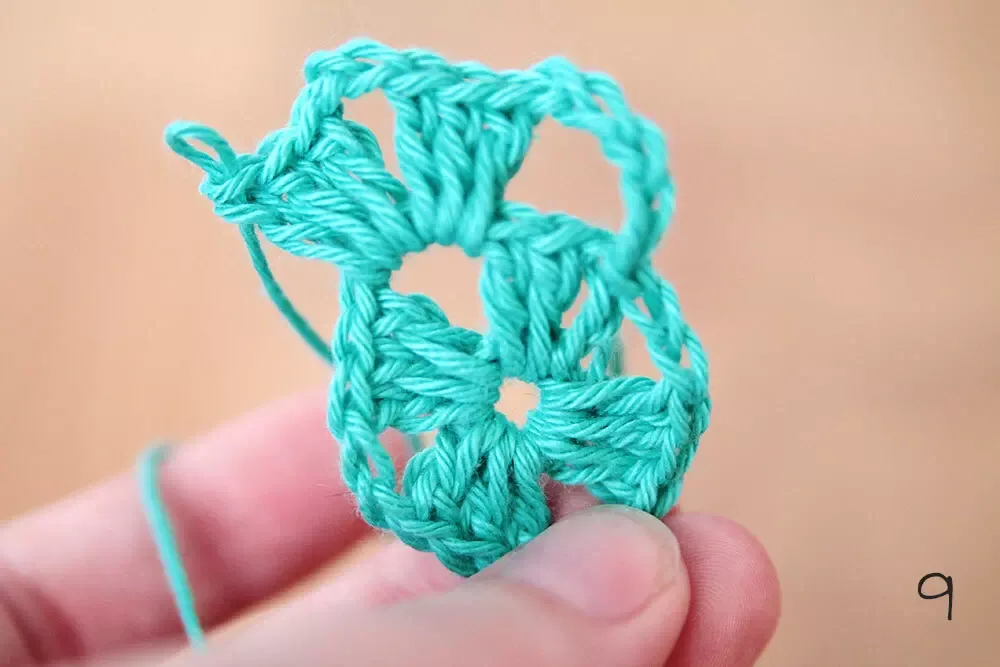 You're going to continue like this around your square. Chain 1 to create a chain space. Next, crochet (3dc, 2 chains and 3dc) in the same corner space. Repeat this until you end up on the side where you started. In your final corner, be sure to crochet 2dc instead of 3dc (photo 10). Why? Because we started the round with our special 'broken up' cluster. We made three chains, and those counted as our first dc. So now we add two at the end of the round to complete the granny cluster. Does it make sense now?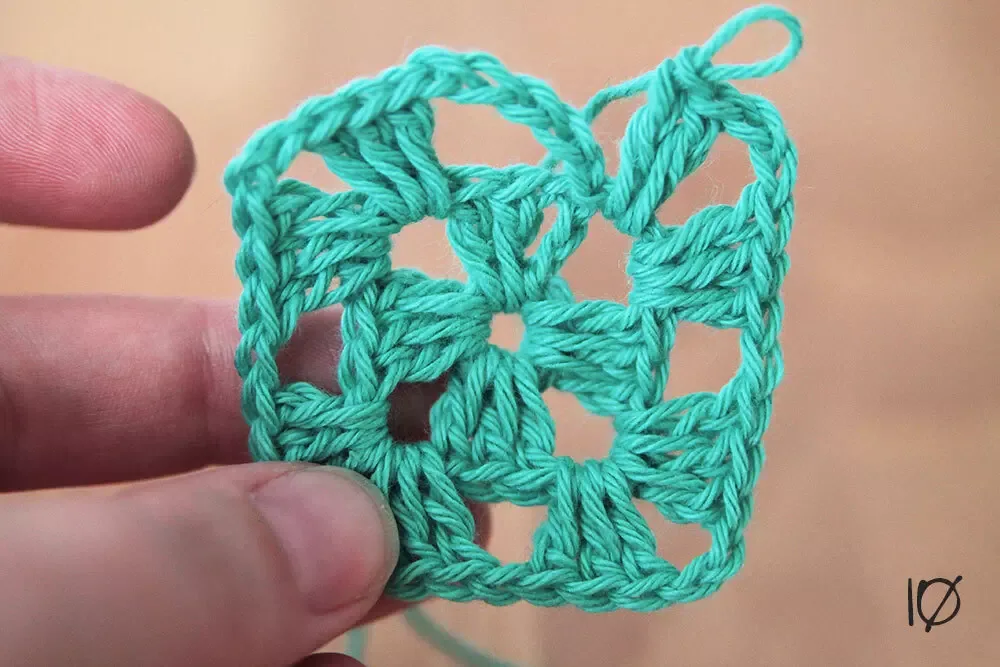 Slip stitch your last dc to the third chain of your first three chains, and you're done with this round as well (photo 11)! It's starting to look like a proper granny square, doesn't it?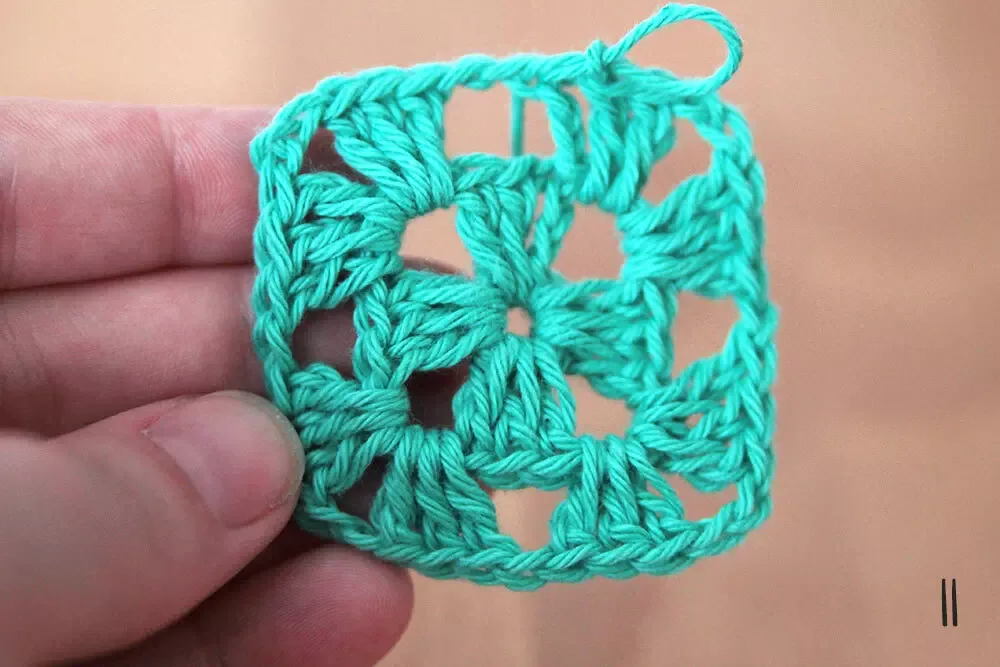 Round 3 (photos 12-13)
Chain 3, those will count as your starting dc. As you can see, this time you're on the 'right' side of the previous' round cluster. So there's no need to break up your first cluster like you had to do in the previous round. Crochet 2 more dc in the chain-space (photo 12).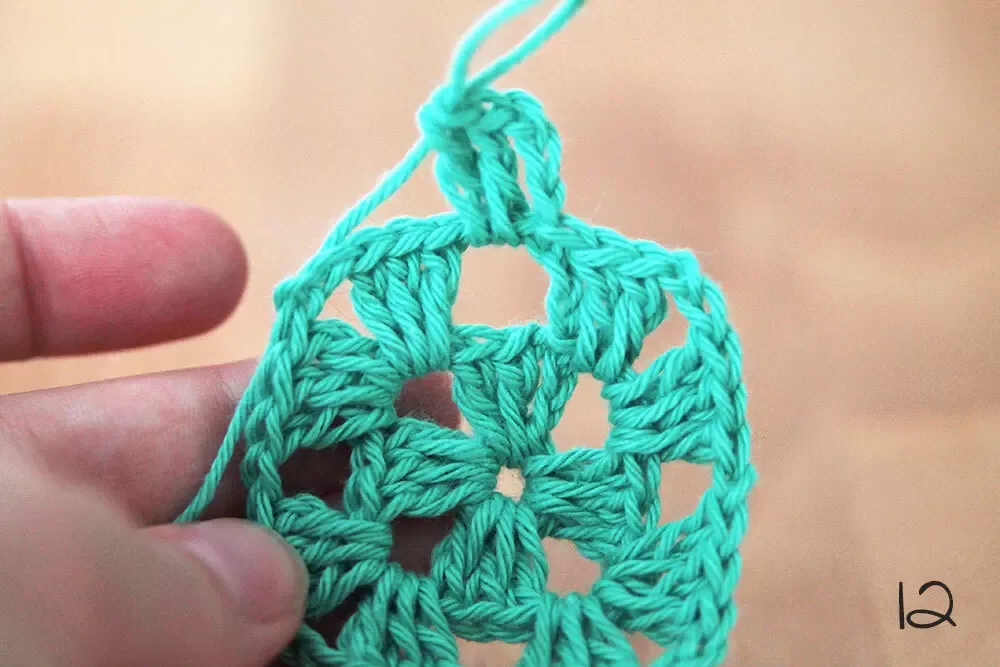 You're now ready to crochet a corner again, so repeat what you did last round. Make 3dc, 2 chains and 3dc in the same corner space. Chain 1 to create a chain-space, and crochet 3dc in the next chain-space of the previous round. Now you're all ready at your next corner! Continue like before, making corners and granny clusters in between. Finally, close the round with a slip stitch in the third chain of your starting three chains (photo 13).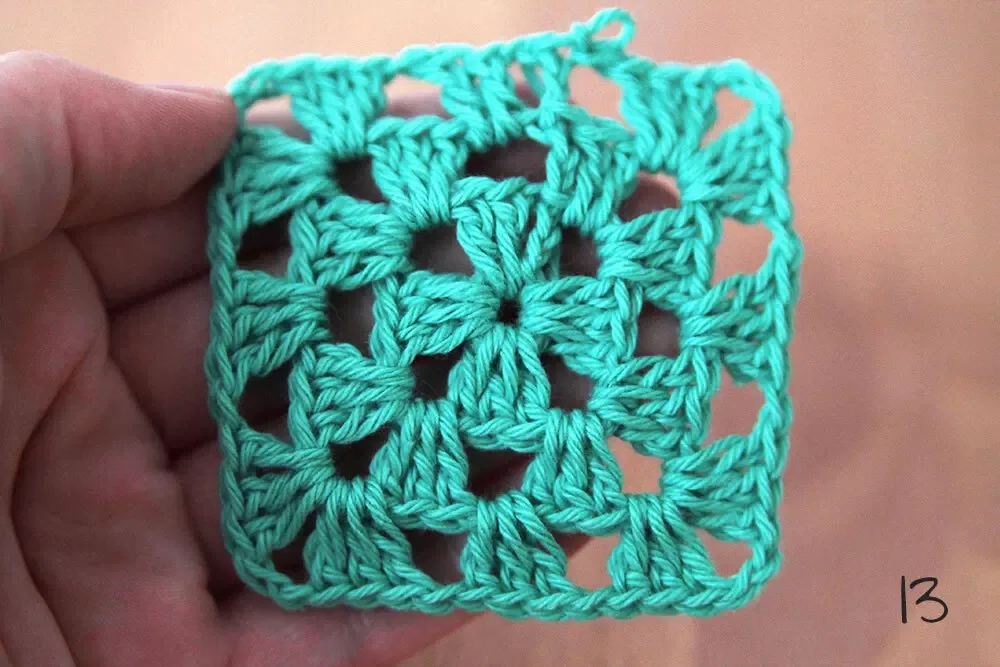 Do you see a pattern emerging? Because you make two granny clusters in each corner space, you increase the number of chain spaces per round. That means that each round you can make one extra granny cluster in between, to help you grow your granny square larger and larger!
I hope you have seen that the granny square holds no mysteries to those who've followed a step-by-step tutorial! I've also written this pattern down in the 'regular', condensed crochet format.


Written pattern for Granny Square

Abbreviations (US terms)
beg: beginning
ch: chain
ch-sp: chain-space
dc: double crochet
ss: slip stitch
Crochet pattern
Ch4, join with ss in first ch to close ring.
Round 1 Ch3 (counts as first dc), 2dc in ch-sp, (ch2, 3dc in ch-sp) 3 times, ch2, join with ss in 3rd ch of beg-ch.
Round 2 Ch4 (counts as first dc + ch 1), *(3dc, ch2, 3dc) in corner ch-sp, ch1; repeat from * 2 more times, (3dc, ch2, 2dc) in corner ch-sp, join with ss in 3rd ch of beg-ch.
Round 3 Ch3 (counts as first dc), 2dc in ch-sp, ch1, *(3dc, ch2, 3dc) in corner ch-sp, ch1, 3dc in next ch-sp, ch1; repeat from * 2 more times, (3dc, ch2, 3dc) in corner ch-sp, ch1, join with ss in 3rd ch of beg-ch.
Continue like in Round 3, but crochet 3dc and ch1 in each ch-sp in between corner spaces. This will grow your granny square motif to the desired size.

Don't forget, if you're ready for the real work, my Rainbow Granny Square Blanket is perfect for if you want to practice your basic crochet granny squares with a free pattern!
Granny Square Inspiration
Are you looking for Granny Square inspiration? You might enjoy these posts too: